Best Web Hosting 2023
Here, you'll find a list of the 10 top-rated web hosting providers on the internet. Rest assured that we thoroughly researched and scrutinized each hosting company before including it here.
To create a blog website on the internet, you need server space from hosting service providers.
There are thousands of web hosting providers to choose from. That's why choosing the best web hosting service is not as easy as it sounds.
To pick the best hosting company, first, you should take at least a list of the top 10 best web hosting services and compare them with each other.
To make this process easier, I reviewed and compared ten hosting companies; going through this list will save you precious time.
Let's get started.
10 Best Web Hosting Services 2023: Reviewed & Compared
Uptime, reliability, performance test, security features, and most importantly pricing are the top factors I considered while picking my list of 10 best web hosting services of 2023, as below:
Let's explore the list above starting with #1.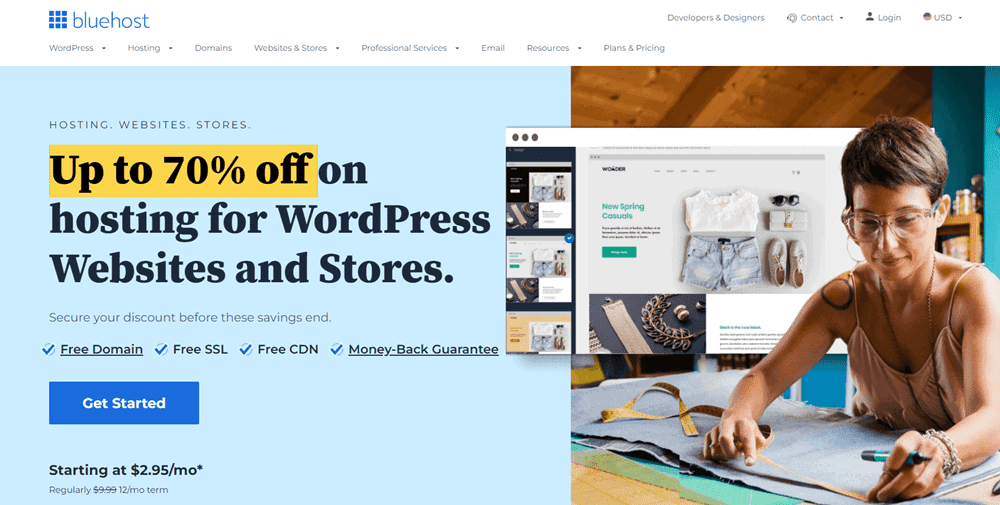 Bluehost is a WordPress.org itself recommended hosting provider since 2005. That's why the company is usually termed as a beginner-friendly hosting provider to host WordPress blogs.
There are already 2+ million websites hosted on the different Bluehost hosting plans.
No matter whether you are looking to launch a website, blog, or even an online store, there are solutions with Bluehost for every hosting requirement.
If you wish to explore more about Bluehost web hosting services, just check out this unbiased Bluehost review.
Key Features:
Here are some of the handsome key features you will get when you choose Bluehost, the best web hosting in 2023.
Get access to hundreds of ready-to-use website templates both free and premium to launch your website in no time.
24/7 customer support to get your doubts resolved and also get access to hundreds of Bluehost how-to tutorials.
Built-in SEO and other marketing tools to take your website hosted with Bluehost to better levels.
Without the need for any third-party analytics platforms, you can monitor your website performance straight from the Bluehost dashboard.
30-day long money-back guarantee.
Bluehost offers a lot of hosting solutions, still, the shared web hosting plans are the most popular and highest-selling Bluehost plans.
Plans & Pricing:
Here are the pricing options:
Basic Plan – $2.95 per month, billed annually
Plus – $5.45 per month, billed annually
Choice Plus – $4.95 per month, billed annually
Pro – $13.95 per month, billed annually
There is a 36-month billing cycle too. Bluehost renewal charges are high. So, I advise you to try a 36-month billing period.
What I Like/Dislike About Bluehost:
Like:
Bluehost offers a free domain on all its hosting plans.
Except for the basic plan, unlimited websites can be hosted on other plans.
Free Domain name, Free SSL, and Free Cloudflare CDN for unlimited websites
Custom themes to create websites in less time without the use of coding.
Dislike:
Renewal prices are too expensive.
No free site migration.
Add-on features are too costlier.
Do you want to save extra on your Bluehost purchase? Here is the special coupon code deal.
Bluehost Coupon Code and Renewal Discounts:
Click on this discount coupon link and get a maximum of up to 73% discount on your hosting purchase from Bluehost.
Unfortunately, no renewal discounts are offered by Bluehost. There is nothing wrong with giving it a try. So try to contact the sales team and ask for Bluehost renewal discounts.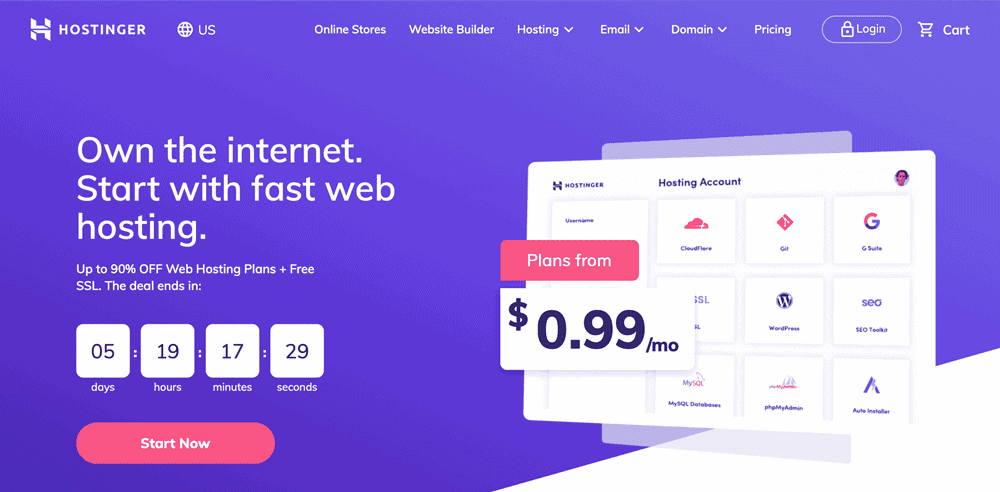 The most affordable host provider in the list of 10 best web hosting companies, Hostinger is the top choice for small business websites as the plan starts from just $1.99 per month.
To get started with Hostinger, you do not need to be an expert as the Hostinger hPanel dashboard looks very user-friendly.
Hostinger uses LiteSpeed servers to offer the customer fast hosting services.
No traffic limitations issues as both Hostingers Premium and Business shared hosting plans come with unmetered bandwidth.
Key Features:
Let's take a look at the key features of Hostinger hosting that will amaze you the most.
Hostinger has data center locations globally. No matter where the majority of people visit your website, you can easily switch your data center location from your Hostinger hPanel dashboard.
Managed WordPress solutions for all the shared web hosting plan customers to exclusively run WordPress websites.
The DNS management feature from Hostinger seamlessly allows you to edit your DNS records.
Without prior experience, you can easily install over 100+ Softaculous applications like WordPress, Drupal, Magento, and more in just a single click.
Hostinger offers affordable domain registration services along with hosting plans.
Even Though Hostinger offers some 15+ different hosting solutions, the web hosting company is well-known for its affordable shared hosting solutions.
Plans & Pricing:
Below are Hostinger shared hosting pricing structure:
Single Shared Hosting – $1.99/mo
Premium Shared Hosting – $2.49/mo
Business Shared Hosting – $3.99/mo
Though Hostinger offers 4 different billing cycles, the above-listed price is for a 48-month billing contract. The higher the billing period you choose, the more discount you will get.
What I Like/Dislike About Hostinger
Like:
Hostinger offers affordable shared hosting solutions.
Free SSL and Free Cloudflare CDN for all users.
30-day risk-free money-back guarantee.
Weekly backups for single and premium shared hosting plan customers.
Dislike:
No free domain for single shared hosting customers.
No phone support.
Sometimes users may face downtime issues
You can claim a discount of up to 88% on your favourite Hostinger hosting plans.
Are you wondering how? Just read below:
Hostinger Coupon Code [up to 88% Discount]
It's an exclusive 80% plus 8% extra discount only for you.
During your checkout, use the coupon code WPBLOGGING101 to avail extra 8% OFF from your regular Hostinger discounts.
It's a limited-time offer. So grab it before the coupon code expires.
If you want to get rid of issues faced with shared web hosting and are willing to spend some extra dollars than shared hosting plans, Cloudways (review) will be your perfect hosting partner.
Business websites that demand high performance make better use of the Cloudways managed hosting provider.
There are already 75,000+ businesses that gained a lot of benefits by purchasing managed cloud hosting solutions from Cloudways.
This hosting company offers 24/7 real-time expert support. To solve any issues that happen with your website hosted on Cloudways, you can get help from real-time expert support.
Key Features:
Here are the exclusive Cloudways key features that help you get higher ROI from your business websites.
Most of the major work such as staging the environment, managing backups, or even installing the free SSL certificate can be done in less time with Cloudways.
Built-in cache and Cloudflare CDN play a key role in improvising your website performance and reducing frustration from bounds.
You have up to a choice of 5 industry-leading cloud servers to choose from.
Cloudways offers a free 3-day trial account to test the features. No credit card is required to sign up for the free trial.
You can host an unlimited number of WordPress websites with Cloudways and at the end of every month, pay only for the resources you use.
Out of 5 leading cloud servers, Digital Ocean is the best seller and affordable. So, I am adding the Cloudways DigitalOcean pricing details below:
Plans & Pricing:
There are standard and premium pricing options to choose from.
Premium costs a little more than standard. Still, there is not much difference between standard and premium. Maybe, the premium gets you a little extra faster speed than the standard plan.
Standard – $10/mo billed monthly
Premium – $12/mo billed monthly
There is an hourly billing period as well. Also, there are 3 other pricing plans with Cloudways DigitalOcean.
The features are almost the same with all the Cloudways DigitalOcean plans but the resources may vary from one plan to another.
What I Like/Dislike About Cloudways:
Like:
Affordable pricing structure
Monthly billing agreement as you need not worry about high bills at a time
Free object cache pro plugin to make website speed better
No downtime issues
Dislike:
Control panel seems complicated for beginners
Need to subscribe paid add-on for Email Hosting
Save 40% Extra with Cloudways:
Do you want to save extra with Cloudways?
If so, just apply our coupon code WPBLOGGING101 while signing up on Cloudways and get up to 20% discount on your first purchase.
Rocket.Net is highly keen on protecting your website security as the hosting company offers built-in website security suites which are in always-on condition.
Compared with Cloudways, Hostinger, and Bluehost, the Rocket.Net plans are costlier. But, believe me, it's worth the purchase.
Do not bother about installing third-party plugins to your WordPress to increase the speed as Rocket.Net is pre-configured already for maximum speed.
Key Features:
Within a single dashboard setup, you can seamlessly manage all your WordPress websites. Some more key features are:
A handful of resources and case studies are available on the website itself to make the most out of the Rocket.Net hosting features.
Live chat box on the website by which you can ask your queries and get instant replies within just a few seconds.
Rocket.Net offers unlimited free migration services. No matter if you are not aware of the process, WordPress expert team will fully handle the process.
Optimized by Cloudflare enterprise to offer the customers lightning-fast speed to achieve better SEO scores.
Reseller hosting solution with the white-labelled option to run your web hosting agency business and make handsome money out of it.
As a launch special offer, Rocket.Net offers the world's fast hosting solution for just $1 for the first month. After that, the usual price will be applicable.
Plans and Pricing:
Below are the detailed Rocket.Net plans and pricing structure:
Starter – $25/mo
Pro – $50/mo
Business – $83/mo
Enterprise – $166/mo
The above said price is for the annual billing period. There is a monthly billing cycle as well which costs a little extra than annual billing.
For instance, to avail of the basic starter plan, you have to pay $30/mo instead of $25/mo.
What I Like/Dislike About Rocket.Net:
Like:
20+ global server locations.
Automatic daily backups with a backup retention period of up to 2 weeks.
Industry-leading 24*7 Live, Phone, and Email support.
Automated theme, Wp core, and plugin updates.
Website firewall to safeguard from hackers.
Dislike:
You cannot host unlimited number of WordPress websites.
Phone support only for Business and Enterprise plans.
No free domain.
No matter what managed WordPress hosting plans you choose from Rocket.Net, possibly you can avail save 2 months off with yearly billing or pay $1 to get started.
Another affordable web hosting service provider in the line of Bluehost and Hostinger, A2 Hostinger is well-known for its turbo hosting solution.
The hosting solutions are just huge with A2 Hosting. Starting from shared web hosting to VPS and dedicated hosting, A2 Hosting has a hosting solution for everyone.
A2 Optimized plugin is pre-configured along with your WordPress install that has the potential to offer the best speed and security.
Ultra-reliable servers are offered to the A2 Hosting customers which means there is no chance of any downtime issues.
Key Features:
Here are the key features that will make you give a green signal to A2 Hosting.
An unlimited number of Email accounts will be offered even on A2 Hosting shared web hosting starter plan.
Affordable yet with the most reasonable pricing structure as the plan starts from just $1.99 per month.
Each of A2 Hosting's shared web hosting servers is optimized for better speed and limited to a particular number of users.
There is a turbo plan with advanced Litespeed turbo caching to avail more CPU resources.
Free migration service with the help of the A2 Hosting guru crew support team. Experience zero downtime while the migration happens.
Are you excited to know what A2 Hosting plans and pricing are? Let's check out.
Plans And Pricing:
Here comes the details of A2 Hosting shared hosting plans.
Startup – $1.99/mo
Drive – $4.99/mo
Turbo Boost – $5.99/mo
Turbo Max – $10.99/mo
The higher the plan you choose, the more resources you will get. But A2 Hosting Startup plan is more than enough to run a single website.
The price mentioned above is for a 36-month plan. There are two other billing cycles such as monthly and annually.
What I Like/Dislike About A2 Hosting:
Like:
Unlimited NVMe SSD storage.
You can host an unlimited number of websites [Except Starter Plan].
Free SSL certificates.
Easy drag and drop A2 site builder.
Up to 20 times faster Turbo.
Dislike:
No free domain.
Plan renews at regular rates.
Fee is applicable for changing the data centre location.
A2 Hosting Discount Coupon Code:
Actually, the regular price for A2 Hosting STARTUP shared hosting plan is $10.99/mo.
But to avail of the same plan for just $1.99/mo [81% discount], you can use this coupon code auto-applied link below and grab the discount automatically during your checkout.
Different discount percentages will be applied with the link depending on the hosting plan you choose.
Hostgator, one of the cheap web hosting companies, already hosts 2+ million websites.
It's a most popular web hosting company, the best choice for beginner bloggers and those to create small business websites.
If you are searching for the best hosting company that offers most of the features like SSL, Email accounts, and Domain names free of cost, then you may go for Hostgator.
Unmetered bandwidth and disk space are the features offered by Hostgator free of cost to all the shared web hosting plan users.
Key Features:
There are a few more key features offered by Hostgator. Here is the list:
According to the trusted source, the average load time of the website hosted on Hostgator is 1.03s and the average response time is 143.4ms.
Hostgator offers 99.9% guaranteed uptime. So that your website won't face any downtime and be available all the time.
You can migrate your website to Hostgator free of cost. Remember, you must request migration within 30 days of your new account sign up.
One of the oldest web hosting companies in the industry provides world-class customer support 24/7.via phone, support, and live chat.
The company offers a one-click WordPress installation. So, Hostgator is the highly recommended hosting provider to kickstart blogs and websites in the WordPress CMS.
Hostgator offers several hosting plans including shared, VPS, cloud, dedicated, and reseller hosting.
Plans & Pricing:
Below is the Hostgator pricing for shared hosting plans.
Hatchling Plan – $2.75/mo
Baby Plan – $3.50/mo
BusinessPlan – $5.25/mo
The price is the introductory offer as you have to pay regular charges when it renews. There are four billing cycles as 1-month, 6 months, 12 months, and 36 months.
To avail of the maximum discount and get rid of renewal charges for the first 3 years, go for the triennially period.
What I Like/Dislike About Hostgator:
Like:
Cloudflare CDN with up to 2.5x faster page load times.
Host an unlimited number of websites.
Free domain name for a year on shared, WordPress, and Cloud hosting plans.
Free unlimited SSL certificates.
Free SEO tools worth $50/year value only for Business plan users.
Dislike:
Monthly billing costs are higher.
Backup services and a few other add-ons at extra cost.
Latest Hostgator Coupon Code 2023
Get a maximum discount of up to 65% on your Hostgator hosting plan purchase using the unique coupon code WPBLOGGING101.
Starting from 65% OFF for the maximum billing period, the discount may vary depending on the billing agreement you choose.
You will get a free domain for a year and SSL along with your plan when you apply the coupon code at the checkout.
HostPapa offers the most affordable shared and WordPress web hosting solutions.
Being one of the feature-rich companies in the list of top 10 web hosting providers worldwide as HostPapa hosting plan starts as low as $1 per month.
CloudLinux technology has been used in the HostPapa platform that helps seamlessly protect users' websites from the shared server space when other websites from the same space see a traffic hike.
While many other industry-leading hosting providers sell VPS hosting at higher costs, the VPS hosting plans are even affordable with HostPapa.
Key Features:
There are a hell lot of features offered by HostPapa, especially because it benefits beginner bloggers to develop simple personal websites and blogs.
A 30-day money-back guarantee is applicable with HostPapa. So, you can try the most affordable web hosting for as low as $1 per month at no risk.
Not just your website visitors, but also Google loves you as the websites that are hosted with HostPapa hosting plans get fast loading speeds.
Pre-installed with WordPress platform and Jetpack plugin on all the WordPress hosting plans, the best feature to start WordPress websites.
All websites on the HostPapa will be secured with a free Lets Encrypt SSL certificate. Apart, HostPapa offers more advanced security features and firewalls.
If you already registered a domain with some other providers, but want to transfer the domain to HostPapa, you can do so without any cost.
Let's talk about HostPapa hosting packages and costs.
Plans And Pricing:
Signup for your HostPapa hosting account, grab a plan of your choice and save up to 89% on your HostPapa billings.
Start – $0.95/mo [Discount up to 89%]
Plus – $2.95/mo [Discount up to 73%]
Pro – $2.95/mo [Discount up to 73%]
Ultra – $8.95/mo [Discount up to 50%]
Unlike many other popular hosting providers in the list that offer a maximum discount only for a 3-year billing period, HostPapa gives the best price for just a 12-month billing period.
Just $11.40 in your bank account is more than enough to host a single WordPress website for the whole year with a domain name of your choice.
What I Like/Dislike About HostPapa:
Like:
Most affordable pricing structure.
Free Standard/Wildcard SSL certificate.
Website builder to create no-coding websites.
Domain registration service starts from $2.99.
Dislike:
Limited data center locations.
Automatic backups at extra charge.
HostPapa Coupon Code:
HostPapa offers different discount structures for different countries. So, your discount may differ according to your location.
To check whether your country is listed or not to avail of the HostPapa extra discount along with the discount percentage for each plan.
The web hosting company iPage has been in the industry since 1998.
Its the second oldest web hosting provider in the list of the best web hosting 2023, Bluehost is the first oldest web hosting company founded in 1996.
The features offered by iPage are almost the same as what the majority of the providers offer in the list such as free domain, free SSL, unmetered bandwidth, and more.
Even though the company is the oldest, the security features are very advanced that help you protect your websites from malware attacks.
Key Features:
Below are some key features of iPage hosting.
An intuitive website builder option comes with all the iPage hosting plans at no extra cost. With the help of the drag-and-drop builder, you can develop websites by answering just a few basic questions.
Ecommerce functionalities to create an online store with iPage and sell an unlimited number of products globally.
$200 worth of search engine ad credits will be provided to the customers by which you can run Google ads and also run ads on Bing and other popular search engines as well.
The most knowledgeable customer support team is available to sort out the user's queries at any time. Yes, the iPage customer support team is available 24/7 format.
There is an analytics tool included with your iPage web hosting account from which you can seamlessly monitor your website traffic report without depending on any third-party websites.
Apart from the solid features, the iPage pricing structure is what makes the 2+ decade older one the most popular one. Let's explore.
Plans and Pricing:
When compared with other best hosting providers in the list, a unique thing about iPage is that it does offer only a single hosting plan under shared hosting.
Go Plan – $1.99/mo billed triennially
If you cannot afford the whole 36-months billing period, try either a 24-month or 12-month billing cycle. But, the cost may vary.
Under your single iPage shared hosting plan, you can host an unlimited number of domains as you wish.
What I Like/Dislike About iPage:
Likes:
Free SSL certificate.
Most advanced security suite.
24/7 dedicated support team via Email, Phone and Live chat.
Free domain name for a year.
Scalable bandwidth.
Dislikes:
No monthly billing term.
Speed test results are not so attractive.
iPage Coupon Code & Discounts:
iPage regular shared hosting Go Plan usually costs $7.99/mo. But, exclusively for Website Hosting Finder readers, iPage agreed to give a special offer.
Today, you will get a $7.99/month worth plan at just $1.99/mo plus a free domain name of your choice.
All you need to do is, click on this already coupon code applied link below to grab your deal.
You may all know NameCheap only as a domain registration service provider.
In fact, NameCheap also deals with affordable yet best web hosting plans. That's why the company got a place in my list of the 10 best web hosting services.
With NameCheap, you can avail the web hosting for every requirement as the popular domain registration service company offers almost 6 different hosting solutions including shared hosting and managed WordPress hosting solutions.
Do you know, downtime is something that website owners do not want to experience? NameCheap guarantees a promising 100% uptime.
Many experts have been tested and ended up agreeing with NameCheap, the best web hosting company that offers great uptime.
Key Features:
Here are some features that I love about Namecheap.
Hosting migration is free. If you are looking forward to changing your current provider to NameCheap, you can do so at zero cost.
NameCheap has reseller hosting as a part of their different hosting plans. If you want to earn from hosting business, you can purchase and resell it to your clients/customers.
100% discount on domain name registration for one year when you purchase any shared or WordPress hosting plan in a 12-month billing contract period.
There is a marketplace service at NameCheap where you can list your unused domain for sale and make money when someone purchases.
If not satisfied with the service, there's a 30-day hassle-free money-back guarantee is offered.
Affordable hosting pricing plans are one thing that makes NameCheap the best choice among small businesses.
Plans and Pricing:
Below is Namecheap pricing structure.
You can save up to 65% when you opt-in for a 2-years billing agreement.
Stellar – $1.58
Stellar Plus – $2.28
Stellar Business – $4.48
The above mentioned pricing is for NameCheap 2-year billing period. Apart, you can choose either a Monthly or Yearly period.
While most of the web hosting providers offer to host a single website on their basic plan, NameCheap allows you to host up to 3 websites on its basic Stellar plan which costs only $1.58/mo.
What I Like/Dislike About NameCheap:
Likes:
Affordable hosting plans.
Free domain name for a year.
Free website builder.
Supersonic CDN.
Sustainable data centers.
Cloud Storage for zero downtime experience.
Personal NameServers for Stellar. Business plan customers.
Dislikes:
Dedicated IP address at extra cost.
Customer support needs improvement.
NameCheap Domain & Hosting Coupon
Make use of this section, if you want to avail extra discount on your NameCheap hosting bills.
Use this exclusive discount link below and get a maximum of up to 73% discount. The link will probably help you purchase a $4.48/mo plan at just $1.58/mo.
Like Rocket.Net in the list of top 10 web hosting services, WPX Hosting also comes under the premium web hosting category.
Of course, the prices are higher at WPX Hosting compared with Bluehost and Hostinger. But, if you want to handle high-traffic websites, then you definitely need to look for premium hosting service providers like WPX Hosting.
The security feature offered by WPX Hosting seems to be perfect as many website owners migrate to WPX majorly because of the solid security features.
You too can seamlessly migrate from your current provider to WPX as it costs absolutely nothing.
If you are willing to know what makes WPX Hosting got placed in the premium category of web hosting companies, read the key features:
Key Features:
Website migration at free of cost which too just within 24 hours. The WPX Hosting expert migration team will take care of the process while you focus on something else during the migration.
If your site is down due to any reasons regarding hosting, WPX Hosting technical team will fix your issues free of cost as soon as possible.
World-class customer support team as there is a live chat box which you can use even without login into your account to solve your queries. You will get a response from the support team within 30 seconds.
An exclusive knowledge base section is available on the WPX official website. You can read everything about the company from the page.
2 months free usage of WPX Hosting managed WordPress hosting plans when you opt-in for a yearly plan instead of monthly billing.
Here comes the pricing details of the premium managed WordPress web hosting service provider WPX Hosting.
Plans And Pricing:
The web hosting company offers only WordPress-managed hosting solutions in three different plan names:
Business – $20.83 [up to 5 websites]
Professional – $41.58 [up to 15 websites]
Elite – $83.25 [up to 35 websites]
If you cannot make payment for the whole year at a single time, there is a monthly billing cycle as well which costs $24.99/month for the business plan.
No matter what plan you choose at WPX Hosting whether Business, Professional or even Elite, the features are almost the same.
What I Like/Dislike About WPX Hosting:
Like:
Install WordPress in just a click
28 days of automatic backups
99.95% guaranteed uptime
Unlimited SSL certificate installation
Enterprise-level DDoS protection
30-second average response time
Dislike:
No traditional cPanel (still WPX Hosting custom panel is easy-to-use)
The pricing structure is a bit costlier for beginners
WPX Hosting Promo Code + Discount:
If you want to check out all the features offered by WPX Hosting at the most possible affordable cost, you can get WPX Hosting for $2 for the first 2 months
In this way, you can get to use the hosting plans for almost 2 months at the price of $2 only or avail of 3 months of free usage on your yearly billing agreement.
FAQs – Frequently Asked Questions
What is web hosting?
You need server space to host your website. To avail of the server space, you need a web hosting plan. In simple terms, web hosting is the process of buying server space to create a blog site available on the internet.
Web hosting vs domain: What's the difference?
Every website needs an address identity (URL) and the domain is the address of your website. For example, in wpblogging101.com, WP Blogging 101 is the domain.
Whereas web hosting service helps you publish your domain on the internet. When you buy a web hosting plan or sign up for a free hosting service from any provider of your choice, you will get space on their web servers to store your website files.
Can I build a website without using any web hosting service?
Yes, you can build a website without using any web hosting service. But, it's not the best way to build a website. It does involve so many technical processes as you have to set up your computer as a hosting server. The best way is to build a website with the help of the best web hosting service.
What are the different types of hosting services there?
Web/shared hosting, Email hosting, WordPress hosting, Cloud hosting, Dedicated hosting, Woocommerce hosting, VPS hosting, and CMS hosting are the different types of hosting services to look for. Out of all, shared web hosting is the most considered hosting service.
Which is the best hosting service?
The answer may actually depend on your requirements. All the listed top 10 web hosting companies above have their own pros and cons.
For example, Cloudways is best for cloud solutions whereas WPX Hosting and Nexcess are the opted choices for high-traffic websites. Hostinger, Bluehost, and HostPapa are best for those who need affordable web hosting services.
How much does a web hosting service cost?
Well, it depends! If you have less than one dollar per month, you can host your website. At the same time, there are some hosting providers that charge you up to $30 per month along with free trials. So, again depending on the web hosting service provider you choose, the cost varies.
If you see the above list, Hostinger offers a hosting plan at just $1.99 per month billed for 48 months. But to avail of a basic Rocket.Net plan (Black Friday), you need to spend around $25 per month billed annually.
Which type of hosting is best for blogging?
If you want to start blogging in the WordPress CMS, then  WordPress hosting must be your first choice. For other blogging platforms, you can try a shared hosting plan.
Once your blog starts getting a decent amount of traffic, you may then upgrade to managed hosting solutions such as cloud or VPS hosting.
What's the difference between a web host and a web builder?
Web hosts allow users to store the website data and offer web server space to make the website available on the internet. Whereas a web builder acts as a tool to develop websites. Using a web builder, you can customize websites easily without any requirements of coding.
Who regulates web hosting companies?
According to various sources, there is no common body to regulate web hosting companies. So, in case any issues happen between you and your web hosting company, you need to raise a complaint to the team itself or make your review publicly to let others know.
At the same time, domain registration service companies have regulations. ICANN is the regulatory body for domain name service providers.
How can I switch hosts, or transfer my website to a new web hosting service?
To transfer your website from the current provider to a new web hosting service, you have to make use of the service called Website Migration. The service will be offered by the hosting provider's customer support team free of cost most of the time.
Final Thoughts On 10 Best Web Hosting Companies in 2023
As I said earlier, choosing the best web hosting services is not an easy task as it demands more of your energy and time.
After all the spending, there may be possibilities that you may even face failures with the provider you have chosen.
To avoid all the possible failures during your best web hosting plan selection process, I advise you to look no further and make use of the above-listed 10 web hosting services and choose one that suits your requirements better.
In any case, if you can't decide, which hosting is good then, I recommend:
Hostinger – If you're a beginner and on a tight budget.
Bluehost – If you really care about WordPress website speed & security.
Cloudways – If you are coming from a different host and need a better server.
In fact, almost all the 10 hosting companies in the list offer some great discounts and deals via coupon code, ensure to avail of the discounts while checkout and go ahead.
Enjoy your blogging or business website success with one of the web hosting services.
FTC Disclosure: WP Blogging 101 content is reader-supported. This means if you click on some of our links and make a purchase, we may earn a commission at no extra cost to you – Read Affiliate Disclosure
Comments have been closed!