Bluehost Basic Plan Review 2023
In this ultimate review, I found Bluehost is the right web hosting for beginners and newbies to start a WordPress blog in 2023 – 2024.
Starting from

$7.99/mo

$2.95/mo

Free domain for 1 year

Free SSL certificates
1 click WordPress installer
24/7 live chat support
30 days money-back guarantee
Get Bluehost (67% Discount)
Subscribe for 3 years plan and save up to $217 on your first purchase.
Welcome to my super detailed review on Bluehost Basic Plan.
Remember, this is not an ordinary review on Bluehost Basic Plan but a detailed analysis tutorial to know if it's the best web hosting plan for your WordPress website or not in June 2023.
In this review, I will cover:
Bluehost Basic Plan' best features
Pros & cons
Pricing and renewal cost
How it compares to Plus, Choice Plus, and Go Pro
Special discount offer
Whether or not I recommend it
Lots more…
👉 In a hurry? Click here to visit Bluehost official page (special discount offer included).
Like any shared web hosting, it can take some time to understand whether you should go for Bluehost Basic Plan or choose another.
But don't worry. Once you complete reading this comprehensive review, your doubts will be cleared.
Plus, I will share a special discount offer with you at the end of this article.
Let's dive into it.
The Ultimate Bluehost Basic Plan Review 2023
At first, let's take a look at the company itself.
What is Bluehost?
Bluehost (review) was founded by Matt Heaton and Danny Ashworth in Provo, Utah, in 2003.
By the time it steadily grew & become one of the most searched web hosting companies globally.
Don't believe me?
See Google Trends data report. This screenshot was taken on May 30th, 2021.
2023's recent studies say Bluehost is powering over 2 million websites worldwide and a recognized brand name in WordPress web hosting industry.
That's why it's one of the WordPress officially recommended hosting (source link) since 2006.
They offer a wide range of web hosting services, website builders, domain registrations, and 24/7 tech support to their customers.
If you're planning to create a website or blog, I strongly recommend Bluehost because it's one of only three hosting companies endorsed by WordPress.
👉 Ready to start your website with Bluehost? Click here to get up to 63% OFF deal or check out our detailed guide on starting a WordPress blog on Bluehost hosting.
Introducing Bluehost Basic Plan
As said earlier, Bluehost offers various hosting packages, including shared hosting, VPS hosting, WordPress managed web-hosting & Dedicated hosting services.
The Bluehost Basic Plan is a very basic package, or you can say the entry plan from shared hosting plans. Other than that, they do have Plus, Choice Plus & Go Pro.
This detailed Bluehost Basic Plan review tutorial will help you understand whether you should pick this web hosting package or choose a higher plan.
I will also compare it with the rest of 3 shared hosting plans and who should buy for making a website or blog, either it's a:
Let's get started with basic features.
Features
First, let's take a look at the advantages of choosing Bluehost web hosting.
Recommended By WordPress
As said earlier, Bluehost is officially recommended host by WordPress, which is the most widely used website platform on the market.
Of course, you can use almost any hosting provider like A2 Hosting, GreenGeeks or Hostinger etc. to create a WordPress site or blog.
But the fact that Bluehost is one of the few officially recognized partners is encouraging.
FREE Domain + SSL Security
Bluehost Basic Plan offers free domain registration (even all other shared hosting plans), which actually costs $15.95 per year on HostGator and $14.95 per year on A2 Hosting.
Similar to many other website hosting companies, they too offer SSL Certificates to their users.
Installing SSL Certificates on your website creates secure communication between client and server. Indirectly, it increases your site security and customer trust.
Website Builders
Don't know how to do coding? No problem!
Bluehost Website Builder is an inbuilt web builder inside all hosting plans.
It is a super easy-to-use tool that lets you easily create websites on your favourite CMS like Weebly, WordPress etc.
Easy To Use cPanel
Bluehost Basic Plan (all plans) includes the industry-leading well-organized cPanel control panel.
Inside cPanel, you can manage your custom websites or WordPress blogs (backups, security, themes etc.).
It's a complete control system that works like a command centre, where you can access your site accounts, manage your domains, install scripts, and much more.
Inbuilt SEO Tools
SEO is complicated, but Bluehost made it simple.
Yes, purchasing Bluehost hosting gives you access to make use of their powerful SEO tools.
While using their new suite of SEO – or search engine optimization tools allow you to set up a perfect site structure that drives organic traffic in a fixed time.
Their simple dashboard is easily understandable and easy to use, either you are a beginner or a pro blogger.
24/7 Live Expert Support
They have various support options, including live chat, email support tickets, and 24/7 phone calls.
Whether you sign up for Bluehost Basic Plan or any higher shared hosting package, you are eligible for all customer support options.
The tech support is excellent and the most efficient at handling advanced issues by experts.
Pros & Cons
Unlike other web hostings, Bluehost Basic Plan also has some pros. & cons. as listed below.
Pros
Free domain name for 1 year
Free SSD storage
PHP7, HTTP/2, NGINX Caching
Up to 50GB of web space
Unlimited web traffic & storage space
1-click WordPress installer
Free Let's Encrypt SSL certificates
Free Cloudflare CDN
New Blue Rock cPanel control panel
24/7 unlimited support
30-day money-back guarantee (free trial)
Cons
Limited to 1 website only
No free website migration
Doesn't offer monthly plans
No free daily backups & restore
Pricing & Renewal Cost
Until now, we have almost finished reading about Bluehost Basic Plan Review for 2023.
Now let's see how much it cost on the first-time purchase and what's the renewal cost.
Bluehost Basic Plan Price
If you look at our Bluehost pricing tutorial, it costs around $3.95 to $7.99 per month, depending on the billing tenure you choose.
But when you choose to buy from any link from this post, you will be paying initially $2.95/mo price (up to $217 savings).
Well, subscribing for:
36 months hosting will charge you a flat $2.95 per month (get this price)
24 months billing tenure costs $4.95/month
And the last 12 months hosting bills the highest payment of $5.95 per month.
The conclusion is the more you buy, the more you save.
Bluehost Basic Plan Renewal Cost
Almost every web host follows the higher renewal pricing trick to get more customers by showcasing heavier discounts on the 1st time purchase.
The Bluehost renewal cost starts from $7.99 per month, which is truly expensive. This is why many people look for Bluehost renewal discount codes.
For that reason, I highly recommend my readers go for a longer-term plan. This is the only way to save the most money on hosting purchases.
Click here to buy Bluehost WordPress hosting just for $2.95/month and save $217 right now (valid only on 36 months hosting package).
Bluehost Basic vs Plus vs Choice Plus vs Go Pro Plans Compared
Please look at the points below to get an idea of how Bluehost Basic Plan is different from its rest of the shared hosting plans.
Cheapest web hosting package available on the entire website.
Bluehost Basic Plan allows one domain hosting, and you can create unlimited websites with any rest of the plans.
You don't get a free website migration service with the Basic Plan, while other plans have this feature.
Maximum discount (up to 67% off) compared to other hosting packages.
No marketing credit included ($200 for advertising)
And so on
For more details, kindly take a look at our detailed tutorial on Bluehost Basic vs Plus vs Choice Plus vs Go Pro comparison.
As you can see above, the more you pay is, the more you get.
The primary benefit of choosing the basic plan is that it's the cheapest plan in a shared hosting package.
But, the dark side of it is that you will get the option to host only a single domain on the hosting panel.
Conclusion: If you wish to create a new WordPress website in the future, you will be charged too much on upgrades or buy another hosting package separately.
My Suggestion: I strongly recommend you to go for Bluehost Choice Plus hosting plan. It will just cost you some extra bucks but value your money.
Bluehost Coupon Code June 2023
WP Blogging 101 readers are eligible for up to 67% instant discount and a free domain with our Bluehost coupon code, as listed below:
67% OFF on the Basic Plan (only $2.95/mo instead of $7.99/mo)
50% OFF on the Basic Plan (only $5.45/mo instead of $10.99/mo)
63% OFF on the Basic Plan (only $5.45/mo instead of $14.99/mo) (recommended)
41% OFF on the Basic Plan (only $13.95/mo instead of $23.99/mo)
All you have to do is click on this link to make a purchase.
The discount code will be automatically applied. Please note that this deal is only valid on new signups and is only valid for a limited time.
How To Get Discount On Bluehost Basic Hosting Plan?
Getting a discount is very easy – all you need to follow the steps listed below correctly to redeem this deal.
Note: It does not require any Bluehost coupons whatsoever as discount codes apply automatically.
Step 1: Click here to visit Bluehost website to get a discount and tap on the Get Started button.
Step 2: Choose the hosting plan you want to purchase.
Step 3: After selecting the plan next, you'll be asked to enter your domain name. Claim Bluehost's a free domain name by pressing the Search button. Or, you can click on the I'll Create My Domain Later to skip it for now.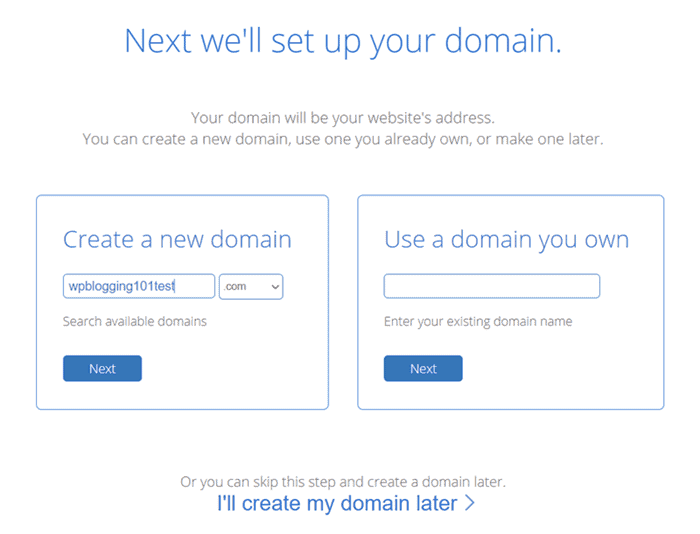 Step 4: In this step, you need to complete the purchase by filling in all details as mentioned below.
Account Information: Add your account details like Name, Email, City, State, Country etc.
Package Information: Choose your billing tenure (as said before, 24 to 36 months hosting will give you more discount).
Package Extras: Remove CodeGuard and Bluehost SEO Tools from the cart as it isn't worth investing in.
Payment Information: Enter your payment information either via Credit Card or PayPal.
Step 5: Finally, Check/Uncheck the email notifications option and then press the Purchase Now button to register to host.
That's it!
I hope you get a Bluehost discount by following my steps.
Bonus: You can also read our guide on buying hosting from Bluehost in the right way and save up to 67% of your money instantly using our coupon code.
FAQs – Frequently Asked Questions
Here are a few important questions about the Bluehost Basic Plan that you might want to know before you sign up.
Is Bluehost Basic Plan value the money?
Yes, it worth investing money in 2023 – 2024.
Remember, this condition applies if you have planned to create a single website or blog.
Otherwise, I strongly recommend you sign up for Bluehost Plus or Choice Plus hosting plan.
It offers unlimited website hosting and many more premium addons for free.
Can I upgrade my Bluehost hosting plan?
Yes, you can upgrade from Bluehost Basic Plan to Plus or Choice Plus whenever you want from your Bluehost cPanel (dashboard).
Another way to upgrade or downgrade your hosting subscription is by manually getting in touch with the customer staff.
Am I eligible for any discount?
What if I'm not happy with Bluehost hosting?
No problem.
It offers no question-asked 30 days money-back guarantee. If you cancel your account within 30 days, you receive a full refund on your hosting service.
Remember, the domain registration fee is non-refundable.
Your domain will be active even after the hosting account is canceled, or you can manually de-register it by contacting the support team.
My Overall Review On Bluehost Basic Plan 2023
After reading this review, you might be wondering if Bluehost is the right choice for your website?
The answer is YES.
As illustrated above (Google Trends), Bluehost ranks #1 compared to top competitors such as A2 Hosting, DreamHost, and Hostgator.
Besides, they also offer healthy 24/7 days unlimited support, a free domain name, SSL certificates, and 30 days money-back guarantee.
Conclusion: Bluehost is one of the most reliable web hosting providers for one of the lowest rates in the industry ($2.95/month only).
Get Bluehost Hosting
In conclusion, Bluehost Basic Plan review is likely to be the best option for starting a WordPress blog in 2023.
Now It's Your Turn
So that's it for my review of Bluehost Basic Plan.
Now I'd like to hear from you:
Have you tried Bluehost hosting before?
If so, what was your experience with it? Is it:
Good
Bad
Or somewhere in between
Either way, let me know your experience by leaving a comment below right now.
FTC Disclosure: WP Blogging 101 content is reader-supported. This means if you click on some of our links and make a purchase, we may earn a commission at no extra cost to you – Read Affiliate Disclosure