Cloudways Review 2023
Cloudways is a user-friendly cloud hosting platform that supports multiple cloud providers including AWS, Google Cloud, DigitalOcean, Linode and Vultr making. It's a great option for both beginners and experienced developers.
Welcome to my UPDATED Cloudways Review article for December 2023.
In this post I'll show you:
Cloudways speed test & real user opinions
Best features (pros & cons)
Pricing plans & discounts
How Cloudways compares to other hosting services
Lots more
So, if you're wondering whether Cloudways is the right WordPress hosting service for your blog website, this review post is for you.
Let's dive in.
Cloudways Review Tutorial (My 3-Year Experience)
📢 Why You Should Trust Me On Cloudways Web Hosting?
I have been using Cloudways hosting since July 2021 and have thoroughly tested and experimented with its features.
Here's my purchase receipt:
I've played and experimented a lot with this host. As a result, I feel confident in my ability to provide a thorough and insightful review of Cloudways web hosting."
Expert Note: To get maximum Cloudways speed, try to combine it with a CDN service like BunnyCDN.
At the first point, let's take a look at the company itself.
What is Cloudways? An Overview
Cloudways is a cloud hosting service that delivers affordable, powerful and easy-to-set-up for WordPress sites.
And in this in-depth Cloudways review, you'll find out if they're the best hosting for your WordPress website or not.
| | |
| --- | --- |
| Rating | 5 out of 5 ⭐⭐⭐⭐⭐ |
| Hosting Type | Managed Cloud Hosting |
| Control Panel | Cloudways Panel (proprietary) |
| Speed & Performance | SSD hosting, Nginx/Apache servers, Varnish/Memcached caching, HTTP/2, Redis support |
| Servers | DigitalOcean, Vultr, Linode, Amazon Web Services (AWS), Google Cloud Platform (GCP) |
| WordPress | 1-click WordPress installations & staging sites, pre-installed WP-CLI, breeze cache plugin and Git integration |
| Security | Free SSL (Let's Encrypt) and OS-level firewalls |
| Extras | Unlimited sites, free automated backups, free CDN & dedicated IP |
| Pricing | Starts from $10 per month |
| Current Deal | Get 20% OFF for 2 months using coupon WPBLOGGING101 |
| Website | Cloudways.com |
Founded in 2012 and located in Sliema, NA – Malta, Cloudways is a popular managed cloud hosting provider known for its reliable uptime, flexible scalability, and superior performance compared to traditional hosting services.
Instead of using its own infrastructure, Cloudways allows you to select from five different cloud hosting providers (that best meets your specific requirements and preferences):
DigitalOcean,
AWS,
Linode,
VULTR,
and Google Cloud Platform.
You can quickly set up servers and deploy your desired applications. All hosting servers also come with support in case you encounter any issues.
Some of the best features that I like about Cloudways are:
41 data center locations around the globe
1-click WordPress installation software
Free WordPress Cache plugin (Breeze)
Easy server scaling option (if you need more resources)
SSH and FTP access
Transparent pricing options
Single-click SSL certificate setup
Support for multiple PHP versions
Support for both MySQL and MariaDB database management systems
Git integration
Free Object Cache Pro (save $95/mo)
And, The Best Part?
You can try all these features absolutely free of cost with Cloudways free trial – no credit card is required. Click here to start your free Cloudways hosting trial!
However, for more features and advanced-level options (we'll discuss below) you can upgrade your Cloudways free trial account to a paid plan.
But before that let's check out what happened when I ran a speed test to check Cloudways hosting speed.
Cloudways Speed Test & Response Time (Tested)
To get started and test out hosting speed, I installed a fresh WordPress application on my Cloudways DigitalOcean server (here are the easy steps to install WordPress On Cloudways server).
Then, I installed Kadence Theme (this is the theme, I use on WP Blogging 101), and Kadence Blocks (my most-favourite WordPress Gutenberg editor plugin) and run a speed test in GTmetrix.
You know what, I was shocked to see the page speed report (see the below screenshot).

Here's my Cloudways speed test with Pingdom tool (screenshot below):
The page loading tests from multiple locations using Pingdom were as follows:
Washington D.C.: 0.38 seconds
San Francisco: 0.63 seconds
London: 0.61 seconds
Sydney: 1.33 seconds
And, the Google Insights Page Speed score was impressive too.
It loads in just under 2 seconds and that is a lot faster!
So what to make of all this?
Well, one thing is certain; if a website is hosted on Cloudways it would load a lot quicker.
Plus, if you make additional changes like:
Install WordPress cache plugins like WP Rocket,
And, use a CloudwaysCDN service (or an external CDN like BunnyCDN) with your hosting
…then, results might surprise you.
My Cloudways DigitalOcean servers are located in Bangalore. I get to experience better Server Response Time in Asian regions like Mumbai or Singapore.
When I tested the server response time in Mumbai, India, it came out to be just 34 ms, which is extraordinarily fast!
Unlike other popular web hosts like Bluehost, Hostinger, and A2 Hosting, Cloudways does not support Litespeed servers.
Instead, it comes with a powerful combination of Apache and Nginx servers that guarantee an improved performance compared to its all alternatives in the market.
Overall, Cloudways server Response Time and Speed Test Results were quite impressive!
Get Started With Cloudways Right Now!
Get 3-day FREE trial + 10% off for three months using code: WPBLOGGING101.
Sign up here and claim 1 FREE migration for your WordPress site that is handled by Cloudways hosting experts.
⭐ Real Cloudways Reviews From Real Users
Our Cloudways review tutorial is incomplete without knowing what real users are talking about it.
In this section, I have collected plenty of user/customer opinions from Facebook and Reddit communities that you should consider.
Let's check them out.
Cloudways Reviews On Reddit
Here the one thing is that Reddit users seem to agree about Cloudways' reliability when it comes to stable WordPress hosting. After all, it's one of the most reputable cloud hosting solutions on the market.
No matter, what's other views, I believe, this is largely due to its excellent customer service, as well as its easy-to-use setup and reasonable pricing.
Cloudways Reviews On Facebook
After finishing up with Redditors' opinions, I head over to Facebook search and found interesting some polls/threads about the hosting.
Here are the real screenshots with source links below:
As you see, above, Cloudways is significantly rated in the top three web hosts in the Facebook polls.
✅ When You Should Use Cloudways Hosting
Unfortunately, Cloudways offers unbeatable cloud hosting services, and I would recommend it in a heartbeat.
It's suitable for serious startups to professional WordPress blogging projects. If you need more power, you can upgrade your existing server to a higher one in a single click, anytime.
I especially recommend Cloudways hosting for:
if you're looking for a high-performance host in the $10-$50 price range
Creating self-hosted WordPress sites
Online eCommerce stores
Large corporate websites
In general, anything that will require high-performance solutions
Get Started With Cloudways Right Now!
Sign up today and claim:
3-day free trial (no credit card is required)
10% discount for the first three months when you use code WPBLOGGING101
free migration service for your WordPress site
Don't miss out on this opportunity to speed up your website with Cloudways. Start your free trial today!
❌ When Not To Use Cloudways Hosting
Even though Cloudways adapts to many profiles, in some cases, it might not be the best option. For example:
If you an at your beginners level in the blogging field
If you are looking for affordable hosting like Hostinger or Bluehost
If you need one of the high-resource servers, simply because your website is just established
To see even more options, check out our full roundup article on the best WordPress hosting services.
💡Top 21 Key Features Of Cloudways Hosting
Let's kick off our Cloudways review with the things that this managed cloud WordPress hosting really well.
Simple & Easy-to-use (Clean UI)
Most of all, I love Cloudways UI – all-in-one modern style cloud hosting with simple, 1-click settings (no command line, no cPanel, no wasted time).
The integrated custom control panel grants you both application-level and server-level access.
It also supports a 1-click application install of your favourite applications like WordPress, Joomla, and WooCommerce. The same settings apply to CMS and PHP.
Right now, the time I am writing this review on Cloudways, the control panel is divided into the following sections:
Master Credentials include the dedicated IP address for the server, as well as login information for SFTP and SSH access to all applications.
The Monitoring lets you track the resources and bandwidth usage on your server.
Within Manage Services, you can monitor various services as such as Apache, MySQL and Memcached.
Settings & Packages tool allows you to choose your version of PHP and define PHP settings.
Security section lets you whitelist your IP and/or IP subnets for SSH/SFTP and MySQL connections.
Inside Vertical Scaling, you can increase or decrease your server's size.
With Backups, you can set a schedule for when backups occur, determine how often they happen, and manually initiate a backup of your server at any time.
SMTP is a configuration section for setting up outgoing email delivery.
Overall, Cloudways offers a control panel that makes it easy to manage the essential parts of a website or web application.
Furthermore, it also provides SSH and FTP access (using Filezilla), which allows you to run advanced commands and tasks.
FREE Astra Pro Theme
Recently, Cloudways partnered with Astra (a powerful WordPress theme from the Brainstorm Force community).
Astra Pro (worth $59) & Cloudways, lets you build professional WordPress websites or online WooCommerce stores in minutes without a single line of code.
With Cloudways Astra plan, you will get instant access to Astra Pro for one year, including:
Unlimited websites usage
Hundreds of well-designed templates
Sticky headers
White labelling
Blog layouts
Advanced color controls
And a lot more…
After 1 year from the date of your initial hosting purchase, you will be charged $4 per month for access to the unlimited website feature on your Astra Pro plan. Grab Cloudways Astra Pro Deal!
Extended Security
When it comes to security, Cloudways is the most bulletproof WordPress hosting provider.
Here are the main security features you can expect:
Firewalls: All servers have firewalls that only allow access to necessary ports for app functionality.
Login Security: You can effectively handle brute-force login attempts by setting limits on SSH and SFTP logins.
Bot Protection: Protect your WordPress website from malicious bots, brute force login attacks and Denial-of-Service (DoS) attacks.
Database Security: The database can't be used unless you allow it by listing some IP addresses. This is called Whitelisting.
Application Isolation: On a single server, multiple apps can be run, but each is separate from the others, preventing issues with one app from harming the whole server.
SSL Certificates: Unlimited Let's Encrypt SSL certificates can be installed on all websites for free.
User Role Management: This allows you to manage user access by creating customized server access lists to grant or restrict server functionality.
Operating System's Security: Cloudways uses Debian – its strong and quick system for fixing vulnerabilities.
Bug Bounty Program: Cloudways works with BugCrowd to find vulnerabilities, where the community can report and be rewarded for reporting bugs.
GDPR Compliance: Fully compliant with the European General Data Protection Regulation.
Two-Factor Authentication (2FA): It provides an extra layer of protection to your website (an essential tool for website security as regular passwords alone are becoming less secure).
End-to-End Encryption: Secured with end-to-end encryption, ensuring all data in transit is protected with HTTPS protocol, preventing unauthorized access during transfer.
Suspicious Device Login Control: Send new login alert email notifications or a security code for verification when new device logs into your Cloudways account.
All things considered, security is the most important aspect of your website and Cloudways takes it seriously.
Free SSL Certificates
SSL full form is Secure Sockets Layer – it is a technology that is used to secure the data that is transmitted over an internet connection.
In general, SSL is what separates https:// from http://. And having an SSL certificate installed is a part of SEO that gain the trust of your visitors and clients.
At Cloudways, SSL Certificates are FREE of cost for 90 days, provided by a third-party vendor named Let's Encrypt.
Installing a free SSL certificate on a website; here are the general steps you can follow:
Log in to your Cloudways account and select the server and application you want to install the SSL certificate on.
Click on the Application Management » SSL Certificate » Install a new SSL Certificate.
Enter the domain name for which you want to install the SSL certificate and click on the "Proceed" button.
And that's it. Cloudways will then generate the SSL certificate for you and install it on your website.
Note: The exact steps may vary depending on the specific hosting server of Cloudways you are using and the application you are installing the SSL certificate.
Free Website Migration
Cloudways offers to migrate your first website for free and applies to all of its hosting plans. Remember, the migration benefit is applicable only if you have SSH, SFTP, FTP, cPanel, or hosting credentials.
Tip: For WordPress users, you can migrate your website with WordPress Migration plugin (it's a 100% free plugin) that helps you transfer your websites easily.
To request a free migration, contact the support team via Cloudways Support Center (Need a Hand » Send us a Message). Alternatively, you can also create a support ticket.
For more than one website migration request, you'll also need to pay additional charges.
Cloudways Application Migration Add-on prices are as follows:
WordPress, WordPress Multisite & WooCommerce: $25 per application
Magento, PrestaShop & Drupal: $125
Joomla: $99
PHP: $199
And the content management system (CMS) application upgrades fees are as follows:
Joomla: $125 per upgrade
Magento, Drupal & PrestaShop: $250 per upgrade
WordPress Multisite & WordPress: $50 per upgrade
That's all about Cloudways website migration.
In my case, I prefer to handle website migrations myself, as I find the process educational.
Breeze – FREE Cache Plugin
The Breeze is a FREE WordPress caching plugin owned by Cloudways – an in-house caching tool that optimizes your website and reduces page load time.
The main key features of Breeze are its a free, simple (yet powerful) and user-friendly WordPress caching plugin that:
easy to install and configure (default settings should work on all your WordPress websites seamlessly) right inside WordPress admin area,
improves your website speed using a file-level cache system, database cleanup, minification, and simplified CDN integration options.
In addition to the caching capabilities provided by the Breeze plugin, Cloudways hosting plans also include built-in advanced caches such as Memcached, Varnish, Nginx, and Redis, as well as Full Page Cache using Object Cache Pro.
📢 My Opinion: Cloudways has been making improvements to Breeze, but I still recommend WP Rocket (and personally use at WP Blogging 101).
Cloudflare Enterprise CDN
In general, using a CDN (Content Delivery Network) like Cloudflare in combination with a reliable hosting service like Cloudways can be beneficial for improving website performance and security.
Cloudways Cloudflare CDN is paid service that cost $1.99–$4.99 a month (depending on the number of domains). And you'll gain many features, like:
Enterprise CDN with 200+ locations from Cloudflare's Global Content Delivery Network
Priority DDoS protection
Intelligent Mlmanaged web application firewall (WAF)
Image optimization with Polish
Brotli compression
Mobile optimization with Mirage
Wildcard SSL support
PCI DSS compliance
HTTP/3 support
Reserved for Cloudways IPs & prioritized routing
The free version of Cloudflare CDN is a good start if you just getting started with WordPress blogging.
But if you have lots of content or competitors, or your website earns a good amount of money, then Cloudflare Enterprise is the right CDN service for you.
Self-Healing Servers
Cloudways offers self-healing servers that automatically reboot in the event of any problems.
It means, you won't have to take any action in case of a server outage – the self-healing servers automatically restart and resume operation.
Alternatively, you have the option to manually restart processes running on your server, without the need for support assistance.
Overall, self-healing is a handy tool for better performance of your servers, which usually most managed hosts don't give you control over certain functionality.
Easy Staging Sites
Staging (a staging site is basically an identical copy of your site in a safe sandbox that you can use for testing) with Cloudways hosting is super easy.
Many hosting providers in the market charge extra for a staging environment. However, with Cloudways, you get 1-click staging environment for all your applications and on all plans.
This feature is really handy for safely working on your site without affecting your live website.
A staging website is a clone of your existing website with three major differences.
The staging website is private; thus, no one can see it except you.
Search engines can't index your staging website.
Changes you make on your staging site wouldn't affect your live website until you push changes.
To get started, head over to Clone App/Create Staging from the Applications section inside your hosting dashboard:
It takes a few minutes to complete the installation of cloning/staging your website (depending on how big your existing application is).
Once finishes, you can make the necessary changes. When you're happy with your changes, open the new Staging Management area and push your data from staging to live:
The staging feature provides great convenience and flexibility, particularly for longer-term projects. One such example is using the option to push from live to staging, which ensures your staging site has the latest content by transferring your live database.
Overall, the staging tool is extremely beneficial and offers a lot of options.
Vertical Scaling (ZERO Downtime)
With Cloudways hosting, you can scale your server, CPU, and storage using its 1-click vertical scaling feature (no downtime).
To scale up your server, go to Servers » Vertical Scaling » and select the desired Server Size.
Vertical Scaling, also known as scale-up, involves increasing the resources (such as CPU, memory, and storage) of an existing server within the same geographic location.
A Quick Note:
Scaling up your existing server with Cloudways DigitalOcean, Linode, and Vultr, this process is permanent and you can't scale down your resources in future.
However, if you go with Google Cloud or AWS (Amazon Web Services) servers, you can seamlessly scale your services up or down as per your requirements!
Backups And Restoration
In the context of hosting, backup and restoration refer to the process of creating and storing backups of websites and their associated data (such as databases).
On Cloudways, you can create three different backups.
#1. Automatic Backups
The automated backups refer to a standard feature, giving you peace of mind that your data is being regularly backed up. However, you also have the flexibility to customize your backup preferences.
You can set a backup frequency, time, and retention frequency, allowing you to choose how often backups are taken and how long they are kept.
This means that you can set up the backup schedule to best suit your needs and ensure that your important data is always protected.
#2. On Demand Backups
Cloudways offers an "On-Demand Backup" feature that allows you to create a backup of your database and files before implementing an important change on your website.
This feature is especially useful if you want to create a backup before making any major changes to your website or application.
On-Demand Backups can be created from the "Backup" tab on Cloudways Platform, where you can select the specific server and application you want to back up, and then click the "Take Backup Now" button.
The process is simple and fast, and once the backup is complete, it will be stored on the cloud server and can be downloaded or restored at any time.
#3. Local Backups
This is a paid service from Cloudways. They charge $0.033 per GB of data backed up, which amounts to ₹2.43.
This feature is especially useful if you want to have a copy of your website or application data stored on your own computer or server as a security backup.
Expert Opinion: Always use an external backup solution for your WordPress site, regardless of what your web host offers. This will ensure your data is protected and under your control.
Talking about Cloudways Server Recovery – it's a feature that allows you to recover deleted applications and servers within 15 days of deletion.
This can be done through the Cloudways platform by going to the "Application Management" or "Server Management" section and selecting the "Deleted" tab.
From there, you will see a list of all the deleted applications or servers and you can select the one you want to recover and restore it to its previous state.
Website Monitoring
Cloudways also offers around-the-clock monitoring of your website, so you know everything is on track at all times.
Inside the console, you can check your website traffic and other important metrics like:
IP Address Requests: This feature displays the most frequent IP addresses accessing your website.
Bot Traffic: This tool allows you to view a list of bots utilizing your website resources, enabling you to block them immediately.
URL Requests: This feature shows the most frequently visited URLs on your website.
Status Codes: This tool helps you track web pages that are not accessible due to errors such as 404 and 502.
In addition, you can see over 16 different metrics right from your Cloudways console.
Cloudways also send real-time updates via email or text from the CloudwaysBot – a smart assistant that monitors your site's performance.
Inode Count
While iNode is not the most critical factor in a web hosting selection, it's one of the "good to know" especially if you are hosting a lot of websites on a single hosting account.
Due to a number of reasons, at Cloudways, the number of available iNodes on a server depends on the disk size and it is limited.
Although, you can run out of inodes. If this happens, no new files/folders can be created and your server will malfunction.
In my $26/month plan of DigitalOcean Premium Plan, I get 32 lakh inodes, which is around 4 times higher than other Cloudways alternative hosting options.
Refund Policy
Unlike most of its competitors, Cloudways does not offer a money-back guarantee. Instead, they do offer a free 3-day trial for you to test out their services.
While the lack of a refund policy may be a drawback for some customers, you can try its 3-day trial, where you don't even have to share your credit card information. So, there's no risk of being billed by mistake.
In addition, Cloudways payment model works as a Pay-as-You-Go service (you only pay for the resources you consume).

As per the terms, "Cloudways is liable to refund your unused prepaid account funds if a refund request is presented within three months of funds addition. However, the refund will not include the amount already deducted for services consumed– source".
In any case, if you decide to delete your account, login to your Cloudways Account » Delete Your Server » Deactivate Any Addons » Cancel Your Account.
24x7x365 Days Of Support
Cloudways offers round-the-clock support to its customers through various channels such as live chat, email, and social media.
If you ever need any support with this managed cloud hosting service, you can go through the following links.
Facebook Group (where you can ask queries or share your thoughts about web hosting).
Detailed Documentation (where you can find helpful guides and tutorials from sign up to set up, fixing issues etc.)
Forum – for paid users only (where you can ask questions about anything related via 24/7 days of live chat).
Knowledge Base Articles (where you can find many articles related to the services).
PS: You can also join Cloudways YouTube Channel, where the videos are well-narrated and easy to follow.
Overall, Cloudways aims to provide excellent support to ensure a smooth and seamless hosting experience for its customers.
Email Hosting
Here's a drawback; Cloudways hosting plans do not come with integrated email accounts.
Instead, they offer email hosting services as a separate paid add-on that lets you host one professional email account for $1 per month.
It's featured as an add-on called Rackspace Email Hosting that lets customers choose from a Gmail SMTP server or a fully managed email service.
💡 Beginner's Tip: If you require a FREE email hosting service for your new website, I suggest considering Zoho Emails as an option.
Cloudways Affiliate Program
The next feature in our Cloudways hosting review article list is; affiliate program.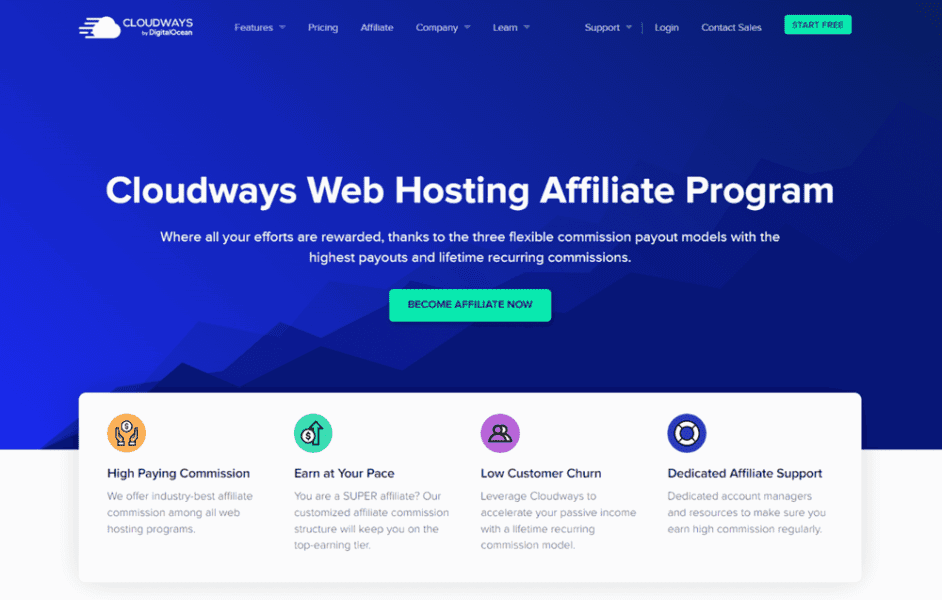 If you are into a blogging niche and do affiliate marketing to make money from your blog, then you should join Cloudways affiliate program.
With this program, you can earn upto $125/referral to whoever signs up for Cloudways hosting services through your affiliate link.
Cloudways affiliate program gives affiliates two income commission structures:
Slab: large flat commission per sale
Hybrid: small flat commission per sale, then recurring commissions
If you can generate dozens of referrals every month, the Slab model is great for flat commission rates up to $125/sale.
The Hybrid payout structure works for those bloggers and marketers who are not aggressively looking to earn commissions but wish to leverage recurring commission earnings. Sign up for Cloudways hosting and start promoting today!
Since all 👆 Cloudways features seem to be the Jack of all trades, but if you want to take it a step further below 👇 are some helpful tools at fairly priced.
Redis Cache (Object Cache Pro)
Redis is (Object Cache Pro) another caching layer after Breeze that Cloudways offers with 2GB RAM or higher plans.
Note: With 1 GB plan, you can also use Redis cache, but for that, you'll need to install Redis on your server and then use Redis Object Cache Plugin to activate it in WordPress.
Object Cache Pro is a premium WordPress plugin worth $95/month, but Cloudways offer it free to all users who subscribe for 2GB and higher servers.
To enable Redis Cache on the server, head over to Server » Settings & Packages » Packages » Install Redis.
In a few moments, Object Cache Pro plugin will be installed automatically on your desired WordPress website.
Note: I don't use Object Cache Pro on my website because I prefer WP Rocket cache plugin on all my websites.
Team – Access Manager
This useful feature is ideal for those who collaborate with other developers, employees, companies, or clients.

Cloudways team collaboration is the ability to add multiple team members to a:
single account,
set user roles & permissions,
and access to a centralized platform for monitoring and managing all team members' activities.
In short, Cloudways team collaboration allows for adding multiple users and assigning them roles on servers and applications.
You can distribute your work with co-workers by granting them access to your servers and applications, regardless of their location, using just an email address.
In addition, permissions can be configured to grant full or limited access to team members, ensuring security while allowing for close collaboration.
Industry-Leading Add-ons
Cloudways Addons are additional features and services that add value to your managed cloud hosting.
These add-ons are:
Support Add-ons: $100/month
Gmail SMTP: Free
DNS Made Easy: $2.5/month
Application Upgrade: $50/month
Application Migration: $25/migration
Rackspace Email Hosting: $1/month
Cloudflare CDN: $4.99/month (paid)
Overall said, add-ons extend the capabilities of Cloudways platform and help users achieve more without opting for third-party server management tools.
Expert Support (Extended Team)
Cloudways support is considered one of the best-in-class support systems in the industry.
There are three levels of customer support available:
Standard Support: 100% Free.
Advanced Support Add-on: Everything inside Standard Support. Plus, Customization support.
Premium Support Add-on: Everything inside Advanced Support. Plus, 24/7/365 Private Slack channel & phone support
For most Cloudways customers, Standard Support is more than enough. I have already discussed it earlier in 24x7x365 Days Of Support section.
The rest of the two support types are considered paid addons.
The Advanced Support Add-on offers faster response times and more in-depth troubleshooting for a cost of $100 per month.
And the Premium Support Add-on provides 24/7 call support, a dedicated account manager, and a private Slack channel for a cost of $500 per month.
Pros & Cons Of Cloudways Hosting
There's no denying that Cloudways is an excellent managed cloud hosting provider. However, as with any product, it has its own set of advantages and disadvantages.
This review section of Cloudways covers the most important pros and cons to consider.
Let's check them out.
Cloudways Pros:
Free trial and free website migration.
Migration plugin is very easy to use.
Choice of 5 cloud providers: DO, Vultr, AWS, Google Cloud, and Linode.
Pay-as-You-Go service (you only pay for the resources you consume).
Excellent performance for the money.
Anytime upgrade option with a single click.
Useful WordPress tools like staging sites, backups, a WordPress optimization plugin and more.
Free Astra Pro theme.
Updated PHP versions (currently supports PHP 8.0).
24/7 live chat support.
Cloudways Cons:
A little bit more complicated for beginners.
No domain registrations.
Apache servers.
Expensive for high-resource servers.
No email hosting.
💰 Cloudways Pricing Plans & Discount Coupons
When it comes to pricing options, Cloudways offers a variety of managed hosting plans, among the cheapest option, is the $10 entry-level DigitalOcean server.
And if you use our Cloudways coupon code, it will be even cheaper than compared the regular cost.
Let's dive in.
Cloudways Plans & Pricing Options
To start, they have 5 infrastructure providers to choose from, and the cost will be depending on which infrastructure provider you choose to use as shown in the table below:
Each hosting price range is based on the Server Ram Size you choose, but the base features are the same – SSLs are free, have unlimited regular backups, and let you host unlimited websites or apps.
Cloudways also implement the unique 'Pay as you Go' payment model. This means:
If you use a server for 2 days, you'll have to pay the amount for 2 days.
If you scale up, you pay more and (or scale back down the price goes down).
One of the standout features of Cloudways is that the renewal rates remain the same for all their plans.
You can try any of the available hosting plans for free for 3-days. After the trial, payment is on a "pay-as-you-go" basis, with no long-term contracts required.
If I talk about Cloudways payment methods, it primarily accepts payments through credit and debit cards (including Visa, MasterCard, and Amex) and Paypal.
In some rare cases, it is also possible to pay through wire transfer, but the minimum amount for this method is $1000.
✍️ Recommended Reading: Cloudways Premium vs Standard: A Closer Look At The Key Features & Differences
Cloudways Best Hosting Server Plan
Well, it depends!
For beginners, who are creating a WordPress blog from scratch, the $10/month plan of DigitalOcean is much enough.
And in any case, if you want to host an E-commerce store, then Cloudways Vultr High-Frequency servers that come for $13/month would be the best plan for you.
✂️ Cloudways Discount Coupon Code
If you want to try out Cloudways hosting, I have a special discount offer for you.
All you need to do is to sign up for a Cloudways hosting plan using my affiliate link and enter the coupon code WPBLOGGING101.
This will give you an additional 20% off on your favourite hosting plan for the next 2 months. All future renewals remain at the same price.
For more details, you can also read my tutorial on Cloudways promo code to find out how to get your coupon activated right away.
Getting Started With Cloudways Hosting Services
In this section, I'll walk you through:
Signing up for Cloudways free account (and claim free trial + 20% discount for 2 months)
Upgrading your free account from a trial to a paid plan
Installing WordPress On Cloudways
Let's explore.
Creating A New Account
To get a new account with Cloudways, go to Cloudways.com and there you're given the option to sign up through LinkedIn, Google+, or Github (for developers). Either way, you can use your email address, of course.
Bonus: Apply our personal Cloudways coupon WPBLOGGING101 and get a flat 20% off your first 2 months' bill.
Next up, you need to verify your email address. To do that, you need to open your email inbox and click on the link inside to activate your account.
Once you're inside your hosting dashboard, it'll prompt you to configure your server. Here you can:
Choose your desired application (e.g. WordPress)
Name your managed app
Name your managed server
Name your project
Select your cloud provider
Specify the size of the server (a minimum of 2 GB is required for stable WordPress speed)
And select your location.
Finally, review your details and click on LAUNCH NOW to get started. Note: if you have chosen AWS or Google Cloud provider, then you also need to select Bandwidth and Storage limit.
In a moment, your desired application will be deployed successfully.
Note: The only thing to note is that you'll need to purchase your domain name elsewhere like Namecheap or Godaddy. Cloudways doesn't offer domain registration services.
Upgrade Cloudways Trial Account To Paid
To upgrade to a paid (full) account, you'll need a valid credit card for verification purposes and future billing. The verification process costs a small charge of $1, which will be automatically reversed once the attempt is successful.
Login to your Cloudways Account, and then navigate to Profile » Account.
Next, head over to Credit Card » Authorize Credit Card.

Lastly, input the required billing information about your Credit Card and click Authorize.
Once the verification process is complete, your account will be upgraded to full access.
Installing WordPress On Cloudways Server
The question comes; how to install WordPress On Cloudways? Well, it's an easy process.
Cloudways supports a variety of CMS platforms, eCommerce applications, and PHP-based apps. You can install WordPress, WooCommerce, PHP, Magento, and Laravel with a single click!
First of all, navigate to the Servers tab and then select the desired server on which you want to install the application.
Now, click on the Grid Icon » Add App. (as shown in the image below).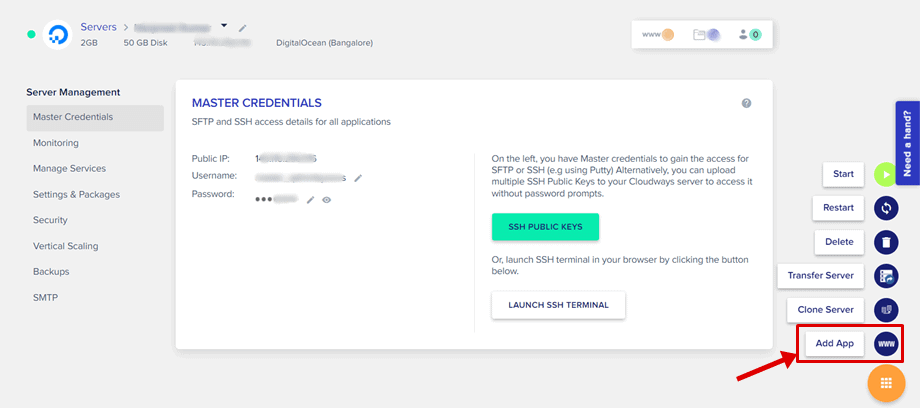 Next up, Select WordPress (clean – cloudways optimization is recommended) » Name Your App » select your Project and hit the button saying, "Add Application".
Once the installation is completed, you can view it by clicking the www button on the target server.

This is how easy is to install WordPress on a Cloudways hosting server.
For more helpful guides and knowledge-base tutorials, kindly check out Cloudways support page.
Top 3 Cloudways Hosting Alternatives
Looking for Cloudways hosting alternatives? Here are 3 handpicked WordPress hosting services with a cloud server, you can try instead of Cloudways:
InMotion Hosting
Hostinger
Nexcess
Let's check them all and find out who's the best for your website.
The first alternative option is InMotion – a web hosting company that provides a range of hosting services like shared hosting, VPS hosting, dedicated server hosting etc.
Compared to Cloudways pricing options, InMotion is a bit expensive but it offers a wide range of premium features like daily backups, SSL certificates, firewall protection and a 90-day money-back guarantee.
👉 Expert Note: InMotion Hosting is highly recommended for those, website speeds and uptime means a lot but the price doesn't matter that much.
Price: InMotion high-powered VPS hosting with double the ram (using next-generation NVMe SSD storage) starts from $19.99/mo.
Hostinger (formerly, known as the world's cheapest web hosting service provider) is one of the most affordable managed cloud hosting solutions out there.
Their cloud hosting plans are designed to provide users with the benefits of a cloud-based hosting environment, including scalability, reliability, and performance.
Price: The most first plan is Cloud Start – which starts from $9.99/mo. All plans come with a free domain name and unlimited free SSL.
The last name on the list is Nexcess (review). It deals in all types of shared hosting, dedicated hosting, and managed hosting packages.
Overall, Nexcess is a reliable and reputable hosting company with a strong focus on customer support. If you're in need of a host that is close to Cloudways features, Nexcess could be worth considering as an option.
Price: Nexcess managed WordPress hosting plans start from $19 per month.
FAQs – Frequently Asked Questions
Here are some of the frequently asked questions related to Cloudways managed cloud hosting services.
Is Cloudways reliable?
In general, Cloudways is considered to be a reliable hosting service, with many users reporting positive experiences with uptime, performance, and customer support.
Is Cloudways good for beginners?
Cloudways is a managed cloud hosting platform that may be suitable for some beginners, but it may not be the best choice for everyone. It's important to do your own research and consider multiple options before choosing the best web hosting platform for your needs.
What is Cloudways used for?
Cloudways is used by individuals, small businesses, and organizations to host a wide range of websites and applications, including e-commerce stores, WordPress blogs, forums, and other content management systems.
Where are Cloudways data centres located?
Mainly located in Sliema, NA – Malta, Malta, Cloudways is a managed cloud hosting that has 65+ data centres around for all unmanaged servers; DigitalOcean, Linode, AWS, Google Cloud, and Vultr.
Is Cloudways good for high-traffic websites?
A big YES. If you are looking to host high-traffic websites then Cloudways can be a good option.
Which server is best in Cloudways?
Choosing a reliable hosting server on Cloudways depends on your choice and website requirements. For example:
→ If budget was no issue and you need to serve a high level of traffic site, I would recommend AWS or Google Cloud.
→ For a Good All-Rounder – I would recommend DigitalOcean Premium Droplets, especially for WordPress sites or WooCommerce stores.
→ For eCommerce/Dynamic Websites, I would recommend Vultr HF. They have more processing power and perform very well.
Is Cloudways good for WordPress sites?
Yes! Cloudways works GREAT with WordPress CMS. In fact, it also offers some WordPress-specific tools such as WordPress-optimized server-level caching, staging sites, a free WordPress optimization plugin, and more.
Can I scale up or down with Cloudways servers?
At Cloudways, upgrading your server is a breeze. The infrastructure is designed to allow for seamless vertical scaling, also known as scale-up, of any server.
Remember, the server scaling is permanent. It means you cannot revert once you have increased your server size. When it comes to downgrading your server, you will need to clone your server and migrate your sites to the new server.
What about Cloudways email hosting?
Yes, Cloudways offers an email hosting and management add-on. The price for email hosting starts from $1 per user per month.
Does Cloudways have a free trial?
It has a 3-day free trial without credit card. All hosting plans are pay-as-you-go once the account is upgraded from trial to full.
Does Cloudways have a website builder?
No. There is no website builder is available right now.
Does Cloudways offer free backups?
Yes, it has an automated one-click backups feature and restoration process. Apart, from off-site backups, Cloudways charge $0.033 per GB of backup storage (irrespective of server provider and location).
Does Cloudways offer free migration?
Yes. With a new Cloudways account, you will receive one free managed migration service. During this process, the team will handle the technical details and ensure a smooth transition of your site with no issues.
How does Cloudways billing work?
Cloudways offers Pay-as-You-Go service; you only pay for the resources you consume.
How much traffic can Cloudways $10 server handle?
Cloudways + DigitalOcean's $10 per month plan can handle a good amount of traffic. The rest totally depends on your server configuration and what settings you have made in your server.
What payment methods does Cloudways accept?
Cloudways accepts payments through credit cards (Visa, MasterCard, and American Express) and PayPal (for upgraded accounts only). Please note that PayPal payments must be made manually by the customer, rather than being automatically processed.
What type of customer support I can expect?
Cloudways offers round-the-clock support, available every day of the year. You can reach out to the support team for help via email, live chat, or telephone.
Phone support is available upon request, but you will need to fill out a form to request a call and wait for our team to schedule the call with you.
What is the best alternative to Cloudways hosting?
There are a lot of things I like about Cloudways. However, if you're hunting for an alternative option, I would suggest you pick one service among Bluehost, Hostinger, Netflix, InMotion or Liquid Web.
Whether Or Not I Recommend it? My Overall Review On Cloudways Hosting
Finally, the question is: do I recommend Cloudways hosting or not?
The answer is YES.
If you are a beginner with a new website, you should go with the $10/month plan from DigitalOcean.
And, if you have an e-commerce store, the Vultr High-Frequency servers at $13/month would be the optimal choice for you.
💡 Bonus: You get a 3-day free trial on Cloudways' DigitalOcean, Linode, and Vultr hosting providers. No credit card is required.
With this line, I finish up with a review on Cloudways web hosting right here.
In the end, I would like to know if this review tutorial was:
Good?
Bad?
Or something between?
Let me know your thoughts & experience in the comments box below.
FTC Disclosure: WP Blogging 101 content is reader-supported. This means if you click on some of our links and make a purchase, we may earn a commission at no extra cost to you – Read Affiliate Disclosure