CSS Hero vs Elementor
If you want to easily customise your blog posts or pages or any part of your website, you need a page builder plugin. Here's where plugins like Elementor, CSS Hero etc come into play. But which one is better? Read our review to find out.
In this post, I'm going to compare CSS Hero vs Elementor based on:
Best features
Pros and cons
Plans & pricing
Lots more…
So, if you're looking for a DEEP comparison of these two popular page builder plugins for your WordPress blog, you've come to the right place.
This will be a quit longer but interesting. So, before you open out your wallet and pay for any plugin, I request you read my head-to-head CSS Hero vs Elementor review.
Short on time? Here's a brief summary of what we found after our hands-on analysis of both Elementor and CSS Hero plugins:
🏆 Our Pick: Elementor Pro. The most popular page builder for a WordPress blog is Elementor comes with unlimited customization features, widgets and templates.
🥈 Runner-up: CSS Hero. It has so many (but limited compared to Elementor) feature that is much enough to style a simple blog website (only recommended if you take blogging as a hobby but not an online business).
I bet this comparison is worth reading, and in the end, you will find yourself so lucky.
Let's find out who's the best page builder among Elementor Pro and CSS Hero.
CSS Hero vs Elementor Comparison Review
2023
In the blue corner, we've CSS Hero; a paid WordPress live CSS editor tool.
And on the other side (red corner), we got Elementor plugin, one of the best page builders in the WordPress industry.
Let's dive into the comparison by introducing the company itself.
What is CSS Hero?
CSS Hero is a paid live CSS editor for WordPress websites.
It allows you to change your parent and child themes even without writing a single line of code.
The primary and essentially the most noticeable factor about CSS Hero is its easy-to-use dashboard.
And the other useful option is that you can export your setting to another WordPress site, either yours or your clients after making changes.
Apart from this, CSS Hero comes with great font & typography kit, colour management, and live editing features.
What is Elementor?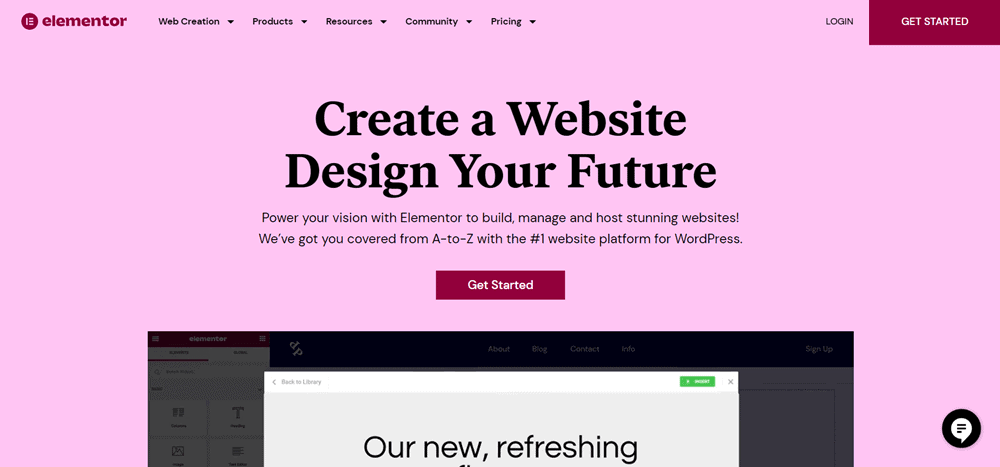 Elementor is the best freemium WordPress Website Builder, with over 5 million active installs. It creates beautiful sites and landing pages using a drag-and-drop interface.
The free version offers limitless design possibilities. And Elementor Pro empowers you with more professional tools that speed up your workflow.
You can build radically distinct layouts for different pages using a free plugin.
Even you can create multi-column layouts, which actually doesn't possible with any other WordPress theme or plugin.
On the other side, Elementor Pro plugin adds additional features inside.
These features provide the capability to design your header, footer, archive page, single posts, and all other parts of your site.
Let's compare both plugins by looking at user search, features, pros, cons, plans, and pricing.
User Searches
Understanding the user's choice is my priority whenever I write a review or comparison article on WP Blogging 101.
In this CSS Hero vs Elementor Pro battle, I have compared both plugins in the popular keyword measurement tools.
Let's see…
At first, I look into Google Trends to see which is the most searched plugin in the last 12 months (see data report taken on October 2022).
2nd, I visit ahrefs.com and search for the same names. And you know what, I got Elementor beating CSS Hero badly.
Then, I used Google Keyword Planner (I never miss this tool whenever I do keyword research) and similarly Elementor rocks.
Winner: Understanding the user choice, this is completely clear that Elementor is the winner here.
Features Compared Between Elementor vs CSS Hero
In this section, we will compare CSS Hero vs Elementor Pro features and see who offers the best possibilities.
CSS Hero Features
CSS Hero has eight main features. Let's see what they are:
The rich-featured Ready-Made Styles feature gives the flexibility to enjoy cool features of live CSS editing.
Animator allows adding amazing animations like bounce, shake, fade, wiggle, rotate, flip etc.
Built-in Coding Free Tool is for customizing anything inside the site, even without writing a single line of code.
CSS Code Inspector is the best feature for code experts. With this, you take your website design to the next level by adding some codes (HTML & CSS).
Simple User Interface that is easy to understand whether you are a beginner or an expert.
The inbuilt Color Picker lets you pick any colour to apply anywhere on the website.
History keeps the work provisions stored so that you can load them back to your customizer area in the future.
Undo Redo option is another useful function that allows undo-redo to live work with a couple of clicks.
Elementor Free & Pro Features
Elementor (free & paid) also comes with 10+ amazing features that will surprise you:
Drag & Drop Editor styles everything the way you dream with its most intuitive editor in WordPress.
300+ Designer Made Templates that make your job easy. Just choose any template as per your site requirements, and it's ready.
90+ Widgets like buttons, headlines, forms, etc. help to create a content format in minutes.
Popup Builder gives you the freedom to create pixel-perfect popups, including advanced targeting options.
Theme Builder is a truly visual site creation tool that lets you have immediate access to each site part, right within the editor.
WooCommerce Builder gives you to create any WooCommerce store with the power of Elementor Pro.
Header Footer Templates let you load the header or footer with 1 click for use on the website.
AutoSave is the best feature that saves your work automatically, even without touching the save button.
Site Settings controls your site's global elements, including site identity, lightbox settings, layout, and theme styles.
Revision History saves your entire page edits and can be re-used easily.
Redo Undo quickly back-forward your mistakes just with a simple CTRL / CMD Z click.
Winner: If we look at features, Elementor offers pretty much awesome features compared to CSS Hero. So Elementor plugin is the winner in features comparison.
Pros and Cons
Let's compare CSS Hero vs Elementor pros & cons side by side.
CSS Hero Pros
No coding skills required
Makes everything editable
Unlimited undo & redo options
Lifetime updates and support
CSS Hero Cons
No free version is available
Elementor Pros
Free & premium options are available
Offers tons of elements & templates
Inbuilt free theme & WooCommerce builder
Works great with all WordPress themes
Tons of 3rd party plugins are available
Elementor keeps pushing out new features
Works great with WooCommerce & other plugins
Elementor Cons
The lifetime license is not available
Winner: Elementor is the winner here. As you can download it for free. And it's a complete design system.
Plans & Pricing Compared For CSS Hero vs Elementor
While comparing similar products, there are three major things to consider:
Users choice
Features
Pros and cons
It means, until now, we have also done with CSS Hero vs Elementor comparison. And probably Elementor page builder plugin is winning the game already. But product price is another important factor that we can't miss in Is comparison.
Yes, knowing the price and renewal cost also matters a lot as money is the actual thing that you are paying for these plugins. So, let's see whom the wins in Elementor vs CSS Hero battle are based on pricing and plans.
If you decide to buy CSS Hero, it ranges from:
Starter Plan: $29/year for 1 website
Personal Plan: $59/year for up to 5 website
Pro Plan: $199/year for unlimited sites
Lifetime Pro Plan: $599/life for unlimited sites (my pick)
Note: Each plan (excluding lifetime pro) comes with unlimited one-year support and updates.
On the other side, Elementor is a free plugin. It means either you can use it for free (life) or upgrade to the paid plan for premium features access.
Below are the plans & pricing details for Elementor Pro plugin:
Essential: $49/year for 1 website
Expert: $99/year for 25 websites
Studio: $199/year for 100 websites (my pick)
Agency: $999/year for up to 1000 websites
Elementor Cloud Website: 1 WordPress website with cloud hosting included
Note: All plans come with unlimited one-year support & updates and a 30-day money-back guarantee policy.
Winner: The winner is CSS Hero as it charges almost 50% price (lifetime) compared to Elementor pricing.
FAQs On CSS Hero vs Elementor Comparison
Here are some questions and answers that you should know before choosing any plugin.
Is CSS Hero worth it?
Yes, CSS Hero values your money. The best part is, that its pricing is easily affordable compared to other plugins like Elementor, Microthemer, Yellow Pencil etc.
Is Elementor Pro worth it?
Who's the best among CSS Hero vs Elementor?
I strongly recommend Elementor. You can start with it for free and then upgrade to the paid plan, which costs $49 per year only.
What are the best alternatives to CSS Hero and Elementor?
CSS Hero vs Elementor Compared: And The Winner is
Finally, I put a lot of factors in this review while comparing CSS Hero and Elementor FREE/PRO plugins:
User Searches
Plugin's features
Pros. & Cons
Plans & pricing
Now, I believe you are already found who's the best plugin for live CSS enting or website design. But if not and you want me to choose one for you, I would strongly recommend Elementor Pro.
Elementor is one of the top-searched page builder plugins that offers limitless features and functionalities.
In the end, I want to hear from you if CSS Hero vs Elementor review has helped you to choose the right plugin or not.
And, is my recommendation (Elementor) your choice too, or would you prefer to go with CSS Hero live editing plugin? Let me know your thoughts by leaving a comment below right now.
FTC Disclosure: WP Blogging 101 content is reader-supported. This means if you click on some of our links and make a purchase, we may earn a commission at no extra cost to you – Read Affiliate Disclosure