In this guide, I am going to share with you the 10 best Event Blogging Script for blogger to making money online. All these wishing scripts are in PHP and HTML format. Either you can install it on Blogger or WordPress website.
Creating a festival wishing website and making money free is not a bad idea. Even I had made $1000+ within the last four years. I know this not a significant amount, but still, it's much better than nothing.
Honestly, I am not making any website with event blogging script from January 2019. As WP Blogging 101 is permanently moved from Blogger to WordPress for better affiliate marketing experience. All, I promote affiliate products to make money from blogging.
Well, that's my blogging story. Coming to event blogging script guide, here I have collected a list of 10 amazing festivals wishing scripts for blogger.
Hopefully, our collection is fully responsive to Google Adsense ads. I mean, you can place Adsense advertisements to make money from these festival wishing scripts.
Wait wait! Before I show you the list, let me deliver a few words about event blogging.
What is event blogging? Exclusive Guide
Event blogging is a type of business blogging, covers all the national, cultural, international, religious, seasons, mourning, and fun days. Here are the major topics:
Happy new year wishing script
Diwali wishing scripts
Independence day viral Ehatsapp script
Rakhi festival script
Happy Lohri script
Republic day wishing script
In short, event-based blogs are the best ways to earn money fast in 2 or 3 days.
Our Black Friday Deals blog is the most exceptional example of an event blog (technically a niche blog). This site usually acts between October to December each year during the Black Friday & Cyber Monday sale. And for the rest of the months, I don't work on this website.
Well, that's an example of an event blog. Here, we are going through event blogging script topics to make extra money online.
How to make money from event blogging?
Earning money fast is the primary motive for starting an event blog. Either you build it on WordPress or Blogger. Fortunately, there are plenty of ways to monetize your event blog and make money. Here are:
Google Adsense
Sell own services
Chitika ad network
Infolinks
Google Adsense and affiliate marketing are the two prime monetization methods. Having said that, 90% of earnings were made from Google Adsense. So, it's my suggestion to monetize your festival wishing script with Adsense ads only.
Best blogging platform to place an event blogging script
However, WordPress self-hosted CMS is always the best blogging platform. I have already discussed starting a professional WP blog with minimum hosting price in WordPress Blogging 101 article. You can read it to create your event blog in very less investment.
But, if you are are looking for something free then without any doubt, go for blogger.com. Blogger is a product of Google and free to use for a lifetime.
In fact, in this tutorial, I will also introduce you to how to put an event blogging script on Blogger website.
But before that, let's see what type of festival wishing scripts available in our WP Blogging 101 library.
Best event blogging scripts for Blogger 2023
Note: All wishing scripts have been collected from various websites on the Internet. We haven't created nor edited any script listed here. If it violates someone's policy, send me a message via the contact page. I will take immediate action.
Happy New Year Script – Download Free
Happy New Year Script – Download Free
Happy Valentine's Day Script – Download Free
Happy Navratri Day Script – Download Free
Happy Dusshera Script – Download Free
Happy Raksha Bandhan Script – Downloadd Free
Happy Holi Script – Download Free
Republic Day Script – Download Free
Independence Day Script – Download Free
Ramadan Day Script – Download Free
How to upload a festival wishing code or event blogging script on Blogger?
1) Open your computer browser (Google Chrome is recommended) and visit blogger.com.
2) Sign in to your Google account and complete your profile.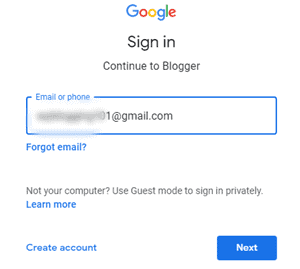 3) Once Blogger dashboard loads, tap on the New Blog (from the left menu).
4) Enter your Blog Name, Blog URL, select Template and click on Create Blog.
5) Now, go to Theme section >> scroll down to the bottom and click on Revert to Classic Themes.
6) When the HTML Box loads, replace it with custom festivals wishing script HTML code, which is downloaded from this article. Also, don't forget to add ad codes before saving the file.
That's it! Your festival wishing blog is ready to use. Now start sharing your link within your family & friends on WhatsApp, Facebook and other social networking sites.
Over to you
I hope this guide has covered everything about event blogging script free download guide, installation process and monetization methods for Blogger.
If you have further questions or suggestions, please don't hesitate to talk to me via the comments box. Feel free to share this list with your friends, so other people also can make money using these festival wishing scripts.
FTC Disclosure: WP Blogging 101 content is reader-supported. This means if you click on some of our links and make a purchase, we may earn a commission at no extra cost to you – Read Affiliate Disclosure
Comments have been closed!