FREE Web Hosting
Here, you'll find a list of the 10 top-rated free web hosting providers on the internet. Rest assured that we thoroughly researched and scrutinized each hosting company you can try at ZERO price.
Top Hosts: 000WebHost / InfinityFree / FreeHosting
I often come across a question, Is there any free web hosting companies to build blog websites?
My straightforward answer is, Yes! There are many free hosting companies.
In this blog post, I will list 10 free web hosting providers that are most popular worldwide and offer lifetime free hosting.
Let's get started.
10 Best FREE Web Hosting Services 2023: ZERO Cost Hosts Compared
Below is the shortlist of my personally recommended ZERO cost web hosting providers:
Let's explore the above list of free hosting websites with the #1 option.
000WebHost is one of the most popular hosting providers that offer free web hosting services worldwide. The company was founded over a decade ago.
It's a free website hosting company that comes under a part of Hostinger – a top-rated host in our best web hosting section. As you can see the logo of the website is like 000webhost powered by Hostinger.
Whatever offer is announced by Hostinger hosting company, you can see the same promotional banners on the 000webhost website as well.
Apart from a zero cost hosting plan, there are a few other paid plans you can explore under 000webhost hosting plans.
The name of the plans, pricing and features are the same as what you will see in Hostinger shared hosting plans. Nothing surprising as 000webhost is a daughter brand of Hostinger.
Key Features:
Here are some of the features that you will get in your 000webhost free web hosting plan.
Host a single website
300 MB disk space
3 GB of bandwidth
Cloudflare protected nameservers
99% uptime guarantee
WordPress auto-installer
Free website builder
1x allocated resources
1 FTP account
1 MySQL database
1 Cron Job
Free subdomain under 000webhost brand
The features are just solid with the 000webhost free plan and that's why it is one of the amazing free web hosting companies that have been in the business for more than 10 years.
Price:
000WebHost costs ZERO charges for a lifetime. However, its paid plan starts from just $1.99/mo.
You will get more features in their paid plans compared with a lifetime free hosting plan.
If you are looking for more resources than what you get in the free plan, try premium plans starting from just $1.99/mo.
While many other free web hosting companies serve advertisements on your website, the InfinityFree web hosting provider promises no ads on your site.
It is another popular web hosting provider that comes at ZERO price with a lifetime account, which carries the most recent PHP and MySQL versions.
There are already 4+ million people who choose InfinityFree as their perfect web hosting partner to host websites at zero cost.
Probably, you do not have enough money to invest in paid hosting plans if you are just starting a blog and want to develop your business website.
Setting up your free account with InfinityFree web hosting provider takes less than a minute. Sign up today and host an unlimited number of domains with no time limit.
Key Features:
I am amazed by the features offered by InfinityFree, which include some benefits you can only avail of in paid hosting service. Here there are:
Host an unlimited number of custom domains
400+ Softaculous app installer options including WordPress
Host an unlimited number of free subdomains from over 25 domain extensions
No credit card is required or not even hidden charges attached
Offer 99.9% uptime
Free SSL certificate on all your domains
Unmetered bandwidth
Up to 5 GB of disk space
PHP 7.4 and MySQL 5.7 versions
Oh no. The features are just mind-boggling. What could expect more in the free web hosting plan? Register now and launch your business website in a matter of seconds.
Price:
The price is completely Zero – free forever as you can use it as long as you want.
Another top-quality hosting provider on the list is; Free Hosting. It offers three different services such as free hosting, paid hosting, and domain registration services.
Same as both 000webhost and InfinityFree, Free Hosting company also promises ads-free hosting plans.
If you build your website through web applications such as DreamWeaver or FrontPage, you can just upload the file to Free Hosting to make your website live on the internet at no cost.
Importantly, there are no traffic restrictions as your website is hosted on this company at zero cost, which can have the potential to handle more traffic.
Key Features:
Compared with 000webhost and InfinityFree, the features are not up to the mark with Free Hosting. Below are the key points offered at no cost:
Full range of tools and resources
10 GB disk space
Unmetered bandwidth to overcome traffic restrictions
1 Email account
1MySQL database
Host one website
User-friendly cPanel
Softaculous app installer including WordPress CMS for blogging
Site Builder
Compatible with most modern web applications such as Apache, PHP, and Linux
Unfortunately, no subdomains will be provided by the company and also you cannot host free domains like .TK, .ML, .GA and similar extensions.
Price:
Zero – Costs nothing to host the website with Free Hosting forever free plan
This price is obviously FREE. And there is a paid plan as well that costs $7.99 per month.
In fact, there are better hosting providers such as Hostinger and Bluehost with more features and affordable pricing structures.
HyperPHP is a hosting company, one of the better choices to develop personal websites.
This award-winning free website hosting company also sells premium hosting plans and dedicated servers as a part of their hosting plans.
The best part about HyperPHP is that it does offer technical support at zero cost. Seriously, I didn't find a support option with the above said hosting companies.
GrandHost HyperPHP is open for domain registration services and provides free domain transfer services with the help of a technical support team.
You can seamlessly use HyperPHP hosting service to host addon domains, parked domains, and also subdomains.
There is no clarity on how many websites you can host for free with HyperPHP. But, not a big deal, as you can sign up for free and try your hands on the hosting service.
Key Features:
Give it a try to HyperPHP and you can enjoy the following features:
Up to 1000 MB of disk space
FTP account
File manager option
MySQL database and PHP support
Free technical assistance
Forum access to discuss web hosting topics
Clustered servers
Webmail email Accounts
Cron Job
Softaculous app installer
Self-signed SSL certificate
Price:
As usual, the price is $0.00/mo till the lifetime.
Additionally, HyperPHP paid plans to start from $4.99/mo. Its dedicated servers cost $89/month. The company is tied up with iFastNet to offer premium hosting plans.
The GoogieHost company has been in the market since 2012. It has recently tied up with InterServer.
GoogieHost offers so many hosting solutions such as shared web hosting, cloud hosting, VPS hosting, dedicated hosting, and reseller hosting.
The thing I liked most about GoogieHost's free hosting service is that it offers NVMe SSD based web hosting. Actually, it's a cloud-based host that helps a lot for better website performance in terms of page speed.
Premium SitePad website builder is GoogieHost's very own drag-and-drop site, builder. Fortunately, the company offers site builders at no extra cost to its free plan users.
Without any designing skills or coding, you can customize your WordPress blog or website with the help of the site builder.
Also, there are some 500+ ready-to-use templates available with the site builder which you can use to launch your websites in a matter of minutes.
Key Features:
GoogieHost offers Cloudflare protection as a part of its free lifetime hosting plan features. Curious to know more features? Here it is:
Host single website
1000 MB SSD storage
Free SSL certificate
100 GB bandwidth
2 business Email
2 FTP account
99% uptime
Direct admin panel
Apart, you will be given a free yet short subdomain name. It's the best option if you are not able to afford a custom domain name.
Price:
100% FREE for users all over the world (you can host a single website).
There is a paid plan called PRO that costs $2.50/mo with extra resources than a free GoogieHost hosting plan.
Believe it or not, X10hosting provides unlimited cloud web hosting and a website builder with 150+ customizable templates available in different categories.
Do you know? All the above said stuff is available to grab free of cost. I was stunned for a second when I came to know about x10hosting free plan features.
Unbelievably, there are some eCommerce templates to create online stores and sell products.
X10hosting has been in the industry for more than a decade and well understands the importance of offering stable and high-performance web hosting.
Bandwidth and disk space will be offered unlimited to the free hosting account users. So, you can consistently work on your website's growth without fear of upgrades to paid plans.
Key Features:
Let's check out what features make x10 great:
Direct admin control panel
Optimized cloud platform
Website builder with 150+ premade templates
One-click installer to avail of popular third-party CMS platforms
Fully optimized for WordPress
Self and community support to design your websites in better ways
You can host up to 3 websites
500 MB initial disk space (after that you will get unlimited free upgrades)
Unmetered bandwidth
3 Email addresses
Out of all, the fully optimized WordPress advantage is top-notch as you can experience lightning-fast WordPress websites at zero cost forever.
Price:
The X10hosting free plan allows you to host up to 3 websites.
In order to avail more resources, you can upgrade your plan from X10 Free to X10 Premium at any time which costs you $3.95 per month.
Same as most other listings in the blog post, AwardSpace also offers free web hosting as well as premium hosting packages.
The best part about AwardSpace is that the company sells paid plans starting from just $0.25/mo. In the paid plan, you can host up to 2 custom websites.
Talking about AwardSpace free web hosting service, you can host up to 4 websites. One is a custom domain and the other three are subdomains.
It's a great option as you can use the custom domain for the main purpose and use the subdomains for blogging purposes.
Zacky Website builder is bundled with AwardSpace free plan, an intuitive site builder by which you can develop good-looking yet mobile responsive websites in just 30 minutes.
Apart, there are many other solid features to discuss the AwardSpace free hosting service provider.
Key Features:
Let's take a look at the AwardSpace key features that you are eagerly waiting to know.
99.9% network uptime
One-click CMS installer
Supports CMS platforms such as WordPress, Joomla, and more
User-friendly web based file manager
100% free from ads
24*7 customer support
1000 MB disk space
5 GB bandwidth
Zacky website builder to create a website in under 30 minutes
Price:
The signup process for the AwardSpace free hosting account is very simple.
Just enter your email address, name, and password. You are ready to launch your free website with AwardSpace.
Free cloud hosting forever with Freehostia, is great news for those who are looking forward to starting a small business website or even a personal blog without taking the wallet out.
Yes, the web hosting company is offering a free plan named Chocolate Plan which you can use as long as you want.
There are paid plans as well to look for if you intend to upgrade your chocolate plan at Freehostia.
Pre-made free website templates with stunning designs are available to choose from for your website. If you are worried about spending time customizing your website, make use of the website templates.
In fact, you can see the live demo of the templates and then choose what you think suits better for your website category.
There are a lot of video tutorials that will be offered to Freehostia customers to understand the hosting better and create beautiful websites.
Key Features:
The features are huge with FreeHostia. Let's talk about some of them:
Free unlimited cloud web hosting
Host up to 5 domains
6 GB monthly traffic
250 MB disk space
3 Email accounts
Website Builder
24*7 customer support
One-click web app installer
Self-signed and Let's Encrypt SSL certificates
File manager
Get started with Freehostia and set up your small business website today and take your business to the next level.
Price:
The Chocolate plan costs $0.00/month for 5 hosted domains.
The best part about FreeHostia is its 24*7 customer support. The company offers support even for their free account customers.
ByetHost is easily one of the fastest free hosting service providers in the world. There are already 1+ million websites hosted by this company.
Compared with the other rest of hosting options on the list, ByetHost offers a unique free service called Free Reseller Hosting, which is not part of any other free hosting providers.
As you are all aware of the reseller hosting concept, it's nothing but, you can sign up for a free reseller hosting account under ByetHost and offer your customers, clients, or friends, free hosting plans under your brand or agency name.
Apart, Byet provides customers with a zero price hosting plan as well to host websites.
Key Features:
The features of Byethost are limitless. Here are some I like most:
Addon, Parked, and Subdomains [each 5 can be hosted]
Choice of free subdomain names under 7 different brands
Free 24*7 support
Knowledge base
Support ticket system
1000 MB disk space
50 GB monthly transfer
Free site builder with templates
Softaculous apps installer
There are 100+ key features provided by the free web hosting company, I have listed a few above.
Price:
Free Hosting – Costs Zero
Free Reseller Hosting – Costs Zero
Under the free plan, the most powerful VistaPanel is offered, which comes with lifetime usage.
On the other side, paid plan starts from $29/mo. Without any prior experience, you can easily maintain all your tasks related to the domain and hosting straight from cPanel.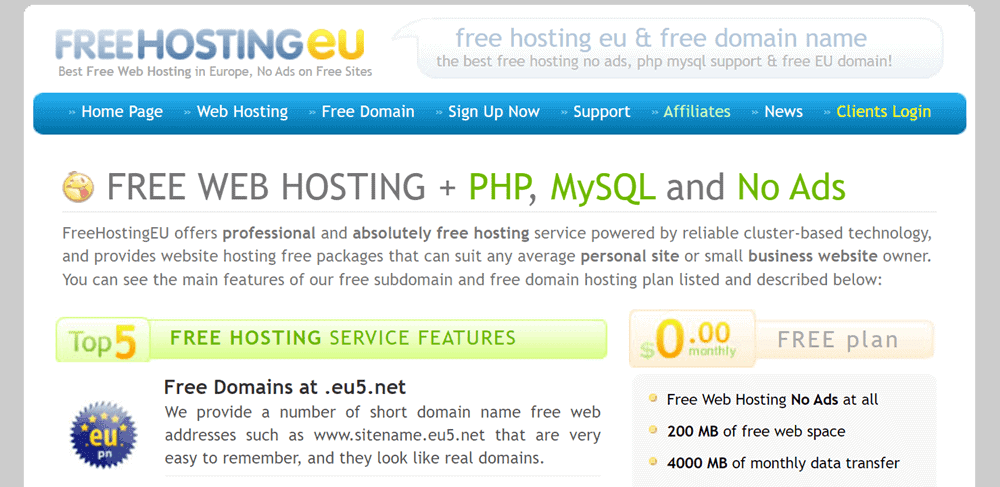 Free Hosting EU is a European-based free web hosting provider that offers free hosting plus a free domain at .eu5.net.
This means, if you get a free domain from the extension, your site domain address (URL) will look like www.yoursitename.eu5.net.
The free hosting service of the company is powered by reliable cluster-based technology (which means you do not worry about the performance of your website).
If you target audiences from European countries, then you may give it a try to FreeHostingEU. It will work out for you.
The hosting provider will be a better choice for blogging as it exclusively offers you to install WordPress, a number one CMS platform to run blog websites.
Key Features:
Below are some key points that make Free Hosting EU super awesome:
200 MD disk space
4 GB data transfer per month
Free website builder options
You can host 1 top-level domain
You can host up to 5 subdomains will be given for free under .eu5.net
Web based Email
1 Email account
And a lot more
Price:
Free Plan – $0.00/Monthly (host up to 5 short web addresses or domains).
It's a Zero risky signup process as you are not required to enter your credit card details while activating your free hosting account. It's an instant activation process.
Apart from that, there are paid plans also available – starting from $4.95 per month for web hosting solutions.
Final Thoughts On Free Web Hosting Plans Comparison 2023
These are some free hosting providers that offer equally similar paid hosting features on their zero cost hosting plans.
From my point of view, I suggest both 000webhost powered by Hositnger and InfinityFree are the best choices out of 10 to host websites free for a lifetime.
To survive in a long run in the most competitive internet industry, I recommend paid web hosting plans or WordPress hosts such as Bluehost that give you more benefits compared with free web hosting plans.
FTC Disclosure: WP Blogging 101 content is reader-supported. This means if you click on some of our links and make a purchase, we may earn a commission at no extra cost to you – Read Affiliate Disclosure
Comments have been closed!