In this article, I will cover how to download GeneratePress child theme for free and it's related FAQs.
GeneratePress is a FREEMIUM (Free & Premium)Wordpress theme. The core GeneratePress theme is 100% free which has dozens of features. And upgrading of a premium version (technically a plugin called GP Premium) will extend the functionality to edit any part of the theme.
Using a Generate Press child theme is useful when new updates are released for the parent theme. Because at the time of theme update WordPress replace the old file with the new one. And all changes made with the parent theme are discarded and replaced with a newly updated version.
In short, the child theme of GeneratePress is a blank theme like WP Astra child theme, allows you to add custom styling and functions without touching the parent theme files.
Benefits of using GeneratePress child theme [Free download link added]
Here are some interesting advantages of installing and activating of child theme with GeneratePress + GP Premium plugin.
It's absolutely free of cost available on GeneratePress.com
It's completely a lightweight black theme.
It is 100% compatible with Elementor page builder.
You will not miss any customization of WordPress blog design after updating the parent theme.
It allows you to add extra functions without touching GeneratePress theme core files.
Don't miss – Generate Press free vs premium comparison
How to install and activate GeneratePress child theme on WordPress site?
Before proceeding, make sure you have already installed GeneratePress parent theme. Otherwise, you can't make use of child theme. Let's begin:
Step 1: First of all, download child theme .zip file (from the above button) on your computer desktop.
Step 2: Now, login to your WordPress admin area and tap on Appearance >> Themes >> Add New >> Upload Theme.
Step 3: Upload the downloaded .zip file from your computer, then Install >> Activate.
Once the GP child theme is activated, the themes folder will be displayed two GeneratePress themes installed. See below example: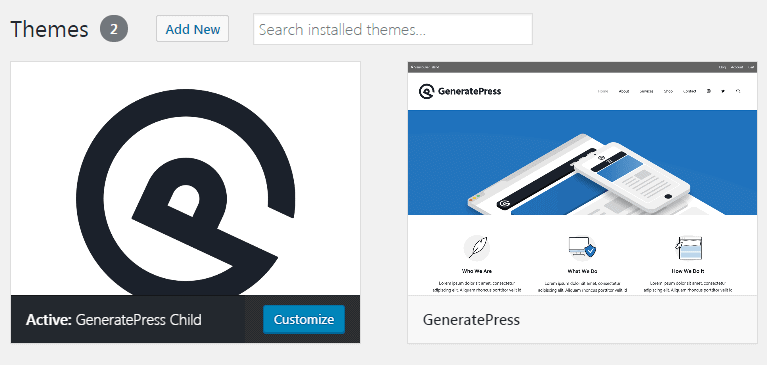 The child theme contains 2 following files into the editor section:
functions.php: This is the editing area for adding custom PHP Snippets and functions.
style.css: This is the styling developer tool for adding custom CSS.
FAQs about using a child theme of GeneratePress
1. Can I use a child theme with GeneratePress free version?
Ans: Absolutely, the child theme is compatible with the free version of GeneratePress.
2. Is there any free Generate Press child theme generator available online?
Ans: Yes, you can create or make it using online generator tool but developers highly suggest to download the blank theme (link here) from their official website.
3. How to find child theme CSS in Generatepress in styles.
Ans: All you need to tap on Appearance >> Theme Editor to view CSS directory.
4. When my child theme is active the menu looks different?
Ans: Yes, it happens, because of the custom CSS codes added on the parent theme. You can copy all the codes from Appearance >> Customizer >> Advanced CSS and add to the blank theme Advanced CSS section.
5. Can I activate Generate Press sites library such as Spacious theme example using a child theme?
Ans: Undoubtedly, it allows to access any part of its site library i.e. marketer, spacious theme.