This is a detailed guide on, "How To Install WordPress On Bluehost" – updated with most respective steps and screenshots. If you're working with one of the most popular WordPress web development companies they will most likely take care of the wordpress installation as well as design for you.
If you are planning to start a WordPress blog, you will first need to purchase a stable web hosting service to experience a fast-loading environment on your site.
Here at WP Blogging 101, I recommend Bluehost to those looking a WordPress hosting with super-low price, the highest uptime guarantee and most of all 1-click WordPress installation feature.
For this guide, I have divided Bluehost WordPress installation process into 3 steps – you can click below to jump straight to a specific section:
Let's get started.
How To Buy Bluehost Hosting? Updated Guide (2023)
Let's explore, how to install WordPress on Bluehost – starting with signing up and running with your Bluehost account.
Choose A Bluehost Plan
The first step in buying hosting from Bluehost is to select a hosting plan that will meet your needs – although you can check out my step-by-step Bluehost sign-up guide here.
"I am using Bluehost hosting since November 2020 and already wrote a detailed review on Bluehost."

If you want a super-detailed list of how and why I highly recommend this host here, check out that review.
"Also, I'd like to share a special Bluehost coupon with you – saving your money 70% instantly (just in case you haven't purchased this hosting yet)."
To choose the best plan for you, click here to land on Bluehost's WordPress hosting pricing page.
Next, scroll down to the "Get WordPress Hosting That Fits Your Ambitions" section and select a suitable plan as per your site requirements.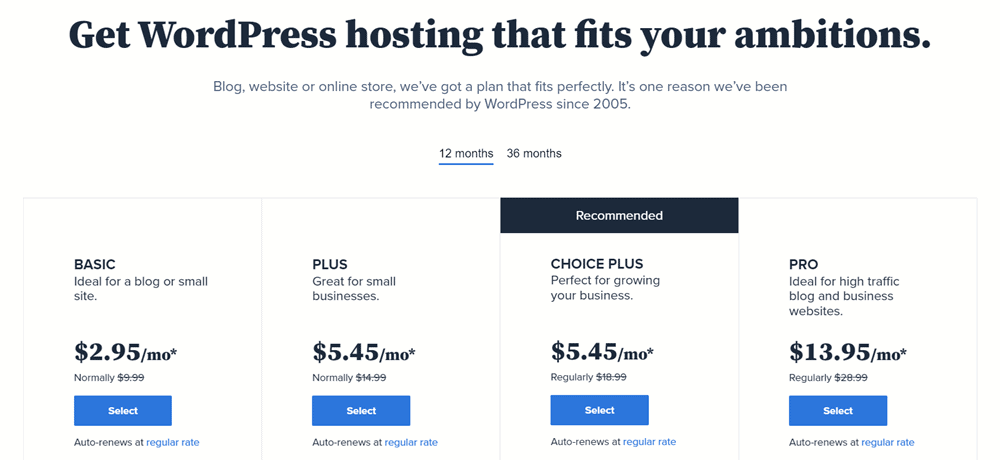 If you're not sure, which Bluehost plan to choose then I recommend starting with the Basic Plan, "the cheapest plan available on Bluehost" – which starts at just $2.95 a month.
For a full guide on the different hosting plans and prices, you can also check out my detailed guide on Bluehost pricing review.
Claim Your Free Domain
Bluehost offers one free domain name for a year – a domain name is a name for your site, which is basically like the "address" where internet users can find your site on the web.
After your hosting plan selection, select Create a New Domain to choose your free domain name.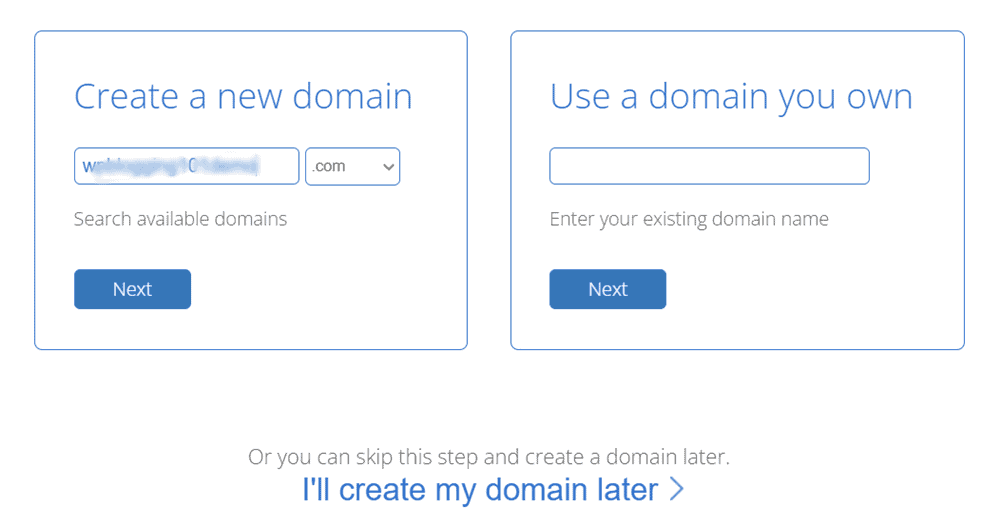 Type your chosen domain name into the domain search bar and it will then display a list of available domain extensions for your search term.
If you have registered a domain with a third-party domain registrar like Godaddy or Namecheap, then you can use that too. Either way, you can skip this step and come back to it later!
Enter Bluehost Account Details
After you've chosen a domain name, Bluehost will ask you to fill out some personal information to create your account and complete the signup process.
Here, you will have to go through 4 steps:
Account Information: Enter your personal details like name, email, address, country etc.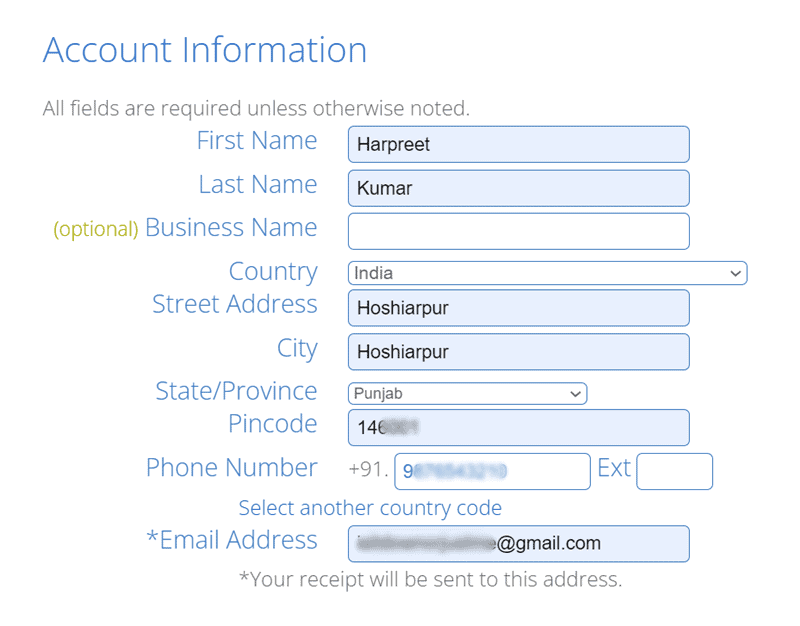 Package Information: Under this section, confirm your hosting plan as well as set the number of years you want to sign up to Bluehost.
Since there's no monthly payment option, so the minimum commitment is 12 months. But you can get a bigger discount of up to 70% if you buy hosting from Bluehost with 3-year term.
Package Extras: Unselect all extras like Bluehost SEO Tools Start, Codeguard Basic and SiteLock Security – automatically added to your basket.
These tools are nice to have. But when you are starting a blog on WordPress, there are tons of free plugins available to do these tasks. So, it's better to cut extra costs that you don't really need.
Payment Information: Enter your Credit Card details. Or, you can also go PayPal payment gateway by tapping on the More Payment Options link.
Complete Purchase: In the final step, accept Bluehost terms & conditions and complete your purchase.
In a few moments, your Bluehost hosting account will be ready and you will then receive a confirmation email with the payment receipt as well as login and password details.
Log In And Install WordPress
Finally, we are in the section to learn how to install WordPress on Bluehost! This is a relatively quick and easy process, where you're ready to actually install WordPress with Bluehost.
Let's go.
Sign in to your Bluehost dashboard and click on the "My Sites" tab stocked under the left side menu:
Next click on the "Create Site" button and then you will be asked, "how would you like to build your WordPress site?".
Here you have two options:
Limitless Customization
Bluehost Website Builder
Since we are learning how to install WordPress on Bluehost, let's break down each option in detail and see what makes our WordPress installation process easier.
Limitless Customization
Once you've chosen a Limitless option for installing WordPress with Bluehost, go through the following process:
Click on the Get Started button.
On the next page, tap on "Create A New WordPress Site" and enter your Site Name and Site Tagline.
Inside the Advanced tab, you can set your website Email, Username and Password (click here to generate a strong password just in one click).
From the drop-down menu select your Domain and leave the Directory option empty.
On the next screen, Bluehost will suggest some optional plugins (it's free at this moment).
These plugins are:
WP Forms: This is a useful software for creating simple surveys and contact forms to make things easier for visitors.
OptinMonster: An all-in-one lead generation freemium tool for creating unlimited exit intent, slide-in CTA, lightbox popups, etc.
MonsterInsights: It is a plugin that integrates with your Google Analytics account with a single click and shows you real-time website traffic analytics inside your WordPress dashboard.
If you are a beginner or starting a WordPress with Bluehost as a new website/blog, then probably you don't need these plugins. However, other professional bloggers and affiliate marketing experts may require these tools for better WordPress SEO.
Quick Note: Sometimes you will see a notice, "it looks like there is already a site at domainname[dot]com Please select a different location". In such cases, first, you need to visit your File Manager or FTP and empty all files listed under the public.html folder.
And that's it! Congratulations, you've successfully installed WordPress with Bluehost.
Now, let's move to the 2nd method guide.
Bluehost Website Builder
Website Builder is nothing special but a specific tool which will help you to create a website with some ready to use templates and designs.
A Quick Note: Installing WordPress with Bluehost Website Builder is time-consuming and not REALLY recommended. This process adds an extra option to Edit Your Site in Builder, which is useless, "in my opinion" as we can do all these tasks directly through WordPress dashboard.
Let's go through Bluehost Website Builder and see how to install WordPress right away.
As previously, go to the My Sites tab and choose the option Bluehost Website Builder.
Select a Domain from the drop-down menu, leave the Directory section blank and hit the button saying Next.

Here, you'll be asked to choose your site topic. Select what's your site about from the available options or search a specific niche through the Search Bar.
On the next page, you can Name Your Site (write a name and you can also change it later anytime through WordPress dashboard).
Next, Set Your Cover Image.
Add Your Logo (click here to create your free logo) or press Continue if you don't have one right now.
Choose your font style (or skip it for now) and press Continue.
Next, Choose Your Site Colors, where you can pick a Contrast Style (the light colour option is used mostly) and Brand Colors. Or skip it for now, if you don't have any idea about choosing website colours.
Here you have to Pick A Navigation Style – just leave it as it is – and you can make further changes later.
Finally Add Your Contact Information such as company name, address, zip code, email, phone etc. and complete the website setup.
Congratulations, you have successfully installed WordPress using Bluehost Website Builder feature.
Bonus: Installing WordPress Via Softaculous
One of the oldest ways to install WordPress on any web hosting service was – Softaculous Software (you can access this tool from your Bluehost cPanel).
Since I am writing this guide on how to install WordPress on Bluehost, I believe knowing the process of Bluehost WordPress installation via Softaculous software can increase your knowledge more.
Let's get started.
Login to your Bluehost hosting account and tap on the Advanced option from the left menu. It will take you to the cPanel (control panel).
Scroll down to the bottom at Softaculous Apps Installer and look for WordPress app.
Once the page load, click on the blue button saying, "Install Now".
On the next page, you have to set up your software.
Here you choose the installation URL and software version for WordPress CMS.
Choose Protocol: HTTPS
Choose Domain: Pick the domain name where you want to install WordPress
In Directory: Leave blank
Version: Pick the latest version (by default it's already selected the latest version)
Once, check your credentials and hit the Quick Install button.
Under Site Settings, enter your site name and description. However, you can leave Enable Multisite (WPMU) and Disable WordPress Cron unchecked.
Next, set a username & a password (click here to create a strong password in a single click) and admin email address (you can use your gmail ID).
Pick your Language as selected English.
Select Plugins: For now, you don't need to install Limit Login Attempts and Classic Editor. So, let's leave it unchecked.

Under the Advanced Options drop-down menu, you can make changes to your database, which is further not required. So, leave the credentials as it is.

Select Themes: Just keep the default theme selected as we can replace it later with something that is actually relevant to your blogging niche.
Finally, enter an email, where Bluehost will send you WordPress installation details and press Install.
Soon the installation process will be started. It usually takes 3 – 4 minutes or less to complete. Once done, you can login to your WordPress dashboard by typing yourdomain[dot]com/wp-admin web address.
So, this is how to install WordPress on Bluehost in different ways and you can choose the one method you like most.
However, in my opinion, picking the Limitless Customization for your Bluehost WordPress installation is the best and fastest way to get your site live in a few moments.
I hope now you got how it's REALLY simple to install WordPress with Bluehost, so you likely won't run into any trouble. In any case, if you face any issues, Bluehost's support team is available 24/7 to assist you.
Setup Your WordPress Website
Until now, we have almost done learning how to install WordPress on Bluehost. Now it's time to design your site and get it ready for sharing your experience with the global audience.
First, navigate back to the "My Sites" tab. Next, click on "Manage Site" and then Login Into WordPress. Either way, you can also type domainame[dot]com in your browser's address bar to visit WordPress dashboard's login page.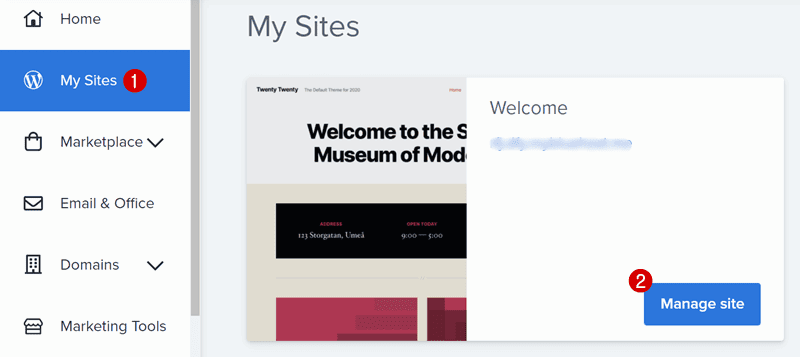 When your WordPress dashboard is loaded, you should see the Bluehost Quick Launch Wizard.
Using the Quick Launch Wizard is a great way to get your website started. But here at WP Blogging 101, I don't recommend this method. Instead, you should do things manually to make your site setup fast.
Let's do this…
Delete Pre-installed Plugins: Navigate to Plugins >> All Plugins >> Select All >> Deactivate then remove all plugins.
Here are some must-have plugins, you can install then – without a WordPress website that can't survive in 2023:
Remove Themes: Remove pre-installed themes by tapping on Appearance > Themes > click on theme and Delete.
Though there are tons of free themes available on WordPress directory, I strongly recommend picking up any from the following:
Permalink Setup: By default, WordPress doesn't have SEO friendly permalink structure. To turn this feature on navigate to Settings >> Permalinks and set the Post Name.
Disable Pingbacks & Trackbacks: To stop unnecessary notifications go to WordPress Dashboard >> Settings >> Discussion >> Untick Allow link notifications from other blogs (pingbacks and trackbacks) on new articles option.
Timezone Setup: Navigate to Settings >> General >> Select Timezone according your country time. For example, if you are blogging in India, select UTC+5:30.
Create Pages: The next step is to create important pages e.g. About, Contact, Privacy Policy and Affiliate Disclosure (must have for affiliate marketing websites).
To do so, within your WordPress dashboard, click on the Pages > Add New Page and start publishing the required pages.
Once you have done setting up all the above, you're ready to start writing content on your website. ENJOY.
FAQs – Frequently Asked Questions
Let's see what people are asking about Bluehost WordPress installation process and what you should learn from this.
Does Bluehost come with WordPress?
Actually, WordPress comes with Bluehost. A Free Quick Launch Wizard tool is included in all Bluehost accounts.
To access that Quick Launch Wizard you need to have an active hosting account with Bluehost, because WordPress itself is a CMS (content management software) that requires a web hosting service to host a website on it.
Is Bluehost part of WordPress?
Is WordPress free on Bluehost?
Yes! Setting up a WordPress site on Bluehost account is free and even requires no technical knowledge. All you have to login into your account and under the My Sites section, you can install WordPress with a few clicks.
Does Bluehost support WordPress multisite?
Yes! Bluehost has WordPress multiple support options.
Which Bluehost WordPress hosting plan should I buy?
To get the real value for your money, though, you need to pick the right Bluehost WordPress hosting plan for your needs.
Bluehost's cheapest plan on its WordPress hosting page is Basic Plan – starting from $9.99 per month, which I recommend to you if have planned to host a single domain only.
In this case, if have planned to create unlimited websites or blogs on a single hosting server, you should probably go with the Plus Plan – especially recommend for fast growing websites adding more content and experiencing more traffic.
And the good news is: that you can now save up to 70% on Bluehost's plans, meaning you can get its cheapest WordPress plan for just $2.95 per month for a 12-month subscription. Don't miss out!
Do I have to use WordPress with Bluehost?
Yes, you can. In addition, Bluehost also works with other content management systems like Drupal and Joomla. Either way, you are also allowed to create an eCommerce or WooCommerce store with this hosting service.
Does Bluehost work with WordPress com or WordPress org?
Bluehost hosting works with wordpress.org only. When you are creating a site with wordpress.com, there's no need to buy a hosting service. However, building a free website is not recommended if you are really serious about blogging on WordPress.
Do I need to download WordPress if I have Bluehost?
There's no need to download WordPress software in order to set it up on Bluehost. You can simply login to your Bluehost dashboard and start installing WordPress right away.
Does Bluehost automatically install WordPress?
Not REALLY. But Bluehost has made WordPress installation process too simple but you have to go manually.
To do so, you have to log in to your Bluehost account dashboard and under the My Sites section, you can access the 1-click WordPress installation feature and get your site live on the internet.
How do I install WordPress without Softaculous under Bluehost account?
Using Softaculous software is one of the most used methods to set up a website on WordPress. But it's a bit complicated and beginners can't understand it easily.
That's why Bluehost has come up with a very easy to follow interface with which you can even do that faster.
First of all, visit my.bluehost.com and login into your dashboard. Go through My Sites and there you have to provide the user & password details and that's it.
In a few moments, your Bluehost WordPress installation process will be completed. Now, you can login to your WordPress dashboard and set up your site through the Quick Launch Wizard feature.
How do I transfer my website hosting to Bluehost?
It's easy! First of all, click here to sign up for a Bluehost hosting plan and then you can go through the guide here to transfer your existing website to Bluehost server. Meanwhile, you can also take advantage of Bluehost free website migration service.
Final Thoughts On Bluehost WordPress Installation Process
So installing WordPress on Bluehost is that easy! It will literally take you a few minutes to get a website up and running.
But this is not the end…
You can explore your Bluehost control panel, where you create a free email account, access your file manager and manually upload files to your website and so on.
For more helpful tutorials related to Bluehost, considered reading my review article. If you want to buy this hosting then use this link to claim a flat 70% discount right away or read about the hosting trial and renewal cost guide too.
If you have any questions about, "how to install WordPress on Bluehost" or in general, queries related to Bluehost hosting services, feel free to comment below.
FTC Disclosure: WP Blogging 101 content is reader-supported. This means if you click on some of our links and make a purchase, we may earn a commission at no extra cost to you – Read Affiliate Disclosure
Comments have been closed!