Kadence Conversions Review
The plugin Kadence Conversions is a powerful WordPress tool that is designed to build popups, slide-ins, and banners on your site. It provides you with pre-built high-quality designing elements, an easy-to-use editor, detailed analytics and reports, advanced targeting and much more.
Regular Price: $89/year for unlimited websites
Today's Price: $58.65 only – flat $20 intro discount + 15% EXTRA savings using coupon WPBLOGGING15
Welcome to my super detailed article on Kadence Conversions Review 2023.
In this post I'll show you the following:
Kadence Conversions' best features
Kadence Conversionsv worst features
Plan and pricing details of Kadence Conversions
How to install and make use of Kadence Conversions
Whether or not I recommend it
Lots more
So if you're considering signing up for Kadence Conversions, this review should help you with your decision.
Let's dive right in.
Kadence Conversions Review Tutorial (Updated For
2023

)

Why You Should Trust Me On Kadence Conversions Plugin?

As you may have already noticed, I'm using Kadence Theme and also Kadence Blocks on my WordPress site. In addition to those, I also have access to Kadence Conversions lifetime plan.
I was previously using Optinly with GeneratePress theme. But at some point, I thought I need more customization, design options, and also the ability to build a list via content upgrades.
I started hunting for some email opt-in WordPress plugins. After deep research, I decided to give Kadence Conversions a try, as Kadence WP products seem promising.
Now, I've been using Kadence Conversions since July 2022. I've played and experimented a lot with the plugin. Thus, I believe, you should read my review on Kadence Conversions, as I have tested this tool myself.
At the first point, let's take a look at the company itself.
What is Kadence Conversions?
Kadence Conversions is an all-in-one email list building plugin for WordPress. You can use this for growing email lists, promoting products, and increasing conversions.
With a list building plugin (also called a lead generation plugin), you can turn your WordPress website visitors into leads or subscribers.
Let's start with the types of design elements that Kadence Conversions offers. In total, you can display these types of elements:
Lightweight popups
Opt-in widgets
In-line forms inside your content
Slide-in forms (great if you want something a little less aggressive than a popup)
Once you create a form, you'll be able to:
Triggers to display it at exactly the right time or on the right page/pages.
Targeting to display it to exactly the right people.
Track the performance of each compaign right inside your WordPress admin area.
And of course, you can connect Kadence Conversions with well-known email marketing service providers as well as workflow automation tools like Pabbly Connect.
Overall, with the plugin Kadence Conversions, a variety of features are available. We will take a closer look at the individual functions and options in the next section.
10 Best Features Of Kadence Conversions Plugin
Let's kick off our Kadence Conversions review with the things that this plugin really well.
Drop-in Ready Designs
The first feature I love about Kadence Conversions is its variety of Readymade Designs Library that you get access to.
At this point in writing my review on Kadence Conversions, there are three types of campaigns available, such as:
All you have quickly choose from a growing library of prebuilt designs for each conversion type.
Tons Of Templates To Choose From
To help you quickly get up and running with professional, optimized banners, popups and slides, Kadence Conversions comes with a library of pre-built templates.
Firstly, the Popup campaign carries 5 amazing templates:
Next up, Slide-in has 4 pre-slides ready:
And lastly, Banner campaign has also 4 beautiful-looking top & bottom banners ready:
The templates look great and one of the best parts is that they come with a 1-click import option.
All you do is edit the text to match your offer and you have a great popup or banner ready.
Compatible With Gutenberg Editor
If you have been a regular reader of WP Blogging 101, you have noticed that most of the content is written and designed using WordPress default Gutenberg blocks.
In fact, Kadence Conversions is fully compatible with all third-party Gutenberg plugins in the market. There is no new learning curve that you have to go through.
The best thing about using Gutenberg editor is that there wouldn't be any change to your site speed (it will always be fast – thoroughly the loading also depends on what type of WordPress hosting you are hosted on).
Help You Understand Kadence Blocks Better
If you're not familiar, Kadence Blocks is a popular WordPress plugin that comes with 30+ Gutenberg blocks ready.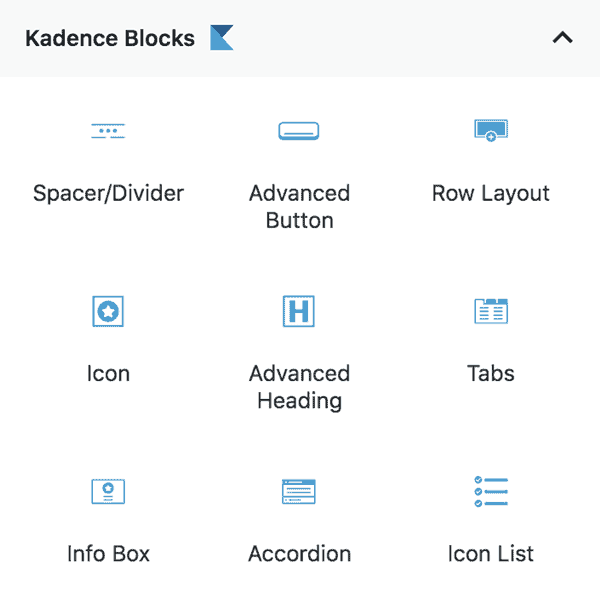 When you start with Kadence Conversions, you get to use this powerful Kadence Gutenberg Blocks plugin to build your opt-in forms.
In a nutshell, this means that the combination of both plugins is going to make it a lot easier for you to create your opt-in forms – even if you don't know anything about code.
Detailed Content Targeting Rules
Kadence Conversions comes with really strong rules for targeting your popups to specific content on your WordPress site.
You'll be able to target your opt-in forms to:
Specific types of pages – e.g. front page, blog post page, search page
Categories/tags
Specific posts/pages
Archive pages
Specific URLs
Post types – e.g. all WooCommerce products
In addition, you can use all these rules as both include and exclude. For example, target all blog posts except for blog posts in a certain category.
All The Important Trigger Rules
In addition to targeting rules, Kadence Conversions also offers a variety of different options to trigger your campaigns.
In total, you'll get the following triggers:
Time delay
Exit intent
Scroll distance
End of content
On page load
Custom link
You can also target your conversion widgets to either mobile and/or desktop visitors.
Schedule Your Marketing Campaigns
Furthermore, Kadence Conversions has a scheduling feature option, wherein you can schedule the campaigns in advance.
This is a useful feature, which can schedule your holiday campaign in advance instead of publishing them at the last minute.
This means that, if you're running a special promotion (such as a Black Friday sale like Kadence Black Friday deal), you'll need to manually start and stop the stuff.
Additionally, you can even set up recurring campaigns.
This way, the respective campaign will appear on your website on specific days of the week and at specific times.
Connection With WooCommerce
If you have an eCommerce store, Kadence Conversions can set up elements triggers as per the total price of the purchase in the cart, but also when there is a specific product in the cart.
In fact, by using the exit intent trigger feature, you can show a specific popup at the right time to reduce the number of abandoned carts.
👉 Important Tip: Kadence does not work with WooCommerce by default. You will need to purchase the Kadence WooCommerce Integration plugin name, "Kadence Shop Kit" to add a compatibility function.
Built-in Analytics Dashboard
To help you analyze what going on with your stuff, Kadence Conversions comes with built-in analytics.
In terms of analytics, you'll get:
You can view stats by:
Individual campaigns (conversion items)
Overall (all items)
By default, the statistics are saved for 90 days. You can se the performance for the last 7 days, 30 days, or 90 days.
Google Analytics Integration:
Now you can link Kadence Conversions reports to Google Analytics.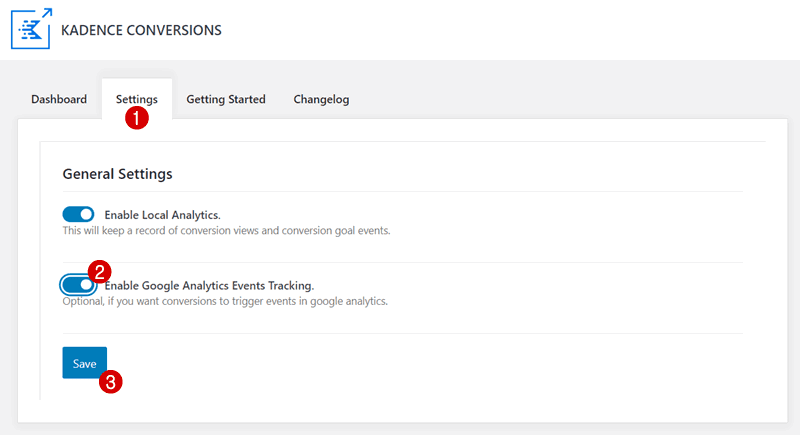 To do that go to Kadence Conversions » Dashboard » Settings and then Check the option saying, "Enable Google Analytics Events Tracking" and Save.
Webhook & Email Software Integrations
Kadence Conversions integrates with virtually all the popular email marketing services (and some webhook services).
Some of the inbuilt email integrations are:
Mailerlite
FluentCRM
SendInBlue
MailChimp
ActiveCampaign
And the webhooks are:
Here at WP Blogging 101, I use Pabbly Connect integration to send subscribers from Kadence Conversions form signups to the email list.
Overall, you can connect Kadence Conversions to any email software either directly (if supported by the plugin) or through webhooks like Zapier, Pabbly Connect or others ones.
Worst Feature Of Kadence Conversions (Can Be Improved)
I believe this Kadence Conversions review wouldn't be very useful if I only focused on the good sides. So, let's run over some of the weak points (obviously, these lacks can be improved).
Non-Content Targeting Rules
Undoubtedly, Kadence Conversions has really strong rules for targeting specific content areas. But it lacks advanced targeting rules like:
WordPress user role
Referring source/URL
Adblock usage
Geographic location
These are advanced rules that can come in handy for personalization popups, opt-in forms and widgets.
In fact, without these rules, most people will probably be fine as Kadence Conversions has already the most important targeting rules that are mostly required.
But if you do need those advanced rules, OptinMonster is the best email list building plugin when it comes to advanced targeting and personalization.
The Kadence Conversions Pros. And Cons.
This section on Kadence Conversions review carries the most important pros and cons.
Let's check them out.
Pros.
Readymade template designs
Optimized for performance & speed
The Gutenberg editor is used for creating websites
Easily building auto-start
A huge list of integrations for email marketing services
Advanced setting of launch conditions
Lifetime plan option
Cons.
Limited element templates
No free version
Now, let's look further at how much Kadence Conversions cost (in the coming section).
Kadence Conversions Pricing: Annual Plans & Lifetime Deal
There are three plans available for Kadence Conversions plan.
You can purchase Kadence Conversions as a standalone product for $69 first year then $89 on renewals for unlimited sites.
Alternatively, you can get access to Kadence Conversions by signing up for Kadence Essential Bundle which costs $219/year.
The last and my favourite plan is Kadence Lifetime Bundle.
In this plan, you can get Kadence Conversions along with all other themes and plugins from Kadence WP – just at a one-time fee of $699, which includes:
Kadence Related Content
Kadence WooCommerce Elementor
And so on…
You can use any of these tools on unlimited WordPress websites. You also get unlimited support and updates.
Bonus: WP Blogging 101 users can claim a special discount of 15% on Kadence Conversions plans using coupon code WPBLOGGING15 (check out how to use Kadence discount coupon).
Kadence Conversions Plugin Installation and Setup Guide
Pre-installation Note:
In order to use Kadence Conversions properly, make sure you have already the free Kadence Blocks plugin installed on your site.
If don't, you will be prompted to install Kadence Blocks on the installation of Kadence Conversions.

Kadence Blocks is a free plugin available on the WordPress repository. Click the button saying, "Install Kadence Blocks" to start the installation automatically.
Installing Kadence Conversions plugin is easy and simple.
Login to your Kadence account and download the plugin from your product downloads area.
Now, login to your WordPress Admin Area. Go to "Plugins » Add New" from the left menu. Once there, click the "Upload Plugin" button on the top of the page.
Finally, upload the file and then "Install » Activate".
In a moment, you will be prompted to activate your Kadence Conversions license with a message stating: "The following plugins have not been activated: Kadence Conversions. Click here to activate."
Note: This message will remain at the top of your admin area until your plugin is activated and you will not be able to use Kadence Conversions until the plugin is activated.
On the right-top corner, enter your License Key (you can find it under your Kadence account) and Email (the email you used to create an account).
Congratulations, you have successfully installed and activated Kadence Conversions plugin.
How To Use Kadence Conversions Plugin?
To get to know the use of the WordPress plugin Kadence Conversions, I have created an easy steps guide here.
In this guide, you'll learn how to create a pop-up with Kadence Conversions WordPress plugin.
Let's get started.
Step 0: Open Kadence Conversions Dashboard
Navigate to the "Conversions" menu in your WordPress admin area and click on "Add New".
Step 1: Choose Conversion Type
Next up, a window with three elements will popup. These elements are:
Select what kind of element you want to create with Kadence Conversions (I am selecting the Popup element for this article).
Step 2: Select Conversion Template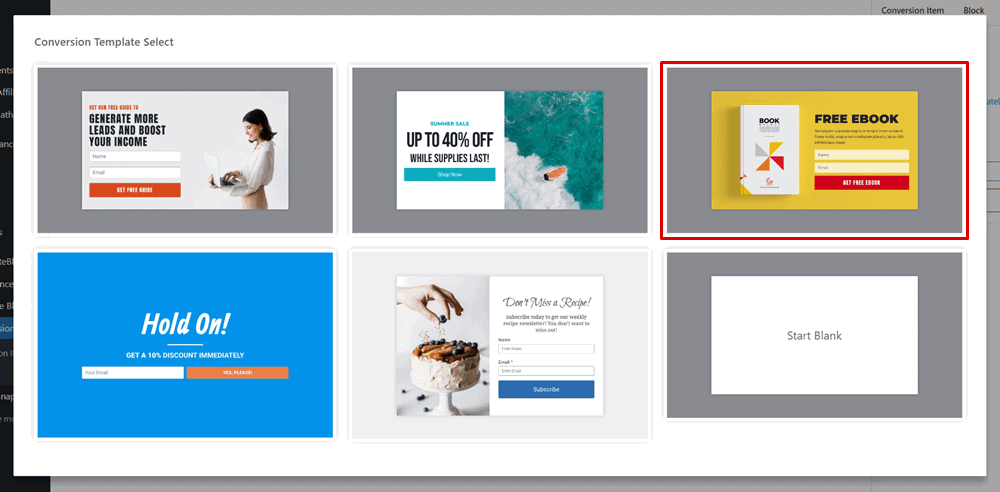 Choose one of the ready-made templates for your pop-up.
Right now, when I'm writing this review on Kadence Conversions, there are already 5 pre-built templates available for popups.
All you have to select the final layout, or you choose the Start Blank to make it from scratch. Then, add required texts, images or even form fields – that's it.
Step 3: Customization
Now, it's time to customize your popup as per your requirements.
You can do all the customization directly using Kadence Blocks as well as other WordPress Gutenberg editors.
Step 4: Set Display Conditions
The final step is to display your popup on the front end (live on your website).
To do that, select Conversion Item as shown in the screenshot below.
Then, on the right-side panel, you can set the conditions for the pop-up to be displayed. You can define exactly when and under which aspects your pop-up should be displayed to visitors.
In short, you can play with its triggers and conditions the way you like and see what settings bring the best possible results.
FAQs – Frequently Asked Questions
Let's see what other people are questioning about Kadence Conversions plugin.
Is Kadence Conversions free?
How fast are Kadence Conversions?
Kadence Conversions was built considering website speed in mind. Thus, it's absolutely lightweight and fast. All elements built with Kadence Conversions are optimized to load quickly and maintain your site's resources and performance.
What do Kadence Conversions do?
It lets you build conversion elements that can be displayed on your site conditionally as well as track the performance of those conversions inside your WordPress admin area.
How much do Kadence Conversions cost?
The affordable plan charges $69 per year. However, you can get access to all kadence themes and plugins, including Kadence Conversions with Full Bundle or Lifetime Full Bundle at the charge of $199/year or $699 one-time fee, respectively.
Does Kadence Conversions work without Kadence Blocks?
Unfortunately NO. You will be forced to install Gutenberg Blocks By Kadence Blocks, in order to use Kadence Conversions.
How many sites can I use with a single Kadence license?
Yes. You can install Kadence Conversions on unlimited WordPress sites with a single license.
Is there any money-back guarantee?
Yes. There's is a 30-day money-back guarantee is offered on all Kadence Conversions plans.
What are some good alternatives to Kadence Conversions?
Thrive Leads, OptinMonster and Bloom can be considered the best alternatives to Kadence Conversions in 2023 – 2024.
Whether Or Not I Recommend it? My Overall Review Of Kadence Conversions
Lastly, the question is: if I do recommend Kadence Conversions or not.
The answer is YES.
I strongly recommend it, if you are looking for a lightweight but highly customizable list building tool for your WordPress site.
👉 Expert Note: Though, Kadence Conversions works perfectly with all WordPress themes & plugins. Meanwhile, if you use Kadence Theme + Kadence Blocks, then the results might get amazing.
With this line, I finish up with Kadence Conversions review tutorial right here.
In the end, I would like to know if this article was:
Good?
Bad?
Or something between?
Whatever is in your mind, please me know your thoughts & experience in the comments box below.
FTC Disclosure: WP Blogging 101 content is reader-supported. This means if you click on some of our links and make a purchase, we may earn a commission at no extra cost to you – Read Affiliate Disclosure