A million-dollar question is often asked over the internet. Is it actually possible to make money blogging in 2023?
The straightforward answer is 'YES'. Let's explore everything in the ultimate guide on how to earn money from blogging.
Living a boss-free life is a favourite choice of career for many youngsters. Especially after the pandemic hits, the wish for a 'boss-free life' among bloggers gets even stronger.
In this blog post, let me tell you a few best methods by which you can make thousands, even lakhs of rupees every month from blogging.
Earning Potential To Make Money From Your Blog in 2023
There are so many jobs and businesses to try both online and offline to become your own boss in 2023. But, the problem is many of us do not understand what works best.
If you are willing to start something new online to make a living out of it and are in a confused state of mind, about what, when and where to start, I highly recommend you try "Blogging".
Starting a blog in 2023 is one of the best online passive income ideas business models by which you can generate a revenue of 1 lac+ per month.
Yes, it's 1 lac or above a month.
Are you still wondering, how WordPress bloggers make money blogging of 1 lac or above? What are those blog ideas that make huge money?
Well, the earnings might look huge for beginners, but there is a huge list of bloggers in 2023, who used to earn 10 lac+ per month from their blogs.
The blogging business model has such huge earning potential that many bloggers are not aware of.
Let's find out those insane ways to earn money from blogging in 2023.
8 Best Ways To Make Money Blogging (2023) – The Ultimate Guide
Actually, there are so many methods you may try to make money from a blog.
Out of all and from my overall experience so far, I found 8 methods as best working ways which you can easily try out from your blog. Here are the eight methods.
1. Affiliate Marketing (Most Profitable)
Among all the eight make making blogging methods listed in the post, Affiliate Marketing is one of the most profitable methods you can try on your blog from Day 1 and generate revenue.
What is Affiliate Marketing – A Quick Definition
You have to follow some marketing strategies to promote your affiliate products and so the name is called "Affiliate Marketing".
As an affiliate of the brand or company, your job is to refer customers to the brand to buy its products. Whenever the sale happens from your affiliate link, you will earn some commission.
The commission percentage ranges between 1% to 60%. It totally depends on the products that you are promoting.
Affiliate Marketing is one of the smart passive income ideas as you can see money falling into your plate even when you are sleeping. That's the beauty of the popular money making business model.
For most bloggers in India and worldwide source of primary income is affiliate marketing.
You can promote your affiliate links anywhere of your choice such as social media accounts, Youtube Videos, Instagram Reels etc. Out of these, Blogging is the finest medium to promote affiliate products and make money.
How Do Indian Bloggers Make Money From Affiliate Marketing?
As said, Affiliate Marketing is one of the most profitable methods. So, comparatively, with other smart passive income ideas, bloggers in India used to consider starting Affiliate Marketing as their first choice to earn money blogging.
Here are some solid ideas that most successful Indian bloggers follow on their blogs to earn through blogging by means of Affiliate Marketing business model.
Publishing In-Depth Review Articles
Writing in-depth review blog posts on your blog is the best way to promote the affiliate product.
The post should include every aspect of the product or service you promote. Especially, you should add the benefits of the post along with its demerits.
And also, give valid reasons why your blog readers should purchase the product you are promoting.
For example, if you are writing a review post about a web hosting product on your blog, ensure to include all the topics in the web hosting review post for better reach and affiliate sale conversions.
Mention if the web hosting company offers free domain
The entire features offered by the company
How the company customer support team
Plans and Pricing structure of the web hosting company
Some best alternatives to the web hosting company
This way you can craft an in-depth review post that might work well in search engines, receive traffic and give you sales.
Write Comparison Posts
Comparison posts are highly clicked by many bloggers. You can take two or three of your affiliate products and compare them with each other including the good, bad, pricing and features of the product.
The comparison posts on your blog may help your readers identify which product is best among other similar products, and they can make a purchase from your post.
Also, comparison blog posts get rankings in search results.
Affiliate Marketers used to publish these two kinds of blog posts regularly on their blogs. So, if you have an affiliate blog and are confused about earning through blogging from Affiliate Marketing, you can try the two blog post ideas to gain some sales.
Make a habit to publish blog posts on a regular basis.
Best Affiliate Marketing Networks To Join in India
Here I am listing out a few best affiliate marketing networks that you can join with your blog in India to earn money.
Amazon Associates
One of the largest networks that provide attractive pay for affiliates. The commission structure ranges from 1% to 20% depending on the product categories you choose.
Amazon Associate affiliate program is free to join. If you are running a niche blog, joining the Amazon affiliate program is the best way to make money from your blog in India.
Web Hosting Affiliate Programs (BlueHost and Hostinger)
If your blog is developed based on the Web Hosting niche, you are one step ahead of other niche blogs as blogs with web hosting niches can earn the highest commission compared to amazon affiliate blogs.
Especially when you try companies like BlueHost and Hostinger, you will earn a heavy commission. Hostinger India pays a commission of up to 60% per sale you generate from your affiliate links.
2. Ad Networks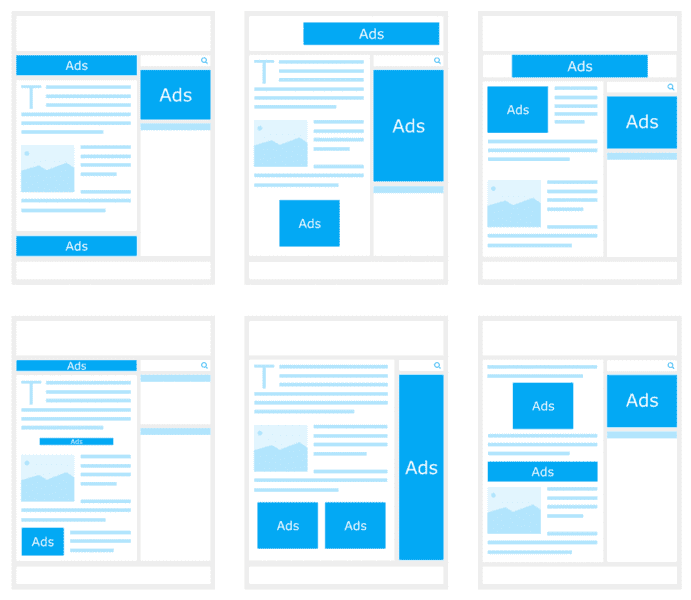 Next to affiliate marketing, monetizing with Ad Networks on your blogs is the best blogging earning method.
If you are already owning a blog and have yet to monetize it with Ad Networks, you can try the method.
You are not limited to just one or two networks. There are so many blog networks that pay bloggers for having their advertisements on your blog posts, pages etc.
Here I have compiled a list of the 8 best Ad Networks you can try to sign up for, get approved, serve ads and make money from your blog.
Google Adsense
Google's very own Ad Network Google Adsense is undoubtedly the number 1 ad network to monetize and make money blogging in India.
They have some minimum requirements to be part of the Ad Network. Sign up and apply with your blog, if it meets the requirements, you are ready to go. One of the highest-paying ad networks on the list.
Google Adsense's minimum payout is 100$. You will receive the payment 21st of every month when you reach the minimum threshold.
One of the best alternatives to Google Adsense, Media.Net is a contextual-based Ad Network. With Media.Net, you can automatically display both image and text ads on your blogs.
The best Ad network to serve publisher ads that are more relative to your blog posts and so, you will get more clicks on your ads.
Same as Google Adsense, the minimum payout is 100$.
Amazon Native Shopping Ads
Amazon Associates works as an affiliate marketing network, while there is an ad network concept called Amazon Native Shopping ads.
Your Amazon affiliate links need to be placed manually, whereas when you join Amazon Native Shopping Ad network, the ads will be served automatically by the network.
The drawback is that you cannot get paid according to the click you received, instead those who click your ads need to make a purchase.
Almost the same as the Affiliate Marketing concept. You can avail your payout when you reach just 10$ or the equivalent in INR.
PropellerAds
Another popular Ad network list, PropellerAds serves you advertisements in different methods including one-click ads, display ads, ads via push notification etc.
The minimum payout is the best thing about the Ad Network as you can get paid when you reach just 5 USD. The ad network offers a weekly payout cycle.
BuySell Ads
The ad network works as a marketplace concept as you can list your blog on their network that you are open for avail ads.
When advertisers see your list on the BuySellAds marketplace and find your listing relevant to their products, they can purchase your ad space through BuySell Ads.
The joining process is not so easy as your blog has to receive 1,00,000 page views monthly.
Taboola
Taboola is a super popular ad network where many bloggers make use of networks to make money from a blog.
Taboola is actually a content-suggesting ad network as you can see so much sponsored content after the end of every blog post on some blogs.
Those are ads served by Taboola network. The eligibility criteria are a headache with Taboola as your blog must need 500,000 visitors per month to get Taboola approval.
PopAds
Another best Ad network to monetize and make money from a blog is PopAds.
As the name itself suggests, most probably the AdNetwork serves PopUnder ads which perform well for high-traffic websites.
PopUnders ads usually get some good clicks among visitors.
AdCash
The best ad network to monetize your blog, AdCash only serves interest-based ads. You can manually select the ad formats you want to display in your blogs.
The ad network offers so many ad types under almost all niches. AdCash's minimum payout threshold is 25 USD.
3. Writing (and Selling) eBooks
If you love writing books on different topics according to your interest, then Blogging is the best business platform for you to write eBooks and sell them on your blog.
Making money blogging by selling eBooks in India becomes very popular and most of the popular authors in the country already started their own blogs and used them to sell their books.
There is always a superb fan base for buying books online, so you can list the books you wrote for sale on your blog and get revenue whenever people make purchases of your eBooks.
Creating an eBook is actually easy with the help of many available tools.
If you have some serious thoughts in your mind about selling eBooks from your blog to make money, follow the process below to create your first eBook.
Step 1: Choose The Topic Of Your Choice
The first step to creating an eBook is that you have to choose the topic of your interest. The topic might be anything. I advise you to write what you are passionate about.
For instance, if you are having good knowledge of SEO, write your eBooks around different SEO topics. Books on SEO topics will get you sales like a cake in bakery stores.
Be clear on what topic you are going to write your eBook on.
Step 2: Start Writing the Ebook and Make it a Perfect Format
Once you are done with the topic, start writing the eBook covering all the relevant topics. Do not write just for the sake of selling it and making money. Instead, write the most interesting and engaging copy.
Once the written part is done, format the texts with headings, subheadings, paragraphs, space etc…
Step 3: Proofread for Spelling and Grammar Errors
Proofreading your writing is always the best practice to sort out the grammatical and spelling mistakes in your book.
You can use a free tool like Grammarly to proofread the book you wrote.
Step 4: Give Your eBook an Emerging Title and Design the Cover
The title of your eBook is the first thing that grabs your audience's attention. So, focus on writing a perfectly suitable and catchy title for your eBook.
Design the cover image for your eBook. You can use free tools like Canva for designing works.
Step 5: Sell It on your Blog
If your eBook is all set to publish, just list it for sale on your blog with the price you want to fix. Promote the book by publishing some blog posts on your blog and promoting it on social media sites.
Whenever the sales happen, you earn the amount you fixed for the eBook. This is the method by which you can write and sell eBooks on your blog.
4. Sponsored Blog Content
Making money from a blog through sponsored blog content is another ideal choice for bloggers.
Many brands and companies out there in different industries are looking to publish their content on blogs related to their business niche.
The brand gets benefits when they publish content on other relevant blogs and that's the reason sponsored blog content is one of the best earn money blogging methods in India
That's called sponsored blog content. Sponsored blog contents are actually nothing but blog posts that brands will pay for bloggers to create and publish the post on their blogs.
Possibly, you can earn up to $100 per single sponsored opportunity you received. You can demand even more if your blog receives a good amount of traffic.
How To Get Sponsored Post Opportunity?
There are some good sponsored post networks that you should join as a member. Every sponsored post network demands different requirements.
Ensure to read the requirements and sign up if you can meet the requirements. Your blog traffic is the one major thing that every sponsored post network may ask for.
So, a blog with a decent amount of traffic easily gets approval.
Join the network by filling up all the mandatory details. Once you are registered and fixed your sponsored blog content price, you will get a notification whenever brands or companies show interest in you.
You can then approve or reject the sponsored offer.
Linqia, Flyout, AspireIQ and SeedingUp are some of the popular sponsored post networks you can join and get sponsored blog content opportunities.
Remember, apply only when your blog receives some good traffic as most of the networks look for blogs that only receive at least 10,000+ pageviews per month.
5. Sell Online Courses
The next make money blogging method in India is, "sell online courses" – almost similar to selling eBooks.
If you are good at something, you can create multiple courses around the different subjects and list the course for sale on your blogs or even on some platforms that are exclusively available for selling courses.
Udemy is one best example of a platform that sells courses online.
Step 1: Choose the Online Course Topic
First, choose the topic of your online course. For example, if you are a WordPress pro, feel free to create your course around WordPress subjects.
Step 2: Create the Online Course Around the Topic You Choose
Gather all the sub-topics around the online course's main subject you choose and cover writing all the sub-topics. Possibly, add some real-time beneficial scenarios to give the online course a life.
Step 3: Publish the Course on Your WordPress Blog for Sale
Create a landing page on your blog exclusively for selling courses and display your online courses there. Promote the landing page as much as possible.
This way you can sell your own online courses straight from your WordPress blog and earn through blogging.
Step 4: Tips You Can Follow While Selling Your Online Course
To grab audience focus and collect emails, initially sell your courses for free from your blog.
When your audience list grows, you can then list some other paid courses and of course, you will receive sales and generate revenue from selling your online courses.
Also, share that you are selling courses on your blog on your social media accounts. It may reach too many and your online course will receive some good sales numbers.
6. Podcast Sponsorship
The make money blogging method in India 'Podcast Sponsorship' might be totally new for you. I agree as most Indian bloggers are not aware of the earn money blogging method.
It's almost similar to the 'Sponsored Blog Content' method.
In that method, you will get blog posts as content and get paid whereas in the podcast sponsorship method, you will be requested to create and publish podcasts on your blogs about the brands that are offering you the sponsored opportunity.
For those who are working as podcast bloggers in India, mark my words, podcast sponsorship methods to make money will soon become popular and you can generate huge income from it.
So, if you are an Indian Podcaster, try the podcast sponsorship method to make extra income as it is one of the effective monetization strategies that many bloggers follow.
How to Avail Podcast Sponsorship Opportunity?
To avail of the opportunity, there are some best podcast ad marketplaces there, where you can list your ad that you are open to accepting podcast sponsorship on your blogs or podcast channels.
When people find your medium best for their brands, they may offer you the opportunity and you get paid.
Apart from the podcast ad marketplace, you can also be a part of podcast networks to avail sponsorship opportunities.
Midroll and Acast are the popular podcast sponsorship networks that you can join and earn revenue by getting sponsored podcasts.
7. Freelancing
Freelancing is one of the most considered online earning methods by many Indians, especially after the pandemic kind of issues.
The search for freelancing jobs in India has increased. The reason is, that most people started thinking 9-5 jobs needed to be dependent on someone else and wanted to live a boss-free life.
Whatever the profession you are in currently, with the help of freelancing websites, you can easily get clients related to your profession as Freelancing websites are open for a hell lot of jobs to work from home.
How to Start Freelancing in India to Make Money?
There are many websites in India that offer freelancing jobs. You have to join as a freelancer. It's free to join.
Fill up all your details with perfection while you sign up for your account. After the successful signup process, browse the jobs by searching related to your skill key terms.
For example, if you are a professional content writer, search for content writing jobs. You will receive the content writing jobs posted by clients on the freelancing websites, and approach the clients with your sales pitch.
If he/she approves your pitch, you can start working on it and earn money through freelancing jobs.
How Blogging Helps You Find Better Freelancing Jobs in India?
If you already own a blog and published some good content there and used it to receive good traffic, then your blogging performance might be a great deal.
You can show your clients your work while you approach freelancing jobs. So, undoubtedly having a blog is a great idea to avail easy freelancing jobs.
8. Consulting/Coaching
If you are passionate about consulting or coaching jobs, then you can also possibly make money blogging in India.
On your blog, you can mention your proficiency and offer your readers coaching and consulting in the field you are good at.
If you are a good mathematics teacher and want to coach students online with your math skills, you can develop a WordPress blog and publish different blog posts related to mathematics and on your blog, you can mention that you are coaching students.
While mentioning your coaching, ensure to add the subjects or classes you cover, timing, fees etc. The process is nothing but online tuition.
Content Marketing is the Key
Whether you start consulting or coaching blogs to offer your classes to the audience, content marketing plays an important role to get students enrolled in your coaching job.
So, make sure to publish more and more quality contents on your blog that are highly relevant to the topic of your interest.
Promote the articles as much as you can. Do SEO either yourself or with the help of someone good in the field you know, and try to get your coaching articles ranked on Google.
More students will surely be enrolled in your coaching class and you can enjoy your online earnings through your blog.
As I said earlier, the blogging field actually has huge potential to make money in India in 2023. The problem is most of us do not try what works best instead we used to try multiple methods and fail literally.
So, develop your WordPress blog, finalize your decision like what you are good at, stick to one thing, focus heavily on the same thing, and monetize your blog using any one of the above said 8 blog ideas that make money and become pro in the blogging field.
Frequently Asked Questions
How much money can you make from blogging in India?
There is no fixed income in blogging like the salary you get for your 9-5 jobs. The income you make from blogging in India totally depends on many factors. And it varies from blog to blog. If I have to say in a number, a profitable niche blog that receives 30,000+ page views a month could possibly earn 1000+ dollars a month.
Can I make a living blogging in India?
Undoubtedly, Yes. There are many Indian bloggers doing blogging as their full-time career and making a good income out of it.
How do beginner bloggers make money?
Compared to all money earning blogging methods, Affiliate Marketing is a great choice for beginners to start as you can earn from Day 1 of your blogging with affiliate marketing. So, most beginner bloggers make money from Affiliate Marketing.
How much money do bloggers make?
There are bloggers who used to earn 10,000+ dollars and then there are even bloggers who earn less than 100 dollars per month. The earnings totally depend on how effectively you put your efforts into blogging.
What are the most popular blogging platforms?
The most popular blogging platforms are:
WordPress.org — Best overall
Medium — Best for writing to a built-in audience
Blogger.com — Free blog creation software by Google
Wix — Best for beginners building a professional blog 
Squarespace — Best for artists, and designers
Furthermore, you can expand the list of top 10 blogging sites (updated for 2023).
Do Indian bloggers pay taxes?
Of course! Yeah, Indian bloggers used to pay taxes from their blogging earnings.
Do I need an LLC for blogging in India?
As a Blogger in India, it is not at all mandatory to get LLC.
Who is the number 1 blogger in India?
Amit Agarwal the blogger behind labnol.org is the number one blogger in India. According to a few sources, Amit earns $60,000+ a month with his blogs.
Affiliate Marketing vs Google Adsense: What makes more money blogging?
Not just Google Adsense, compared to any other make money blogging in 2023, Affiliate Marketing makes you more money blogging.
Final Words On Make Money Blogging Guide For 2023
Blogging is overall the best online business model to generate regular passive income. Setting up a WordPress blog is very easy and does not demand you more investment.
Be strong in the niche you are going to work on and ensure to find the money earning methods that fit best and are profitable for your blog niche and keep working on your blog.
Success is all yours in the blogging field. Patience is more important in the blogging field, if you are feeling bored of working on your blog, then take a break and come back stronger to work on it. Never think of quitting it.
Whatever the niche you are in or going to start, the above said ideas to make money from a blog definitely will work out to make extra income.
FTC Disclosure: WP Blogging 101 content is reader-supported. This means if you click on some of our links and make a purchase, we may earn a commission at no extra cost to you – Read Affiliate Disclosure
Comments have been closed!