Nestify Coupon Code
Sign up for a Nestify high-performance hosting service today and get a special 7-day free trial + 1+month of free extra usage along with a 10% discount on the paid plan for a lifetime.
This offer includes awesome features custom domain setup, SSL certificates, cloud SSD storage, free website migration services, unlimited site and support etc.
Coupon Code: WPBLOGGING101
Welcome to my exclusive tutorial on Nestify Coupon Code (September 2023).
Do you want to save money while purchasing web hosting plans from Nestify? This page is your final stop.
The majority of tutorials around the web on Nestify discount deals are outdated (2021 or earlier), sugar-coated, or misleading and claim to deliver discounts up to 60% – 80% onwards.
This is not one of them… as there are no such offers available right now.
Here, I'm going to be brutally honest, and analytical while listing Nestify discount coupons or promo codes.
This coupon link offers you the cheapest Nestify hosting prices that you can't find anywhere else on the internet, exclusively available for WP Blogging 101 users.
Deal: Guaranteed the best Nestify hosting deal (exclusive 7-day free trial + 10% recurring discount for a lifetime)
Coupon Code: WPBLOGGING101
Let's get in.
Nestify Coupon Code (September 2023): Discount Offer & Promo Codes
In this section, I will show you the best hosting deals on Nestify – updated regularly to reflect the latest promo codes).
Below is the quick summary table of Nestify discount coupons and promo codes.
| | |
| --- | --- |
| 👍 Rating | 5.0 ⭐⭐⭐⭐⭐ |
| ✅ Hosting Type | Managed WordPress hosting |
| 💰 Regular Price | Starts at $12/mo for 2 GB ram, 10 GB server size & 1 dedicated CPU |
| 🏷️ Offer Price | Just $10.8 per month after applying the promo code |
| 🛍️ Discount | Flat 10% recurring discount on upgrades and renewals |
| ✂️ Coupon Code | Auto-applied on the checkout page |
| 📖 Features | Free standard SSLs, custom domain setup, unlimited sites etc. |
| 🆚 Alternatives | WPX Hosting, Bluehost and Cloudways |
| ⏰ Free Trial | Yes! 7 days trial avalable |
I am a referral partner with Nestify affiliate program since July 2022 and requested their sales team to provide a special promo code for WP Blogging 101 readers.
Hopefully, they accepted and are ready to give a flat 10% discount on sign-ups go through my affiliate links when you apply my special coupon WPBLOGGING101.
Follow the steps below to claim your discount from Nestify:
Visit the offer page and click on the Try Risk-Free For 7 Days button.
Create a fresh Nestify account and verify your account.
Tap on the Select A Plan (under the left menu section) and apply my promo code WPBLOGGING101 on the checkout page and get a 10% recurring discount on your desired hosting server package.
Complete your order.
Congratulations! You've finished!
Let's break down the deal activation steps in detail.
How To Activate Nestify Hosting Coupon Code For Maximum Discount?
Follow the steps below to grab a special discount from your favourite managed WordPress hosting, "Nestify".
Step 1: First of all, click here to visit the offer page and tap on the, "Try Risk-Free For 7 Days" button.
Step 2: Enter your Email & set a secured Password and tap on the Sign Up button.
Step 3: You'll get a confirmation email from Nestify Team. Activate your account by clicking on the link mentioned in the email.
Step 4: Next, you have to choose your hosting server (pick a server that is nearest to your location – for example, Indian users should go with India server), select server size (for starter WordPress sites, $12/mo plan is most suitable) & then set a Server Name and lastly click on the button saying New Server.
Congratulations, your free trial account setup has been completed. Once, the trial period is about to expire, follow the steps below to apply our personal Nestify coupon code for a special discount of 10% on your upcoming hosting bills.
Step 5: Under the left Menu, tap on the Select A Plan.
Step 6: Here, you can Select Payment Term – monthly or annually. In my opinion, the annual billing cycle is the best choice as it has included a 1-month extra trial for free.
Step 7: On the left section side, tap on the Add Promotional Code option.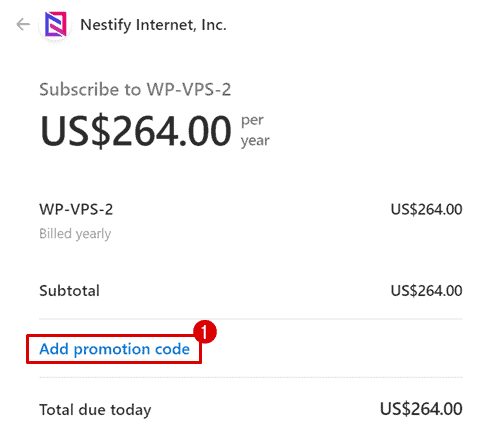 Step 8: Enter Promotional Code WPBLOGGING101 – 10% instant discount on your first bill as well as renewals.
Step 9: Finally, enter your credit card details like card number, CVV, and name on the card, select your country and complete your purchase by hitting the button, "Subscribe".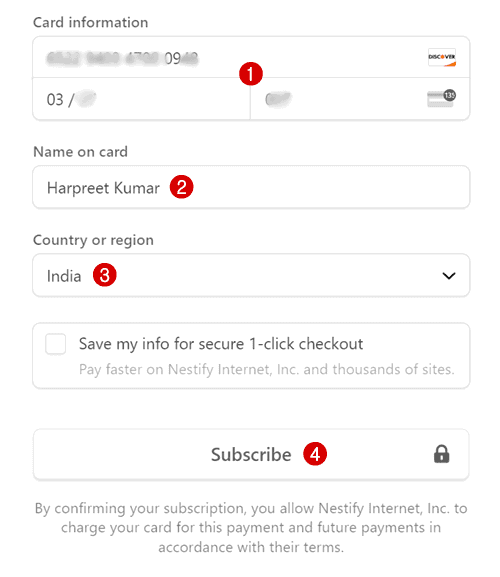 Congratulations! You are done with purchasing.
That's how you can get a 7-day free trial + 1-month extra trial and a 10% special discount on all the Nestify hosting plans.
Why Choose Nestify? All-in-one Managed WordPress Hosting Solution
Let's start it introducing the company itself.
My Nestify Hosting Review (2023)
Founded in 2014, Nestify, as a managed WordPress hosting provider by AWS (Amazon Web Services) offers the best value for each dollar paid by the customer.
To put it simply, Nestify is an easy-to-configure and cost-effective hosting provider with impressive features having cloud-based SSD plans.
Below is the general information about Nestify.
| | |
| --- | --- |
| ✅ Type | Reliable managed WordPress hosting powered by AWS |
| 💰 Regular Price | Starts at $12/mo with 10 GB server size, 1 dedicated CPU & 2 GB ram |
| ⏰ Free Trial | 7-day free trial on new sign-ups – no credit card is required |
| 📖 Features | Managed WordPress hosting, page speed optimization, free migrations etc. |
| 🆚 Alternatives | Bluehost, Cloudways and WPX Hosting |
| 💸Refund | 60-day money-back guarantee included |
With multiple servers by AWS around the world (India, US-East, London, Australia and Amsterdam) Nestify itself is the best place to launch a WordPress site at the lowest cost of just $12 per month.
In addition, you get the following impressive features:
Unlimited websites
Unlimited visits
Google page speed optimization
Optimum SSD-based server sizes
Free unlimited site migrations
60-days money-back guarantee policy
Let's explore all features by following the next section.
Features Of Nestify Hosting
Below we are mentioning all the essential features offered by Nestify.
Free Trial: You can sign up for a 7-day free trial (no credit card needed) and play around with services.
Special Discount: Exclusive 10% recurring discount on your first purchase through my affiliate links here.
Free Website Migration: All plans come with free WordPress migration services so that you can switch hosts with ease.
Premium CDN: All hosting plans include Content Delivery Networks and Cache (CDN) to ensure that your content load quickly.
Free SSL Certificates: Turns your custom domain from HTTP to HTTPS with increased website security and user trust.
Free Security Scans: Advanced security features like firewalls, malware protection, DDoS protection and more.
Automatic Backups: An in-built tool in cPanel that creates daily backups of your website's content and stores them in one of the offer servers.
Multi Server Locations: 5 datacenters (India, US-East, London, Australia & Amsterdam) across the globe.
Unlimited Support: Instant access to 24/7/365 days of live chat support (very quick), limitless knowledge base tutorials and a ticketing system.
Refund Policy: 60-days money-back guarantee (and no extra cancellation fees for asking for a refund).
With the help of the features listed above, Nestify also includes a special function called, "Optimization on Page" which allows you to help improve the AdSense Google Analytics, CSS and Javascript Code for higher performance. Nestify is also compatible with Git and provides SSH and WP-CLI access.
👉 It's not the end! Click here to expand all the remarkable features and benefits of hosting your WordPress site on Nestify.
Discounted Nestify Pricing Plans
Nestify offers 5 managed hosting plans – based on website requirements and size. The most starter paid plan costs $12 per month, where you get:
7-days free trial
Unlimited visitors
Unlimited sites
NVMe SSD storage
1 Dedicated CPU server size with 2 GB ram
Google page speed optimization
Unlimited free site migrations
Free SSL, CDN, and tech support
Automatic daily backups
And so on…
You can upgrade to any higher plan as your website grows quite easily. Simply visit their "Manage Servers" under Nestify's left menu and choose the desired server size and plan that satisfies your website needs.
The Best Part is our exclusive Nestify coupon code – gives you a 10% instant discount on your first bill as well as hosting renewals & server upgrades.
Let me remind you again, choosing a 1-year term plan, allow you to claim an additional 30-days or 1-month hosting.
Click here to use our exclusive Nestify coupon code WPBLOGGING101 and get the best available deal when you sign up as a new user.
FAQs – Frequently Asked Questions
Browse the most frequently asked question about Nestify promotions (the list is updated for the current year 2023).
What is Nestify?
Nestify provides assistance for managed, WooCommerce and WordPress hosting, powered by Amazon Web Services. It is trusted by customers because of its thorough and efficient technical support.
They will also give you cost-free WordPress migration services to help you transfer your site from traditional hosting to their high-performance web hosting services. Furthermore, they are very confident in the services they provide, so they offer a money-back warranty for all of their packages.
Why should you choose Nestify?
There is a number many unique names in managed WordPress hosting. Nonetheless, Nestify is a fast WordPress hosting firm that's highly acclaimed.
To see how Nestify stacked up next to its competitors in the hosting field, I performed an evaluation to check its variety of features and examined its interface. And I was impressed with how adaptable and cost-efficient it was.
Does Nestify offer a free trial?
Yes. They do offer a 7-day on all hosting plans – no credit card information is required.
How much does Nestify cost?
Nestify's web hosting costs cannot be rivalled; even the shared hosting cost more than what they provide. Their beginner plan starts from $12 per month or you can get it as low as ₹849/month from India.
How do I get a Nestify discount coupon deal?
The Nestify affiliate team has issued a special coupon code WP Blogging 101 readers, where you can get a flat 10% discount on your first bill as well as renewals.
What's today's best Nestify coupon?
Today's (September 28, 2023) best Nestify coupon code link is here (simply click on this direct link and enjoy savings of up to 10% on all managed WordPress hosting servers on upgrades as well as on renewals).
How to apply Nestify coupon code?
First of all, copy the WPBLOGGING101 code. Now, sign up on Nestify through this link and under your to your account area, upgrade your plan and apply the coupon you copied. Instantly, you will be able to save a flat 10% on your bill.
Is your Nestify promo code applicable on hosting renewals and plan upgrades?
What are the payment options available?
You can pay Nestify bills via credit card only.
What if I don't like Nestify hosting services upgrades?
No problem! Nestify gives you the opportunity to request your money back up to 60 days after the purchase date. To request a refund, contact the customer department via contact@nestify.io email.
Is Nestify offering any special deals or discounts?
What are the best alternatives to Nestify hosting?
Nestify is one of the best WordPress hosting providers in the industry, and it paly an important role in my company's guide to WordPress blogging.
However, if you're just searching for a comparable alternative, I suggest picking any from Bluehost, Cloudways, or WPX Hosting because the most effective choices.
Final Thoughts On Nestify Hosting Discount Coupons 2023
These are all Nestify promotional vouchers, and discount deals that they offer to WP Blogging 101 readers.
If you are starting a blog in India, or anywhere around the globe, this host can be your next favourite WordPress hosting platform to build a rocket-solid website in 2023.
Moreover, they are offering an official 1-month and 10% additional savings on yearly plans when you apply promo code WPBLOGGING101 (caps mattes).
Rem, our promotional code is valid only on new sign-ups. So, make sure to create a new Nestify account to apply the code successfully.
This is a limited-time deal and valid only if you make a purchase from any affiliate links mentioned in this article.
In the last, I want to know, if this Nestify coupon code 2023 was:
Good
Bad
Or something between
Whatever your experience is, please let me know your thoughts in the comments box below.
FTC Disclosure: WP Blogging 101 content is reader-supported. This means if you click on some of our links and make a purchase, we may earn a commission at no extra cost to you – Read Affiliate Disclosure
Comments have been closed!