Nexcess Review (2023)
The Nexcess goes far and beyond when it comes to choosing a managed WordPress hosting. It provides superior, powerful features regarding speed, such as tier-1 bandwidth and remarkable features at competitive prices.
Nexcess, a Liquid Web subsidiary, stands out as a leading managed hosting provider for WordPress, Magento, and WooCommerce sites.
If you are considering using Nexcess managed WordPress hosting for your WordPress site, this review tutorial is for you.
In this article, I'll walk you through:
Nexcess hosting's best/worst features
Plans and pricing details of Nexcess
How Nexcess compares to popular managed WordPress hosts
Whether or not I recommend it
Lots more
So if you're considering signing up for Nexcess WordPress hosting, this review should help you with your decision.
Let's dive right in.
Honest Nexcess Review 2023: My Experience On This WordPress Hosting
Why You Should Trust Me On Nexcess Web Hosting Review?
Before we get into my Nexcess review, I want to point out that I personally tested this hosting for a month.
Here's my purchase receipt:
I've played and experimented a lot with this host such as performance, uptime, speed testing etc.
As a result, I feel confident in my ability to provide a thorough and insightful review article about this popular managed WordPress hosting service.
👉 Click Here To Claim Nexcess Hosting For 4 Month Free (an exclusive offer for WP Blogging 101 readers).
At the first point, let's take a look at the company itself.
What is Nexcess Hosting? An Overview
Founded in 2000 and located in Ann Arbor, Michigan, United States, Nexcess is a popular managed WordPress hosting provider.
It is mainly known for its reliable uptime, flexible scalability, and superior performance compared to traditional hosting services.
Here's a quick summary table of Nexcess hosting:
| | |
| --- | --- |
| Rating | 5 out of 5 |
| Price | Prices start at 13.30/mo |
| Performance | A1 |
| Hosting Type | Managed WordPress, WooCommerce, Magento and cloud hosting |
| Free SSL | Yes |
| Support | 24/7 live chat and phone support |
| Coupons | Claim 4-Month FREE |
Nexcess is a subsidiary of Liquid Web, a well-known company in the hosting industry that presents itself WordPress market through various acquisitions, including iThemes, Restrict Content Pro, and The Events Calendar, among others.
The Nexcess uses its own infrastructure (user-friendly cPanel) that offers:
fully managed WordPress hosting,
fully managed WooCommerce hosting,
and fully managed Magento hosting services.
You can quickly set up Nexcess account and install your desired applications. All hosting servers also come with 24/7 days of unlimited live chat customer support in case you encounter any issues.
Here are the top 5 best features of Nexcess hosting that I like about:
Intuitive and user-friendly Nexcess control panel for easy management of your hosting environment.
Built-in development environments to help you build and test your website or application.
Cloud auto-scaling and CDN (Content Delivery Network) to ensure your website or application runs smoothly and loads quickly.
Automatic backups are included to protect your data and ensure you can quickly restore your website in the event of data loss or corruption.
Easy security measures, including access to credential rewrite, help safeguard your website or application from unauthorized access and data breaches.
And, The Best Part?
You can try these features at just a small charge of $13.30/mo (your money is protected by Nexces's 30-day money-back guarantee). Click here to get started with Nexcess hosting.
Next up in this review, check out what happened when I ran a speed test to check Nexcess hosting speed and performance at GTmetrix, Pingdom and Google Core Web Vitals tools.
Nexcess Speed Test & Response Time (Tested)
To test out Nexcess hosting speed, I installed a fresh WordPress application (Nexcess WordPress installation comes with Kadence Theme installed by default), and then I installed Kadence Blocks – a Gutenberg plugin.
First the most, I run a speed test in GTmetrix., and the results were as below:
The Google Insights Page Speed score was as below:
And finally, here's my Nexcess speed test with Pingdom tool (screenshot below):
The page loading tests from multiple locations using Pingdom were as follows:
Washington D.C.: 0.41 seconds
San Francisco: 0.53 seconds
London: 0.59 seconds
Sydney: 1.02 seconds
So what to make of all this?
Well, one thing is certain; if a website is hosted on Nexcess, it would load a lot quicker.
Plus, if you make some pro changes like:
Install WordPress cache plugins like WP Rocket,
And, use its built-in CDN service (or an external CDN like BunnyCDN) with your hosting,
…then, results might surprise you.
Unlike other popular web hosts like Bluehost, Hostinger, and Hostgator, Nexcess doesn't offer free domains, but instead, it is best with powerful managed hosting servers that guarantee an improved performance compared to its all alternatives in the market.
Overall, Nexcess performance, response time and speed test results were quite impressive.
👉 Get Started With Nexcess Right Now and claim your 4-month of free hosting (discounted price with annual/monthly billing cycles).
Real Nexcess Hosting Reviews From Real Users
Our Nexcess review tutorial is incomplete without knowing what real users are saying about it.
The below screenshots are about Nexcess reviews by customers & 100+ users' opinions.
🔔 Note: Nexcess reviews list is fetched from Trustpilot – a review platform that's open to everyone.
In fact, I have noticed tons of positive responses from users of the Reddit and Facebook communities.
No matter, what other views are there, I believe, this is largely due to its excellent customer service, as well as easy-to-use setup and reasonable pricing.
Overall, Nexcess enjoys a robust reputation among its users for delivering dependable website hosting services and providing excellent customer support.
✅ When You Should Use Nexcess Hosting?
Undoubtedly, Nexcess offers unbeatable managed WordPress hosting services, and I would recommend it by heart.
It's suitable for serious startups to professional bloggers. I especially recommend Nexcess hosting for:
If you're seeking a hosting provider that offers high-performance solutions within the $15-$50 price range.
If you're creating self-hosted WordPress sites, online eCommerce stores, or large corporate sites.
Any website that requires powerful performance capabilities.
👉 Need Powerful Hosting? Don't miss out on this opportunity to speed up your website. Host Your Website With Nexcess Today!
❌ When Not To Use Nexcess Hosting?
While Nexcess is a versatile hosting provider that caters to many different types of websites, it may not be the ideal option for everyone. For instance:
If you're a beginner in the world of WordPress blogging, you may prefer a more user-friendly and beginner-oriented web hosting provider.
If you're looking for affordable hosting options similar to Hostinger or Bluehost, Nexcess may not be the most cost-effective choice.
If your website is new and doesn't require high-resource servers, you may not need the robust performance capabilities offered by Nexcess.
To explore more hosting options, you can check out our comprehensive roundup article on the best WordPress hosting services. No matter what your specific needs are, there's a hosting provider out there that can meet them.
💡Top 14 Key Features Of Nexcess Hosting
Let's kick off our Nexcess hosting review with the things that this managed WordPress hosting really well.
Simple & Easy-to-use (Clean UI)
Most of all, I love Nexcess UI – an all-in-one modern-style hosting dashboard.
At Nexcess, the main dashboard primarily provides an overview of your account's current status and information, rather than the specific details of your hosting setup.
This section is categorised into four main parts:
Top Menu
Left Menu
Middle Section
Right Menu
Let's explore each section.
1. Top Menu
Inside the Top Menu bar, you will see:
Client Email (it's the email address that you used to sign up at Nexcess website).
Account ID & PIN (six-digit security code).
User Menu (with your name with drop down menu).
And inside the User Menu drop-down section there are few important settings are available.
These settings are:
My Profile caries the basic information about your account such as your name, country, phone number and password reset options.
Account Settings contain details about your Account ID, Pin (call-in pin) and Client Information (registered email address).
2-Factor Auth lets you enable/disable 2-Factor Authentication for activating Google Authenticator notifications for your account login.
SSH Keys is a secure command-line interface that lets you manage your website files and perform various tasks directly on your web server through a terminal window.
Team Members option allows you to add team members with different roles and permissions in the Nexcess Client Portal.
API Tokens allow users to authenticate with cloud apps and bypass two-step verification.
Addresses is a section of Payment Methods and Addresses where you can view your billing address and a Credit Card or PayPal information.
Feedback section allows you to submit an idea about Nexcess services.
Announcements area contains all of the relevant announcements for your Nexcess hosting portal.
Knowledge Library takes you to Nexcess Knowledge-based page – a vast repository of web hosting help articles with expert guidance for optimizing your website and online store.
Sign Out is a link for logging out from Nexcess client portal.
2. Left Menu
Inside this menubar you have important sections to go through, as described below:
Home button takes you back to the default Nexcess dashboard (homepage).
Plans section displays the list of all hosting packages purchased.
Sites section presents all websites or apps you have installed.
Billing window showcases the invoices list of all bills you paid/unpaid including some extra options like Credits, Payments, Payment Info, and Orders.
Support section keeps all support tickets you have created for assistance.
SSL (secure sockets layer) lets you install SSLs on existing websites as well as import existing SSL by providing a private key.
DNS is a place where Nexcess clients can use their Client Portal to create and configure DNS zones.
3. Middle Section
This section provides you with easy access to important information about your hosting service.
You can review your upcoming invoice, check the status of any open support tickets you have submitted, and access helpful knowledge base articles and blog posts.
4. Right Menu
And the last 'Right Menu' is a set of external links section from Nexcess website.
As you can see, these advanced tools offer a broad range of optimizations for your website, providing numerous options for tune-ups.
FREE Premium WordPress Plugins
All Nexcess pricing plans come with 6 premium WordPress plugins at ZERO price.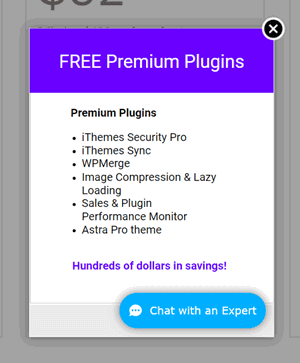 These plugins are:
iThemes Security Pro
iThemes Sync
WPMerge
Image Compression & Lazy Loading
Sales & Performance Monitor Plugin
Astra Pro Theme
In short, this is a hundred dollars in savings with Nexcess hosting purchase. Sign up for Nexcess today and get 4-month of hosting free of cost.
Free Site Migrations
Are you coming from a different web hosting service? If so, Nexcess can migrate your website to its server free of cost.
At this moment, Nexcess offers free migrations for industry-leading platforms:
WordPress
WooCommerce
Magento
Drupal
ExpressionEngine
CraftCMS
If your website is hosted on any of these CMS, you're eligible for free website migration service.
To claim site migration, visit my.nexcess.net and log in to your admin panel. Next, click on "Support" in the left-hand navigation and then tap on the "Request Migration" button.
Follow up on the next up steps and click on, "Submit". In a while, a specialist will contact you about the website details for website migration.
Nexcess Cloud Autoscaling
Nexcess Cloud Auto Scaling is a feature that automatically adjusts your hosting resources based on your website's traffic.
Here are the key points explained in list style:
Scalability: Automatically adjusts hosting resources to handle traffic spikes.
Automatic Adjustments: Resources are allocated based on your website's traffic demands.
Cost Savings: You only pay for the resources you use.
Customizable Settings: Set custom parameters for resource allocation.
Real-time Monitoring: Monitors your website's traffic in real-time.
Easy-to-use: Activated with just a few clicks from your control panel.
Overall, Nexcess Cloud Auto Scaling is a useful feature for websites with unpredictable traffic patterns, enabling them to handle traffic surges and save costs at the same time.
Nexcess CDN Service Review
The CDN (Content Delivery Network) is a feature that improves performance by caching and delivering content from servers located worldwide.
Here are the key points to know about Nexcess CDN services:
Easy to use
Fast & flexible
22 Edge locations
Faster loading times
Improved user experience
Increased reliability
Better SEO
SSL – secured CDN network
Secure content delivery
Compatible with Nexcess hosting
Overall, Nexcess CDN is a valuable feature that can improve website performance, reliability, and security, while also enhancing user experience and SEO rankings.
Nexcess StoreBuilder Review
The Store Builder at Nexcess is an online store builder that comes with everything you need to start and grow your online business.
From intuitive design features to powerful sales and performance tools, Store Builder is the best e-commerce website builder for growing your business in 2023.
Here are some of the key features you can expect:
Intuitive Design Features: Nexcess StoreBuilder offers easy-to-use design features that allow you to create a beautiful online store without hiring a designer or writing a line of code.
Easy To Maintain: With automated sales and performance tools, you can worry less and convert more, making it easy to maintain and optimize your online store.
Your Site – Your Rules: You own your store and what you put into it, giving you full freedom and flexibility to create a store that reflects your brand and values.
Live Expert Support: StoreBuilder offers world-class e-commerce support by phone, email, and chat 24/7/365, ensuring that you have the help you need when you need it.
The best part is its pricing; Store Builder is an affordable option starting at just $5 per month for 3 months, making it accessible to businesses of all sizes.
👉 Get Started With Nexcess StoreBuilder At $5/mo For 3 Months.
Nexcess Staging Review
Nexcess Staging is a powerful tool that allows you to create a separate environment where you can test and preview changes to your website without affecting your live website.
Here are some of the key features you can see inside the staging environment:
Create a staging site with one click
Test changes in a secure environment
Merge changes with one click
Collaborate easily
Additionally, Nexcess Staging comes with automated backups, ensuring that you can always restore your website to a previous version if anything goes wrong during the testing process.
Nexcess Stencil Sites Review
The Stencil Sites is a user-friendly website copier tool – a Nexcess client portal site builder that requires no coding or design experience.
All Nexcess hosting plans come equipped with powerful tools & plugins that streamline and expedite WordPress website copy process.
Here are the steps to create a stencil site on Nexcess:
Develop a website template or base site.
Install necessary plugins, themes, and tools.
Navigate to Stencil Sites on Nexcess.
Create a new stencil site based on your existing website.
Select the base site and configure settings.
Save your stencil site.
Create a new website and select your stencil site as the base.
Configure any additional settings as needed.
Your new website will be created using the same plugins, themes, and settings as your stencil site saving a lot of your precious time.
In short, Stencil Sites is a time-saving solution that is particularly useful if you manage multiple websites with the same requirements.
Nexcess Customer Support Review
When it comes to web hosting support, Nexcess customer service representatives are available 24/7 via live chat.
Nexcess offers live chat and phone support to customers located in the Americas, Australia, and the UK, ensuring that assistance is always available to those who need it.
Furthermore, the provider maintains a vast knowledge base that covers a diverse range of hosting-related topics.
If you ever need any knowledge-based support with Nexcess managed hosting service, you can go through the following links:
Phone Support is available for customers in the Americas, Australia, and the UK who prefer to speak with a representative directly.
Knowledge Base is a comprehensive resource that covers a broad range of topics and is a great option for customers who like to troubleshoot issues on their own.
Ticket System is ideal for customers who need personalized assistance with a specific issue, and live chat is a convenient way to communicate with a support representative in real-time.
Community Forum is a valuable resource where customers can connect with each other, ask for advice, and share their experiences.
Overall, Nexcess's range of support options ensures that each customer gets the required help, in the way that suits them best.
Bulletproof Website Security
Nexcess takes your website security very seriously and provides both basic and advanced features.
Here's what you can expect:
SSL Certificates: All plans come with a free SSL certificates for secure data transmission.
Backups: Automated daily backups are stored off-site for up to 30 days, and you can also create backups manually.
iThemes Security Pro Plugin: This suite includes features like two-factor authentication, passwordless login, reCAPTCHA, and geolocation.
Malware Monitoring: Nexcess claims to run malware scans and constantly monitor your site's well-being.
Other Security Features: Managed services include automatic updates for WordPress core and plugins.
While Nexcess offers robust security for its price point, it lacks some measures like DDoS protection and Web Application Firewalls, affecting its ranking among the most secure hosting solutions.
Nexcess Domain Registration Services
Apart from web hosting packages, Nexcess also offers domain registration services for a variety of top-level domains (TLDs), including .com, .net, .org, .co.uk, and many more.
You can search for available domain names using Nexcess's domain search tool, which allows you to enter the domain name you want and see if it's available.
If the domain is available, you can proceed with the registration process. Either way, it allows you to transfer your existing domain from another registrar to Nexcess.
This can be useful if you're consolidating your website hosting and domain registration services at the same place; Nexcess.
✍️ Admin Note: Nexcess domain registration fee is a bit high. That's why I highly recommend you purchase your domain name elsewhere like Namecheap or Godaddy.
Nexcess Cancellation & Refund Policy
Nexcess has a 30-day money-back guarantee. It means, your money is 100% protected.
If you are not satisfied with your purchase, you may request a refund within 30 days of the purchase date.
To request a refund, simply login to your admin panel and submit a support ticket with the account cancellation request.
Nexcess Email Hosting Review
Here's a drawback; Nexcess only offers email hosting on its cheapest tier – Spark Plan.
Thus if choose to upgrade to higher pricing, you'll require to order Premium Business Email Hosting.
At this moment, when I'm writing this review tutorial, there are 3 email hosting plans offered by Nexcess.
Standard: $2/mo
Plus: 4/mo
Microsoft Exchange: $11/mo
💡 Beginner's Tip: If you require a FREE email hosting service for your new website, I suggest considering Zoho Emails as an option.
Nexcess Affiliate Program Review
The next feature in our Nexcess hosting review article list is; affiliate program.
If you are a blogger looking to monetize your site through affiliate marketing, then Nexcess partner program is a great opportunity to earn some extra income.
By joining the program, you can earn up to $150 for each referral who signs up for Nexcess hosting – no tiers and no commission limits.
Best of all, the Nexcess affiliate program joining is 100% free. All you have to do:
Visit this link (Nexcess affiliate sign-up page),
sign up with your email address,
and start promoting on your website, social networking sites, YouTube channel or via email marketing.
Each Nexcess sign-up comes from your affiliate link, pays you $150 or 150%, whichever amount is higher.
Pros & Cons Of Nexcess Hosting
There's no doubt that Nexcess is an excellent managed WordPress hosting provider. However, as with any product, it has its own set of advantages and disadvantages.
And here's what we'll look at. Let's recap some pros and cons.
Nexcess Hosting Pros:
100% uptime guarantee.
Large selection of dedicated hosting plans for WordPress, WooCommerce and Magento apps.
The entry-level Spark plan is much cheaper than equivalent plans from hosts like WP Engine or InMotion.
30-day money-back guarantee with all plans.
Unique features are included such as visual comparison testing when applying updates.
All plans come with one-click staging sites.
Nexcess Hosting Cons:
Not suitable for beginners.
Storage space is smaller than ideal.
DDoS protection is not included.
Nexcess Plans & Pricing Review + Coupon Codes
As previously mentioned, Nexcess may not be the most affordable option available. However, considering the range of features it offers, the pricing can be deemed reasonable and even commendable.
Nexcess offers a wide range of managed hosting pricing plans for WordPress, WooCommerce and Magento – ranging from $13.30/mo to $104.30/mo.
| Hosting Type | Best For |
| --- | --- |
| Managed WordPress Hosting | Small-to-enterprise-level WordPress websites |
| Managed WooCommmerce Hosting | Small-to-large WordPress online stores |
| Managed Magento Hosting | Small-to-large online stores |
| Flexible Cloud Hosting | Websites or projects of a large scale |
With all the plans, you can either pay monthly or pay annually to get two months free (or four months free for your first year).
This review mainly focuses on Nexcess managed WordPress hosting, which is a highly popular solution in the hosting space.
Nexcess managed WordPress hosting solution offers six different plans.
All plans use cloud infrastructure and come with several essential features, such as:
free SSL certificates,
unlimited email accounts,
daily offsite backups,
WordPress core and plugin updates,
1-click staging,
caching,
and Content Delivery Network (CDN).
While the plans come with many similarities, they differ primarily in the number of resources offered as described in the table summary below.
| Plan | Features | Price Yearly – Monthly |
| --- | --- | --- |
| Spark | 1 site hosting with 15GB storage and 2TB bandwidth | $12.67/mo – $13.30/mo |
| Maker | 5 sites hosting with 40GB storage and 3TB bandwidth | $52.67/mo – $35.55/mo |
| Designer | 10 sites hosting with 60GB storage and 4TB bandwidth | $72.67/mo – $49.05/mo |
| Builder | 10 sites hosting with 60GB storage and 4TB bandwidth | $99.33/mo – $67.05/mo |
| Producer | 50 sites hosting with 300GB storage and 5TB bandwidth | $199.33/mo – $134.55/mo |
The prices you see above are for an annual billing cycle as well as monthly billing including free access to some useful WordPress premium plugins:
iThemes Security Pro
iThemes Sync
WPMerge
Image Compression & Lazy Loading
Sales & Plugin Performance Monitor
Astra Pro theme
And, no matter what plan you choose, you are entitled to enjoy 4 months of free Nexcess hosting services.
👉 Sign up using this magic link to activate Nexcess discount coupon code and get 4-month free hosting.
Nexcess accept payments via all major credit cards & PayPal, and deserves credit for remaining upsell-free. Plus, your money is 100% protected with 30-day refund policy.
Getting Started With Nexcess WordPress Hosting
At the end of our Nexcess review tutorial here, I'll walk you through into steps of signing up at Nexcess website.
Let's get started.
To get a new account at Nexcess, head over to this magic link (a special discounted price page for WP Blogging 101 readers).
Select billing cycle among Annual (my pick) or Monthly, and then choose your managed WordPress hosting plan (for this article I'm choosing Nexcess Spark monthly plan).
Next up, you have four sections: Account Info, Billing Address, Payment Info, and Plan Details.
1. Account info: Enter your First Name, Email Address, and a strong Password, accept Nexcess Terms and hit the Create Account button.
2. Billing Address: Full up your billing details such as First Name, Last Name, Phone Number, City, Country etc.
3. Payment Info: Select a suitable payment option; Credit Card or PayPal.
4. Plan Details: Review your plan pricing information and finish the order by tapping on the button saying, "Complete Purchase".
Congratulations! You're set all.
Once your Nexcess hosting account is ready, you will be notified via the registered email as shown in the screenshot below:
I hope now you got how it's REALLY simple to buy hosting from Nexcess. In any case, if you face any issues, the support team is available 24/7 to assist you.
Top 3 Nexcess Hosting Alternatives Compared
Let's put this question in Nexcess hosting alternatives section. How does Nexcess match up to the competition?
Based on user reviews and experts' opinions, there're 3 best managed WordPress hosting services of 2023, you can try:
Bluehost
Cloudways
Nestify
Let's check them all one by one.
Bluehost (formerly, known as the best web hosting to start a WordPress blog) is an officially recommended host by WordPress (source) itself.
Apart from the shared web hosting, Bluehost (review) also deals with managed WordPress hosting, WooCommerce hosting, dedicated hosting, VPS hosting and email hosting plans.
Best of all, each Bluehost plan offers a free domain name for the first year. And unfortunately, this feature lack in Nexcess hosting plans.
💸 Price: The most first Bluehost managed hosting plan starts at $19.95/mo (including up to 40% discount for new users) for unlimited websites.
The next Nexcess hosting alternative is Cloudways – a reliable cloud hosting company that resells a wide range of hosting servers from DigitalOcean, Vultr, AWS, Google Cloud and Linode.
Compared to Nexcess pricing options, Cloudways (review) is far cheaper and highly recommended for those, website speeds and uptime means a lot at a cheaper cost.
💸 Price: Cloudways WordPress hosting starts at $10/mo for a DigitalOcean server. Here's a special 20% special Cloudways discount only for you.
The last name on the list is Nestify.
Invented in 2014, Nestify offers a wide range of (mainly WordPress and WooCommerce) hosting solutions.
Some of the notable features are SSD disk storage, staging environment, capacity to handle 10,000 to 150,000 monthly visits, support for custom PHP scripts, free SSL, CDN, automatic backups, website migrations etc.
💸 Price: Nestify managed WordPress hosting plans range from $12/month – $79/month. Also, you can save a flat 10% discount using WP Blogging 101's special coupon code here – valid on all plans.
FAQs – Frequently Asked Questions
Here are a few common questions you might interested to know about Nexcess hosting services.
Where is Nexcess based? And who is the CEO founder of Nexcess?
Nexcess is based in Southfield, Michigan, USA. The company was founded in 2000 by Chris Wells and was acquired by Liquid Web in 2019.
Where are Nexcess data centres located?
Nexcess, a web hosting provider, has data centres located in several countries. Some of their data centre locations are in United States (US), Michigan, Arizona United Kingdom (UK), London, Australia (AU), Sydney Netherlands (NL), and Amsterdam.
What is Nexcess used for?
Nexcess is a web hosting provider used for hosting websites, online stores, and web applications, including WordPress, eCommerce platforms like Magento and WooCommerce, and server management.
Is Nexcess hosting good for beginners?
Yes, Nexcess hosting is suitable for beginners, as its shared hosting plans and managed WordPress hosting packages come with easy-to-use control panels and one-click installers for popular software.
What are the main products of Nexcess?
Nexcess offers a range of major products, including WordPress, Shared Hosting, Magento, ExpressionEngine, and Dedicated Servers.
Does Nexcess have a website builder?
Yes! Nexcess has a website builder named StoreBuilder – a complete online store builder with the best already built-in.
Is Nexcess hosting good for high-traffic websites?
Yes of course! If you are searching for web hosting for your high-traffic WordPress site, Nexcess managed hosting can be your best option in 2023 – 2024.
How do I delete my Nexcess website?
If you want to delete your Nexcess website, you can follow these steps:
Log in to your Nexcess account.
Navigate to the "My Services" section.
Locate the service you want to delete and click on it to open its details.
Click on the "Cancel Service" button.
Follow the on-screen prompts to confirm the cancellation and provide any required feedback.
Does Nexcess use Aws?
No, Nexcess does not use Amazon Web Services (AWS). They operate their own data centres and use their own infrastructure to provide hosting services to their customers.
What about Nexcess email hosting?
Yes, Nexcess offers email hosting on its cheapest tier (Spark Plan) and if you upgrade your plan, you'll need to pay as per their Premium Business Email Hosting plans – starting from $2/month.
Does Nexcess offer a free domain?
No! In fact, most popular managed WordPress hosting providers don't come with free domain registrations.
Does Nexcess have an uptime guarantee?
Yes, Nexcess provides an uptime guarantee for its hosting services. According to their website, they offer a 100% uptime guarantee for their WordPress, WooCommerce and Magento hosting plans.
What are the billing cycles that Nexcess offers?
Nexcess offers monthly and annual billing cycles for their hosting plans.
Does Nexcess offer free backups?
Yes, each Nexcess web hosting plan has free daily courtesy backups (automatic) that are kept for 30 days on a remote backup server.
Does Nexcess offer free migration?
Yes. Nexcess does offer free website migration benefits.
What payment methods does Nexcess accept?
Nexcess accepts payments through all major Credit Cards and PayPal.
How good is Nexcess customer service?
Nexcess offers round-the-clock support on its all plans. You can contact the support team for help via email, live chat, or phone for the Americas, Australia, and the United Kingdom.
Is there any Nexcess coupon code available?
Does Nexcess offer free migration?
Yes, Nexcess offers free migration for their customers who are transferring their websites from other hosting providers to Nexcess.
What if I'm not happy with Nexcess hosting services?
No problem. If you're not happy with your purchase, Nexcess offer a 30-day money-back guarantee on all plans. If you cancel your hosting account within the first 30 days of service, you'll be eligible for a full refund of the fees you've paid.
Whether Or Not I Recommend it? My Overall Review Of Nexcess Hosting
Now for the most important question of our Nexcess review: if I recommend this managed hosting or not?
The answer is YES.
I strongly recommend Nexcess to those who are looking for reliable dedicated managed hosting for WordPress, WooCommerce or Magento websites.
With this line, I finish up with Nexcess review tutorial right here.
In the end, I would like to know if this review tutorial was:
Good?
Bad?
Or something between?
Let me know your thoughts & experience in the comments box below.
FTC Disclosure: WP Blogging 101 content is reader-supported. This means if you click on some of our links and make a purchase, we may earn a commission at no extra cost to you – Read Affiliate Disclosure
Comments have been closed!