Rank Math Content AI Review
The Content AI by Rank Math is a feature that provides suggestions for writing SEO-optimized articles with a scoring system directly within the WordPress admin area. In this review tutorial, we will explore the effectiveness of this feature for improving your website's SEO in 2023.
This is my honest tutorial on Rank Math Content AI Review (2023).
I am using Rank Math SEO plugin since 2019 and evaluating its Content AI tool from the very beginning.
And, in this post, I will share:
Content AI's features (pros & cons)
My experience with Content AI free credits and plans
How to use it to improve website SEO score
Whether or not I recommend it
A whole lot more
Let's dive right in.
Rank Math Content AI Review: Best/Worst Features, Price & User Guide
In this review section, we'll take a closer look at the features of Rank Math – the pros and cons of using the plugin and provide a user guide for getting started with it on your WordPress website.
Let's get started with the basic introduction.
What is Content AI in Rank Math?
As the name suggests, Content AI is your personal assistant – an artificial intelligence assistant that is designed to help you easily create SEO-friendly content.
The popular SEO plugin Rank Math plugin was founded back in 2018 by MyThemeShop in India. You can explore more stuff through my RankMath review article.
Later then in 2022, it launched a new feature named Content AI, which aims to simplify the process of writing SEO articles by using its own AI engine to "learn" from data from various sources.
Some of the best advantages of this AI are:
Free credits (limited)
Easy-to-use UI
Use on unlimited websites
Control panel for clients' sites
24/7 support system
Overall, RankMath Content AI takes all the hassle out of writing. It ensures that the score of the content you write is not only great for your visitors but also for search engines.
👉 Want to try Content AI FREE? Download Rank Math plugin and claim your launch credits benefits today.
10 Best Features (Pros) Of Rank Math Content AI
There are many reasons why Rank Math's Content AI is a popular choice among WordPress users. Here are the best features (or pros):
✅ Easily Affordable & Budget Friendly
One of the MOST first advantages of Rank Math Content AI is that it is an affordable option for optimizing website content for search engines.
The plugin comes with complimentary credits that you can use to test out the tool and see how it can improve the content.
If you wish to purchase additional credits, there is a range of affordable plans available to suit different needs and budgets.
Overall, Rank Math Content AI is a cost-effective option for improving the SEO of website content and attracting organic traffic to a website.
✅ Dynamic Suggestions For Content SEO
The dynamic suggestions help in writing SEO-optimized articles that are tailored to the targeted audience.
These suggestions are based on the language and target country specified for the focus keyword, ensuring that the content is relevant and optimized for the intended audience.
This is an important feature for you if you are targeting specific markets or regions, as it allows creating content that is more likely to rank well in search engines for those locations.
✅ Deliver Intelligent Recommendations
One of the standout features of Rank Math Content AI is its ability to provide intelligent recommendations for optimizing your WordPress content.
If you are new to SEO, this will help you analyze the content in real-time and provide recommendations on the optimal length, headings, links, and media to include.
For example, it might suggest using a specific number of headings or linking to a specific number of external sources to improve the SEO of the content.
By following the recommendations provided, you can create content that is more likely to rank well in search engines and attract organic traffic.
✅ Help Identifying The Right Keywords
Another key feature of RankMath Content AI is its ability to identify and use the right keywords in the content.
This can be especially useful for you if you are trying to optimize content for specific keywords or phrases but are unsure of how to effectively incorporate those keywords into the content.
In short, with this feature, you can create content that is better optimized for search engines and more likely to attract organic traffic from Google and other search engines.
✅ Questions – Schema-ready FAQ Section
Rank Math Content AI also offers a convenient feature for generating a fully-functional and Schema-ready FAQ section for your website.
This can be done with just a few clicks and is supported by popular WordPress page builders such as Gutenberg, Kadence Blocks, Elementor, and Divi, with more being added in the future.
The FAQ section is generated based on the questions that are most relevant to your audience, as determined by the Content AI's analysis of your content and target keywords.
✅ Smart Link Suggestions
By including high-quality external links in your content, you can demonstrate to search engines that your website is a reliable and authoritative source of information on a particular topic.
Here are the Smart Link Suggestions features comes that help you to add credible citations to your content, which can improve the visibility of your website in search engine results pages (SERPs).
✅ Extra Keyword Information
Next up feature is extra keyword information that can be useful for optimizing the website's content for search engines.
This includes important data, such as:
Ad Competition,
Volume,
and CPC (cost-per-click) of specific keywords.
This type of data can be valuable to determine the most effective keywords to target in your content.
By using proven data rather than relying on guesswork, you can write content that is more likely to rank well in search engines and attract organic traffic.
✅ Related Keywords List
A topic-related keyword list is a list of those keywords that they may want to incorporate into the content. This is useful for content optimization for related keywords around the main topic.
By including those related keywords in the content, it can improve the overall SEO of your site and increase the chances that content will rank well in Google searches.
✅ Full Controlling System
The next feature in our Rank Math Content AI review tutorial is the Full Controlling System.
As an administrator, you get full control over the use of Content AI credits diversification for each of your authors (on your own WordPress site).
This means that you can decide which author will get access to the tool and how many credits will be used in a way that is most beneficial for your website.
✅ Client Support (Business Plan)
If you are a business or agency owner who has purchased a Rank Math Business license plan, you have the ability to control the number of credits that are assigned to each site in your portfolio.
With this advantage, managing the usage of the tool across multiple websites is easy and ensuring that the credits are being used effectively is possible.
By assigning different numbers of credits to different sites, you can prioritize the optimization of certain sites over others, or ensure that each site has a sufficient number of credits to meet its needs.
Overall, this level of control can be valuable for maximizing the effectiveness of Rank Math Content AI and improving the SEO of your portfolio of websites.
2 Worst Features (Cons) Of Content AI By RankMath
Although Content AI offers a wide range of useful features for website SEO, it's important to note that it may not be the best fit for every user. Here are two potential drawbacks (or cons) to consider:
❌ Limited Free Credits
The free credits included with the plugin allow for a limited number of content analysis and optimization tasks.
❌ Not A Guarantee Of Improved Rankings
While it can help to optimize website content, there are many other SEO factors to consider for site rankings. Thus, using the plugin alone may not guarantee improved rankings.
Content AI Pricing Guide: Top-Up Your AI Credits
When it comes to Content AI credits: you have two options; Free Credits & Paid Credits.
You get free credits with Rank Math free and premium plans as below:
Free Plan: 5 Credits
PRO Plan: 15 Credits
Business Plan: 125 Credits
Agency Plan: 600 Credits
You can use these credits for testing out the SEO on your WordPress website and identifying areas for improvement.
If you want to purchase more Content AI credits, there's a range of plans to suit a variety of needs and budgets (see below):
Content AI normally offers 3 plans:
450 Credits @ $99 – Perfect for agency owners with high volume
150 Credits @ $49 – Perfect for freelancers, business, & agency owners
50 Credits @ $19 – Perfect for bloggers, individuals & solopreneurs
These plans come with a one-year validity period, rather than requiring a monthly subscription, and include access to 24/7 days of premium support.
In addition, if you're not 100% satisfied with your purchase, they will refund your payment. No hassle, no risk.
How To Use Content AI For Your Website SEO?
In this section of our review tutorial, you'll learn easy steps to use Content AI for your WordPress content SEO.
First of all, let's see how it works.
How Rank Math Content AI Works?
First things first, before we start to learn website SEO with Content AI, it is important that we understand how it works.

The Content AI is a tool that is available right inside the familiar Rank Math Metabox that allows users to input a focus keyword and receive AI-generated suggestions for their content (see the above screenshot).
The suggestions include recommendations for the number of words, headings, links, and media to use, as well as related keywords, FAQs, and external links to include in the content, meta tags and so on.
With these suggestions, you can update your new/existing content, so that it can increase the chances the ranking in SERPs.
Probably, Content AI by RankMath won't be able to replace a service like SEMRush, SE Ranking or Mangools, when it comes to domain audit, keyword research, competitor research etc.
But it is still worth your money, especially if you're just looking for an AI-based WordPress SEO plugin that helps you to optimize your posts/pages.
Enabling Content AI Module
It's easy.
Login to your WordPress admin area, then head over to Rank Math » Dashboard » Modules. From the list of available widgets, locate the Content AI Module and checkbox or toggle switch.
Configuring Content AI Module
This is control on which type of posts/pages editor, you want to enable Content AI module.
To configure the settings, navigate to Rank Math » General Settings » Content AI for site-wide configurations.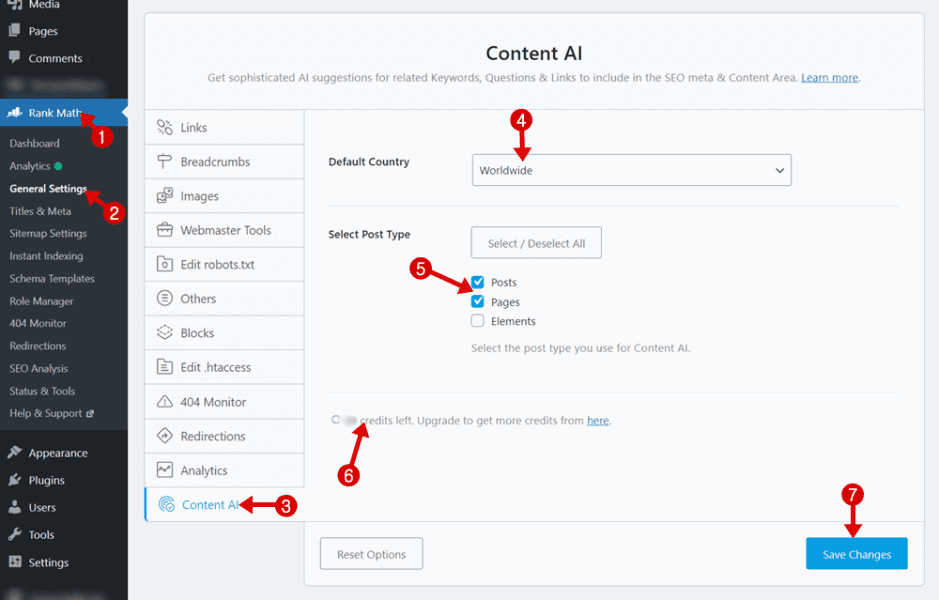 Under the Content AI settings, you'll find the following options for configuring:
Default Country: The option allows users to set a default country. This default country can be changed on a per-post basis.
Select Post Type: The next option allows users to choose select specific post types, such as pages or blog posts, and AI will only be activated for those types of posts.
Credit Left: This is a simple notification, where you can see the number of credits left in your account.
Once the required changes are made, hit the Save Changes button.
How To Do Research Keywords With Content AI?
Let's see Content AI key research in real-time, step by step.
Open a post or page that you'd like to optimize by simply clicking the Edit option.
Next up, open Content AI Panel.

Here, you can research for your content focus keyword or enter the new keyword about you are writing a particular post.
The panel comes with the options as followings:
Country option lets you select if you want to do keyword research globally or for a specific country.
Credits indicate how many AI credits are left in your account.
In the Focus Keyword field, enter the keyword you want to rank for (or write your post about).
Lastly, hit the Research button.
If you are using the same researched keyword on multiple posts or pages on your website, no additional credit will be used.
However, if you want to get the latest recommendations for the same keyword (and click the refresh icon), this new analysis will use additional credits.
Note: If you run out of Content AI credits, you can purchase more credits here – there is no restriction on the purchase of credits.
Content AI Results Overview (Reports)
The overview displays the various metrics about your content. Let's have a look at each of them.
Rank Math Content AI uses a color-coded system to help users quickly understand the results and suggestions provided in the Results Overview. If you see the following colours, they indicate the following:
Green: Passed
Orange: Partially Passed
Red: Failed
Dark Red: Overused
Inside the Overview Dashboard (see screenshot above), there are 5 options:
Score is a measure of the quality of the content on a given page or post, based on various factors such as readability, keyword usage, and structure.
Word Count displays how many words are there in your content and what the minimum number of words should be.
Link Count suggests the number of links to use inside your content.
Heading Count indicates the number of headings your content currently includes against the AI-suggested count.
Media Count is an indication of the number of images and videos used in your content and the suggested number.
Overall, the purpose of the overview section is to provide you with an assessment of the degree to which your content is optimized for the focus keyword based on Content AI's analysis.
Keyword, Questions & Links Overview
As you scroll down the Results Overview (discussed earlier), you'll find three tabs with suggestions called Keywords, Questions and Links.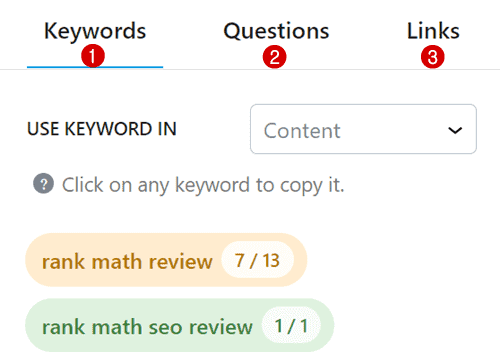 Let's take a closer look at these suggestions.
Keyword Suggestions
In this tab, AI suggests the most important keywords for your Content, Headings, SEO Title and SEO Description.
In fact, AI would analyze the frequency of the use of the keyword in your content and displays the count next to the keyword.
Next you, you have another section of related keywords.
It is all up to you to decide whether to use these recommended related keywords or not.
Questions Suggestions
The next tab is Questions.
This tab includes a list of relevant questions related to the keyword. For example, if the keyword is "Rank Math" the Content AI may have identified questions we mentioned inside our Rank Math review FAQs section.
Link Suggestions
The last tab is about Links – a list of relevant external links that you should place inside your content.
Note: Adding suggested links is not important. But linking to relevant external websites is an important part of SEO, which help search engine to figure out what your content is about.
FAQs – Frequently Asked Questions
If you're thinking to get started with RankMath Content AI for SEO, you should consider checking this section which provides answers to some of the most commonly asked questions.
What is a good Rankmath Content AI score?
The Content AI score is a score of how well your content is optimized for SEO. Any score above 80 indicates a higher chance of ranking in search results for the targeted focus keyword.
Rank Math SEO score vs Content AI score: what's the difference?
In general, Rank Math's SEO score and Content AI score look similar, but technically they are different.
For example, RankMath SEO score is for how well your content is optimized based on meta tags, readability, links, etc. and the Content AI score measures how well you have done SEO for a particular target keyword of your content.
To learn more about Rank Math score vs Content AI score, kindly check out the official comparison page.
What is Content AI credit?
The AI credit is a credit that you can use for keyword research. Every time you research or refresh for a keyword, it uses one credit. You get free credits with Rank Math subscriptions as well as you can buy them individually under commercial plans.
How to get Content AI credits for free?
Can I buy Content AI credits if I am using the free version?
How many websites are allowed?
You can use credits on unlimited WordPress websites, either own or clients.
Are AI credits valid for lifetime?
No. All credits are valid for a year only from the purchase date. Once expired, there's no way to reclaim it. So, it is my personal suggestion to make use of all of them before they are gone forever.
How to assign credits limit to clients?
To assign Content AI credits through Rank Math's Client Management dashboard, follow these steps:
→ Log in to your Rank Math account and navigate to the Websites section.
→ In the Websites section, you will see a list of all your connected websites and information about their search analytics, membership status, and Content AI credits.
→ To assign credits to a specific website, click the "Set Limit" button next to the Content AI Credits and enter the number of credits you want to allocate. → Then click "Save".
If you have a Rank Math Business or Agency license, you can also set a default number of Content AI credits for all new websites that you connect to your license by entering the limit in the "Default Content AI Credits" field.
Is it only English or also other languages?
Content AI is available in over 80 languages, and is designed to work seamlessly with any language. If your language is not currently supported, kindly contact the support to consider adding it in the future update.
What type of customer support I can expect?
What are some best alternatives to Content AI by RankMath?
Obviously, Content AI is built from the ground up to optimise your content for SEO which increases ranking changes on SERPs. In any case, if you're not satisfied with it and want to go for an alternative, then try WordLift or Get Genie.
Whether Or Not I Recommend it? My Overall Review On Content AI
Finally, the question is: I do recommend Content AI by Rank Math SEO or not?
The answer is YES.
I strongly recommend it to those who are looking for the best WordPress SEO ai plugin with a scoring system for their websites.
With this line, I finish up with a review on Content AI by Rank Math SEO right here.
In the end, I would like to know if this review was:
Good?
Bad?
Or something between?
Let me know your thoughts & experience in the comments box below.
FTC Disclosure: WP Blogging 101 content is reader-supported. This means if you click on some of our links and make a purchase, we may earn a commission at no extra cost to you – Read Affiliate Disclosure
Comments have been closed!