Thrive Themes Benefits
The ultimate list of the best features and benefits of Thrive Themes makes itself a top-listed WordPress themes/plugins toolbox in the blogging industry.
Introduction – what are Thrive Themes (review)
Why Choose Thrive Suite in 2023 for your WordPress website (benefits)
Pricing options with a special discount (save $97/year)
FAQs related to Thrive products and membership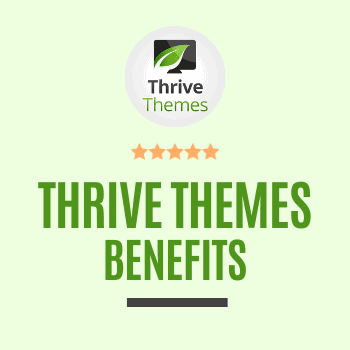 Welcome to my UPDATED tutorial on Thrive Themes Benefits.
In this article, I am going to explain 8 amazing Thrive Themes features that will help you understand why I love to Thrive products and services.
This tutorial takes 10 to 15 minutes to read (2400+ words). Yes, that might be a lot of reading, but believe me, I have shared a complete list of benefits from Thrive Themes that you need to know before making a purchase.
So, before you open your wallet and pay hard-earned money for Thrive Suite (review), it's worth reading. I bet, in the end, you will find yourself lucky.
Jump to "My Overall Review On Thrive Themes Benefits" section.
Let's dive into Thrive Themes benefits.
Top 8 Ultimate Thrive Themes Benefits You Can't Ignore
"Thrive Themes are a set of plugins and themes that help you to create conversion-focused sites around the concept of making sure your websites' visitor becomes a client."
Thrive Themes Membership comes with many benefits, built for bloggers, affiliate marketers and business agencies running websites for themselves and clients as below.
| | |
| --- | --- |
| BENEFIT #1 | All-in-one toolbox (9 plugins & 1 theme) |
| BENEFIT #2 | Affordable pricing – $299/yr for all Thrive products |
| BENEFIT #3 | 300+ pre-designed premium templates |
| BENEFIT #4 | Unlimited updates for plugins & themes |
| BENEFIT #5 | Free knowledge base & unlimited support |
| BENEFIT #6 | Easy to connect integration & APIs |
| BENEFIT #7 | Instant access to Thrive University |
| BENEFIT #8 | 30 days money-back guarantee |
The user-friendly themes and plugins are built taking simplicity in mind, which even a newbie can understand and make use of it easily.
Thrive products can be customized to your specific needs. Below we've explored all the above key benefits that make Thrive Themes one of the most popular WordPress themes and plugins in the market.
1. All-In-One Toolbox (9 Plugins & 1 Theme)
The Thrive Themes is an ultimate all-in-one business toolbox that comes with 1 WordPress theme and 9 plugins as below:
| | |
| --- | --- |
| THIVE THEME BUILDER | Build your dream site without needing a web designer or developer |
| THRIVE ARCHITECT | Include everything, you need to build conversion-focused landing pages |
| THRIVE LEADS | Advanced leads generation tool that converts site traffic into leads then customers |
| THRIVE QUIZ BUILDER | Create stunning quizzes in seconds with no code |
| THRIVE APPRENTICE | Start an online course website and sell them like a pro |
| THRIVE COMMENTS | Increase visitor engagement by modifying your blog comments section |
| THRIVE ULTIMATUM | Add evergreen or time-specific countdown to your website |
| THRIVE OVATION | Collect and display conversion-boosting testimonials on auto-pilot |
| THRIVE OPTIMIZE | Addon for Thrive Architect plugin for A/B testing pages |
Let's explore each of the above tools, starting with #1.
The Thrive Theme Builder (include themes: Shapeshift, Ommi, and Kwik) is a full-fledged WordPress theme and site builder. With this theme, you can launch your dream site within minutes.
In short, Thrive Theme Builder allows you to create custom headers, footers, blog post templates, sidebar, page layouts, category pages, search pages, 404s and much more with no coding knowledge.
The Thrive Architect (old name Thrive Content Builder) is one of the best WordPress landing page builder plugins that turns your ideas into beautiful landing pages and content formats.
"I've previously used this plugin on WP Blogging 101 (personally, I am familiar with GeneratePress theme, and chosen Generateblocks Pro for designing my pages with Gutenberg editor as both are built by the same developer)."
Since, you are reading about Thrive Themes benefits, which means you are interested to use Thrive Theme Builder. In this situation, replacing Thrive Architect with the default WordPress Gutenberg editor is a great decision.
When it comes to choosing a lead generation plugin, I primarily recommend Thrive Leads to those, who are obsessed with conversion optimization.
Even a buddy, John Lee Dumas (Entrepreneur on Fire) said, he got a 238% increase in conversions when he switched to Thrive Leads.
Using this plugin is like having your own list-building tools or conversion software for fast growth in email lists that you can't find its alternative plugins.
The Thrive Quiz Builder is one of the best WordPress quiz plugins on the market. It comes with powerful quiz features that allow you to create any type of quiz.
Meanwhile, if you want to build complex quizzes without coding, discover what your visitors are interested in, A/B testing at critical stages with powerful analytics reports, Thrive Quiz Builder is the right plugin for your WordPress site.
They say, "Thrive Apprentice has everything you need to build professional online courses on your WordPress website". And for a good reason: it's damn true.
I personally believe, Thrive Apprentice can become your best buddy when it comes to creating and selling courses online like a pro, using a website built on WordPress CMS.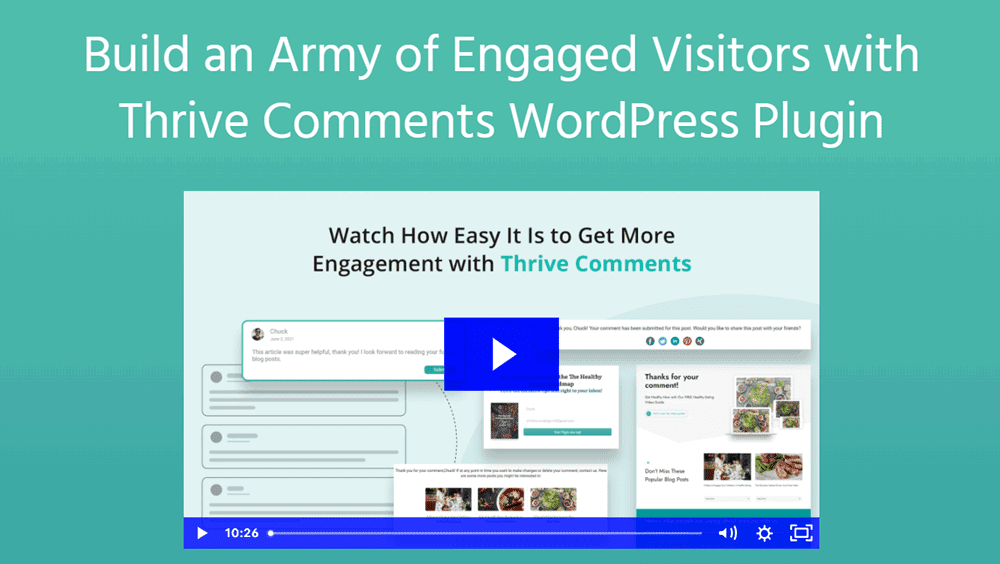 Thrive Comments takes your comments to the next level with its advanced features. This is only one comments plugin that I ever found in my WordPress blogging career.
With this plugin, you can encourage your blog readers to leave more comments by taking the goodness of social media, likes, upvotes, showing them additional posts to read (dramatically reduces bounce rates) etc.
The Thrive Ultimatum is a powerful way to create a sense of urgency on your landing pages and website that drives users to do what you want them to – which is to convert.
Neil Patel says (source), "If you can create a stronger sense of urgency on your landing page or websites, then you can successfully spur people to do what you want them to do on your page (i.e., convert)."
Testimonials are a great way to engage users by showing social proof especially when you are selling a service. With that in mind, Thrive Ovation has been developed.
Thrive Ovation lets you start adding your testimonials through to Ovation dashboard. You can edit and manage entries later and display them using beautiful pre-built templates, wherever you want on your website.
Meet Thrive Optimize – a WordPress A/B testing optimizer and an addon for Thrive Architect plugin (make sure your installed Thrive Architect before using this plugin).
It has a 1-click Thrive Leads integration API, take Thrive Architect to the next level, unlimited A/B tests & variations, useful conversion reports, easy-to-understand interface etc.
2. Affordable Pricing – Only $24/mo ($299/yr)
Thrive Themes (formally known as Thrive Membership) have two purchase options: first Thrive Suite Quarterly and second Yearly.
The Thrive Suite costs $299/year (the lowest possible price) & $99/quarterly (no savings) for the use of up to 55 of your own websites.
However, if you want to use Thrive products on your client's sites, there's another license named Thrive Suite Agency, priced at $49/mo with usage for up to 50 websites with a yearly charge of $588/year only.
You may see lots of sites offering tutorials on:
Thrive Themes coupon code
Thrive Themes Membership coupon
Thrive Themes coupons
Thrive Membership discount code
Thrive Suite promo codes
Thrive Themes lifetime deal
Thrive Themes Black Friday deals etc.
These are all unofficial coupon sites and mainly focus on gaining fake organic clicks to make money from Thrive affiliate program.
The reality is that Thrive Themes doesn't offer coupon codes or discount offers. So, don't waste money on such types of promotional savings hacks.
The only way to save money on Thrive Subscription is by signing up for Thrive Suite with an Annual Plan instead of Quarterly Membership.
This way, you can save a flat $97 every year for a lifetime. Click here to get Thrive Suite license now and keep $97 per year in your pocket for lifetime renewals.
3. 300+ Pre-designed Premium Templates
Thrive Architect has a mega library of 300+ pre-built conversion-focused landing pages to choose from and complete real-time control on each element of the template.
With these templates, you can build any type of professional-looking WordPress blog layout fast, which was never easier to achieve with any alternative plugins in the industry.
4. Unlimited Updates For Plugins & Themes
With an active Thrive Suite license, you get unlimited updates for all plugins and themes, installed on your WordPress site.
The best part is that you do not need to download a plugin/theme from your Thrive account, instead update it directly from WordPress dashboard, under the plugins section.
5. Free Knowledge Base & Unlimited Support
Their support system is great. Filled with tons of documentation, knowledge base articles and YouTube video tutorials, I believe Thrive Themes support is a kind great benefit for its users.
Meanwhile, you can create support tickets for your queries right inside the dashboard. The support team usually responds within 24-48 hours.
6. Easy To Connect Integration & APIs
Since the latest update, Thrive Themes made it easy to integrate Thrive Architect and Thrive Leads with your favourite email marketing tools, social media networks, and other API modules.
At this moment, the below table refers is the list of services, supported via the API module.
| | |
| --- | --- |
| EMAIL MARKETING | ActiveCampaign, Aweber, Constant Contact, Drip, GetResponse, Hubspot, iContact, Infusionsoft, Kick Tipp, Mad Mimi, MailChimp, Mailerlite, Mailpoet, Ontrapost, Sendfox, SendGrid, Sendblue, Sendy, SG Autorepondeur, Sendlane, Sendowl, Zoho, FluentCRM |
| MAIL DELIVERY | Amazon SES, Campaign Monitor, Mailgun, MailRelay, Mandrill, Postmark, SendGrid, Sendblue, SmartPost |
| SOCIAL | Facebook, Google, Twitter |
| WEBINARS | GoToWebinar, WebinarZam |
| OTHER | WordPress, Zapier, Google Drive, Dropbox, reCaptcha |
7. Instant Access To Thrive University
Thrive University is a free resource to claim actionable no-fluff online marketing training benefits to help yourself to get the best use of Thrive products.
With each Thrive Suite license, you can discover the educational helpful guides, courses, webinars etc., which is only available at Thrive University.
8. 30 Days Money-back Guarantee
Your money is secured by 30 days money-back guarantee. It means you can use Thrive products for 30 days as a free trial.
In the event, if you're not happy with your purchase, ask for a refund and get your money back. Remember, account cancellation after 30 days, will end up not granted a refund.
FAQs – Frequently Asked Questions
Explore below question answers related to Thrive Themes benefits & features, and Thrive Suite subscriptions.
What are Thrive Themes, and what is it used for?
The Thrive Themes are a perfect combined set of themes and plugins, are built for starting a professional WordPress blog with maximum functionalities, without any coding knowledge.
Signing up for Thrive Themes Membership, generally known as Thrive Suite, gives you instant access to Thrive Theme Builder, Thrive Architect, Thrive Leads, Thrive Comments, Thrive Optimize, Thrive Ovation, Thrive Ultimatum, Thrive Quiz Builder, Thrive Apprentice, Thrive University, Thrive support etc.
How much does Thrive Themes cost?
Thrive Themes have two membership plans (both plans have similar features and benefits (excluding the usage of websites, you can make on them).
Thrive Suite: $25/mo when paid annually and $33/mo when choose to pay quarterly (3 months) for the usage of up to 5 websites.
Thrive Agency Membership: $49/mo when paying annually for usage up to 50 of your or your client's websites.
Do I have to buy hosting separately to start a website with Thrive Themes?
Can I upgrade or downgrade between Thrive Suite Plan and Agency Membership license later?
Yes, you can upgrade or downgrade your existing license anytime.
Can I use Thrive Themes on clients' websites?
Being a member of Thrive Suite Agency plan, you are allowed to use Thrive products for clients' sites (up to 50 websites per account allowed).
Can I use Thrive Themes on non WordPress sites?
No! Thrive products work only on wordpress.org based blogs & websites.
Does Thrive Themes offer a free trial?
Thrive Themes has no longer a free trial benefit with any current plan. However, your money is protected by 30 days money-back guarantee.
Just in case, if you are not satisfied with their tools, contact support and get your money back. For more details, check out my detailed guide on how to cancel Thrive Themes membership & get a refund.
Is there any Thrive Themes coupon code available?
Unfortunately no. There is no official discount or promo code available for Thrive Membership right now. However, you can subscribe to Thrive Suite annually to get a flat $97 discount today.
Are there any Black Friday & Cyber Monday deals coming from Thrive Themes?
Thrive Themes have neither planned for Black Friday discounts nor Cyber Monday offers in 2023.
What are the best alternatives to Thrive Themes?
There are tons of Thrive Themes benefits that are worth investing money in Thrive Suite by 2023. But still, if you are unsatisfied, try out these alternatives:
→ Elegant Themes (best alternative with a complete set of website designing plugins)
→ Elementor Pro (a super popular WordPress page builder to replace with Thrive Architect)
→ GeneratePress (my #1 WordPress theme that I have been using since 2019)
Final Thoughts On Why I Love Thrive Themes (Benefits)
You are here, which means already read all benefits of using Thrive Themes for your WordPress projects.
And now you want to know whether I recommend it or not.
The answer is YES.
By spending just a few dollars a month, you will be getting access to a complete business toolbox that takes your WordPress website to the next level.
If you are u sure about Thrive Themes, I have got an exclusive offer for you:
Grab Thrive Suite annual plan of $299/year and enjoy a flat $97 insane discount. This offer is also valid on license renewals too.
If you find it useful, keep using it. If not, cancel your subscription and get a refund. There's nothing to lose. Right?
In the last, I would like to know your thoughts, if you have tried Thrive products before? Or are you going to try it now?
And, what was your experience with my Thrive Themes benefits article?
Good
Bad
Or somewhere in between
Whatever are your thoughts, please let me know in the comments box below.
FTC Disclosure: WP Blogging 101 content is reader-supported. This means if you click on some of our links and make a purchase, we may earn a commission at no extra cost to you – Read Affiliate Disclosure