The list of the best Thrive Themes Examples has been updated for February 2023.
If you want to know how reliable Thrive products are, then I recommend you take a look at our websites using Thrive Themes in February.
Let's expand on what exactly is Thrive Themes.
Name: Thrive Themes
Price: $99/quarterly – $299/year
Founded In: 2013
Founded By: Shane Melaugh and Paul McCarthy
URL: Thrivethemes.com
Description: Thrive Themes are primarily known for the best high-converting all-in-one online business toolbox named Thrive Suite.
The Thrive products are built from the ground up to make your entire WordPress website that converts your visitors into subscribers, customers & then clients.
In which, no endless back and forth with developers. Even no internet marketing sluff, but just value-based actionable content and the tools you need to improve your WordPress website flexibility.
Get Thrive Suite today Your Thrive Membership Today and save a flat $97 discount when you pay yearly, including:
All Thrive products access
Unlimited updates and support
Instant access to all premium courses
24/7 customer support
30 days money-back guarantee
The Thrive Suite is the best fit for building a:
WordPress blog
Digital marketing agency
Ecommerce website
Or WooCommerce store
If you want to know how Thrive Suite is worth your money, read my unbiased review.
Note: If you already build sites using Thrive Themes, please drop your link in the comments. I will check and include it in my Thrive Themes examples library.
I hope, after viewing our exclusive list of the websites using Thrive Themes, you will get inspired to take a try to Thrive Suite on your next WordPress project.
But wait-wait, before I show Thrive Themes examples, let's take a look at the company itself.
Thrive Themes Review: A Quick Introduction
Thrive Themes is an all-in-one online business toolbox for WordPress bloggers and affiliate marketers.
Their products are mainly focused on helping you to create as possible as high-converting WordPress blog or website landing pages and sales funnels, no matter what your goals are.
In short: Thrive Themes is an all-in-one online business toolbox for WordPress bloggers and affiliate marketers.
Their products are mainly focused on helping you to create as possible as high-converting WordPress blog or website landing pages and sales funnels, no matter what your goals are.
Having said that, if you want to start a blog on WordPress that looks professional, then Thrive Suite is probably the right option for you.
Otherwise, I considered taking a look at Thrive Agency Membership to set up beautiful websites for your clients under your own brand.
Here at WP Blogging 101, I use Thrive Architect plugin along with GeneratePress Pro theme (view other compatible themes) and Elementor Pro page builder plugin.
Thrive Architect is a part of Thrive Themes, which you can get instant access with Thrive Suite and Thrive Agency Membership license.
Thrive Themes Benefits (Features)
Here's a detailed list of their most impressive Thrive Themes benefits as well as features:
Reliable Pricing: It comes in budget pricing, starting from $299/yr when you buy yearly. Otherwise, the price goes to $33/quarterly if paid by 3 months.
All Plugins Access: No matter what license you buy, you can access all themes and plugins (current + upcoming) like Thrive Theme Builder, Thrive Architect (examples), Thrive Quiz Builder, Thrive Leads etc.
Conversion Focused: All themes & plugins are built considering speed, readability, and clarity, especially for affiliate marketing and WordPress blogging.
All-in-one Solution: Thrive Membership is an all-in-one subscription for building high-converting WordPress sites from scratch.
Refund Policy: Your money is safe. It means if you like to cancel your account, ask for a refund within 30 days of the purchase. Your money will be sent in the next 5 business days.
Now without wasting time, let's see what are our best picked Thrive Themes examples in 2023.
The Best Thrive Themes Examples [Updated For February 2023]
Note: At the publish date on this best Thrive Themes website examples, I have scanned each site using scanwp.net. If there's any mistake, please help me to fix the issue by commenting below.
Thrive Mate is a Thrive helping community. Here you won't find the most useful content to get rich knowledge about Thrive tools.
The Startup Bros. is a new way to discover the best business model that you'll have the most success launching in 2023.
Tim Erway is yet famous online business creator, educator and entrepreneur father.
If I look at its theme, the whole design is using Thrive plugins. This makes sense, why I have added it in my Thrive Themes examples list.
Hillbilly House Wife is a type of personal website built on WordPress CMS.
The owner behind the scene is a mom, wife, daughter, and sister name Susanne.
On Hillbilly House Wife, she teaches how to find resources to run a house as well as a family.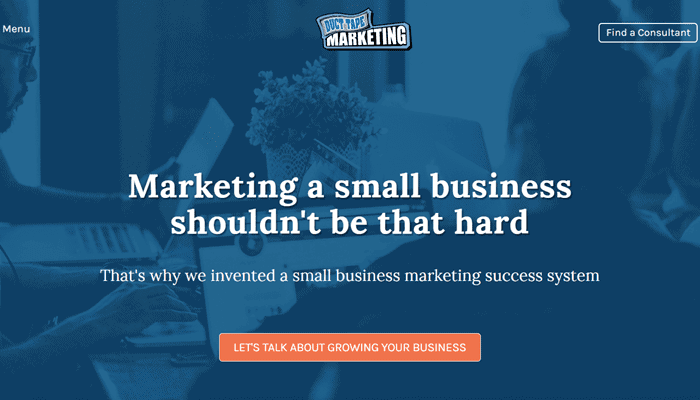 Duct Tape Marketing is a systemic software to keep full control of your marketing strategy and budget in a single place.
I used to add this site in Thrive Themes examples as it is crafted with Thrive plugins.
New Horizon Coaching
New Horizon Coaching is a career and leadership based blog started by Caroline De Kimpe.
She helps startups and professionals make ZERO to 6-figure money online with her text-based guides on this website.
Funnel Expert has a massive list of lucrative sales funnel templates e.g. opt-in lead magnets, sales pages, follow up series etc.
The Funnel Expert can help you create high-converting websites on WordPress that sell like hotcakes.
You have just crossed through 2023's best Thrive Themes website examples.
Now, if you are inspired by the above resources and ready to buy Thrive Suite, then read the further steps to save a flat $97 right now for a lifetime.
Yes, You Heard it Right – a flat $97 Thrive Themes discount instantly.
How To Get Thrive Suite At $97 Savings?
Follow the respective steps mentioned below to purchase Thrive Suite at a discounted price.
Step 1: Click on this unique link to activate Thrive Themes discount code and tap on the Get It Now button.
Step 2: Choose Annual License (Thrive Suite subscription saves $97 when you pay annually). For more details, read my article on Thrive Themes pricing plans.
Step 3: Enter your account details such as Name, Email, Password etc. and complete the purchase by making the payment via PayPal account.
Once the payment is sent, your account will be activated immediately.
Now, login to your account and start installing plugins on your WordPress website.
Final Thoughts On Thrive Themes Examples & Websites Library
The main reason for listing the websites using Thrive Themes is to show you how powerful these tools are.
In the last, I want to say if you really want to invest money in WordPress best themes and plugins, then Thrive Suite is the right investment in 2023.
By the way, if you are already using built a website with Thrive products, leave your link in the comments and get listed in our Thrive Themes examples library.
FTC Disclosure: WP Blogging 101 content is reader-supported. This means if you click on some of our links and make a purchase, we may earn a commission at no extra cost to you – Read Affiliate Disclosure