You might be thinking this is just another Trustely Review available on the internet. But I bet after reading this tutorial, you will get how it's different from other reviews.
After spending a few minutes researching the best social proof notification software, Trustely is my first choice in 2022.
And I bet it will be yours too after reading this article.
In this review, I will discuss:
What is Trustely?

Best f

eatures

Pros. & Cons.

Plans and pricing

Special discount (only for you)

And much more.
If you're considering signing up for Trustely, this review should help you with your decision.
My Honest Trustely Review 2022
Is order to understand what Trustely do, you need to know first, what is actually social proof.
So, what is social proof?
Social proof is an advanced marketing technique that is used to influence other people you are offering.
In 2022, when there so much competition in almost all niche, you can't ignore even a single factor to get maximum advantage from your traffic.
On the other side, customers have become so clever and they love to follow the trends nowadays.
It means, if your visitors know what other people are buying, reading, commenting, then you can easily get their attention.
For instance, if you are running a blog site, social proofs can skyrocket your sales by showing them real-time data, especially in the affiliate marketing niche.
In this situation, Trustely comes to play its role.
Let's dive in details.
What is Trustely?
Trustely is a FOMO and social proof notification software that offers 14 types of different awareness and conversions widgets (I will discuss later below).
It's a physiological technique representing how one person can easily be influenced by others' opinions, reviews and expressions.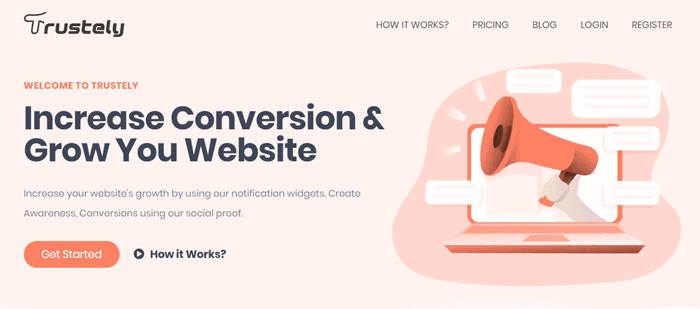 The Trustely comes with an amazing FOMO approach that displays stunning email subscription alerts, live visitors, countdowns etc., which is highly influential in growing your blogging business in 2022.
Features
Ok, so you should have a decent idea of the basic premise of Trustely at this point.
Now let's get into some more featured reviews to understand how it can help you grow your online business.
14 All-in-one Tool Notifications
First, Trustely helps you display 14 different types of notifications:
Informational displays a fully customized message on your website.
Conversions Counter shows the recent conversion popups to your users.
Live Counter lets readers know how many users are live on site.
Email Collector is an email opt-in form for subscribing to regular updates or downloadable freebies.
Countdown Collector skyrocket your sales by showing a countdown clock.
Video notifier popups a video widget on individual posts or pages.
Social Share allows you to add beautiful social sharing buttons on your website.
Emoji Feedback widget asks users to feedback their reviews by choosing an emoji.
Coupons displays live discounts and promo codes on running sales & offers.
Cookie Notification notifies your users that you are using cookies on your blog or website.
Latest Conversion is the most used notification to convince users by showing recent product purchase.
Random Review is a feedback notifier that lets users know what others' reviews are on a particular post, product, or page.
Score Feedback allows users to send their feedback by choosing between a 1 to 5 score.
Request Collector collects visitors' phone numbers and schedule calls for your sales teams.
Free Subscription
Everyone can start with a free plan. Even if you want to use the paid plans in the future, you can upgrade anytime.
It will give access to use this tool on a single website, even without adding a payment option. This means you will never be charged until you move to a paid plan.
Easy Setup
Installing Trustely on the website is a kid game. All you need to paste an online pixel code in the site header section and you ready to show notifications.
Hopefully, this task is not technical anymore. I have explained the setup guide below.
Increase Affiliate Sales & Boost Earnings
Trustely notifications increase sign-ups and conversion rates by 15% on average with social proofs.
Ultimately, it's a complete solution for gaining maximum sales from limited audiences within a targeted time.
Supportive
Trustely works smoothly with any platform. No matter, either you are using WordPress, Shopify, Squarespace or any other blogging platform.
All you just need to integrate your site with Trustely by adding a single line code in the header (</head> tag) and you are ready to go.
Plans & Pricing
Trustely comes up with 4 plans.
Free: The free plan allows 1 domain/campaign, 5 notifications display, and 1000 total impressions per month. Branding removal is not permitted in the free subscription.
Starter: The Starter Plan pricing starts at $4.99/month/user. It offers using services up to 10 domains, in which 25 notifications and 20,000 monthly impressions are allowed. Also, you will get the advantage of editing or removing branding text.
Pro: This plan has almost similar features contain the Starter Plan, just for $9.99/month. In this plan, you can use Trustely software up to 20 websites. Plus, notification feature usage will increase to 50 sites and 50,000 monthly impressions are allowed.
Ultimate: The Ultimate plan offers everything unlimited at $19.99 monthly payment only. It means you can use it on unlimited websites and also no limit impressions benefits are included.
Trustely Coupon Code October 2022
Sign Up Today & Get A Flat 20% Discount Using WPBLOGGING101 Promo Code (Valid Only For The First 50 Users).
Bonus: If you are a beginner, even you can start with the FREE plan, which considered trying this social proof software at least once.
Finally, I have almost done with Trustely review. Now it's time to take action.
Let's go…
Trustely Tutorial 2022 (Getting Started)
This section will teach you how to register on trustely.com website and get started using this tool.
Signing Up On Trustely
First of all, you need to use this link to visit Trustely website and enter your Name, Email, Password etc.
A confirmation message will be sent on your registered email. Click on the Activate Your Account link to complete the registration.
Congratulations, your Trustely free account is ready to use.
Inside your dashboard area, you can upgrade your free plan to a paid subscription for accessing premium features.
Adding Your Domain Name
Click on the blue button saying Add Domain.
A popup will be loaded. Here, you need to add your Domain Name and URL (including subdomain section is optional) and then tap on the Create button.
Next, copy the Pixel Code. and add into your websites header section (before </head> tag). For more details, I consider reading this detailed pixel plantation review.
Congratulations, your website is integrated will Trustely successfully.
Creating Your First Notification
Click on the domain name you just added. Make sure Status is on.
Tap on the Create Notification button.
Add a Notification Name, then select a Widget style and click on the Create button.
The final step has arrived. Just play with setting e.g. Basic, Triggers, Display etc. and add your content inside Description Area (it will display a notification on your website).
Once done, click on Update to live the social proof widget.
I hope this helps you to integrate Trustely social proof notifications inside your website easily.
FAQs – Frequently Asked Questions
Check out some frequently asked questions (with answers) on Trustely review.
1. What Trustely do?
Trustely is a freemium software that convinces users to act, showing eye-catching notification alerts for new sales, comments, reviews, and much more.
2. How much does it cost?
Trustely has free and premium two variants. The free plan has some limitations like 1 domain usage, 5 notifications limitation, and 1000 notification impressions capability per month.
But if you pick the paid plan, which costs just $4.99/mo onwards, you will get access to all premium offered by trustely.com.
Remember you can use WPBLOGGING101 code as a bonus discount (flat 20% OFF) while making payment.
3. Which is the best plan?
Trustely paid plans totally depend on your website traffic. If you receive a good amount of traffic, you have to choose a bigger plan.
You can view impression limitations on the pricing page and see what suits you. Or, you can start with the Starter Plan and upgrade it anytime when needed.
4. Does Trustely offer discount deals?
Yes, WP Blogging 101 readers are eligible for a flat 20% discount on all paid plans using any link refer to the official website. Coupon code has been added to all links.
5. Does it offer money-back guarantee and support?
Yes, it has a hassle-free 14 days refund policy and unlimited support to paid subscribers.
6. Can I use Trustely on the non-WordPress websites?
Trustely supports all major CMS like Shopify, WordPress, WooCommerce, Zapier, Squarespace etc.
If you have a custom website or blog, kindly send a query via the official contact page to more about the site integration process.
My Overall Trustely Review 2022
After reading this detailed review, you might be wondering if Trustely is the right social proof or not?
The answer is YES.
Though Trustely is a new kid in the market, it still has excellent features, 24/7 live support, and cheapest pricing among top competitors like NotificationX, TrustPulse, SocialProve etc.
All for one is that either you can go it's a free plan or subscribe for the paid subscription just at $4.99 per month.
Lastly, my overall Trustely review is, its likely to be the best option for displaying conversational or visitor notifications on your website in the form of small popups.
Now It's Your Turn
So, that's all of my honest review of Trustely social proof software.
Now I'd like to hear from you:
Have you ever tried this FOMO software before?
If so, what was your experience with it? Good? Bad? Somewhere in between?
Either way, let me know your experience by leaving a comment below right now.
FTC Disclosure: WP Blogging 101 content is reader-supported. This means if you click on some of our links and make a purchase, we may earn a commission at no extra cost to you – Learn More