Ubersuggest Lifetime Deal 2023
I am happy to show you that Neil Patel has launched 3 Ubersuggest lifetime plans with a one-time payment option. It includes instant access to the tool for life with unlimited usage.
Starting from $120/life (Up to 90% massive discount) / Pay once and use for the life (no recurring payments) / Up to 900 reports per day / 200 per project tracked keywords / Upgrade or downgrade anytime
Coupon Code: Auto-applied
If you are familiar with Ubersuggest and want to hold its paid plan for life, then probably you need a lifetime plan.
In this tutorial, I'll show you:
What is Ubersuggest lifetime deal
How to get Ubersuggest lifetime license
What's inside the license
Lots more
So, are you ready?
Let's get started.
What is Ubersuggest Lifetime Deal?
To be honest with you, I really don't familiar with Ubersuggest as my personally recommended keyword research tool is SEMrush.
Well, coming to the point, Ubersuggest lifetime deal or lifetime discount is a kind of lifetime plan from Neil Patel.
This is an exclusive offer for users who want to pay once and get full access Ubersuggest for life. It's 90% cheaper than any other alternative subscription price.
There are three Ubersuggest lifetime plans: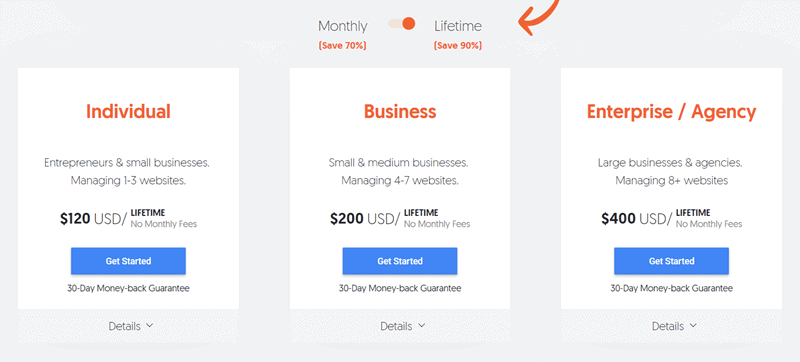 Individual
This plan cost $120 (one time fee) and you get the benefits of the:
Up to 3 projects
100 projects per day
100 keywords tracking per project
1000 pages per site crawling
Business
The Ubersuggest Business Plan costs $200/life and offers:
Up to 7 projects
300 projects per day
150 keywords tracking per project
7000 pages per site crawling
Enterprise/Agency
This plan charges $400 (one time fee) and you can enjoy features like:
Up to 15 projects
900 projects per day
200 keywords tracking per project
15000 pages per site crawling
Plus, each plan includes:
Video courses
Worksheet & templates
Weekly Q&A calls
Email support
SEO training
And lots more
Click here to choose your plan and enjoy unlimited access to Ubersuggest for a lifetime.
How To Activate Ubersuggest Lifetime Discount Offer?
Follow the guide step by step below to claim Ubersuggest lifetime deal.
Step 1: Click here to activate this deal (this is the only discounted link that you can't find anywhere on the internet).
Step 2: Click on the Lifetime button.
Step 3: Choose your plan and tap on the Get Started button.
Step 4: Create an account using your email address and name, or you can login using a Google account.
Step 5: Finally, complete the purchase by making a payment via PayPal or Credit Card.
Once the payment is sent, your account will be ready in a moment. You will also get a confirmation mail from your registered email address too.
Enjoy ?.
FAQs – Frequently Asked Questions
What is Ubersuggest?
Ubersuggest is a freemium keyword research tool. It helps you generate keyword ideas for your content marketing strategy and production.
Ultimately, Ubersuggest is a good option to make big lists with suggestions around specific keywords.
Furthermore, it's affordable for business owners and anyone interested in a boost their website performance.
How much does Ubersuggest lifetime license cost?
Ubersuggest has three lifetime license options with 7-day free trial as below:
Individual ($120/life)
Business ($200/life)
Enterprise/Agency ($400/life)
Which is the best Ubersuggest plan?
It depends!
For example, if you are a blogger or an individual owner, then Individual Plan is the right option.
The Business plan is for those who are running multiple websites or blogs and need extra information to gain maximum SEO results.
Ubersuggest Enterprises/Agency Plan is for entrepreneurs and agencies, where you can use it for your own purpose as well as for clients too.
Is Ubersuggest worth spending money on?
Ubersuggest vs SEMrush: which is the best?
Both are great tools and have their own features and & benefits. But when it comes to keyword research, I personally prefer SEMrush or any other tool.
So, ya if I had to compare SEMrush vs Ubersuggest, probably I would like to spend extra money on SEMrush because of its popularity, SEO benefits, and features.
Final Thoughts on Ubersuggest Lifetime Deals & Offers
Without a doubt, Ubersuggest is the best option when it comes to finding the cheapest keyword research tool in 2023.
I have been using their paid plan (Individual lifetime license) since July 2020 and I can say, it is one of the best investments that I have made in WordPress blogging.
I hope, by now you have found a Ubersuggest lifetime deal plan. If not yet and want me to pick a plan for you, I personally recommend Individual Plan.
In the end, I would like to know if this deal guide was:
Good
Bad
Or something between
Whatever your experience is, you can leave your thoughts in the comments below.
FTC Disclosure: WP Blogging 101 content is reader-supported. This means if you click on some of our links and make a purchase, we may earn a commission at no extra cost to you – Read Affiliate Disclosure
Comments have been closed!