Have you ever wanted to know why a website is not loading or what are reasons behind the downtime are?
If so, IsItDownOrJustMe website checker tool can help you to find out if a site is down for everyone or just for you. Moreover, it's 100% free software.
What Is "IsItDownOrJustMe"?
The Is It Down Or Just Me (previously known by IsItDownOrJustMe name) is a free site detector that lets you check if a website is down for everyone or just for yourself only.
For example, if you can't load or login to Facebook, you can check if Facebook is down or everyone or if it's just an issue with your ISP or local area.
Notice: The most common issue of website downtime is caused by a poor hosting server. That's why I recommend only top hosts and I have also written a detailed tutorial on the best web hosting services. Kindly, you must check out the tutorial, in any case, you're running a website or blog.
How To Make Use Of IsItDownOrJustMe Tool?
It's easy: follow the steps below to check if a website is down for everyone or just me (you).
Step 1: Insert Your URL
This website down or not detector software allows you to find out if a website is down for everyone or just you. Just copy the website URL and start scanning.
Step 2: Interpreting The Results
In a few moments, it will show the complete details of the searched website, if it is really down for everyone or just a bug with your own ISP or local area connection.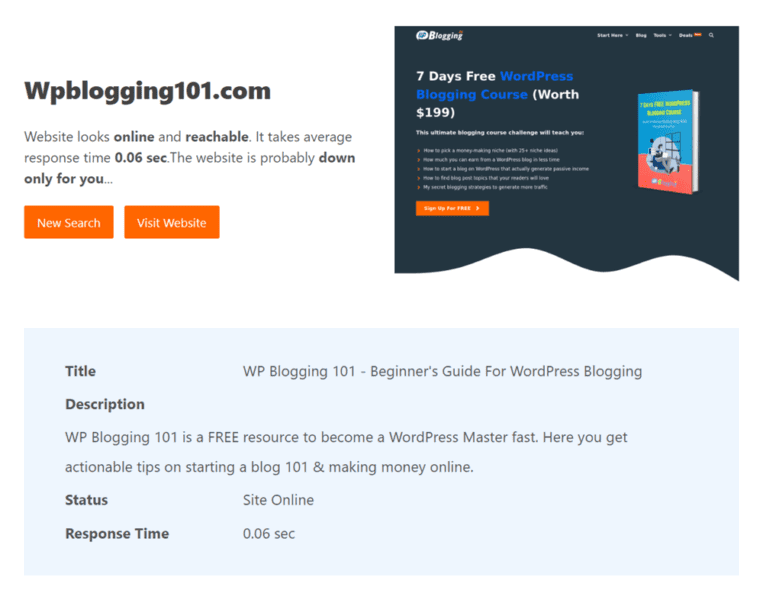 Note: This process will take less than 5 seconds to appear respective results. Meanwhile, in any case, taking more time, then that totally depends on how fast the Internet speed that you're using.
Common Issues & Troubleshooting Tips
Below are some common errors you may see while using IsItDown, along with respective troubleshooting tips & tricks.
Web hosting
Domain name server (DNS)
The domain is not renewed
poor internet connection
Is HTTPS or HTTP enabled? Remember, they are not both the same links and that's why this tool may not display the same results.
If you are using any VPN or proxy service, kindly turn it off and try again.
If it's your own website then check your DNS settings on the domain registrar or contact your web hosting provider for troubleshooting the site not loading error.
Double-check the URL. Sometimes it's just a typo.
Make sure your internet connection is not down.
FAQs – Frequently Asked Question
Let's check out some frequently asked questions with answers related to IsItDown OrJustMe tool.
What Is "IsItDownOrJustMe"?
No one likes seeing an error message when visiting a website or checking on their own website. That's why this tool has been discovered. 
This is a 100% website checker online tool that helps you to detect if a website is down just for you or everyone.
Why need IsItDownOrJustMe?
You REALLY need it. This real-time website status checker software tests whether your website or someone else website is down or not independently.
It communicates with the given domain's web server, and if there's no response from the other side, IsItDown displays a message saying, "Website is offline and not reachable for everyone. The website is probably down for everyone".
What to do if my site is down?
Why are you showing a different answer to another tool?
Most very big websites like YouTube, Facebook, Reddit, Google etc. host their websites on multiple data centres across the world.
This is the main reason, why IsItDown and other uptime tester tools display different results for the same domain or URL.
Final Thoughts On IsItDownOrJustMe (Is It Down Or Just Me) Tool
Here, I've put together what exactly can do Is It Down Or Just Me and how you can find if a website is down for everyone or just me.
I hope you found this website scanner tool useful. Once again, I say that IsItDownOrJustMe is 100% free software and you can use it to check as many websites as you want.