Welcome to my most UPDATED free guide on How To Start A Blog in 2023?
In a hurry? Click here to sign up for Bluehost (#1 WordPress hosting provider) and get your blog online right now.
Creating a blog website has its own advantages such as:
It helps you to make money while you sleep
It helps you to promote your business online
It helps you to build a brand
It helps you share your ideas, knowledge and more
Speaking in general, starting a blog has tons of benefits in long term.
This is an in-depth free guide containing 8000+ words. Throughout this tutorial, I have tried my best level to provide you with all the necessary information, you need to start a blog in 2023.
If you want to skip the introduction and just want to get started blogging with a one-click setup, use the link below:
👉 Jump to Step #3: Get Blog Domain & Web Hosting
PS. If you have any questions about this guide, please don't hesitate to ask me via comments or message me personally on the contact page. I am more than happy to assist you for free.
💡 Expert Tip: Users from India, should follow my guide on how to create a blog in India for a better approach.
There are millions of blogs out there and everybody is trying hard to build successful blogs and earn money through them.
So if you're planning to start blogging from scratch that can make real money for you, this guide is for you.
Here's what you'll learn:
How to start a blog from scratch with a limited budget,
Essential blogging tools you need to build a professional WordPress blog,
Important things to do after launching your first blog,
And many more.
If you're ready, read this guide carefully. I bet in a few minutes, you will become an owner of a brand new professional-looking blog.
Let's get started.
How To Start A Blog in 2023? FREE Blogging Guide

This guide covers a lot of useful information, but don't get overwhelmed.
Just go through each step one by one and you will get your blogging website set up successfully in a few minutes.
With that said, in this post, you will learn how to start a blog in 8 easy steps, as follows:
Before we get into deep learning, "how to start a blog in 2023" I want to talk about why you should build a blog site nowadays.
Blogging is the best way to share your knowledge and opinions online.
You may hear a saying that is, "Knowledge is money".
There are millions of bloggers who earn thousands of dollars from their blogs and you can too.
It helps to increase knowledge and turns you into a better writer.
A blog can be utilized as a platform to showcase your knowledge and expertise.
The richest people in the world build networks because everyone else looks for work and starting a blog is a guaranteed way to expand your network.
Blogging has a lot of benefits and for some people, it can be a great way to earn passive income online in 2023 – 2024 onwards.
A Quick Primer – Blogging Guide (Review)
All in all, there are four important steps to making a blog quickly. If you are familiar with these things, you can set up a blog in 15-20 minutes or even less:
Pick a blogging niche (topic)
Select the best blog platform
Get a domain and web hosting
Install WordPress software
And that's it.
The best thing is that there's no technical ability needed or coding required by you.
Remember, creating a blog is your first step in entering the blogging world. However, to be successful online you have to learn more.
For example, "how to increase your blog traffic fast" and "make money from blogging" in 2023 – 2024. In fact, there are tons of free guides and tutorials in our blog section are there to help you to succeed on the web.
If you follow the below steps respectively, your blog set-up is completed in the next 30 minutes or less.
Let's dive into the first step by finding your blog niche.
Step 1: Pick A Niche (Topic) For Your Blog
The first step to learning, "how to start a blog" is choosing the best blogging niche.
Note: If you already have a blogging niche, please skip this step and get a domain + hosting from Bluehost, set up your blog and begin your online journey.
Let me warn you that blogging is a lucrative career that should be started by selecting a perfect niche.
When choosing your niche, it's time to brainstorm about:
What do you want to teach to your readers.
Where you may already have experience.
Any leverage you may have in an industry.
Where you can extract value from the market.
Though it seems complicated, there are steps on how to choose a profitable niche step by step:
First of all, find out what you know and love.
The second includes discerning what you are passionate about.
The third job is where you find a hole in the market.
And, next dominating this niche is the last step.
However, if you want to start a site to make money blogging, you should be started appropriately. If you intend to not regret it later.
Top Indian Bloggers & Their Earnings 2023
Since I run blogs from India, below are some most famous bloggers from India who have chosen the blogging niche effectively and now earn passive income regularly each month.
Amit Agarwal – Labnol – $60,000
Faisal Farooqui – MouthShut – $50,000
Harsh Agarwal – Shoutmeloud – $40,055
Shradha Sharma – YourStory – $30,000
Amit Bhawani – Amitbhawani – $25,000
Varun Krishnan – FoneArena – $22,000
Ashish Sinha – NextBigWhat – $18,000
Srinivas Tamada – 9lessions – $8,000
S. Pradeep kumar – HellBoundBloggers – $5,000
Arun Prabhudesai – Trak – $4,000
That's how much some popular bloggers earn through blogging. And the next name can be yours too.
So, before starting to think of blog writing and earning HUGE money, choose your blog niche carefully.
Here are some most popular blogging niches (updated for 2023 – 2024 blogging ideas):
Blogging & making money online (my favourite)
Digital marketing
Personal development & self-help
Health & fitness
Jobs & career
Music & entrainment
Relationship & dating
Technology
Banking & finance
AI (artificial intelligence)
Automobile
News
Sports
Parenting
Art & culture
Real estate & properties
Travelling
And the list goes on…
Bear in mind that these are only the beginning. If you're into other areas of interest, you may try a lifestyle blog, fashion blog, food blog, travel blog, or even a movie review blog, where you can educate users – the sky is the limit!
In fact, I am completely confident that my detailed guide on the best blogging niche idea is a bulletproof tutorial when it comes to choosing your niche and starting a blog that actually works truly well.
Step 2: Choose A Blogging Platform
After deciding what to blog about, your next step is to choose the best blogging platform.
There are tons of blogging platforms and below are usage statistics showing the distribution of blog technologies.
As you can see from the graph, WordPress CMS (content management software) is the most popular platform with over 80% market share for starting blogging (source). This was also mentioned in this guide on "how to create a website from scratch"
And, I also personally recommend building your blog using the self-hosted WordPress software (even though I also followed this process to build a WordPress blog using Bluehost).
WordPress.org is a free blogging platform (the actual blogging software is free and open source) but requires a domain name and web hosting to start a blog on it (we'll discuss this in the next step).
This blogging software lets you start a blog in any niche, whether it's a personal blog, business website or an eCommerce / WooCommerce store and control its contents completely.
You will set up your blog using a custom domain name and web hosting (I'll show you how, in the next step).
What About Free Blogging Sites?
I assume you may aware for some free blogging sites like WordPress.com, Blogger.com, Tumblr etc. are tempting you to start a blog in 2023 using these free hosted platforms.
However, for you it's important to understand that "FREE" always comes with limitations:
First, your blog name will be named something like "yourblog.wordpress.com", "yourblog.blogspot.com" or "yourblog.tumblr.com".
Second, you'll be subject to their rules and restrictions. It means, they may delete your blog site anytime, even without notice.
And there are some cons or disadvantages included too, as below:
If you prefer to choose a free blogging platform, it means you are serious and don't want to become a blogger like me.
You'll be able to manage your blog the way you can control a self-hosted WordPress blog.
You will not be able to monetize the website as you'd like by for example using various ads or affiliate programs.
You won't have full control over your website. They can shut down your site anytime without notice.
The free blogging platform provider can insert ads on your website without your permission, which are actually unable to remove.
Free blogging sites are a type of testing platform. So, if you're serious about setting up an online business and want to real money from it, you'll have to start paying for full services and a custom domain name & paid hosting services sooner or later.
As you understand from the above, there are many cons and downsides to using a free blogging service (limited monetization, customization, and traffic). Most importantly, you'll have little control over your blog.
In short, below are the main differences:
| Free Blog | Self-hosted Blog |
| --- | --- |
| 100% Free | Minimum $35 required |
| Fast to setup | Longer setup process |
| Files stored on the blogging platform | Files are stored on your hosting server |
| Blog URL located on a subdomain | Blog URL located on a custom domain |
| Can use only available themes | Unlimited themes available |
| Limited features & functionalities | Unlimited features & functionalities |
| Limited storage space | Storage can be expended anytime |
| Not easy to monetize | Limitless monetization options |
If you're planning to blog just as a hobby and are not interested to make money through it, then creating a free website might make sense.
But, if you're REALLY serious about blogging, the self-hosted WordPress option is the way to go.
Creating a blog will cost just a few dollars per month for the webspace (hosting account + domain), where around $12 or above for a domain (in fact, Bluehost offers a free domain for a year to all WP Blogging 101 readers).
Let's get a custom domain name and hosting service for your blog site by following the next step.
Step 3: Get A Domain Name And Web Hosting
This is the main part of our free guide tutorial on how to start a blog in 2023, where we'll sign up for a TLD domain name and web hosting service for your blog site.
The word "TLD" stands for Top Level Domain which refers to the last segment (domain extension) of a domain name (blog address).
It follows immediately after the "dot" symbol such as wpblogging101.com and websitehostingfinder.com.
Here are some examples of the popular TLDs include:
.com (most popular for the global audience)
.in (recommended for blogging in India for targeting Indian audience only)
.org
.net
.gov
.edu.
And so on…
In short, your domain name is your blog identity and will be the name by which you will be known online.
Things To Consider While Choosing A Domain Name
Here are points you should consider when choosing a blog name or a domain name:
It should be short, catchy, and easy to pronounce and remind.
You can also use combinations of your first and last names (e.g. harpreetkumar.com or harpreet.blog).
Try to be productive and make keyword combinations like seotoolsfreetrial.com.
Examples are limitless!
It's your job to get a domain name idea that suits your blog niche.
In the end, I must say that choosing a name that is easy to memorise. So, if it is different from other websites, helps you to stand out.
Need More Suggestions? Use this quick domain search tool powered by Bluehost – my recommended web hosting for WordPress bloggers (I'll explain why in a moment) to find a suitable name for your new blog.
Web Hosting is a place on the internet where all your files on the website live. It is the home of your blog files.
Choosing the best web hosting for starting a blog can improve website SEO (Search Engine Optimization) indirectly, which increases earnings.
So, if you want to create a blog that makes money fast, you'll need to start with a great web hosting company.
Here are the three best options:
Hostinger (my favourite): Most affordable hosting plan overall
A2hosting: A bit pricy but powerful web hosting for blogging
Cloudways (we are hosted): Most affordable month-to-month plan (PayPal or Credit Card required)
Alternatively, you can go through our complete list of popular web hosting companies.
Why You Should Choose Bluehost?
There are various different types of web hosting options available such as Shared, VPS, Dedicated, and managed WordPress hosting.
In this guide, I will recommend you buy a domain name and web hosting from Bluehost – the website link is bluehost.com.
Here's why you should be confident going with this company:
Free Domain: A domain name cost a minimum of $2.95 per month + GST. Additionally, you get a free domain name for the first year.
Ease-of-use: You will be able to set up your WordPress blog with a few clicks of a button – easy to use for beginners.
Good Value: You get reliable service with excellent 24/7 live chat customer support at an affordable price.
Unlimited Features: They offer unbelievable key features and benefits that you need to start, run, and grow your new personal blog in 2023.
SSL Certificates: Free SSL certificate included and pre-installed to keep your blog visitors' data safe.
Easy Payment Options: Bluehost comes with the most known payment gateways like PayPal and Credit Card.
Special Pricing: As a precious user, you are eligible for a special discount of up to 70% from our affiliate links.
I have been an affiliate partner with Bluehost since January 2020. Though, I asked their sales team to provide a special discount for WP Blogging 101 readers.
Hopefully, they accepted and created a promo code link with a discount of 70% for all new customers.
This way, you get a Bluehost hosting plan as low as $2.95/mo (which actually costs $3.95/mo for regular users). For more details, check out our Bluehost coupon code tutorial.
So, now the question is "How much does it cost to start a WordPress blog on Bluehost?".
Let's settle this.
Bluehost has four hosting plans:
Basic Plan
Plus Plan (my pick)
Choice Plus Plan
Pro Plan
Below is the table of pricing & features details of Bluehost hosting packages.
| Plan | Basic | *Plus | Choice Plus | Pro |
| --- | --- | --- | --- | --- |
| Price | $2.95/mo | $3.95/mo | $4.45/mo | $9.95/mo |
| Usage | 1 Website | Unlimited | Unlimited | Unlimited |
| SSD Storage | 10 GB | 20 GB | 40 GB | 100 GB |
| Bandwidth | Unmetered | Unmetered | Unmetered | Unmetered |
| Max File Count | 200,000 | 200,000 | 200,000 | 300,000 |
| Databases | 20 | Unlimited | Unlimited | Unlimited |
| Free SSL | YES | YES | YES | 30 Days |
| Refund Policy | 30 Days | 30 Days | 30 Days | 30 Days |
| 24/7/365 Support | YES | YES | YES | YES |
| 99.9% Uptime | YES | YES | YES | YES |
| Free Domain | YES | YES | YES | YES |
| SubDomains | 25 | Unlimited | Unlimited | Unlimited |
| Cloudflare Protection | YES | YES | YES | |
| Automated Backups | No | No | YES | YES |
Overall, I would say that Bluehost is one of the biggest leading web hosting companies worldwide.
The best thing about Bluehost is that you can also register a domain name free of cost with any web hosting plan purchase.
Now let's get your blog hosting account (+free domain name) on Bluehost. I have included screenshots of the pages to take you through the process.
First of all, click on this magic link to visit Bluehost discount page and click on the Get Started button.
Next, choose your WordPress hosting plan. If you are visiting from India, the prices may show in INR currency.
💡 Expert Tip: Well, my favourite plan is Plus Plan, which comes with unlimited website usage benefits. But if you've planned to host a single website only, then go with the Basic Plan.
Enter a domain name that wants to claim free with Bluehost hosting purchase.
Under the Account Information section, fill in your account details such as your name, email, country etc.
Inside Package Information, you need to select your hosting period (I have picked 12-month). My suggestion is to sign up for a hosting plan with 36 months (3-year) billing cycle, which leads to the maximum discount.
Next up Package Extras; cut these extra costs that you don't really need. Here you will also see the price of one year cost is $35.40 only.
Enter your Credit Card details or choose to pay via PayPal (whatever suits you).
Follow up next steps to complete your purchase.
In a moment, Bluehost sales team will send you a confirmation email about your purchase. You will also receive an email to verify your email address to activate your domain.
For more details, check out my article on, how to buy web hosting from Bluehost website.
Let's level up our guide on "how to start a blog" followed by installing WordPress on Bluehost hosting.
Step 4: Install WordPress On Your Hosting
By now, I believe you already purchased hosting from Bluehost (go through this magic link, just in case if haven't bought yet).
Bluehost has an easy-to-use cPanel (control panel) dashboard, where installing WordPress software is much easier.
And here you will know why I recommend Bluehost for starting a WordPress blog from scratch.
Let's start WordPress installation process.
First of all, login to your Bluehost account (use the username and password that you just created for yourself. Also refer to the email you received after the purchase).
First of all, login to your Bluehost account (use the username and password that you just created for yourself, also refer to the email you received after the purchase)
Click on the My Sites option.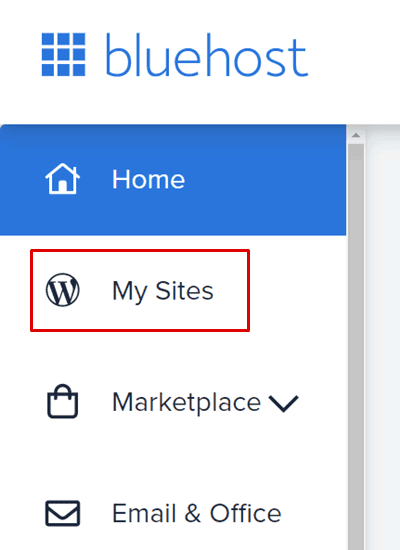 Under My Sites section tap on the Create Site button.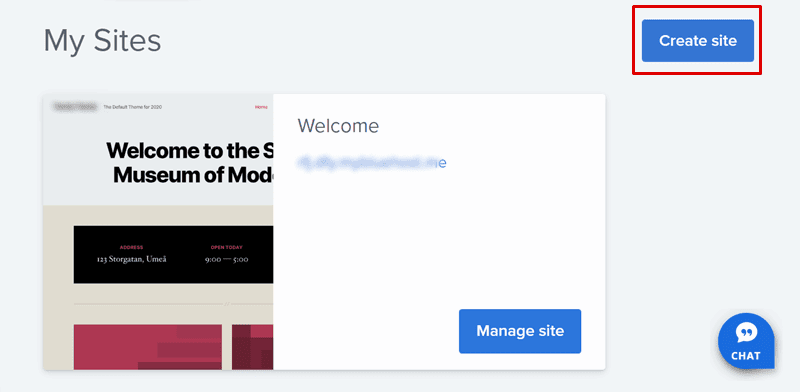 Enter your Site Name and Site Tagline. Under the Advanced Tab, you can set your WordPress Dashboard email/username and password. Once filled up, hit the button saying "Next".
In the next window, the domain name will be selected automatically. And before you hit Next, Uncheck all plugins; WPForms, OptinMonster and MonsterInsights.
Select your site type: Blog and hit Next.
In a few moments, WordPress CMS will be installed successfully on your server, and you will receive an email with the WordPress login link.
Click on the link and log in to your WordPress Dashboard, or visit yourdomain.com/wp-admin (replace yourdomain.com with your own domain name) to sign in directly.
For more details, kindly go through step by step guide on how to install WordPress on Bluehost.
Finally, your blog is live on the internet. Now, you can start designing and setting up a perfect SEO structure for your blog (discussed in the upcoming step).
Step 5: Customize Your Blog (Design & SEO Setup)
Until now, you have almost completed learning "How to start a blog on WordPress" as your blog is ALREADY live on the internet.
In this section, we'll learn how to make your blog site look appealing attract users/readers' attention and set up an SEO-friendly structure. So, that you can grow your blog traffic fast.
The visual appearance of your blog is controlled by WordPress themes. When you first visit your blog, it will look something like this:
I understand this is not attractive to most people. Don't worry, we'll fix it very soon.
First, let's get started with essential blog settings.
General Settings
Go through the following steps, which are considered the important things to do after installing WordPress software.
Change Blog Title & Tagline: You can change or update your "Site Title" & "Tagline" anytime by going under the Settings » General page. This step is very important because this is what shows up in Google Search.
Set Time Zone: Make sure to set your time zone to your local time. So that when you schedule posts, they will go live according to your time. This option is right inside the Settings » General section.
As I've steps to start a blog from India religion, I should select UTC+5:30.
Update WordPress Ping List: Let search engines know about your site by notifying you of many more services by extending the ping list.
Go to Settings » Writing and add more services to the ping list (I have covered a complete ping list over here: WordPress ping list.
Disable Pingbacks & Trackbacks: Trackbacks and pingbacks allow blogs to notify each other that they have linked to a post. This is an unnecessary feature and you should keep it turned off.
You can do that by going to the Settings » Discussion page and then unchecking the box next to the "Allow link notifications from other blogs (pingbacks and trackbacks) on new articles" option.
These are some important settings to do after WordPress installation is completed.
Here are some more to make changes.
Setup Www or Non-www Site URL
Setting up www or non-www version is like cleaning up your default site URL.
Once you started a blog on WordPress, it's important for you to decide, if you want to display your domain URL with www or without it, before your site URL.
For example:
Www version:
Non-www version:
Note: It's important that you stay consistent with the one you chose when starting your website. In other words, DO NOT switch between www or non-www once saved.
You can change this quickly by going to Settings » General and following this action displayed in the screenshot below:
If you have no idea about choosing between www vs non-www version, then non-www site URL is my recommendation.
This will bring you a URL that looks like and that is what I have chosen for my all blogging websites.
Once you save the settings, all of the blog posts and pages will be redirected automatically to the non-www version, which looks much cleaner and easy to type on web browsers.
WordPress Permalink SEO Structure Setup
By default WordPress permalink is – http://yourdomain.com/p=123.
This permalink is short but not SEO-friendly. You need to make it friendly for search engines to earn maximum SEO advantages.
To choose how your page and post URLs are generated, go to Settings » Permalinks, and choose the URLs the way you like to look.
If you're not sure what to go with, I'd recommend choosing Post Name. Here is an example from the "How To Start A Blog" post permalink structure:
This way your URLs are easy to understand for visitors and search engines, and they aren't too long. This will help you rank higher and get more traffic.
Delete Default Content, Comments & Plugins
Default WordPress software comes with unusual pre-added content like Sample Posts, Pages, Plugins etc.
These things are just examples for beginners. But have no benefit to being there for blogging success. So, It's always better to delete these useless things.
Go to the Posts » All Posts page. Head over to the 'Hello World' post and then click on the 'Trash' link.

Next, click on Pages » All Pages » Select Page » Move To Trash » and Apply.
Next up, visit the Comments section and delete the default comment. Somehow, it deletes automatically, when you remove your default post.
Lastly, go to Plugins » Installed Plugins » Select All Plugins » Deactivate » Apply.
Now repeat the same process by selecting the 'Delete' option.
Update/Change Your WordPress Theme
This section has two steps:
First, delete pre-installed WordPress themes.
Second, install an SEO-friendly WordPress theme that matches your blog niche.
Get started with the number #1 step, first remove pre-installed WordPress themes from your blog.
Go to the Appearance » Themes page and click on an unused blog theme that you want to delete.
This will open up a popup showing theme details. In the bottom-right corner there, you will see the link to delete the theme.
Follow up on the steps again to remove all pre-installed themes from your blog.
Moving to the 2nd step, let's choose a perfect WordPress theme for your blog.
There are thousands of pre-made WordPress themes that you can install on your site. Some of them are free and others are paid.
You can also visit the official WordPress theme directory, where tons of free templates are available for blog designing. Here you have the option to sort the list by popular, latest, featured, as well as other feature filters (i.e industry, layout, etc).
Alternatively, you can either get a free theme for now with limited options or go with a paid theme (if you have a good budget).
If you ask me, I recommend Kadence Theme – the most popular freemium WordPress theme, and I use it on WP Blogging 101 » read my honest Kadence review.
Click here to download Kadence Theme for free and then head over to Appearance » Themes » Add New button.
Next, upload and activate the downloaded theme's zip file.
Remember, getting your blog design with a free theme has some limitations. So, if you have some budget, don't forget to get a Kadence Pro Addon license.
It's a paid addon for Kadence Theme that comes with unlimited features. Check out my guide on Kadence Theme free vs pro to see the real difference.
Below are some other best premium WordPress themes & templates (just in case Kadence is not your first choice):
Once you are happy with the theme you want to use on your blog, our next move is to install important WordPress plugins.
Install Must-have WordPress Plugins
Plugins are tools to make full control of your WordPress blog functions and extend its features.
Like themes, there are thousands of free and paid plugins available depending on needs. But it's important to choose the best ones for the best WordPress SEO and speed.
As a beginner, you can start with free plugins, and then later upgrade to paid ones.
Here, I have listed some most important plugins. Without these plugins, your WordPress blog can't survive in 2023 – 2024. So, must install:
There are some more plugins that you may need later for taking your blog design customization to the next level, listed below:
Kadence Blocks: A super amazing Gutenberg plugin for Kadence Theme users.
Elementor: The #1 WordPress page builder plugin for bloggers and entrepreneurs.
Thrive Architect: Exclusive landing page builder for Thrive Themes users.
Divi Builder: A powerful theme builder plugin by Elegant Themes.
Next, let's learn how to install a WordPress plugin (quickly) on your new blog.
A simple and fastest way to install a WordPress plugin is via the plugin directory. To do that, follow these simple steps:
1st Step: Navigate to Plugins » Add New.
2nd Step: Search for the WordPress plugin that you want to install. For example, I search for Rank Math (see screenshot below):
3rd Step: Click Install Now button.
4th Step: Lastly, tap on the 'Activate' button.
See, how easy to install a new plugin on your WordPress site.
Well, congratulations! You just learned how to customize your blog and make web design changes.
The next step is to learn how to write content for your blog.
Step 6: Write And Publish Blog Content
Congrats!
You created a blog and are ready to start blog writing; posts and pages.
This is where the rubber meets the road.
Let's go.
Must-have Blog Pages
First, we will create some pages that are important to your blog in 2023. These pages are:
Above are the most important pages.
However, there are some more pages like a custom homepage, deals section, blog page, services and Black Friday section etc. that you may require later as your website grows.
Creating A New Page
To get started adding a new page to your blog, find the Pages menu in the WordPress Dashboard Navigation menu and click Add New.
When you write your first blog page (and every one after that) focus on one main target keyword, and here's where it should be included:
Include the keyword in the title of your page.
Add your keyword to the first or second paragraph.
Put the keyword in your page URL.
Include the focus keyword inside of your headings.
Add relevant/related keywords to your page.
Here's an example of my page/post: How To Start A Blog – the focus target keyword is in the title, URL and first paragraph.
Blog Content Writing Strategy
I hope, you already know your blog niche (we discussed it in the first step) and assume you already know what to write about.
Writing the first blog post is one of the most important things to start your blogging career where you can provide the best of the bests.
For example, let's say your target keyword is "how to start a blog". When you search for this term, there are tons of blog posts will be displayed on your screen (see screenshot below):
If you are planning a content strategy with a focus keyword on how to start a blog, don't just write a useless long blog post on:
Starting a blog,
Create a WordPress blog,
Build a website,
How to start a WordPress blog,
And so on…
Also, you shouldn't start your post with the heading "What is A Blog & How To Start Blogging?" as many SEOs did in the past.
Instead, try to match search intent by understanding the meaning behind their query and delivering content that provides a solution to your readers.
Write Your First Blog Post
Writing and publishing a blog post is easy.
Follow the steps below:
Go to Posts » Add New and the WordPress post editor will be shown in front of you.
You can see the box to enter the post title and the rest of the content will be written in the bigger box.
Once you finish writing your article, publish it by clicking on the "Publish" button.
💡 Tip: To make this process easier and write SEO-friendly blog posts & pages, I strongly recommend installing Rank Math SEO plugin.
Remember, it's essential to write content that matches Google search intent, which directly increases the blog's organic traffic and then earnings.
Moreover, using keyword research tools like SEMrush or Ahrefs can help you to beat your competitors and rank higher on SERPs with less effort in a targeted time.
Step 7: Promote, Market And Grow Your Blog
By now, you've learned how to start a blog from scratch, set up the design, create blog content, and how to get it discovered by search engines.
Though all these are essential for setting up a perfect blog foundation. But if no one sees it, all of your hard work is useless.
This is the time when Promote, Market And Grow Your Blog step comes to play:
Before moving further, make sure that you have at least 5 blog posts published and optimized for all types of devices.
You can test your blog on different devices (desktop, tablet, mobile) and browsers (Chrome, Firefox, Safari, and Microsoft Edge) to see if all pages & posts are opening correctly.
Following are some useful tips for beginners to promote their new blog effectively:
SEO (search engine optimization)
Social media
Email marketing
Blog commenting
Guest blogging
Link building
Bookmarking sites
Advertising
Let's explore blog promotion techniques starting with SEO.
SEO (Search Engine Optimization)
The first best way to promote your blog is, "optimize it for search engines". This is called SEO or Search Engine Optimization.
Search engines are a super important traffic source for blogs. Even, WP Blogging 101 is living proof of the power of SEO, where I get a decent amount of organic visitors regularly from SERPs (search engine results pages).
Social Media
Don't forget the power of social media.
You should make use of the social media networking sites like Facebook, Twitter, and Pinterest to share your content with other influencers.
Email Marketing
After starting a new blog, the most important step to keep coming users back to your site is email marketing.
Thus, it's always a good idea to collect the email addresses of those who want to be notified when you publish new blog posts or share promotional offers.
You can use email marketing software like Aweber, Mailerlite or GetResponse to build your email fast.
Blog Commenting
Promote your site by posting valuable comments on other relevant places related to your niche.
It's a great way to build relationships with top bloggers within your industry.
Guest Blogging
Guest blogging means writing on other blogs relevant to your niche. This is an excellent way to build an online presence in less time.
Just be sure that you guest post on reputable sites that are similar to your industry and give you a dofollow backlink.
PS. Most famous websites like Medium, Quora & LinkedIn are the best place to start guest blogging.
Link Building
The link building is the practice of building backlinks for improving search engine visibility. It's one of the best SEO techniques used by WordPress bloggers.
The most common link-building strategies include content marketing, building useful tools, blogger outreach, broken link building and public relations.
Bookmarking Sites
The bookmarking or directory submission sites are another effective way to promote your new blog. Popular sites like Scoop.it, Reddit, Flipboard, etc. are examples of social bookmarking sites.
Submit your blog content to these 5000 directory submission sites and grab a lot of potential viewers who are searching for information within your niche.
Advertising
The last method to bring instant traffic to your blog is Advertising (Advertisements).
This is a paid blog promotion method, where you can run paid ads using Google, Facebook, Bing, Twitter etc to boost your blog traffic.
So, these are some of the best ways to get more traffic to your new blog in 2023.
Step 8: Start Making Money Blogging (Optional)
Finally, we're on the last stage of the guide on how to start a blog from scratch.
Monetization is the process of translating your blog activity into real earnings.
Let me clear that, "blogging isn't just about making money online. It is about creating useful content and writing blog posts that provide solutions to your readers and make them come back for more educational stuff".
In short, treat your blog as an online business where you should have an understanding of the product or service you're about to offer.
In this scenario, your blog is that product. It helps users to fix users queries, which they search on Google and other search engines.
That's why I started this tutorial, educating you to pick your niche smartly and be sure you're targeting the right audience.
And this is the right way to start making money through blogging fast with the lowest possible efforts.
Based on my own blogging experience, as well as from working with other bloggers, I've learned that some specific kinds of content ideas are more effective for generating money, listed below:
Below is a complete summary table of the best ways to make money from your blog in 2023.
| | |
| --- | --- |
| Affiliate Marketing | The most favourite method to earn money through blogging is affiliate marketing. All you need to join an affiliate program and write content around their products. When someone makes a purchase, you earn a commission. |
| Ads Networks | Popular advertising networks like Google Adsense, Media.net, Amazon Native Shopping Ads etc. let you make a decent amount of money from your blog by placing their ads. |
| eBooks Selling | If you like writing books on different topics according to your interest, then blogging is the best way to sell ebooks online. |
| Sponsored Content | Sponsored blog contents are similar to blog posts that brands will pay to affiliate bloggers for creating and publishing around their products & services. Possibly, you can earn up to $100 per single sponsored opportunity you received. |
| Online Courses | This makes money blogging idea is almost similar to selling eBooks. If you are good at something, you can create multiple courses around the different subjects and sell them on your blog. |
| Podcast | Publishing podcasts on your blogs about the brands that are offering you the sponsored opportunity can help you to earn side income in no time. |
| Freelancing | Freelancing is one of the most considered online earning methods by many bloggers, especially after the pandemic kind of issues. |
| Consulting/Coaching | If you are passionate about consulting or coaching jobs, then you can also possibly earn money blogging through this method. |
Above are the most popular choices to earn money. However, there are more ways to monetize your blog.
Also, you can read our in-depth guide on Make Money Blogging to find a ton of proven strategies that earn passive income regularly.
FAQs – Frequently Asked Questions
Let's browse some most asked questions related to starting a blog with WordPress.
What is a blog?
A blog is nothing but a type of website, in full content (articles) form. Usually, a blog is run by an individual, who writes blog posts and makes money through different monetization methods.
Nowadays, small businesses also run blogs along with their website to promote the products and business services they own.
What is blogging?
There are so many tasks that you need to follow to run a blog, the collection of tasks is blogging.
The blogging tasks include writing blog posts, researching keywords, monitoring blog performance with Google Analytics and Search Console, competitor analysis using SEO tools etc.
Additionally, it has become a source of finding information on the internet and the popularity of blogging is so high globally.
Who is a blogger?
That's you! An individual who is used to handling all the work on his/her blog is called a blogger. He/she is the one who manages and operates the website and posts various content.
Where should I start blogging?
Registering a domain name and signing up for a reliable web hosting service like Bluehost or Hostinger is the starting point you should get first to start blogging business.
As a next step, install WordPress (it is one of the best blogging platforms in the industry) on your blog with just a click from your web hosting cPanel and get started with designing and writing stuff.
Blog vs website: What's the difference?
There's no big difference. A blog is also a website that regularly updates with blog posts on topics related to the niche or topic of the blog owner's choice.
Whereas websites are moreover static and get updates only on a very frequent basis. Nowadays, blogs have become part of many websites out there.
Blogging vs YouTube vLogging: what makes more money?
It totally depends on how well your blog or Youtube channel is performing in terms of views.
The higher views or visits you receive the more you earn in both blogging and vlogging. Both jobs have their own pros and cons.
So, if you move in the right direction, you can make more money in both vlogging and blogging with less effort.
Do I need technical skills to start and manage a blog website?
If you are a technically skilled person, then it's an added advantage for you. But fortunately, you can start a blog with no experience and manage it seamlessly even without any technical skills.
You can make use of an effective blogging platform like WordPress, which doesn't need any coding skills. So, indirectly there are no special skills are required for blogging.
How much does it cost to start blogging on WordPress?
A domain name and hosting account are what you all need to add to your initial budget to start blogging from scratch.
The domain name may cost you around $12 or above and a hosting account for a month costs you around $2.95 with Bluehost to host a single website.
So overall, starting a WordPress blog doesn't cost you more than $35 (excluding VAT) for the first year. Other stuff like themes, plugins and email marketing software etc. you can start for free.
How to get started on my blogging journey?
It's easy and simple. First, choose the niche of your choice. Ensure to check whether the niche is the potential to make money.
Secondly, get either Hostinger or Bluehost hosting for a minimum one-year plan. Both web hosting companies offer a free domain name along with their hosting annual plan.
At last, install WordPress on hosting, create pages, install required plugins and start writing your blog post. That's the process behind starting your blogging journey.
Which language is best for blogging?
The English language that I would suggest you for blogging. With an English language blog, you can target audiences globally.
If you are weak in English, or want to start a blog in your regional language like Hindi for Indians, you can even do so. But the reach will be narrow as regional language blogs can gain readership only in particular Indian states.
What are the best blogging niches for earning passive income in 2023?
Not just the best, the niche you select for your blogging should be the best yet most profitable.
In the list, making money online, fashion, cooking recipes, health, fitness, yoga, weight loss, lifestyle and parenting are the best and most profitable niches to earn passive income.
With all these niches listed, you can earn passive income for years from your blog either through affiliate marketing or Google Adsense methods.
Can I create a blog for free and earn through it?
Yes, you can create a free website. There are some free blogging platforms like WordPress.com, Medium, and Blogger.com that lets users create a blog and earn from it through different methods.
But, free blogging platforms are not recommended for longer-term business from blogging gurus. That's why I would always suggest self-hosted blogs as a better choice for making real money online.
How do I increase traffic to my blog in 2023?
If you are new to blogging and want to drive traffic to your new blog, try posting your blog posts on social media websites, especially Twitter and Facebook.
While posting your blog URL, ensure to add some catchy content along. To increase even more traffic to your blog, obviously getting your work done search engine optimization (SEO) can bring effective results.
How do I get my blog noticed by Google?
To get your blog noticed by Google, create a sitemap using SEO plugins like Rank Math (recommended for bloggers using WordPress.org).
Create a Google Search Console account and then submit your unique sitemap URL on Google console account. This way you can get your blog posts and pages noticed by Google every time you publish.
How can I get 1000 visitors per day?
Always keen on keyword research tasks every time you write new blog posts and ensure that your content includes some relatively long tail keywords too.
In short, follow up SEO or search engine optimization practices on your entire blog to get your blog posts to appear on top of the search results. When you do that right way, bringing 1000 visitors a day wouldn't a big deal for you.
Is blogging profitable in 2023?
Of course, Yes. Blogging is one of the most profitable business models out there. If you can understand the working strategies in-depth, blogging is undoubtedly profitable in long run.
There are many professional bloggers used to earn $10,000+ every month from their blogs. And if you do it in a proper way, you can earn too and live a boss-free life through your blogging income.
How much do bloggers make per 1000 views?
The money you make per 1000 views from your blog totally depends on the niche of your blog as well as the kind of posts you have published.
In general, if you monetize your blog with Google Adsense, you can probably earn between $1 to $2 or higher daily per 1000 views from Adsense. It's just an approximate calculation.
Another side, if you promote affiliate products on your blog site, with some 1000 views a day, possibly you can make $10 to $100, even more in a day.
How to make money from blogging?
Out of all make money blogging methods, Google Adsense, Sponsored Posts and affiliate marketing are the three best popular money-earning blogging methods.
You can try to monetize your blog with either one or all of said above methods to make money from blogging websites.
How long does it take for a beginner blogger to start making money?
There are possibilities that you can start earning from your blog from the first month itself. Rest, it depends on the niche you choose and the strategies you follow.
In general, a beginner blogger should wait for approximately 12 months to one year to start earning good bucks.
Why is Bluehost best hosting for starting a WordPress blog?
There are so many reasons to list out to convey the best of Bluehost. Mainly, Bluehost plans are affordable starting from just $2.95 per month.
Furthermore, it is super fast web hosting and offers a free one-year domain and is recommended by WordPress itself.
What is one best platform to start a blog in 2023?
Without a second opinion, WordPress is one of the best platforms for professional bloggers in 2023 – 2024. You can take full control of WordPress and develop your blog the same as you wish.
There are many templates and plugins available for WordPress blogs. So, you can use them wisely to make your blog a better-looking and well-performing one.
Need More Help? Conclusion On How To Start A Blog in 2023
I hope this guide has answered all questions you had on learning, how to start a blog and make money online in 2023 – 2024.
More blogging guides & tutorials can be found on my blog page. Here are some of the most popular tutorials from my blog:
11 things I wish I knew before starting a blog website
Top 10 best blogging sites you can use to start a blog (2023 edition)
How to increase your blog traffic fast in 2023
10 easiest ways to make money through blogging
Lastly, I assume this step-by-step guide about, "How To Start A Blog" has provided everything you need to get started blogging.
If you run into some issues or need some advice about your blog setup, please do not hesitate to comment below or message me on the contact page.
FTC Disclosure: WP Blogging 101 content is reader-supported. This means if you click on some of our links and make a purchase, we may earn a commission at no extra cost to you – Read Affiliate Disclosure
Comments have been closed!