Thrive Themes Review
In this review, I found Thrive Themes is a super solid toolbox that has been built to get more traffic, more subscribers, more clients and more customers.
Starting from $99/quarterly or $299/year
Deal: 14-Day free trial + $97 instant discount on Thrive Suite yearly plan
Additional Features: Instant access to Thrive products, instant access to Thrive Theme Builder, unlimited updates (1 year), use on up to 5 websites etc.
Support: 24/7 days of unlimited support from experts
Welcome to my UPDATED tutorial on Thrive Themes Review.
The majority of reviews around the web are outdated (2022 or earlier), sugar-coated, or misleading.
This is not one of them…
In this review, I am going to be brutally honest and analytical.
I bet, by the end, you'll get every little information that is needed to make a proper decision, about whether Thrive Themes is the right option for you or not.
Let's dive into the review.
What I'll Cover in Thrive Themes Review (
2023

)

In this detailed tutorial, I will show you:
What are Thrive Themes
Thrive Themes features, pros & cons
Thrive Themes discounts and coupon codes
Compare with other similar products
FAQ area – frequently asked questions
Whether Thrive Suite is worth it or not
A whole lot more
Before I started writing this post, I have spent hours finding in-depth details about this company. So, I can deliver the best information to you.
This Thrive Themes review tutorial takes 10 to 15 minutes to read (3800+ words).
Yes, that might be a lot of things to read, but believe me, I have included only the necessary information you need to know before making a purchase.
So, before you open your wallet and pay hard-earned money for Thrive Suite (review) or Thrive Agency Membership (review), it's worth reading.
Jump to "My Overall Thrive Themes Review" section.
Let's start the review.
My Honest Thrive Themes Review
2023
First, let's take a look at the company itself.
What Are Thrive Themes?
Thrive Themes is a WordPress themes & plugins company that has helped 18000+ bloggers, affiliate marketers, and developers to build highly profitable websites from scratch.
Here's what they say:
"Thrive Themes is a set of plugins and themes that help you to create conversion-focused sites around the concept of making sure your website's visitor becomes a client."
The company was founded by Shane Melaugh and Paul McCarthy in 2013 and quickly become one of the most trusted vendors in the digital marketing and affiliate marketing industry.
All I say, it's at the best point where it's affordable for anybody, somebody just getting started just at $99/quarterly, including:
Unlimited access to all tools
World-class support
Unlimited theme/plugin updates
Cutting edge tech & strategies
Thrive University access
No fluff online marketing training
Keep the marketing team in your pocket
Get Thrive Themes right now – your personal all-in-one toolbox to realize your entrepreneurial ambitions online in 2023.
Thrive Themes Features – What's Inside?
The Thrive Themes offers tons of essential features to their customers.
Let's start with themes and plugins reviews.
Thrive Themes have developed:
Thrive Theme Builder
Thrive Architect
Thrive Leads
Thrive Quiz Builder
Thrive Apprentice
Thrive Comments
Thrive Ultimatum
Thrive Ovation
Thrive Optimize
Let's explore each of the above tools, and start reviewing with #1.
Thrive Theme Builder
Thrive Theme Builder is a full-fledged WordPress theme and site builder.
With this theme, you can easily build your marketing-focused WordPress website with 100% front-end visual theme building magic.
Thrive Theme Builder allows you to create custom:
Headers
Footer
Blog post templates
Sidebar, page layouts
Category pages
Search pages
404s and MORE
Furthermore, you can launch your dream site in the next 15 minutes with Thrive Theme Builder. No matter how complicated it is.
Even it makes it easy to manage your WordPress website everywhere with dynamic global settings, centralized font management, and effortless control over your logos.
Below are some cool key features of choosing Thrive Theme Builder:
Instant access to Shapeshift
Easy setup with walkthrough wizard
100+ templates and site design elements included
Fully mobile responsive
Easy integration with email marketing software
One-click centred location management
WooCommerce compatible
Explore all features (a detailed guide around 2400+ words)
Get Thrive Suite to get instant access to Thrive Theme Builder, or read our detailed Thrive Theme Builder Review to know how it can help you.
Thrive Architect
The Thrive Architect (old name Thrive Content Builder) is a WordPress plugin that turns your ideas into beautiful landing pages and content formats.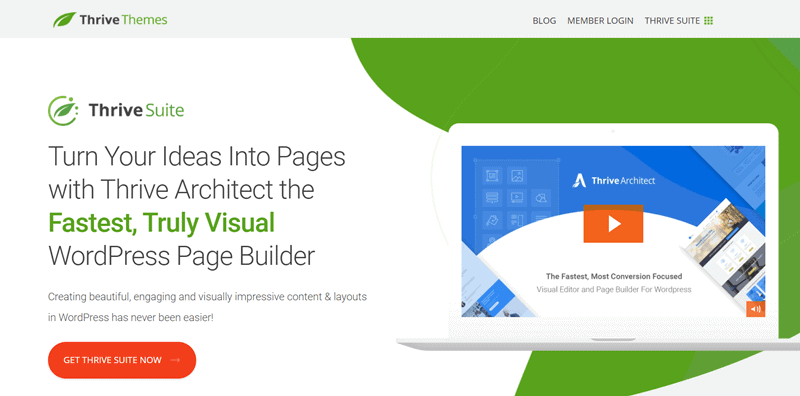 When you load Thrive Architect editor inside your WordPress post/page, everything follows one simple idea.
All you need to pick an element/widget, and you are good to play with it the way you want.
I have used Thrive Architect on WP Blogging 101, and honestly, I say it is not the only visual editor for WordPress, but more than that.
Inside Thrive Architect, you can access:
Fast and truly visual editing widgets
290+ conversion-focused pre-built templates
Dozens of pre-built conversion elements
Ultra-flexible column layouts
Attention-grabbing text and image combinations
Full widget layouts with wow factor
Advanced attention-grabbing hover effects
Beautiful lead generation forms
Get Thrive Suite and start styling your website pages and posts the way you like, or read my review on Thrive Architect to see why this is the best WordPress page builder in 2023.
Thrive Leads
The Thrive Leads is a lead generation plugin created by a team of people who are obsessed with conversion optimization.
John Lee Dumas (Entrepreneur on Fire) said he got a 238% increase in conversions when he switched to Thrive Leads.
Using this tool is like having your own list-building and conversion software for explosive list growth and the amazing business advantages you can't find other alternative plugins.
I'll not discuss more on Thrive Leads as I have already written a detailed review on it earlier. I personally believe you should check this review.
Let's see what the main features of using Thrive Leads are:
10+ pre-built email opt-in elements
Design any type of email opt-in form
Massive conversion boost with advanced targeting
Inbuilt A/B testing tool engine
Actionable reports and insights
Get Thrive Suite now and start making a few tweaks to a form or completely customize your own design using Thrive Leads instantly.
Thrive Quiz Builder
The Thrive Quiz Builder is the best WordPress quiz plugin on the market.
It comes with a powerful quiz feature that allows you to create any type of quiz that you need.
With Thrive Quiz Builder, you easily create beautiful and complex quizzes to engage and grab the user's attention without needing to know how to code.
In my Quiz Builder review, I have written under the surface about how this tool can increase your email list and social shares.
Let's expand some essential advantages of using Thrive Quiz Builder:
Build complex quizzes without coding
Discover what your visitors interested in
A/B testing at critical stages
4 types of quizzes and templates
Powerful analytics reports
Get Thrive Suite today and start harnessing the engaging power quizzes on your WordPress site with Thrive Quiz Builder.
Thrive Apprentice
Want to sell courses on WordPress? Then Thrive Apprentice is probably the right plugin to create…
Lessons
Chapters
And Modules
…with step by step process.
They say, "Thrive Apprentice has everything you need to build professional online courses on your WordPress website".
And for a good reason: it's damn true.
Yes, Thrive Apprentice is your best buddy when it comes to choosing the best online courses solution out there.
I'm not just talking. It's a fact, and you will come to know it when you start using this plugin.
Below are some most common advantages of choosing Thrive Apprentice plugin:
Grow your courses organically
Build as many courses as you want
Fast & simple integration with SendOwl and ThriveCart
Grow your email list even faster
Restrict access to non-subscribers
Compatible with any WordPress theme
Ability to pair with WordPress management plugins like OptinMonster.
Get Thrive Suite to gain instant access to Thrive Apprentice to make money by selling online courses.
Thrive Comments
Thrive Comments is another great plugin from Thrive Themes.
The WordPress plugin repository is filled with lots of comment plugins for WordPress sites.
Even the default WordPress commenting system is good enough but Thrive Comments turns your blog comments into your highest converting asset of your blog.
With this plugin, you can encourage users to leave more comments by taking the goodness of social media, likes, upvotes etc.
It helps you convert comments by after-post actions like showing them additional posts to read (dramatically reduces bounce rates).
Let's now take a close look at the features that make it the best WordPress comments plugin for the year 2023.
Encourage readers to leave comments before they leave
Streamlined WordPress comment moderation system
Convert WordPress boring comments layout into engagement and interaction
Leverage comments to get more page views
Lets You show exclusive coupons for those who leave a comment
Comments analytics system (reports)
Inbuilt spam protection
Subscribe to Thrive Suite now and get instant access to Thrive Comments WordPress plugin.
Thrive Ultimatum
The Thrive Ultimatum is a powerful way to add scarcity to your WordPress site using flexible countdown timers.
Neil Patel says (source), "If you can create a stronger sense of urgency on your landing page or websites, then you can successfully spur people to do what you want them to do on your page (i.e., convert)."
In short, this is a tool to create a sense of urgency on your landing pages and website that drives people to do what you want them to – which is to convert.
With this plugin, you can create various types of timed offers, including:
Fixed date campaigns
Auto-recurring campaigns
Ongoing evergreen campaigns
Countdown timer designs that actually look good
Change content based on time
Countdown timers that follow visitors around
Change functionality on conversion
Lockdown feature to build special links for exclusive scarcity offers like Black Friday deals
Become Thrive Suite member today to get Thrive Ultimatum copy and start building a conversion-boosting campaign right away.
Thrive Ovation
It just so happens that testimonials are a great form of social proof. With this in mind, Thrive Ovation comes to play.
Thrive Ovation is an all-in-one WordPress testimonial plugin and works pretty well whether you're using Thrive Theme Builder or any of the other best WordPress themes.
Getting started is straightforward.
You just have to start adding your testimonials to your Ovation dashboard.
Furthermore, you can edit and manage entries later and display them using beautiful pre-built templates.
Let's take a quick look at why Thrive Ovation features:
70 professionally designed testimonial templates
Central management system for testimonials all in one place
Effortless add, edit and organize system
Multiple ways to gather testimonials
Display testimonials anywhere on your website
Mobile-friendly design
Get Thrive Suite and start leveraging the conversion power of testimonials.
Thrive Optimize
Meet Thrive Optimize – a WordPress A/B testing addon for Thrive Architect plugin.
It lets you easily launch A/B/n tests for WordPress pages from inside the Thrive Architect editor interface.
Remember, if you use Thrive Ovation, make sure you have already installed Thrive Architect on-site. Otherwise, it wouldn't work.
Thrive Optimize is profitable if you want:
1 click Thrive Leads integration
Take Thrive Architect to the next level
Unlimited A/B tests and variations
Beautiful interface and reporting options
Huge time saver, everything takes place in your WP dashboard
Useful conversion reporting tools
Get your Thrive Optimize copy with Thrive Suite and start a new data-driven era on your website.
Thrive Themes Pricing – How Much Does Thrive Membership Cost?
Ok, I've talked about all of Thrive Themes features…but how much does the Thrive Suite actually cost?
The Thrive Themes have two purchase options:
In early 2021, Thrive Themes bundled all of their plugins and theme builder into Thrive Suite and discontinued selling products individually.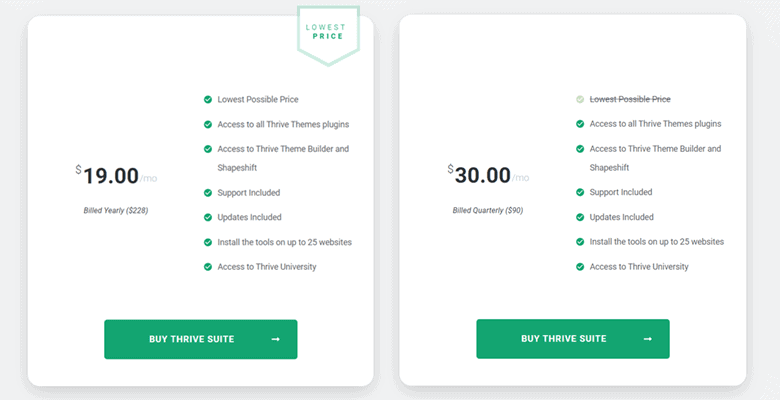 The Thrive Suite costs $299/year (billed annually) & $99/quarterly (billed quarterly) for the use of up to 5 of your own websites.
If you want to use the Thrive products on sites that you build for clients, you'll need to go with the Agency Membership.
This license costs $49/mo (billed annually at $588) & $69/mo (billed quarterly at $828) for use up to 50 of your own sites or clients' projects.
Click here to lock your Thrive Themes price – Once you're locked in, the renewal cost will remain the same for you until you don't let it expire.
Thrive Themes Coupon Code
2023
You may see lots of sites offering tutorials on:
Thrive Themes coupon code
Thrive Themes Membership coupon
Thrive Themes coupons
Thrive Membership discount code
Thrive Suite promo codes
Thrive Themes lifetime deal
Thrive Themes Black Friday deals etc.
These are all unofficial coupon sites and mainly write content just for gaining organic clicks.
The reality is: Thrive Themes doesn't offer coupon codes or discount offers.
So, if you are looking for any such type of promotional savings, look no further. Also, keep away from these fake sites.
The only way to save money on Thrive Themes subscription is by signing up for Thrive Suite (read review) with an Annual Plan instead of Quarterly Membership.
This way, you can save a flat $97 every year for a lifetime.
Click here to get Thrive Suite now and keep $97 per year in your pocket for lifetime renewals.
Other Thrive Themes Features
Below are some more features and advantages of Thrive Themes.
Support And Updates
A well-coded theme or plugin is useless if you don't get regular updates and support.
Most theme/plugin companies fail to provide proper support and updates.
But Thrive Themes take it seriously. That's why 18k+ users have chosen Thrive Themes.
As long as you are an active member of Thrive Suite or Thrive Agency Membership, you'll always receive routine updates that improve security and come with more advanced features.
Furthermore, Thrive Themes support team is truly responsible for their job. Their average response time is 24 to 48 hours (usually less).
Refund Policy
Your money is secured by 30 days money-back guarantee.
Just in case if you buy and decide you don't like Thrive Themes themes or plugins, just request a refund and get your 100% money back – no questions asked.
Thrive University
The Thrive University is a free resource to enjoy actionable, no-fluff online marketing training that will help you get the best use of Thrive products.
When you subscribe for Thrive Agency Membership or Thrive Suite, you also get instant access to Thrive University.
Subscribe For Thrive Themes Today and get instant access to all of the above.
Thrive Themes vs WordPress Themes & Plugins
My Thrive Themes review is not just about showing Thrive features but also I am comparing it with other top alternatives in the industry, such as:
Thrive Themes vs ClickFunnels
Thrive Themes vs Elementor
Thrive Theme Builder vs Elementor
Thrive Themes vs Elegant Themes
OptimizePress vs Thrive Architect vs Beaver Builder
Thrive Themes vs Leadpages
Let's explore.
Thrive Themes vs ClickFunnels
ClickFunnels and Thrive Themes are the most popular online marketing platforms but are totally different in use.
The ClickFunnels is a features-packed platform built for creating high-level sales funnels, while Thrive Themes is a set of WordPress themes and plugins for building websites and blogs, as discussed earlier in this review.
If I had to compare ClickFunnels vs Thrive Themes:
I would probably go with ClickFunnels, if:
I need an auto-responder inside my funnel
Want to integrate with third-party payment platforms
Need free hosting with my funnel builder
I would like to choose Thrive Themes, if
Creating a WordPress website
Building pages from scratch
Want to make A/B testing pages
Need seamless integration with the rest of my website
Another important point to consider is COST.
There is a huge difference in price. I still suggest, when choosing what platform to use, focus on your business needs.
Thrive Themes vs Elementor
Elementor and Thrive Themes are leading brands in the industry, but both have no comparison. Even they are not related.
Why?
Elementor is a page builder, and Thrive Themes is technically a complete set of tools that you need to run an online business on WordPress.
In short, if you choose Elementor, you may also need to purchase:
Elementor Pro (49/year/site)
WordPress theme like GeneratePress ($59/year)
Form Builder like WPForms (review) ($39/year/site)
A/B testing tool for optimizing conversion rates
And all these plugins, you can use on a single website only. In fact, GeneratePress Pro allows the use of a single license for up to 500 websites.
The conclusion is that choosing an Elementor page builder can cost you $150 to $200 per site.
But if you pick Thrive Themes, just pay $299 with yearly billing and use all tools on up to 5 websites.
Thrive Theme Builder vs Elementor
Again, Elementor and Thrive Theme Builder aren't similar products.
Thrive Theme Builder is a WordPress theme, and Elementor is a WordPress plugin.
In this comparison, Thrive Theme Builder is my first recommendation as you can get it free with Thrive Suite.
I wouldn't go into deep details, as I have already compared Thrive Theme Builder vs Elementor in a separate article.
Thrive Themes vs Elegant Themes
When you start buying individual plugins and themes, then it's easy to blow your budget. That's where WordPress Membership Schemes come in.
Elegant Themes and Thrive Themes have the same motive to provide the user with everything in one place.
Both companies provide the best value to their users. And can be used to create any type of website, blog, or eCommerce store with WordPress.
When I was comparing Thrive Themes vs Elegant Themes, I came to know is a major difference is a PRICE.
The Thrive Suite gives you access to all of their conversion-focused WordPress themes and plugins just at $99/quarterly (if paid annually).
Of course, it's the lowest price ever. But the dark side of their membership is that you just need to renew the license every year.
If you choose not to renew, no further updates and support will be provided.
With Elegant Themes membership, you have a choice between:
Yearly Plan: $89/year for use on unlimited websites
Lifetime Plan: 249/lifetime for use on unlimited websites
And you get instant FREE access to:
Divi Builder
Divi Theme
Monarch
Bloom
Furthermore, WP Blogging 101 readers are eligible for a special 20% instant discount on Elegant Themes membership using this special link.
OptimizePress vs Thrive Architect vs Beaver Builder
The Thrive Architect, Beaver Builder, and OptimizePress are industry-leading WordPress page builders.
OptimizePress – once the messiah of all marketers. It has gone through a ton of changes since it first launched.
Beaver Builder is known for the most complete design system, trusted by WPengine (a popular web hosting company).
If I compare both plugins with Thrive Architect, definitely I will pick Thrive Architect.
Because Thrive Architect is a part of the Thrive Themes bundle, no matter whether you subscribe to Thrive Suite or Thrive Agency Membership, you can Thrive Architect inside.
On the other side, OptimizePress and Beaver Builder users have to purchase other needed WordPress themes and plugins separately, as we discussed in Thrive Themes vs Elementor comparison earlier.
Thrive Themes vs Leadpages
Leadpages is another good alternative to Thrive Themes email opt-in plugin Thrive Leads.
Both can help you create landing pages and collect email subscribers. However, they have also some differences.
Leadpages is a standalone platform, and you can use it on WordPress as well as eCommerce platforms. Thrive Themes is a WordPress plugins & themes provider and compatible with WordPress only.
Leadpages has 14 day free trial, whereas Thrive Themes have no free trial advantage.
Leadpages start from $25/month and Thrive Themes license costs $19 per month.
What do I recommend?
If you are looking for a tool to help you build landing pages, then LeadPages should be your first option.
Otherwise, Thrive Themes is the right option due to its low cost if you are working on a tight budget.
FAQs – Frequently Asked Questions
Let's see what people are searching for about Thrive Themes, and its themes/plugins.
What are Thrive Themes, and what's it used for?
The Thrive Themes is a complete set of themes and plugins for managing all aspects of WordPress sites in one place.
When you own Thrive license, get access to:
Thrive Theme Builder
Thrive Architect
Thrive Leads
Thrive Comments
Thrive Optimize
Thrive Ovation
Thrive Ultimatum
Thrive Quiz Builder
Thrive Apprentice
Thrive University
Thrive support
How much does Thrive Themes cost?
Thrive Themes have two subscription options:
Thrive Suite: $299/year when paying annually and $99/quarterly when paying each 3 months for the usage of up to 5 of your websites.
Thrive Agency Membership: $49/mo when paying annually and $69/mo when paying quarterly for the usage of up to 50 of your or your client's websites.
Can I upgrade or downgrade between Thrive Suite Plan and Agency Membership?
Yes, you can upgrade or downgrade your existing license anytime.
Can I use Thrive Themes on clients' websites?
Under Thrive Agency Membership, you are allowed to use their tools on up to 50 websites, either yours or clients.
Can I use Thrive Themes on non WordPress websites?
Does Thrive Themes offer a free trial?
Thrive Themes has no longer a free trial period with any of its subscriptions. But they do offer 30 days money-back guarantee.
It means, if you are not satisfied with their tools, contact support and get your money back.
For more details, read my guide on how to cancel Thrive Themes membership.
Is Thrive Themes coupon code available?
No, their no live coupon code available right now. Besides, you can save $97 when you choose to pay annually for Thrive Suite.
What about Thrive Theme Black Friday Cyber Monday deals?
Thrive Themes have neither Black Friday deals nor Cyber Monday offers.
Who is the best alternative to Thrive Themes?
My Overall Review On Thrive Themes
2023
You are here, which means already completed reading my unbiased Thrive Themes review.
And now you want to know whether I recommend it or not.
The answer is YES.
I do recommend Thrive Themes, especially if you're looking for a suite of tools to help you create well-optimized websites on WordPress.
And you can handle every aspect of your website in one place.
Thrive Themes pricing is reasonable – starting from $299/year if you take advantage of their annual subscription under Thrive Suite.
Now It's Your Turn
So, this is all about Thrive Themes features, plans, pricing and discount coupons.
Now I'd like to know your thoughts if you tried to Thrive products before.
Or are you going to try now?
And, what was your experience with my Thrive Themes review?
Good
Bad
Or somewhere in between
Whatever are your thoughts, please let me know in the comments box below.
FTC Disclosure: WP Blogging 101 content is reader-supported. This means if you click on some of our links and make a purchase, we may earn a commission at no extra cost to you – Read Affiliate Disclosure