Rank Math Review
The Rank Math is perhaps the most popular SEO plugin for WordPress websites. There are so many amazing features I noticed in the free version as well as in the paid add-on. If you want to look at what RankMath SEO plugin has to offer, this review is only for you.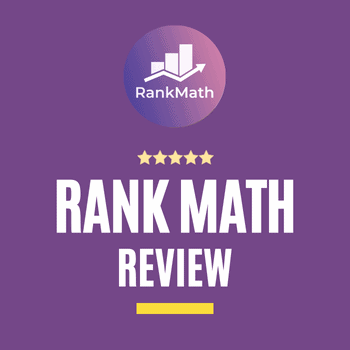 This is my honest tutorial on Rank Math Review (2023).
To be clear: I didn't test out this WordPress SEO plugin for 15 minutes and called it a day.
In fact, I am using Rank Math SEO since 2019 and evaluating every single feature that it offers.
In this post, I will share my personal experience on:
Rank Math features, pros. & cons
How RankMath compares with other popular SEO plugins (like Yoast SEO)
Is Rank Math Pro worth the price or not
Whether or not I recommend it
Lots more
In short, I'm going to let you know whether or not Rank Math WordPress SEO is worth trying.
Let's dive right in.
Rank Math Review: Incredible Features, Pros, Cons & Price
2023
Why You Should Trust Me On RankMath SEO Plugin?
Since the first day of my blogging career, I was using Yoast SEO. On 3rd June 2019, I decided to replace it with a new kid in the market: Rank Math.
Here's my account registration screenshot:
After using it for almost two years, I was totally satisfied with it. Then I decided to check how good is RankMath Pro plan and upgraded my license on 4th June 2021 (see below):
Since then, I've played and experimented a lot with this WordPress SEO plugin.
Thus, I believe, you should consider reading my review on Rank Math, as I have tested & used it myself and will share my personal experience.
Whether you're just started doing SEO for your WordPress blog or looking for an edge over the competition, Rank Math is worth a look.
First, let's take a look at the company itself.
What is Rank Math? A Brief Overview
Founded in 2020 by MyThemeShop team, Rank Math is considered one of the best popular SEO plugins in the industry.
I use RankMath on almost all of my own and my client's WordPress sites and I have recommended it to anyone asking me for a good SEO plugin for as long as I started with it.
As a whole, Rank Math is an awesome, powerful tool that does (at a guess) 80% of the stuff you need for SEO, even the advanced stuff. And it's free!
With over 5 million installs, Rank Math SEO is the best website on-page optimization plugin I've ever used. Try RankMath Plugin Now!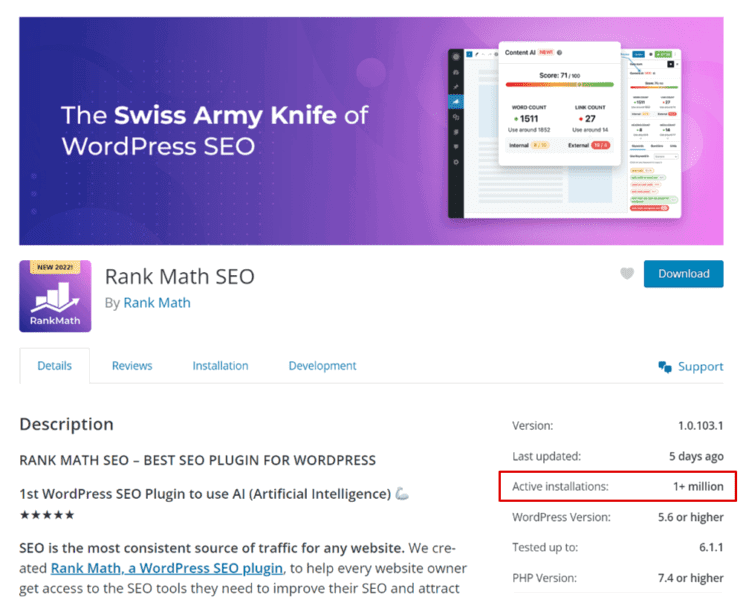 Some of the best key features of Rank Math WordPress SEO plugin are:
100% free forever
Easy to use UI
Better than the competition
Advanced functionality
Auto configuration
Google keyword rank tracking
Full schema codex (with rich snippets)
24/7 support system etc.
And, The Best Part? RankMath is a freemium SEO plugin.
You can download the free version from their official website, which comes with awesome features and functionalities that help you do your website SEO without spending even a penny.
However, for more features and advanced-level search engine optimization (SEO) options (we'll discuss below) you can upgrade to Rank Math Pro Addon.
Overall, with the plugin RankMath WordPress SEO, a variety of features are available. We will take a closer look at the individual functions and options in the next section.
Since WordPress SEO RankMath has free and pro two versions. So for this review tutorial, I've created a special table of free vs pro features, below:
| Version | Rank Math Free | Rank Math Pro |
| --- | --- | --- |
| Price | Free | $59 – $499 per year |
| Focus Keyword | Up To 5 | Unlimited |
| Simple Setup Wizard | ✅ | ✅ |
| Image SEO | ✅ | ✅ |
| Modules | ✅ | ✅ |
| SEO Analysis | ✅ | ✅ |
| Schema Markup | ✅ | ✅ |
| Redirection Manager | ✅ | ✅ |
| 404 Monitor | ✅ | ✅ |
| Roll Manager | ✅ | ✅ |
| Import-Export | ✅ | ✅ |
| Content AI | ✅ | ✅ |
| Robots.txt Editor | ✅ | ✅ |
| .htaccess Editor | ✅ | ✅ |
| HTML Sitemap | ✅ | ✅ |
| Link Counter | ✅ | ✅ |
| 24x7x365 Support | ✅ | ✅ |
| Content AI | ✅ | ✅ |
| Schema Generator | ❌ | ✅ |
| Analytics | ❌ | ✅ |
| Winning/Losing Posts | ❌ | ✅ |
| Rank Tracker | ❌ | ✅ |
| Video Sitemap | ❌ | ✅ |
| News Sitemap | ❌ | ✅ |
| bbPress | ❌ | ✅ |
If you want to see a detailed comparison of Rank Math free vs paid version, you can visit Rank Math pricing page.
Top 15 Features Of Rank Math WordPress SEO Plugin
Here's a quick list of top features from Rank Math, the reason why almost every blogger is migrating to this amazing WordPress SEO plugin.
1. Easy To Follow Setup Wizard (Free)
The Rank Math SEO setup wizard comes with a simple UI (user interface) that sets up your WordPress website in a few clicks.
In this section, I'll show you how to do Rank Math best settings and the additional setup that gives you the maximum SEO benefits.
Let's get started.
Step 0: Open Rank Math Setup Wizard
First of all, make sure, RankMath plugin is installed on your WordPress website.
As soon as it is installed & activated, the plugin will prompt you to use its configuration wizard. You can access the Setup Wizard by navigating to Rank Math » Dashboard » Setup Wizard.
Step 1: Getting Started
Under this section, Rank Math will ask if you want to configure its settings with Easy Mode, Advanced Mode(I recommend choosing this option) or Custom Mode (Pro users only).
Step 2: Your Site
Next up, it will ask you some basic details about your site like website name, logo image for Google, default social share image and so on.
Step 3: Analytics
From the get-go, you need to connect your website to your Rank Math account (either way, it is asking you to create a free account on RankMath). Ignore, if you're already connected.*
In the Analytics section, you'll be able to connect your website with Google Search Console, Google Analytics and Google Adsense Account.
If you're not setup your accounts with any of the services above, I recommend setting up that first since they can provide you with valuable information.
Step 4: Sitemaps
Here, Rank Math will ask you to generate a sitemap for your website, where you can include/exclude post/page types you want.
Step 5: Optimization
The Optimization section lets you automate some of your website SEO tasks like making external links nofollow, redirecting attachments to specific posts/pages, etc.
Step 6: Ready
Next, Rank Math ask if you would like to enable automatic updates for the plugin (in my opinion, please keep this function inactive). From here, you can either return back to your WordPress dashboard area or can make some more settings within the configuration wizard.
Roll Manager
With Role Manager settings you can control your WordPress roles, which of your site users can have edit or view access to Rank Math's settings.
404 Monitor
Inside the 404 monitors, there are two settings:
404 Monitor (keep it on): Actively monitor your website for 404 errors.
Redirections (keep it on): Set up page redirects in case there's any 404 error is detected.
Schema Markup
Finally, you will have the option to add schema markup to your content, which is highly recommended.
However, in most cases, it should be added manually inside the page or post editor. In the same way, I use to add schema rich snippets for WP Blogging 101 content.
2. Helpful and Minimal UI (Free)
The UI from Rank Math is pretty easy to use and beginner-friendly. In fact, it's a little more modern and provides slightly more useful suggestions.
Rank Math puts its settings in a sidebar panel that you can access from the top-right corner.
The box with the red colour (see the above screenshot) is used to open settings for your content optimization.
Clicking on the icon (box) will expand the sidebar, divided into tabs as follows:
General tab lets you add focus keyword(s) for your content and view the content analysis. Additionally, you can view errors (also suggestions on how to fix them) of Basic SEO, Title Readability & Content Readability etc.
Advanced tab lets you manage technical details like robots meta and canonical URLs.
Schema tab for the configuration of schema markup.
Social tab lets you edit content's social media information.
Clicking on the General » Edit Snippet button, open a popup window:
Inside this popup, you can control your SEO title/description and social media information in a popup, along with a live preview.
And you know the best part? There's no need to refresh the page to see the changes occur; all optimization occurs in real time.
The bottom line: you can make necessary SEO changes to your content before hitting the publish button. So, it can rank pretty well on SERPs.
3. Modules (Free)
On the backend, you'll get a dedicated dashboard to manage settings and access tools (you can find it under WordPress Admin Area » Rank Math » Dashboard » Modules):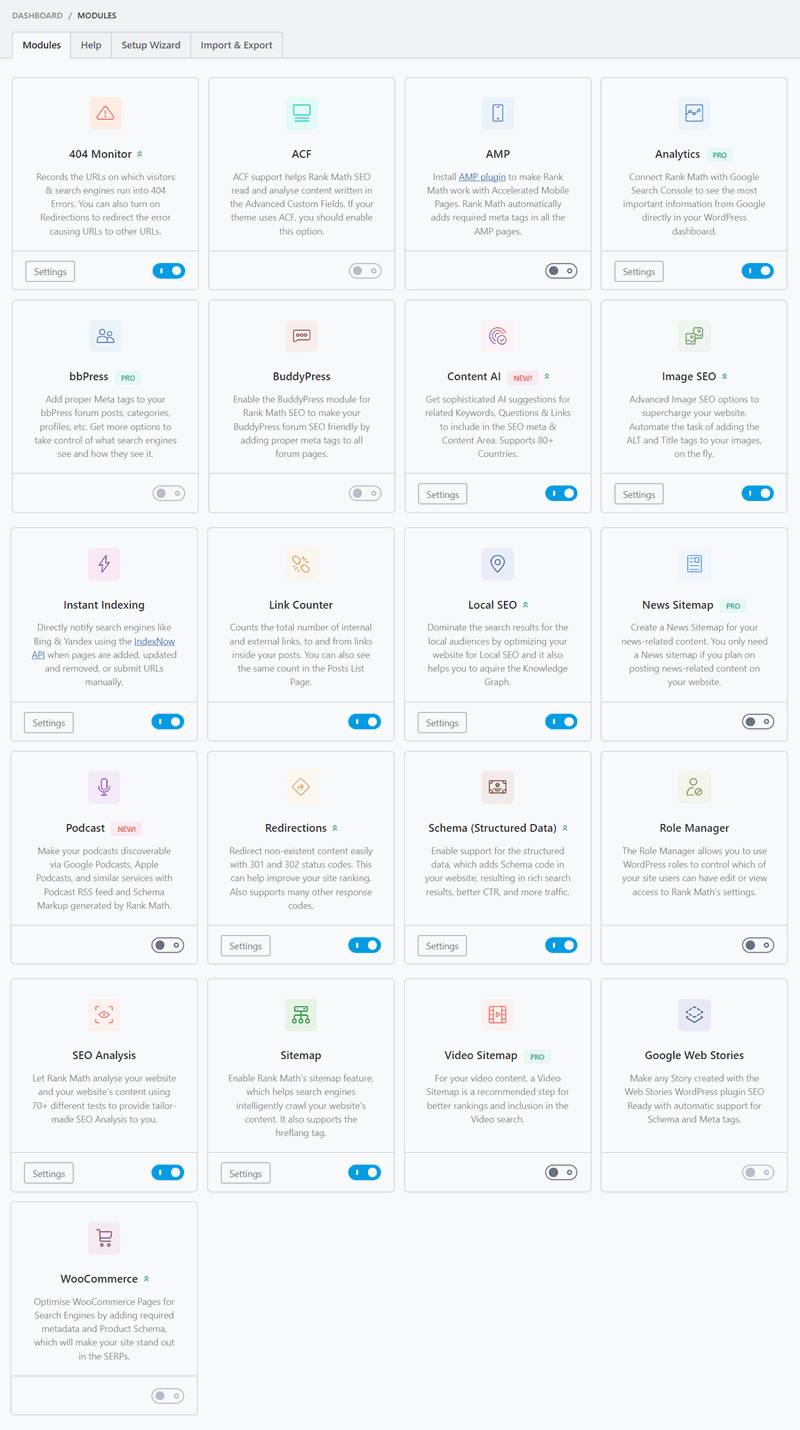 👉 404 Monitor, ACF, AMP, Analytics, bbPress, BuddyPress, Content AI (if credits are purchased separately), Image SEO, Instant Indexing, Link Counter, Local SEO, Redirections, Schema Structure Data, Role Manager, SEO Analysis, Sitemap, Google Web Stories and WooCommerce features are available in the free version of the plugin at WordPress.org.
👉 Additionally, News Sitemap, Podcast, and Video Sitemap are the part of Rank Math premium version.
To take advantage of any feature at RankMath, first, you need to enable its corresponding module.
And similarly, to disable a particular module, simply click the button shown on the right side of the screenshot above.
4. Built-in Advanced Analytics Module (Free)
In this information age, data is a new oil. If you track your website data and use it properly, you can see amazing results in SEO.
In such a case, RankMath did a GREAT job. It has a dedicated Analytics Dashboard that gives you insights into what your visitors are doing.
Rank Math black does all data collect itself. In fact, it takes all from your Google Search Console and Google Analytics profile and displays all stuff into meaningful graphs and insights. Under Analytics Dashboard, you get 5 tabs:
Site Analytics
SEO Performance
Keywords
Rank Tracker
Index Status
Let's dive into each tab and find out how it can help you in your website rankings.
Dashboard
The Analytics Dashboard is about showing you what's going on with your website. Here is what the dashboard looks like.
In this dashboard, you can view the overall progress of your website's current SEO stats with respect to organic traffic.
These are five things that can be done here:
👉 Timeframe Selection: The default value is set to 30 days. Although, you can select from many different timeframes to see reports.
👉 Overall Optimization: This is an all-in-one chart that describes how well your site content is optimized based on Rank Math's scoring system. Clicking on the Open Report link takes you to the 2nd tab, "Site Analytics" (we'll discuss it below).
👉 Keyword Report: This shows a brief overview of your top winning keywords and top losing keywords.
👉 Top 5 Winning and Losing Posts (Pro): Inside this section, you get a report of the top 5 winning and losing posts from across your WordPress site.
Site Analytics (Pro Feature)
If you ever heard about the 80/20 rule then you may probably know that 20% of your website content bring 80% of your traffic.
The Site Analytics is paid feature. It has been built to help you to take the right SEO action towards the most important content on your website.
The first section is a scoring board of:
Good Score: Posts/Pages/CPTs with an SEO Score between 81 to 100.
Fair Score: Posts/Pages/CPTs with an SEO Score between 51 to 80.
Poor Score: Posts/Pages/CPTs with an SEO Score of up to 50.
No Data: The total number of posts/pages that are not analyzed by Rank Math yet.
Although, you can search for a particular post/page to see the score and you can also select the timeframe for your search.
Next, there's a section of all your blog posts, pages, products, terms, and CPTs. This is a complete overview of your website content (how good or bad it is).
You can also filter the list based on their post type e.g.:
All
Posts
Pages
Custom Types
For each post, you will find:
Post Title
Post URL
SEO score of that post
Schema type (if chosen)
Internal/external links count
Traffic (it has been received in the selected time frame)
Impressions (it received in the search results)
Next up, you have the option to add or remove columns from the 3-dotted icon. So that you can display the data that you'd like to see.
SEO Performance
The next tab in the Analytics Module is SEO Performance – a dashboard that tracks your website's overall SEO performance.
In this tab, you can 6 different metrics as follows:
Search Traffic – The total traffic generated on your website.
Search Impressions – The total number of times your site is displayed on search results.
Total Keywords – The number of organic keywords your site is ranking for.
Search Clicks – The number of times users searched & clicked on the website page/post link.
CTR (Click-Through Rate) – The percentage of users who view your results and clicked (this is equal to Total Impressions & Total Clicks).
Average Position – The average position of your website rankings on SERPs.
Below the line graph, you can also find the Top 5 Winning Posts and Top 5 Losing Posts section along with the Content section just as we've discussed earlier in this Rank Math review.
Keywords
The Keywords tab track each of your site's keyword position in search engines and also show you opportunities to increase your rankings.
Here, you get to see a graph of 4 essential position slabs (with timeframe selection):
Top 3 positions
4-10 positions
10-50 positions
51-100 positions
Below the page, there's again a section of the Top 5 Winning Posts & Top 5 Losing Posts and the rest of the keywords list.
Rank Tracker (Pro Feature)
The Rank Tracker is a section available for RankMath Pro users.
If you want to track how specific keywords are doing on search results, this feature is for you. It has the ability to track the performance of your selected keywords.
All you have to add a particular keyword inside the Keyword Manager and it will start recording the performance. Next, with that data, you can take respective actions to do website SEO.
Index Status
To get the benefits of Index Status will, first, you have to configure Rank Math to fetch the index status of pages/posts/CPTs under Rank Math > General Settings > Analytics > Enable the Index Status tab.
In this tab, you have a dashboard of the index status of your pages/posts/CPTs (so you can understand the overall presence of your site on Google).
5. In-Built SEO Analysis Tool (Free)
The SEO analysis module is a type of tool that analyzes your website for SEO settings that you should absolutely get right.
There are over 40 different parameters available in SEO Analysis dashboard related to your current SEO-related activities and suggestions on how to make the most out of them.
You can access SEO Analysis module via Rank Math » SEO Analysis. Then, click on the button saying, "Start Site-Wide Analysis".
In a moment, it will start analyzing your site instantly (Note: This feature does not work on WordPress websites hosted locally).
When the analysis is done, you'll see a screen like something shown in the screenshot below:
Moving down, you can see your website test reports. The results are broken down into multiple sections:
Basic SEO contains a list of common issues inside keyword selection, site permalinks, titles, descriptions, images, headings etc. These errors should be must-fixed to build a healthy website for the long term.
Advanced SEO displays the overall view of search previews (device vice), canonical tag, www canonicalization, index/deindex meta, robots.txt, schema meta, sitemap etc.
Performance section shows lots of things you can do to improve like Image headers expiration, minify CSS, minify javascript, page size & response time and simplest fixes that produce the biggest result with the least effort.
Security section gives you suggestions to secure your website from hackers and other malicious users.
Overall, SEO Analysis tool can do a lot of tests, without spending a dime on SEO tools, like SEMrush, SE Ranking or Ahrefs etc.
6. Most Advanced Schema Generator (Pro & Business)
RankMath supports 800 + schema types, schema editing, and custom schema building which really makes your content stand out in SERPs.
Here's what its dashboard looks like:
Here are some of the types of schema markups it supports.
Article Schema
Book Schema
Course Schema
Event Schema
Job Posting Schema
Local Business Schema
Music Schema
Person Schema
Product Schema
Recipe Schema
Restaurant Schema
Review Schema
Service Schema
Software/App Schema
Video Schema
FAQ Schema
HowTo Schema
Plus, you also enjoy the ability to import any schema markup URL of any page or post on another website.
Most importantly the "FAQ's Schema Block" and "HowTo Block" can be created right inside your post/page editor.
Our Rank Math Review's Frequently Asked Questions section is the perfect live example of FAQ's Schema Block.
7. Advance Redirection Manager (Free)
Redirections are easy to set up with Rank Math. You can easily edit/modify/customize all your redirects here. In fact, you can also redirect your existing media (images) to any post your like.
Here are some redirection types, you can choose:
301 permanent move
302 temporary move
307 temporary redirects
410 content deleted
451 content unavailable etc
Most WordPress SEO plugins like Yoast SEO FREE version don't offer redirection features. This feature, RankMath rocks.
8. Robots.txt And .htaccess Editor (Free)
With Rank Math, you can easily create and edit your robots.txt and .htacess files right inside your WordPress dashboard.
You can access the robots.txt file under WordPress Dashboard » Rank Math » General Settings » Edit robots.txt as shown below:
And the location of .htacess file is WordPress Dashboard » Rank Math » General Settings » Edit .htacess as shown below:
Then, the plus point is, RankMath takes a backup automatically every time before saving any new changes.
9. Advance Import-Export (Free)
The Import-Export feature is used to transfer your RankMath SEO settings and configurations to different WordPress websites or blogs.
To visit the Import-export section, navigate to WordPress Menu » Rank Math » Status & Tools » Import & Export as shown below:
Note: If you're unable to find Import & Export tab, please confirm the Advanced Mode is activated.
I REALLY loved this tool. It saves me a lot of time, setting up Rank Math SEO on my other blog or website.
10. Client Management (Business Pack)
Do you want to use RankMath on clients' websites? I'd so, you have its Business Plan with Client Management dashboard.
With this tool, you get the ability to overview all the keywords of your clients is tracking. This is a useful feature to keep eye on your clients' SEO.
In other words, you can use this tool to make arrangements for the keyword tracking limit. This way, you can properly distribute resources among your clients or customers.
11. Content AI – Artificial Intelligence (Free + Paid)
One of the latest addition to Rank Math features list is Content AI. This is your personal writing assistant.
Rank Math Content AI tool system allows users to research what their content should look like based on a keyword and display actionable suggestions based on the target country provided.
You can get Rank Math Content AI credits in two ways:
When You sign up for Rank Math Pro plans, you get 15 – 600 FREE Content AI Credits (the number depends on the plan you choose).
Meanwhile, with Commercial Plans, you can get:
50 credits at $19 only
150 credits at $49 only
450 credits at $99 only
All plans have 1-year validity and work with any Rank Math license (even the free version too).
For more details, kindly check our article on Rank Math Content AI review.
12. Rank Math SEO Analyzer Tool (Free)
Similar to SEO Analysis, the SEO Analyzer by RankMath is a free website SEO checker tool that provides a clear, actionable, prioritised list of recommendations to help improve rankings.
All you have to enter is the website URL and it will perform an in-depth SEO analysis of your website. It will point out all of the SEO errors you need to fix in order to increase your rankings.
The main benefits you'll get with SEO Analyzer are:
Free SEO Reports – that lets you see what's going on with your website SEO.
Find SEO Issues – so you can follow up on steps to fix them right away.
Lastly, Rank Math SEO Analyzer tool helps you to get rid of all your site's SEO issues, even without asking for a penny.
13. 24x7x365 Days Of Support
Rank Math team gives their customers a couple of different channels through which they can get help with their setups.
If you ever need any help with this amazing plugin, you can go through the following links.
PS: You can also join Rank Math YouTube Channel, where the videos are well-narrated and easy to follow.
14. 30-Day Refund Policy
You may not like that Rank Math doesn't offer free trials on paid plans, but it does have 30-day money-back guarantee policy.
So, if you are a person, who wants to try RankMath Pro SEO plugin then you can signup here and use it for 1 month.
In my own experience, RankMath has all that could be in a WordPress SEO plugin. But, if doesn't work well for you, then you can ask for a refund within 30 days of the buying date.
15. Great Affiliate Program
The last feature in our Rank Math review article list is; the affiliate program.
If you are into a blogging niche and do affiliate marketing to make money from your blog, then you must have RankMath partner program.
With this program, you can earn a flat 30% affiliate on the total sale price. Here're the commission details:
Free account sign-up: $0.20
Premium plan purchase: $17 – $149
The affiliate team pay commissions every time the referral amount reaches $200. Sign up for Rank Math and start earning today.
Pros. And Cons. Of Rank Math SEO
This Rank Math SEO review is incomplete if I don't discuss its advantages (benefits) and disadvantages (limitations). So here are some of the notable pros & cons:
Pros.
Intuitive and relatively easy to use.
Many top features are included in the free plan.
Importable settings from other popular SEO plugins such as Yoast, AIOSEO etc.
Self-explanatory setup wizard.
Superb customer support.
Schema Markup & rich snippets support.
Great helping community via Facebook group.
Social media integration.
Complete control over Breadcrumbs customization & display.
Cons.
Content AI credits are too low for research.
Tech support is available through a ticketing system only.
Rank Math Pro Plans & Pricing
Here's the pricing breakdown for each Rank Math Pro plan:
As you can see, their pricing ranges from $49 – $499/year.
With each plan purchase, you get access to the same features no matter what you choose. The only differences are:
Content AI Credits,
Keyword tracking limits,
And the website usage limit.
If you want to use Rank Math Pro on your own WordPress projects, the Pro Plan is the right option for you. In this plan you get:
Unlimited personal websites usage
15 content AI credits (FREE)
Track up to 500 keywords
Powerful schema generator tool
24/7 days of customer support
If you're an agency owner or someone who builds sites for clients, then you probably go with the Business or Agency plans:
Under the Business Plan, you have:
Support for 100 client websites
Free 125 content AI Credits
Track 10,000 Keywords
Powerful schema generator
24/7 priority support
And, the Agency Plan offers:
Everything inside the Business plan, plus
Supports 500 client websites
600 content AI credits for free
Up to 50,000 keyword tracking
So yeah, RankMath Pro is significantly cheaper than most other WordPress SEO plugins.
Sign up for Rank Math Pro plugin today (your money is protected by 30-day refund policy). All renewals are at full price.
How To Install Rank Math SEO On Your WordPress Site?
Installing RankMath SEO plugin (free and paid) on a WordPress site is easy! Just follow the steps below to get both plugins installed.
Installing Rank Math Free On Your Website
First, login to your WordPress Admin Area or Dashboard.
Next, go to "Plugins » Add New" from the menu on the left.
In the "Search Plugins" bar, type: Rank Math.
You'll see the plugin appear. Click "Install", and then "Activate".
And, you're done.
Rank Math Pro Installation & Activation Process
First of all, login to your RankMath account. Under the My Account section, click on the green button saying, "Download".
Now, login to your WordPress Dashboard. Go to "Plugins » Add New" from the left menu.
Click Upload Plugin at the top, browse and select the zip file you downloaded earlier.
Click "Upload" and then "Activate".
In a few moments, Rank Math Pro addon will be activated on your site.
Next, you will be prompted to activate the license. Only after that, you can access all the premium features of RankMath Pro.
To do that, tap on "Rank Math" » "Help" and then click on, "Connect Now".
Follow the upcoming steps to activate your account with Rank Math SEO Pro (no license key is required).
Congratulations, you have successfully installed and activated Rank Math Pro version on your WordPress site.
Top 3 Alternatives To Rank Math SEO Plugin in
2023
Here's a rundown of the best RankMath competitors (based on 2023's best WordPress SEO plugin):
Yoast SEO
AIOSEO
SEOPress
Let's discuss this in detail.
1. Yoast SEO
No doubt, Yoast SEO was considered to be the best SEO plugin for a long time. Even I had done SEO of my first WordPress blog with it, back in 2016.
Currently, when I am writing this Rank Math review article, Yoast SEO hit over 5 million installations and over 25,000+ five stars on WordPress plugins page.
Since I had experience with both WordPress SEO plugins, I still vote for RankMath as it has tons of amazing features (extra benefits) that users can't enjoy without investing in Yoast Premium, such as:
Multi website usage
Multiple focus keywords
Integration with Google services
News SEO
Video SEO
Multi-location Local Seo
And so on…
In my opinion, at this stage, Yoast SEO may be the second-best SEO plugin.
Another factor to consider is PRICE. Rank Math Pro costs $59 for unlimited websites. Yoast has a Premium plan at $99 for a single WordPress website, which is costly.
2. AIOSEO
AIOSEO stands for All in One SEO – an original WordPress SEO plugin started in 2007. It helps you improve your website SEO (search engine optimization).
Over 3 million smart WordPress website owners use AIOSEO plugin to optimize their websites for higher search rankings on Google and other search engines.
These stats convey us to consider this plugin as a serious competitor not only to RankMath but also to Yoast SEO too.
AIOSEO have powerful SEO features that resolve specific SEO issues straight out of the box. This includes:
TruSEO page analysis tool
Smart Schema markup
Advanced SEO modules
WooCommerce SEO for online stores
SEO optimizer inside your WordPress editor
Social media integration
A Schema plugin to get your content to rank in the Rich Snippets
Additionally, All in One SEO offers free and premium plans. For a hobby site, the free version will work just fine.
But, if you need advanced features, like local SEO, and schema makeup, paid plans are highly recommended as below:
Basic: $49.50 per year for 1 website
Plus: $99.50 per year for up to 3 websites
Pro: $199.50 per year for up to 10 websites
All AIOSEO paid plans come with a 14-day refund policy.
3. SEOPress
The next name in Rank Math alternative plugins list is SEOPress.
SEOPress was started in 2017 and today has over 200,000 installations and around 1000 5-star ratings.
No wonder it's an all-in-one SEO plugin like our recent Rank Math competitors. You can optimize your website SEO by content analysis with unlimited target keywords.
Plus, it contains amazing features like:
Supports Custom Post Types
WooCommerce Integration
Google Local Business
Google XML Video Sitemap
Google Structured Data Types
And a lot…
Coming to the pricing options; there is a SEOPress free version and a premium version. SEOPress PRO costs $49 per year for usage on unlimited number of websites.
The price you pay at purchase remains the same on renewals even if the actual cost increase in future. This is a positive side of SEOPress Pro.
FAQs – Frequently Asked Questions
If you're considering Rank Math as your next WordPress SEO plugin, you should consider checking this section which provides answers to some of the most commonly asked questions.
Is Rank Math free?
Yes, Rank Math is free. You can download it from the WordPress repository as an open source. However, there is also a premium version available with some extra features and SEO benefits.
Will Rank Math slow down my website?
Yoast SEO vs Rank Math: Which WordPress SEO plugin is better?
I vote for RankMath. It is a far better plugin from MyThemeShop that offers almost every feature that you need with on-page SEO.
Additionally, the Pro version has even more incredible features schema markup, rich snippets, 404 monitors etc. that you can't find anywhere inside Yoast SEO as well as AIOSEO and SEO Press free versions.
Can I use Yoast SEO and Rank Math together?
How much does Rank Math SEO cost?
Rank Math is 100% free. There is also a paid version of this plugin that cost $59 to $499 per year.
Is Investing in Rank Math Pro SEO worth it?
Well, it depends on what you're working for. For hobby bloggers, the free version would be more than enough to meet SEO needs.
If you are a professional blogger and want to run a WordPress blog like WP Blogging 101, then opting for the pro plan might prove beneficial. Sign Up For RankMath Pro At $59/year Only!
Probably, RankMath Pro won't be able to replace a service like SEMRush, when it comes to domain audit, keyword research, competitor research etc.
But it is still worth your money, especially if you're just looking for a WordPress SEO plugin that helps you to optimize your posts/pages.
Can I use Rank Math on a website built on wordpress.com?
What is a good SEO score Rank Math?
A good SEO scoring range between 80 and 100. Meanwhile, you can follow up on this article to score 100/100 with RankMath.
Can I use Pro plugin without installing Rank Math free plugin?
No. The free version must be installed.
How to migrate to Rank Math?
Once you install the plugin, it detects your pre-installed SEO plugin automatically and asks you to import all your SEO settings with one click of a button. It's that easy.
Can I try Rank Math premium before purchasing?
Yes, it's possible. You can test how Rank Math Pro works in real-time on their demo website.
Can I use Rank Math Pro single license on more than one website?
Yes. You are allowed to use the Rank Math PRO on unlimited personal websites.
Can I use PRO license on client websites?
The PRO plan supports personal websites that you own. To use it on client websites, you need to sign up for either Business or Agency plan.
Do I need a license key?
There's no license key is required. You will be asked to activate your license by connecting your website to rankmath.com account. You can do so by logging in to your account » and tapping on the "Connect" button.
What payment methods are available?
Rank Math accepts payments via PayPal, Credit & Debit cards, & Amazon Pay.
Can I upgrade/downgrade paid plans later?
Yes, you can upgrade/downgrade to a different plan anytime.
What are the renewal fees?
The renewal cost depends on current pricing values. Your renewal payment account will be debited every year automatically. Altogether, you can cancel your subscription anytime.
What type of customer support I can expect?
If you ever need any help regarding Rank Math plugin, you get support through the Detailed Documentation, Knowledge Base Articles, Support Forum and Facebook Group.
Is there any money-back guarantee available?
Yes. They offer a 30-day no-questions-asked refund policy. If you don't like the paid version, just drop an email at support@rankmath.com and get your money back – no questions asked.
Which are some best alternatives to Rank Math SEO plugin?
The Rank Math is an awesome WordPress SEO plugin in the market. However, there are some other names like Yoast SEO, Squirrely, SEOPress and AIOSEO that are still behind in the competition.
Whether Or Not I Recommend it? My Overall Review On Rank Math
Lastly, the question is: if I do recommend Rank Math SEO or not.
The answer is YES.
Personally, I've been paying for Rank Math Pro for almost 2 years now and found it worth trying for the best WordPress SEO.
There you have it: my comprehensive review of Rank Math WordPress SEO plugin.
Now I'd like to turn things over to you:
Have you used RankMath before? If so, what are your overall impressions? Good? Bad? Somewhere in between?
Let me know your opinion in the comments section below.
FTC Disclosure: WP Blogging 101 content is reader-supported. This means if you click on some of our links and make a purchase, we may earn a commission at no extra cost to you – Read Affiliate Disclosure