My primary motive behind writing an article on Thrive Architect Examples is to inspire you how powerful this plugin is.
So, if you are thinking Thrive Architect is the right page builder that you need on your WordPress blog or not, then viewing our website examples resources helps you to make the right decision.
Here's is why.
Taking a look at our hand-picked 10+ best Thrive Architect examples show you why most of the bloggers and affiliate marketers use this plugin and why you should too if you are in the same niche.
In my quick review, Thrive Architect (also known by Thrive Content Builder) is one of the best and most recommended landing page builders that turns your ideas into beautiful looking pages.
Basically, saying Thrive Architect is not the only visual editor for WordPress, but it's the one that laser-focused on business websites, built by DIY entrepreneurs, wouldn't be wrong.
Note: If you have any website using this plugin, then please submit your site here to help us building this Thrive Architect examples list more useful for others.
Here at WP Blogging 101, I personally use this plugin along with GeneratePress theme + Elementor Pro. Even this article has been written using Thrive Content Builder.
Moreover, after reviewing WP Blogging 101 exclusive list of websites using Thrive Architect will inspire you to try this plugin on your WordPress blog too.
Before I show you the real Thrive Architect examples, let's take a look at its introduction.
Thrive Architect Review: A quick introduction
Thrive Architect is an ultimate solution for creating beautiful, engaging, and visually impressive content layouts on WordPress that has never been easier with any other page builder e.g. Elementor.
With 300+ beautifully designed & 100% conversion focused landing page templates, it becomes so easy to design professional-looking sales pages, opt-in pages, webinar pages and more.
As a professional blogger, I personally thank Thrive department for making this conversion-focused drag and drop landing page builder for WordPress bloggers.
If you are in affiliate marketing or running your own digital marketing agency, then it's my personal opinion that you must take a try to this tool for presenting your website in an elegant way.
Moreover, our Thrive Architect examples will help you to understand why I highly recommend this plugin in 2023 for WordPress blogging in 2023.
Thrive Architect benefits (features)
Here's a detailed list of Thrive Content Builder most impressive benefits as well as features:
Huge Discount: Generally, the plugin costs $67 per website. But if you go for 5 License Pack, it will charge $97 only ($19.5 per site). It means up to 71% discount on 5 License subscription.
Pre-designed Templates: You will get a mega list of 300+ beautiful designed templates library, with a one-click import option.
Flexibility: It gives you full flexibility to create landing pages for any niche. Either it's coupon pages or sales funnels.
Drap & Drop System: A simple and easy to use drag and drop one-page website builder that highly recommended for small businesses.
Responsiveness: Tons of pre-built features for creating pages that fit individually in desktop, tablet and mobiles.
Live Editing: With the help of this plugin, you can enjoy the live editing experience even without saving the project.
Attractive Buttons: Easily add a call to action buttons with 10+ attractive pre-built designs.
10+ Real Thrive Architect examples for 2023
Note: At the publish date on this best Thrive Architect examples, I have personally scanned each site via scanwp.net. If you believe there's a mistake, kindly help me to fix it by commenting below.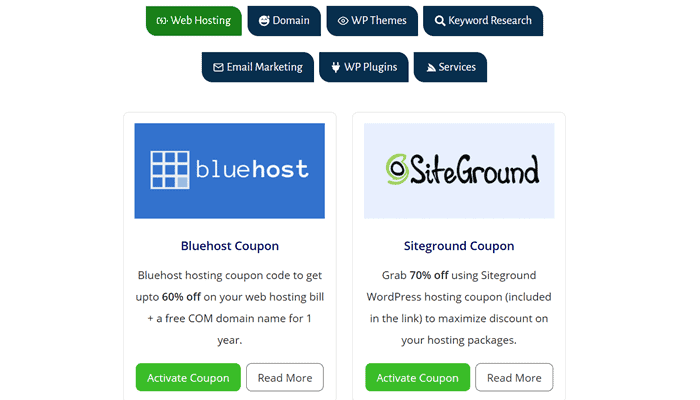 06
Funnel Expert
13
BloggingNova
You have just crossed from 2023's best Thrive Architect website examples.
Now, if you are thinking of taking a try on Thrive Content Builder, use this link to buy the plugin (my recommendation is to go for 5 License Pack as it offers a 71% instant discount compared to 1 website license).
How to buy Thrive Architect WordPress plugin?
Follow the respective steps mentioned below to purchase Thrive Themes Membership.
Step 1: Click on this special link to visit the pricing page and tap on the YES, I WANT TO BUILD BETTER CONTENT & LANDING PAGES button.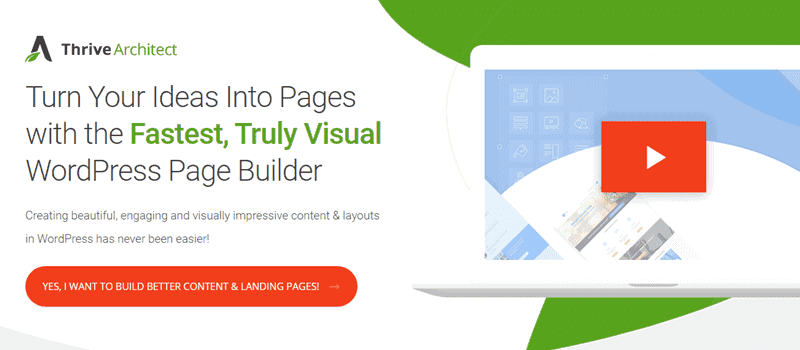 Step 2: Choose your membership plan by clicking on the Add To Cart button.
Thrive Membership is the best subscription if you want to get access to all Thrive plugin (upcoming too).
5 License Pack is the best choice if you want to install Thrive Architect on WordPress up to 5 sites. It will cost you $97 for life. Independently, per site charges approx $20 only.
1 License Pack is suitable if you are sure to install the plugin on a single WordPress website only. This subscription has one time cost $69 only.
For more details about Thrive Architect pricing and plans, kindly take a look at this article.
Step 3: Enter your personal details such as Name, Email, Password etc. and complete the purchase by making the bill payment via PayPal account.
After the payment is sent, your account will be ready in moments. Now you need to download and install Thrive Architect on your WordPress blog. For more details, you have considered reading this installation guide.
Final thoughts on Thrive Architect examples & websites library
I have done my job showing you the real WordPress websites using Thrive Content Builder in 2023.
Now it's your turn, whether you still want to write articles with those old boring post-editors or to go to show your content ideas in a beautiful format using Thrive Content Builder.
If said yes, claim Thrive Architect discount code (up to 71% OFF) when you end up buying 5 websites license pack.
Bonus: If you are already using this plugin, please don't hesitate to submit your website here free. I will review your submission and add it to the above Thrive Architect examples library.
Let me know if you have any questions regarding this article. I will love to assist you with further queries.
FTC Disclosure: WP Blogging 101 content is reader-supported. This means if you click on some of our links and make a purchase, we may earn a commission at no extra cost to you – Read Affiliate Disclosure
Comments have been closed!