Thrive Suite Review
In this review, I found Thrive Themes Membership is a complete toolbox for creating WordPress websites, sales funnels, email lists, scarcity campaigns, and online courses in one place – Starting from $99/Qtly.
Deal: $97 instant discount on Thrive Suite yearly plan
Additional Benefits: Instant access to Thrive plugins, instant access to Thrive Theme Builder, unlimited updates (1 year), use on up to 5 websites etc.
Support: 24/7 days unlimited support benefits
Welcome to my super detailed article on Thrive Suite Review.
In this post, you'll see:
What is Thrive Suite
What's included in Thrive Suite
Thrive Suite features, pros & cons
Thrive Suite discount and coupon codes
Whether Thrive Suite is worth it or not
A whole lot more
Let's dive into the review.
In a hurry? Click here to visit Thrive Themes membership page.
Thrive Suite Review
2023
First, let's take a look at the company itself.
What is Thrive Themes?
Thrive Themes was founded by Shane Melaugh and Paul McCarthy in 2013.
They aim to provide an 'all-in-one' online business toolbox that lets you build a website and convert visitors into subscribers and customers.
In short, Thrive Themes (explore all features and benefits) is your personal business toolbox that fulfils the requirements you need to create a WordPress website.
No matter, if you are building a:
Digital marketing agency
E-commerce website
Or WooCommerce store
In order to take your knowledge to the next level, you should definitely take benefit of my review on Thrive Themes.
What is Thrive Suite?
The Thrive Suite is a membership program that offers you all the TOOLS and TRAINING you need to start and & grow your online business.
👍 Rating
5 out of 5 ⭐⭐⭐⭐⭐
✅ Type
Conversion-focused WordPress products
💰 Regular Price
From $99/qtly (flat $97 Thrive Suite discount when paid yearly)
⏰ Free Trial
Yes! 14-day free trial available for new customers
🛍️ Products
Thrive Theme Builder
Thrive Architect
Thrive Leads
Thrive Optimize
Thrive Comments
Thrive Ovation
Thrive Apprentice
Thrive Quiz Builder
Thrive Ultimatum
Thrive Automator
📖 Features
All in one business toolbox
Conversion friendly themes
Mobile responsive
Fast loading times
🆚 Alternatives
Elegant Themes
GeneratePress
Kadence Theme
WP Astra
All Alternatives
In 2023, Thrive Suite include:
Thrive Membership Dashboard
Thrive Product Manager
Thrive Theme Builder (plus companion themes)
Thrive Plugins
Thrive Dashboard
Let's take an in-depth look at each one:
Thrive Membership Dashboard
The Thrive Dashboard is your personal account. In this area, you can see your account details and membership reports.
On the homepage, there are instructions on how to install the products on your WordPress site with the Thrive Product Manager:
On the right menu, you can see:
Members Home is the main area (homepage) of your Thrive Themes account.
Your Account and Installation displays the details of your Thrive Themes account, billing reports, and installed products.
Getting Started is a section that includes a welcome video, which covers basics on technical issues, website setup, marketing etc.
Thrive University was launched back in December 2016. It is a set of courses, guides, and training material in a straightforward interface.
Product Tutorials is a resource to find the best Thrive Themes tutorials on each of their tools.
Knowledge Base is another help section to improve your knowledge of Thrive tools.
Theme Demo Website showcases the demo of Thrive Theme Builder + Shapeshift.
Thrive Products Change Log lists A to Z log details of Thrive products like when they were built and what improvements are going on.
Forum Archive is a forum to take questioning benefits from their customer support team about Thrive Themes.
Thrive Product Manager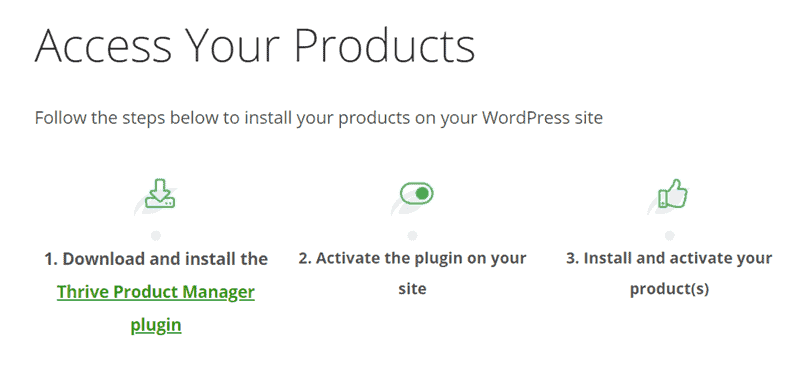 The Thrive Product Manager is a WordPress plugin that lets you install and access Thrive products within your WordPress dashboard.
Here are the steps you need to take to get started:
Login to your Thrive Themes account.
Go to Membership Dashboard and click on Thrive Product Manager Plugin link.
Sign in to your WordPress admin area.
Go to Plugins >> Add New >> and upload the plugin you downloaded.
Once you have the plugin activated on your website, click on the "Log in to my account" button and connect the license to your site.
With this step completed, you can start installing the needed Thrive products you want on your website.
Thrive Theme Builder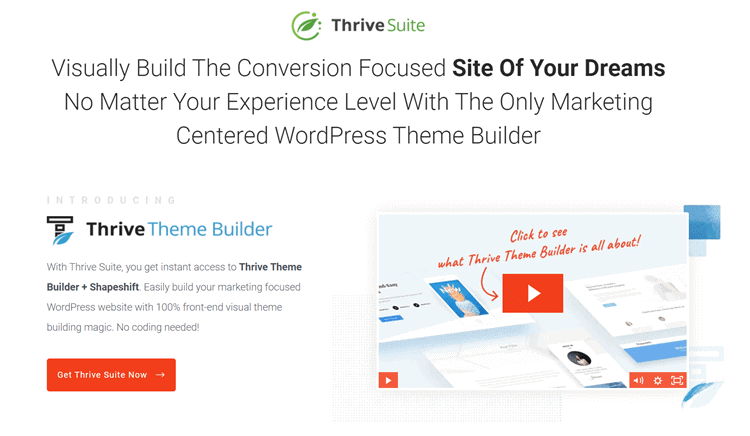 Thrive Theme Builder is just ONE of the tools you get access to in Thrive Suite.
It will help you to build a WordPress website you've always dreamed of without needing a designer or developer.
Thrive Plugins
With Thrive Suite license, you can instantly access all conversion-focused WordPress plugins that all work seamlessly together to help you start and grow your online business.
Here's the list:
Thrive Architect is a VERY exciting WordPress page builder. This is a genuinely visual & WordPress theme compatible page builder that turns your ideas into beautiful websites, content & layouts.
Thrive Leads has made email marketing easy. With this tool, you can skyrocket your email list in a targeted time.
Thrive Quiz Builder helps you easily create beautiful and complex quizzes that grab your visitor's attention even without knowing how to code.
Thrive Apprentice gives you the flexibility to create video courses, text courses, and even simple one-page guides in minutes.
Thrive Comments is a conversion-focused comments plugin designed to boost engagement.
Thrive Ultimatum is another well-thought-out and high-quality plugin to get more sales with timed offers.
Thrive Ovation is the all-in-one solution to manage and edit testimonials on your WordPress website.
Thrive Optimize is a fully-fledged A/B split-testing tool for landing pages designed using the Thrive Architect plugin.
Thrive Dashboard
Apart from Thrive Product Manager dashboard, you can also see a new Menu inside your WordPress dashboard left menu widget: Thrive Dashboard.
The Thrive Dashboard includes:
Your Installed Products
In this section, you can see which Thrive products you have installed on the same website.
Thrive Features
The Thrive Features has a list of the following sections:
User Access Manager is used to set access permissions.
API Connections is used to connect Thrive Leads to your email marketing software, reCaptcha etc.
Retina Icons is used to add and edit scalable icons with the font icon manager.
General Settings section is for shared settings between multiple themes and plugins, e.g. Facebook App ID, Facebook Admins.
Analytics and Scripts is an element that allows you to add and edit custom scripts on your website e.g. Google Analytics tracking code.
Smart Site defines variables and values sitewide to use when building content e.g. company info.
Global Elements is for creating and managing global templates, symbols, headers, footers etc.
Notification Manager is an option to receive notifications when certain events occur on your site; e.g. an A/B Test ends in Thrive Headline Optimizer.
This is what you get when you own Thrive Suite license.
Pros and Cons Of Thrive Suite
Let's check out what are the pros and cons of buying Thrive Suite.
Pros
Affordable – starting from $99/qtly only
Includes everything you need on your website
Excellent support service
Comprehensive knowledge base
In-depth product video tutorials
Cons
No lifetime license option
Well optimized, yet heavily coded
Overpriced for beginners
Thrive Suite Pricing
So, you have almost completed reading Thrive Suite review. Now it's time to see how much it cost.
Thrive Suite costs $299/year when you pay annually (recommended) and $99/quarterly (3 months payment).
This couldn't be more simple ?.
In this Thrive Suite review, I personally recommend you choose a yearly license.
Click here to lock lowest Thrive Suite pricing – Once you're locked in, the renewal cost will remain the same for you until you don't let it expire.
Thrive Themes Memdership Discount
2023
Unfortunately, Thrive Themes doesn't offer discount coupons or promotional deals. This is one main point that I want to clear in this Thrive Suite review.
If you are looking so, I am sure you may see other sites offering fake tutorials like:
Thrive Themes Membership coupon
Thrive Themes coupon code
Thrive Themes coupons
Thrive Membership discount code
Thrive Suite promo codes
Thrive Themes lifetime deal
These are all unofficial coupon sites, which fool users into gaining organic traffic. You should keep away from these fake sites.
The only way to save money on Thrive Suite is by subscribing with an Annual Plan instead of Quarterly Membership.
This way, you can save a flat $97 every year, and this is the only single method to claim Thrive Themes discount.
FAQs – Frequently Asked Questions
Let's see what people are searching about Thrive Themes Membership or Thrive Suite in 2023.
What is Thrive Suite, and what's inside?
The Thrive Suite is a set of all themes and plugins powered by Thrive Themes. It offers excellent value for money.
In this license package, you get unlimited access (5 sites usage) to:
Thrive Theme Builder
Thrive Architect
Thrive Leads
Thrive Comments
Thrive Optimize
Thrive Ovation
Thrive Ultimatum
Thrive Quiz Builder
Thrive Apprentice
How much does Thrive Suite cost?
Thrive Suite has two types of subscription plans:
Annual Subscription costs $299/year for up to 5 sites.
Quarterly Subscription costs $99 every three months for up to 5 sites.
Thrive Agency Membership vs. Thrive Suite – what's the difference?
There are two major differences:
Thrive Agency Membership ($49/mo) lets you use tools up to 50 sites, either your or your clients.
Thrive Suite ($299/yr) lets you use the tools for up to 5 sites only on your own sites.
Can I upgrade my Thrive Suite Plan to Agency Membership?
Yes, you can upgrade anytime. When you upgrade to Thrive Agency Membership, you get immediate access to all features that come inside the license.
Can I use Thrive Themes on clients' websites?
Yes, you can use Thrive Themes on clients' websites (up to 50 sites) under Agency Membership.
Can I use Thrive Themes on non WordPress websites?
No! Thrive products are WordPress plugins and themes. That's why it only works on WordPress websites.
Does Thrive Themes offer free trial?
No! Thrive has no free trial, but they do have a 30 days refund policy that you can use as a free trial.
Just in case you're not satisfied, ask for a refund and get 100% of your money.
How to cancel Thrive Themes membership?
Login to your Thrive dashboard and contact support for account cancellation. Or you can follow my step by step guide on how to cancel Thrive Suite.
Is Thrive Suite discount available?
Thrive Themes is the best investment in 2023, and Thrive Suite pricing is rare and values every penny spent on it.
What about Thrive Theme Black Friday Cyber Monday deals?
Thrive Themes neither have Black Friday deals nor Cyber Monday offers.
Who is the best alternative to Thrive Themes?
Obviously, Thrive Themes is the best design toolkit for WordPress blogging. But if it proves a little complicated for your business, then you can try:
Elegant Themes (best alternative)
Elementor Pro (#1 page builder)
Beaver Builder (popular page builder)
My Overall Review on Thrive Suite
2023
There you have it, Thrive Suite review for 2023 – 2024.
So, do I recommend Thrive Suite?
YES, I DO.
Thrive Themes is a powerful all-in-one business toolbox in the market for long years.
I personally recommend, Thrive Suite annual membership, which gives up to a $97 discount per year benefit for a lifetime.
In the last, I would like to know:
Have you used Thrive products before? If so, how was your experience?
Good
Bad
Or something between?
Please consider leaving a comment below. Also, don't forget to spread your thoughts on my Thrive Suite review.
Thrive Suite Review
In this review, I found Thrive Themes Membership is a complete toolbox for creating WordPress websites, sales funnels, email lists, scarcity campaigns, and online courses in one place - starting from $99/Qtly.
Product Brand: Thrive Suite
Product Currency: USD
Product Price: 99
Product In-Stock: InStock
FTC Disclosure: WP Blogging 101 content is reader-supported. This means if you click on some of our links and make a purchase, we may earn a commission at no extra cost to you – Read Affiliate Disclosure