Thinking to start a fashion blog but don't know, where to begin?
Don't worry. Our Fashion Blogging 101 guide is exclusively for you to learn:
Who is a fashion blogger?
Why should you start a fashion blog in

2023

?
Requirements for starting own blog on fashion and clothing
How to create a fashion blog from scratch?
How to get paid from your style blog fast?
When I was learning how to create a blog back in 2016, it took me 3 days to collect full information online.
That's why, recently, I have published an article on WordPress Blogging 101. It represents the step-by-step guide on picking up a blogging niche >> choosing a web hosting provider like Bluehost >> setting up the website design >> making money online.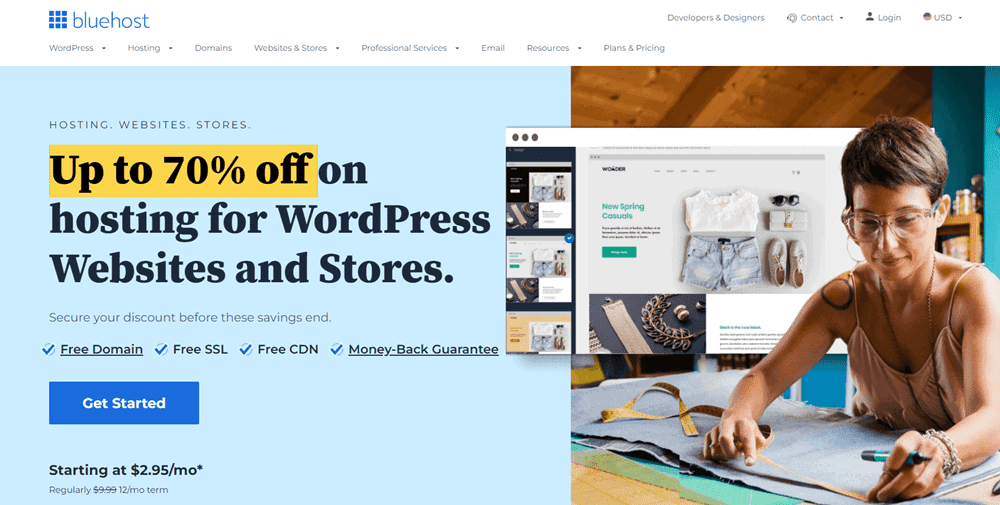 Why Bluehost?
850,000 people have set up a self-hosted WordPress blog with BlueHost. That makes sense; there is something great with Bluehost services. And I am sure; you are as smart as at least some of those people who pick the right web host for your blog.
Bluehost Hosting Summary
| | |
| --- | --- |
| 👍 Rating | 5.0 ⭐⭐⭐⭐⭐ |
| ✅ Type | WordPress.org + Bluehost |
| 💰 Regular Price | Starts from $9.99 per month for a single site |
| 🏷️ Offer Price | $2.95/month (when billed for 3 years of hosting) |
| 🛍️ Discount | 🏷️🔥🔥 Up to 70% OFF |
| ✂️ Coupon Code | Auto-applied on the checkout page |
| 📖 Features | SSD 50 GB, free SSL certificates, free domain name, website builder |
| 🆚 Alternatives | Hostinger India, Hostgator India, YouStable |
| ⏰ Free Trial | No! 30 days money-back guarantee is available |
Visit Bluehost.com
For more references, you can check these Bluehost reviews given by real users and experts.
Do you know, why I have mentioned WordPress Blogging 101 article here?
Because creating a fashion blog is almost similar to starting a WordPress site. Only, the difficult part is to make it successful and get paid in very little time.
So, I have written this fashion blogging 101 guide to help you become a successful fashion blogger in the first attempt.
Success in the first attempt?
That seems like a dream.
Right?
But it works — all you have to follow the steps respectively mentioned in this article.
So, are you ready to become a pro fashion blogger in 2023?
If said yes, let's get started with our fashion blogging 101 guides.
Who is a fashion blogger?
A fashion blogger is a person who writes articles about fashion and style like videos of fashion shows, outfits etc. This person could be a boy, girl, man or woman. A fashion blogger is some kind of stylist, journalist and model.
In simple words, a blogger, who writes about something related to the fashion industry, i.e. clothing, makeups etc., is called fashion blogger.
Why should you start a fashion blog in
2023

?

In short, if you are passionate about fashion and style, then you must have visited some websites promoting high-end branded products on websites.

Even on Facebook and Instagram, you may encounter with limit-less top fashion bloggers and influencers.

These social networks are the most significant way to promote your brand, but these networks have their own algorithms, which spread your uploads to limited people only.

To get rid of this shit limit, starting a fashion blog is the best way to connect with unlimited people who are interested in clothing, makeup and style.

However, you may be surprised by knowing the dozens of ways to make money from a fashion blog. That is not possible for fashion influencers to do on Instagram, Facebook or any other social networking site.
Requirements for starting a fashion blog in
2023
There are four things you need to create a WordPress blog:
A basic computer or laptop for blogging having an i3 processor or above (bigger processor means more speed and less time consumption)
A domain name idea (this will be the name of your blog, i.e. wpblogging101.com)
A web hosting service like Bluehost (this is where your website live on the internet)
Your 100% attention up to the next 30 minutes (this is the main thing to built a professional-looking style blog on WordPress)
Remember, by following this fashion blogging 101 guide; there is no need to be skilled in technical knowledge or coding.
That means, even if you are a simple computer or laptop user who understand basic English, you are enough good to become a professional fashion blogger following this guide.
Fashion Blogging 101 – How to start a fashion blog & get paid in
2023

?

The very first step is, you need to choose the right platform to build your own fashion blog.

You have plenty of choices to choose a blogging platform. Some of the themes are free, and others paid. Each one of them has its own pros and cons.

For example, if you start a blog on a platform like Blogger, WordPress.com, Tumblr, Weebly etc. These are called free blogs, which contain a lot of limitations and features.

On the other side, if you want to create a professional-looking website like wpblogging101.com. Then, this is where wordpress.org comes in. It is a powerful website builder, that owns 52% of the total websites on the Internet.
Choosing wordpress.org CMS to build your fashion blog provides 100% ownership and full control. So, in this fashion blogging 101 tutorial, I will show you how to start a fashion blog on WordPress.
As we discussed earlier, you will need a domain name and web hosting for building a WordPress site. Having said before, I will recommend Bluehost for buying a domain (free) and web hosting.
Here are the main reasons to choose Bluehost for building your first fashion blog:
You will get a FREE domain name with hosting costs $15.95 on Bluehost.
Up to 60% discount only for WP Blogging 101 readers
Bluehost is WordPress's recommended web host
You can get started for as low as $2.75/month (cheaper compared to others)
Free SSL certificates are included in all web hosting plans
30-day money back guarantee
Let's see how to buy web hosting + domain from Bluehost.
First, you need to go to the Bluehost website and click on the green button saying Get Started.
Choose a hosting plan (Bluehost Choice Plus plan is highly recommended).
Enter the Domain Name you want to register and tap on the Next button.
Add your Account Information, select Package Information, choose Package Extras, add Credit Card details, accept Terms, and in the last step, click on the Submit button to complete the purchase.

If everything is done right, you will receive an email about hosting sign up confirmation.
Once you have the domain and hosting, it's time to start installing WordPress on Bluehost hosting.
There are two ways "Marketplace" and "My Sites" to install WordPress. You can pick the one easier for yourself.
Installing WordPress on Bluehost with Marketplace (Legacy)
Log into your Bluehost cPanel account.
Find the website section and select Install WordPress.
Click the Install button to start installing the application.
Choose a domain name to install it to and keep the subfolder section empty.
Set up your username and password for the new WordPress installation by clicking on Advanced Options.
Accept Terms and Licence Agreements.
Tap on the Install button.
It will take a few seconds to complete the installation.
Installing WordPress on Bluehost hosting with My Sites (Bluerock)
1Log in to your Bluehost hosting account.
2Open the My Sites tab from the left side menu options.
3Now, click on the Create Site button.
4Enter your Site Name and Site Tagline.
5Click on the Next button.
6Select the preferred domain name from the drop-down list.
7Choose the directory this should be installed to, and click Next.
After clicking on the Next button, the application will be installed on Bluehost hosting.
Congratulations, we have almost started a style blog reading this fashion blogging 101 guide. Now login to your fashion blog by visiting domainname.com/wp-admin(don't forget to replace your domainname with your domain name).
7 essential settings after the WordPress installation is completed
Update your password by visiting Users >> Your Profile and set a secure password then save settings.
Change Site Title, Tagline and Timezone following Settings >> General Settings.
Set up an SEO-friendly permalink structure by visiting Settings >> Permalinks >> Post Name and save settings.
Remove dummy content (posts) visiting Posts >> All Posts and delete the post.
Remove dummy pages visiting Pages >> All Pages and delete the post.
Deactivate annoying Pingbacks notifications through Settings >> Discussion >> Default Post Setting >> Uncheck Attempt to notify any blogs linked to the post and Allow link notifications from other blogs (pingbacks and trackbacks) on new posts.
Start installing must-have plugins on your style blog
Choosing the right plugin is an essential part of becoming a successful fashion influencer in 2023.
There are thousands of free and paid plugins available depending on specific needs. But, I have rounded up a list of six significant plugins that you need to install on your clothing blog from day one.
Before you start installing the below list, I suggest you delete pre-installed plugins by visiting Plugins >> All Plugins >> Select All >> Deactivate >> Delete.
Rank Math SEO is for doing on-page SEO, creating sitemaps, robot.txt & .htaccess file management plugin.
Akismet is a potent plugin to block spam comments automatically.
W3 Total Caches improves your speed by auto-optimizing your web pages.
Wordfence Security adds a security layer around your WordPress website.
Contact Form 7 allows you to add a contact form inside the pages and posts without writing a single line of code.
Smush it enables auto image resizing and lazy load on WordPress sites.
Styling your clothing blog – fashion blogging 101
Now it's time to pick a fashion template for the website. Hopefully, WordPress owns over 5000 free and premium themes.
And a blog about fashion or style cannot just go with a simple theme because a clothing blog should be represented as a pro fashion blogger like other influences in your industry.
You can find free WordPress themes by tapping on Appearance >> Themes >> Add New button.
To be straightforward, if you have a budget, it's always the right decision to purchase a premium WordPress theme.
But if not, just install a free theme. Picking up the free theme, I recommend Kadence Theme (review). GeneratePress is a FREEMIUM multi-purpose WordPress theme. The core version of this theme is free.
Another side, the paid version is technically a plugin named GP Premium. GP Premium is an additional add-on for the GeneratePress theme, which adds more functionality (under customizer) to design your site, the way you think.
In case, GeneratePress doesn't match your requirements then below are some other most popular WordPress themes to choose from.
For more customization and designing experiments with your fashion blog, I suggest buying Thrive Architect and Elementor Pro.
Even, I have created this fashion blogging 101 tutorial using Thrive Architect, and the post layouts & header footer is built with Elementor Pro plugin.
Write must have pages
Once you have done everything above, its time to add important pages as listed below:
About Us represents who are you and what about is your blog – see my page example
Contact Us is for general questions and suggestions – see my page example
Privacy Policy page shows readers, what you are doing with their personal information – see my page example
Disclaimer page is about to teach, how you earn from your style blog – see my FTC disclosure example
Start writing blog posts
Writing a great blog is an essential part of blogging. Because if you are not a good writer or make grammar mistakes, then there is no chance, the reader will like to read your articles.
Don't worry, nobody was born a great writer, but worked for it. And you can become better than the best writer by:
Reading other blogs in your industry
Watching movies in your blog language
Talking to other people
Making notes on ruff copy or in notepad
All of us make silly mistakes while writing. But using a popular tool like Grammarly, you can fix these mistakes before publishing the article.
Grammarly is a FREEMIUM grammar fixing tool. You can get started with Grammarly Chrome Extension. Whenever any error is inside your content, Grammarly will highlight it.
I use Grammarly Premium to make my content worthy for readers and customers. If you have a good budge, don't hesitate to invest some bucks in Grammarly Premium. I bet this tool value your money.
To create your first post, go to Posts >> Add New. Once the WordPress post editor is loaded, you will see a screen like the below image:
As you can see in the above image:
Add Title is for your blog post title
Start Writing box is for writing your content
Tag is for choosing or creating a new tag for the post
Categories for selecting or creating a new category for the post
Featured Image is for adding a featured image to display on posts pages
Publish button is the final hit to publish the article
Once the post is published, it's time to share the content with the world. For this, you can spread your blog post on social network sites like Facebook, Twitter, LinkedIn etc.
My recommendation is always to follow the 80/20 rule. This means, invest 20% time in writing content and the rest for its promotion.
Additionally, you can add social sharing buttons to your posts and pages. To do this, I recommend trying Social Snap or Social Warfare plugin. On WP Blogging 101, I use Social Snap. Before buying, don't forget to read this guide to claim Social Snap Plus 20% discount.
How to get paid from your style blog fast?
Till now, we have almost done with our fashion blogging 101 guide (for 2023). Now, it's time to start monetization your fashion blog for getting paid.
Even, there are 100+ ways to make money by starting blogging at home. But when it comes to earning from a style website, you can pick up the following practical methods:
1

|

Affiliate marketing
Affiliate marketing is one of the most natural ways to make money from fashion blogging. The positive side of affiliate marketing is that you can start it the day one free of cost.
All you have to pick the right product that is relevant to your niche and sign up for their partner program and start promoting by writing product reviews, comparison articles and sales offers.
The biggest affiliate partner in 2023 is Amazon affiliates. They have a variety of fashion, clothing and accessories to write about on your style blog.
When someone will click on your affiliate link and purchase the product, you will get a referral commission.
2

|

Google Adsense
This is the most common money-making idea from blogging. Most of the big websites on the internet use Google Adsense to earn passive income online.
Google Adsense allows you to display ads on your website. While reading your articles, if someone clicks on an ad, you earn money. This amount may be less than $1 or more than $1000 per click.
The CPC (click per cost) depends on the bid rate of the keyword added to your content. To make bigger money from Adsense, you need to do proper keyword research.
3

|

Brand promotion
Brand promotion is yet a great way to get paid from a model website or fashion blog — all you have to find the relevant brands related to style & clothing and reach out to them.
The easiest trick to find which companies are doing blog promotions is by keeping eye on top fashion bloggers' references.
Need help in starting a fashion blog
2023

?

I hope this fashion blogging 101 guide has helped you learn, "how to create a style blog on WordPress in 2023 and make money from it?"

If you need more help, please don't hesitate to contact me via the comments box. I would love to assist you with further queries.
FTC Disclosure: WP Blogging 101 content is reader-supported. This means if you click on some of our links and make a purchase, we may earn a commission at no extra cost to you – Read Affiliate Disclosure