I have analyzed the 5 best HostGator Reseller Hosting Alternatives for your online hosting resale business 2023.
If you are looking for a better alternative to HostGator reseller hosting, this article is only for you.
Because here I'll share:
5 best reseller hosting services that you can use instead of HostGator
How each of them compares to HostGator reseller hosting
My personal experience with each web hosting
Lots more
The Best Part?
Each reseller hosting company on this list is providing GREAT services right now.
Below is a quick summary of our 5 reseller hostings:
Before I expand the list of HostGator reseller alternatives:
"I'd like to share a special HostGator reseller discount coupon with you (just in case if you are going to buy this service."
Now, let's move to the list.
Top 5 Best HostGator Reseller Hosting Alternatives (
2023

Edition)

Let's take a closer look at each reseller hosting you can replace with HostGator.
1. A2hosting
A2 Hosting stands for the best alternative to HostGator reseller hosting for two primary reasons:
First, it's an entirely white-labeled hosting solution with 20X faster and ultra-reliable servers since 2003.
Second, it offers hassle-free anytime money-back guarantee.
You know, A2hosting is not just a good alternative to HostGator reseller hosting plans. But it is also a great option when it comes to getting started with WordPress blogs.
All I say, A2hosting is one of the top reseller hosting providers in the market.
And for a good reason: it's REALLY good.
Why?
Because it offers a wide range of hosting features at reliable pricing that every user expects from a reseller hosting company, such as:
Lowest price – starts from $18.99/mo
20x faster turbo servers
Free WHMCS & Blesta Billing system
24/7/365 guru crew customer support
And A2hosting fits all these demands.
This company is continuously improving services to collect maximum customers in 2023 – 2024. And I granted this would never make you sad.
While HostGator and A2hosting are continually rolling out improvements, I choose A2hosting because of:
Raid-10 SSD storage
Web host manager (WHM)
cPanel (control panel)
Free SSL certificates
Free website migration
Hassle-free money-back guarantee
And you can claim all these features at affordable prices as listed below.
Kickstart (45% OFF): $18.99/mo for the first 3 years then $34.99 monthly
Turbo Kickstart (40% OFF): $29.99/mo for the first 3 years then $49.99 monthly
Launch (50% OFF): $24.99/mo for the first 3 years then $49.99 monthly
Turbo Launch (43% OFF): $39.99/mo for the first 3 years then $69.99 monthly
Grow (50% OFF): $34.99/mo for the first 3 years then $69.99 monthly
Turbo Grow (45% OFF): $54.99/mo for the first 3 years then $99.99 monthly
Scale (43% OFF): $44.99/mo for the first 3 years then $79.99 monthly
Turbo Scale (41% OFF): $69.99/mo for the first 3 years then $119.99 monthly
All prices are mentioned above for 36 months (3 years) billing tenure. And applicable on the first purchase using our links mentioned in this article.
Conclusion: A2hosting and HostGator reseller hosting services are pretty similar and worth your investment. That's why it's my first recommendation name.
Try A2hosting Reseller
2. Liquid Web
If you need more power compared to HostGator reseller hosting, then Liquid Web is your best buddy.
Liquid Web has a high-level VPS and Dedicated servers to sell shared hosting accounts under your own hosting name.
With each Liquid Web reseller plan, you get:
FREE WHMCS License
Free WHMCS Plugin for cloud products
Free standard SSL to protect your customers
24/7/365 days unlimited support
WHMCS allows you to create your own custom hosting packages and add-ons and resale them at your own price.
Liquid Web's WHMCS can handle everything from account provisioning and management to billing and email all by itself.
When I compare HostGator vs. Liquid Web, I think of COST as being the biggest difference.
So, the conclusion is: HostGator charges less, but there are some pro features that you get only in Liquid Web, such as:
Up to 64 GB DDR4 SDRAM
Interworx or cPanel options
1 TB SATA backup drive
4 x 480 GB SSD drives
Hardware RAID 10
250GB Acronis backups
Standard DDoS attack protection (up to 2 Gbps)
And so on…
Below are Liquid Web pricing plans.
Bronze costs $99/mo with Intel Xeon E3-1230 v5 Quad-Core
Silver costs $169/mo with Intel Xeon E3-1270 v5 Quad-Core
Gold costs $259/mo with Intel Dual Xeon E5-2620 v3 12-Core
If you have a large marketing budget and you plan to go big, Liquid Web is the best option in 2023 – 2024.
Try Liquid Web
3. InMotion Hosting
Next up, let's take a look at InMotion Hosting.
The InMotion Hosting is an established web host specializing in speed and versatile hosting plans.
InMotion's vision is to see its customers succeed. To accomplish this goal, they provide features like:
Google Apps integration wizard, easy access to Open Source apps like WordPress, Joomla, and PrestaShop
99.99% uptime – backs it up with a guarantee
And so on
All these features you can get just at starting from $15.39/mo.
Below are the basic plans:
R-1000S ($15.39/mo): 80GB SSD storage with 800GB bandwidth and Free Dedicated IP for up to 25 cPanel accounts
R-2000S ($21.99/mo): 120GB SSD storage with 1200GB bandwidth and Free Dedicated IP for up to 50 cPanel accounts
R-3000S ($30.24/mo): 160GB SSD storage with 1600GB bandwidth and Free Dedicated IP for up to 80 cPanel accounts
Reseller VPS (35.39/mo): 260GB SSD storage with 6TB bandwidth and Free 3 Dedicated IPs for up to t cPanel accounts
Note: All prices are listed as based on 2 years of minimum hosting purchase.
With any each, you get benefits of:
White label hosting
Managed reseller hosting
High performance
Multi-layer defense system
WHM – an industry-leading billing software
And so on – explore all features
However, Google Trends indicates that InMotion Hosting is not even close to HostGator.
They're not even close.
When you compare both into an account, HostGator comes out way ahead.
In fact, WP Blogging 101 recommended this hosting company as one of the best web hosts and WordPress hosting services.
Another important factor to consider is plans and pricing.
InMotion reseller hosting starts at $15.39/mo (80 GB Cloud SSD Storage).
HostGator reseller hosting starts at $19.95/mo (50 GB SSD Storage).
The pricing difference isn't too much. But yes, you can still save some money choosing HostGator in 2023.
However, you are already hunting for a powerful HostGator reseller hosting alternative, so InMotion can you next option in 2023.
Try InMotion Hosting
4. GreenGeeks
GreenGeeks is a real example of green hosting on the internet and another solid alternative to HostGator reseller hosting.
It isn't quite at the level of the previous competitors: A2hosting, Liquid Web, and InMotion Hosting.
Don't believe me?
See Google trends report: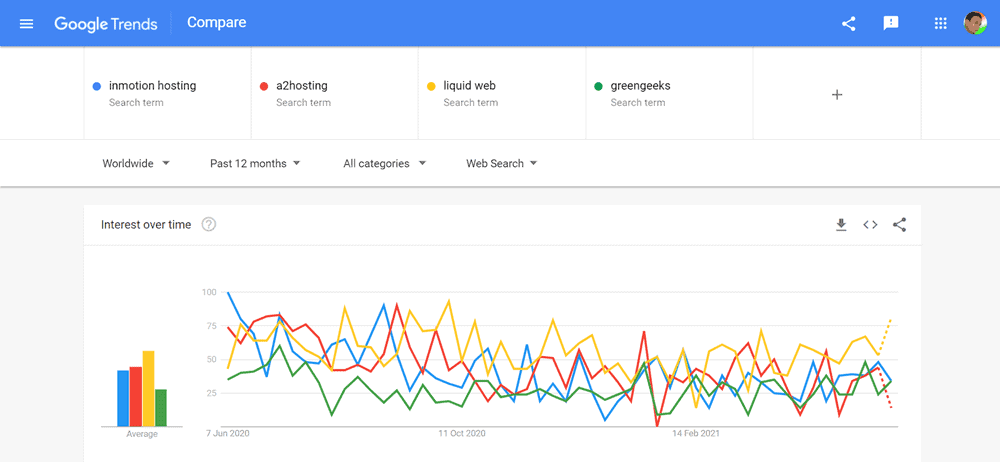 The GreenGeeks reseller plans are a great way for you to earn recurring revenue through your hosting business at reliable costs with:
300% green energy commitment
Unlimited domains hosting
Free drag & drop builder
Unlimited email accounts
Unlimited MySQL databases
Unlimited sub & parked domains
cPanel & softaculous
30-day refund policy
And so on – explore all features
That said, the price of GreenGeeks reseller worth your money if you need more storage compared to HostGator.
Below are plans and pricing details.
RH-25 ($19.95/mo): 60GB SSD disk space with 600GB bandwidth for up to 25 cPanel accounts
RH-50 ($24.95/mo): 80GB SSD disk space with 800GB bandwidth for up to 50 cPanel accounts
RH-80 ($34.95/mo): 160GB SSD disk space with 1600GB bandwidth for up to 80 cPanel accounts
With each plan, get are eligible for:
Free SSL certificate
GreenGeeks managed support
And 24/7 live chat support
Most of all, you get free cPanel Migrations service. It means GreenGeeks team will migrate your account from HostGator to GreenGeeks at no extra cost.
Like InMotion reseller hosting, GreenGeeks is also a bit expensive compared to HostGator reseller plans.
But believe me, it worth each penny you spent on it. And definitely, it will never give you a chance to think about another reseller hosting service.
Try GreenGeeks
5. HostPapa
Our last HostGator reseller hosting alternative is HostPapa.
If you are interested moving from HostGator or starting a new reseller hosting business, you can also try HostPapa in 2023.
The best thing about HostPapa is it provides you the power, control, and security you need to bring your business to the next level.
HostPapa offers more than 100 apps, including:
WordPress
Joomla
Custom scripts (PHP)
And so on
And allow users to set up their own hosting plans and pricing under your reselling plan.
In the meantime, it is the perfect option for agencies, designers & IT firms, or to manage multiple websites.
If you look at HostPapa reseller plans, you see it's far expensive compared to HostGator plans. That's why I listed it at #5 here.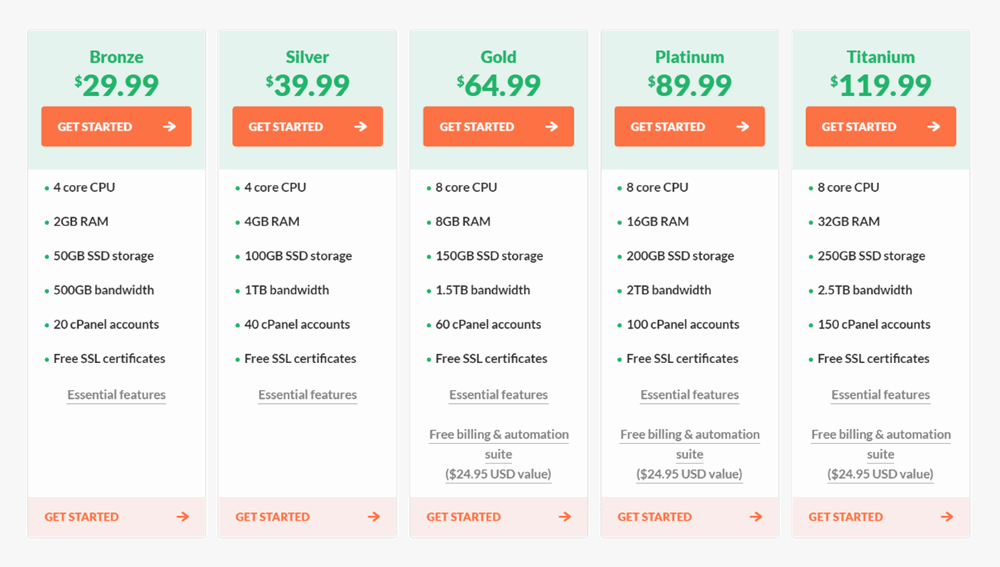 Bronze – $29.99/mo for up to 20 cPanel accounts
Silver – $39.99/mo for up to 40 cPanel accounts
Gold – $64.99/mo for up to 60 cPanel accounts
Platinum – $89.99/mo for up to 100 cPanel accounts
Titanium – $119.99/mo for up to 150 cPanel accounts
The best thing about HostPapa reseller hosting packages is that their price doesn't increase on renewals like the previous HostGator reseller hosting alternatives mentioned above.
That's cool.
Right?
Ultimately, there is no more comparison between HostGator and HostPapa.
The conclusion is: if the price is less important to you than performance and stability, then HostPapa is the right host for you.
Try HostPapa
FAQs – Frequently Asked Questions
Let's check out what people are searching for on HostGator reseller alternatives in 2023.
Which is the cheaper HostGator reseller hosting alternative in 2023?
HostGator Reseller Hosting is a website hosting service that allows you to start your own web hosting business online and resell it under your own brand name.
Which is the best HostGator reseller alternative?
Well, it depends on your requirements.
Furthermore, I have compared and reviewed the best reseller hosting companies above that you can replace with HostGator in 2023
Alternatively, I recommend the reseller service of A2 Hosting in this tutorial if you still cannot decide.
So ya! You can replace HostGator with A2hosting for starting your own web hosting service online.
Which is the cheaper HostGator reseller hosting alternative in 2023?
GreenGeeks and HostPapa are the cheapest alternatives to HostGator from the above-listed companies.
If you ask me to pick ONE, I'd like to go with GreenGeeks.
Final Verdict: Who is The Best Alternative To HostGator Reseller Hosting?
There you have it: The best HostGator reseller alternatives for your new web hosting business in 2023 – 2024.
All hosts listed here are delivered top-notch services and holds on to the capability upgrade/downgrade anytime.
I hope that until now, you've found a reseller hosting provider that you'll be happy with. Nevertheless, A2hosting remains my recommendation if you're still not clear.
Yes, I believe A2hosting is superior to HostGator, displacing them in 2023.
Visit A2hosting Reseller Offer Page
In the last, I'd like to hear from you:
Is there any other HostGator reseller hosting alternative hosting that I missed in the above list?
Or, maybe you still have a question to pick any host?
Either way, leave your message in the comments.
FTC Disclosure: WP Blogging 101 content is reader-supported. This means if you click on some of our links and make a purchase, we may earn a commission at no extra cost to you – Read Affiliate Disclosure