Recently, I have shared a promotional article on 70% OFF SiteGround coupon code 2020. In that article's comment area, Mr. Alok has asked me, "Hello Harpreet sir, I just enjoyed a big discount on hosting purchase by following your steps. Thanks a lot! Can you help me to install WordPress on Siteground hosting too? Thanks in advance".
Here is the exact screenshot of that comment showing below.
Though, Siteground hosting interface is totally different in which you can't see cPanel or Softaculous app installer.
Even I had used other WordPress recommended web hostings e.g., Bluehost, A2 Hosting, Hostgator etc. that support cPanel Softaculous app installer.
But SiteGround Site Tools has amazing features that come in neat and clean UI (user interface). I bet, once you start using it, you will fall in love with this systematic website management tool.
Now, let's come to the main topic of this tutorial, "how to install WordPress on your SiteGround hosting account?".
Bonus: This guide is not about WordPress installation on SiteGround hosting only, but also I will show you how to delete WordPress installation on domain SiteGround too. So, if something happens wrong during the installation, you can easily remove it too.
Let's dive in.
How to install WordPress on SiteGround hosting?
SiteGround has completely revamped its web-hosting and made WordPress installation too easy.
All you have to follow the below get WordPress installed on hosting, either it's a primary, secondary, or temporary domain.
But before I start this guide, make your have pointed your domain to Siteground hosting (this step is those who want to use the external domain on SiteGround web hosting).
Let's start the guide.
Step 1: Visit siteground.com and login to your Account Area.
Step 2: Click on the Set Up Site button. If you don't find this option, then just click on the Websites button and tap on the Create Website button.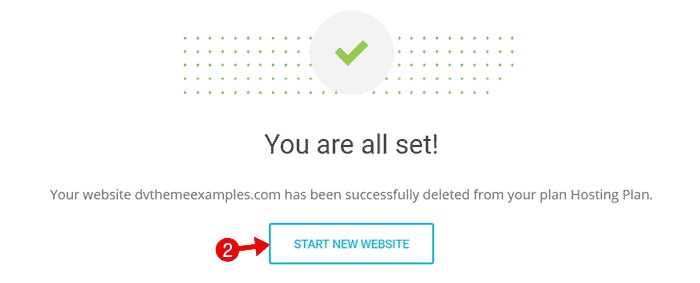 Step 3: Once logged in, you will see three options:
New Domain: In this option, you will be asked to register a brand new TLD domain name before installing WordPress on Siteground hosting.
Existing Domain: Pick this option if you want to use a domain name registered on other registrars like Godaddy.
Temporary Domain: This option is for installing WordPress in a temporary domain name. Under this section, Siteground will offer you a non-TLD domain for free.
As we want to install WordPress for our personal use then, I will pick the Existing Domain option in this tutorial.
Step 4: Next, Enter Your Domain Name and press the Continue button.
Step 5: In this step, you will see two options again, as listed below.
Start New Website is for starting a WordPress blog from the very first step. I pick this in this tutorial as we are creating a professional-looking website.
Migrate Website is for migrating or transferring your existing website or other web hosting company.
Step 6: Now, an application widget will lead to choosing from, as displayed in the below screenshot. Just choose WordPress by tapping on the Select button.
Step 7: Again, a new widget will load to set your login Email and Password. Here you have to add your details and then click on the Continue button.

Step 8: Skip the SG Site Scanner addon as it doesn't necessary at all and tap on the Finish button to finalize the installation.

Now the installation will be started and it will just take less than 2 minutes to complete the website creation.
Step 9: Once it's done, you will see the window as shown in the below screenshot.
Point Your Domain: As I had chosen The Existing Domain in the 3rd step. That's why I need to connect that domain to Siteground hosting. To point your domain to Siteground web hosting, follow the steps mentioned in this article.
Go To The Site Tools: If you already have connected your domain and hosting, click on the Manage Site button to view SiteGround website dashboard.
What's next?
Once you install WordPress on Siteground hosting, either you can install SSL Certificate on the website or login to your WordPress admin area by entering yourdomain.com/wp-admin. Don't forget to replace yourdomain.com with your own domain name.
How to delete WordPress installation on a domain in SiteGround?
In the meantime, you have installed WordPress application in the wrong domain, subdomain or on a temporary domain name, then follow the steps listed below to uninstall WordPress on your SiteGround hosting panel.
Step 1: Login to SiteGround admin area and tap on Websites link from the menu.
Step 2: When the page loads, click on the 3 Dots next to the domain name you want to delete.
Step 3: Tap on the Delete button
Step 4: Finally, Confirm website deletion.
Congratulations, you have successfully uninstalled WordPress installation on SiteGround hosting.
Need more help?
hope this guide has helped you to understand how to install WordPress on Siteground hosting and how to delete it permanently.
For more helpful tutorials related to SiteGround web hosting, you are considered visiting this page. If you want to buy hosting, then use this link to claim a flat 70% discount or read about hosting trial and renewal cost here.
For more information and questions, please don't hesitate to ask me via the comments box below. I would love to help you with further queries.