SEMrush Guru Trial
Start a 14 day SEMrush Guru Plan free trial account today and instantly access 50+ SEO tools including 5 projects, 500 keyword tracking, 100,000 page crawls and PDF export benefits immediately. A valid credit card is required to grab this offer.
Coupon Code: Auto-applied in the button below ⬇
In this in-depth look at SEMrush Guru Trial, I'm going to give you:
A complete overview of SEMrush Guru free trial
A super detailed review of the Guru plan
An idea for choosing the right billing cycle: Guru plan monthly vs yearly subscription
A step by step guide on cancelling your Guru free trial plan
A list of frequently asked questions about SEMrush Guru account
By the end of this tutorial, you'll have a much clear vision of SEMrush Guru free trial.
Let's go.
SEMrush Guru Trial (FREE): Try Guru Plan For $0 (Sep 2023)
I am reviewing SEMrush deals and promo codes since the time I started my blogging career (back in 2016).
Below is an in-depth overview of SEMrush Guru Plan – a popular subscription on semrush.com for advanced SEOs and marketing experts with an exclusive SEMrush Guru coupon code giving an extended free trial for WP Blogging 101 visitors.
SEMrush Guru Monthly: Starts at $299.95 per month including 14-day free trial access (recommended)
SEMrush Guru Yearly: Starts at $191.62/mo instead of $229.95/mo on annual bills (no free trial included)
You will be asked to create a SEMrush account with a promo code applied automatically. In any case, if you have used SEMrush SEO tool in past, try opening this link in the incognito window to get your free Guru plan account or follow the steps below:
Visit the offer page and tap on the Start Free Trial button.
Create a SEMrush account and choose the Guru plan.
Enter your credit card information and place your order.
That's it.
With this 3 step process, you get 14 days free trial access to SEMrush Guru account.
Now, let's break down these steps in detail.
How To Get Started With SEMrush Guru Free Trial Account?
It's easy. Just follow the steps below to start your free trial of SEMrush Guru subscription.
Step 1: First of all, go through this special link to activate SEMrush free trial page and tap on the Start Free Trial button.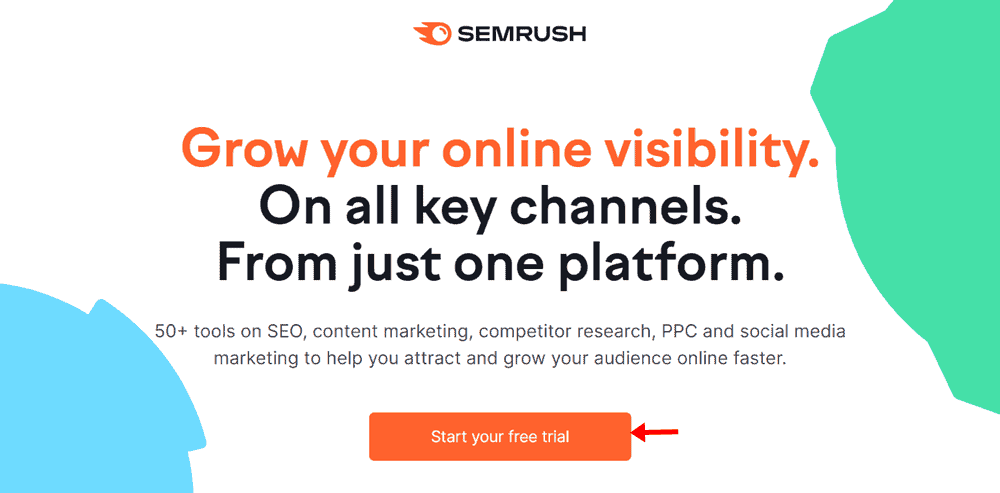 Step 2: Enter your Email & Password and hit the button saying, "Create Account".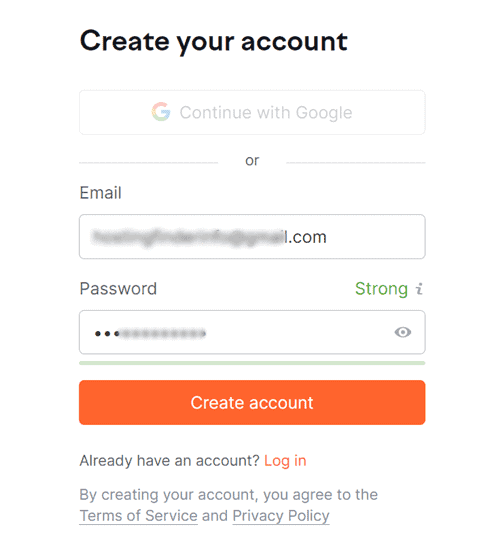 Step 3: Fill in the Activation Code you received from SEMrush on your email address and proceed by tapping the button, "Confirm Email".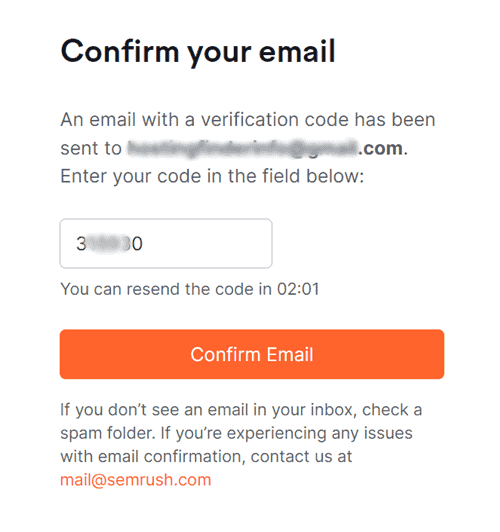 Step 4: Select the Guru Plan and click on the Get Free Trial button.
Step 5: Enter your Credit Card information and Place The Order.
In a few moments, your SEMrush Guru Trial will be started (as soon as your credit card details are confirmed), where you will get full access to SEMrush Guru account for free for the next 24 days.
Who Choose SEMrush Guru Plan? The Ultimate Benefits
Let's explore the Guru plan starting with a basic introduction.
SEMrush Guru Plan Review (2023)
SEMrush is one of the best keyword research tools in the market. It's a wide range of subscriptions available, categorized for different usage.
If you look at SEMrush pricing page, you see there are four 4 plans available:
Pro Plan
Guru Plan
Business Plan
Custom Plan
If you're interested to know more about SEMrush plans & pricing, kindly check out my in-depth tutorial. Also, a 14-day free trial for all SEMrush subscriptions can be accessed here; or you can read a detailed SEMrush review here.
The Guru Plan is a complete set of content marketing platform tools that aim to help you craft a content strategy.
Under this plan, you get access to all SEMrush Pro account features, plus:
Total number of projects up to 15
Keyword tracking up to 1500
Historical data gathered since 2012
Google data studio integration
Keyword cannibalization reports
Lots more…
In short, the Guru plan offers many additional features (we'll discuss later) compared to SEMrush Pro plan.
Exclusive Deal: You can use this special link for a free trial of 14 days on SEMrush Guru account. Sign up with a new Google account with just one click use it for yourself for the next 1 week, and see the results for your website SEO. If you are not happy, just cancel your account. This way, you are not losing anything.
Features Of SEMrush Guru Account
Let's take a look at each of the features and benefits that you will be eligible for when starting a SEMrush Guru trial today.
30,000 results per second for each search of a domain or keyword report.
Keyword tracking to a maximum of 1500 keywords and 15 domains.
Easy To option to export results to CSV, XLS, and PDF.
In-depth analytics report for keyword research, organic research, CPC, advertising research, display advertising, and backlinks.
In-built tools like keyword analysis and backlink gap checker, keyword magic tool, keyword difficulty tool etc.
Detailed project reports via position tracking, site audit, social media monitoring, social media poster, and brand monitoring.
On-page SEO checker, backlink audit tool, link building tool, organic traffic insights etc.
Content analyzer, PPC keyword tool, and ad builder.
1000 keyword metric updates per month, with access to the edit option to share your project with your team, in addition to the management tool.
As the primary editor, you can even grant several users access to editing mode.
With access to 20 scheduled PDF reports and access to branded small business reports, you can send them to scheduled email addresses and on a fixed date at a predetermined time each month.
The capacity to gather rank tracking data for multiple devices at a single location permits you to generate 5000 analytics reports every day.
You can pay for an extra two users for your company's account for $140 per month.
SEMrush Guru Pricing Options
As described earlier, there are two ways to subscribe for the Guru subscription:
SEMrush Guru Monthly: This plan costs $299.95/mo including 14-day free trial access (recommended for testing purposes)
SEMrush Guru Yearly: Starts at $191.62/mo (flat 17% off) if choosing to pay bills annually (no free trial included)
After looking at the above billing terms, you can conclude that there's a HUGE saving when you subscribe SEMrush Guru plan with a yearly payment term. But no free trial will be offered.
Similarly, you are eligible for a SEMrush Guru free trial for 14 days of complete access to month-to-month bills. Now you can decide what to go for.
In my opinion, the selection of the annual billing cycle is right if you planned to use SEMrush for the long term. Otherwise, you can test the Guru Plan trial for the next 14 days free of cost using this link.
Cancelling Your SEMrush Guru Trial Account
Well, you will fall in love with SEMrush when exploring its SEO features. Then there will be no need to cancel your account.
But even if you find it not to fit all your SEO needs, you can easily cancel your subscription any time you want. It's far more straightforward than subscribing to one.
All you need to do is just send an account cancellation request to a mail address at mail@semrush.com. As soon as they receive your request, account termination will start immediately.
FAQs – Frequently Asked Questions
Here are a few important questions & answers you must know before creating a free SEMrush Guru trial account.
How do I start SEMrush Guru trial free?
It's simple. Follow this link to set up a SEMrush Guru 14 day free trial on a month-to-month billing cycle or choose to pay annually and enjoy a flat 17% discount for lifetime on your recurring bills.
Does SEMrush Guru plan has a coupon code?
SEMrush is offering a special coupon just for you, giving you the chance to sign up for a 14-day free test or save 17% on the yearly costs of your subscription using this link.
SEMrush Guru monthly vs yearly billing: Which is the best?
SEMrush pricing concept is simple, "the longer you buy, the bigger discount you get". When comparing SEMrush Guru's monthly bills to its yearly bills, signing up with an annual billing cycle can save you a lot of money (but no free trial will be provided).
What can I do with SEMrush Guru free account?
Everything, in a nutshell. The best thing about a SEMrush Guru account free trial is that you get access to all the paid features. There are no restrictions or hidden fees.
How to create a SEMrush Guru account with a promo code?
Follow this link to create a free SEMrush Guru account, where a special promo code will be applied automatically. The process is pretty straightforward.
How to access SEMrush Guru 30-day free trial?
You can sign up for a Guru plan 30-day free trial plan and gain access to SEMrush keyword research, traffic statistics, domain audits, backlink checker, link building, competitive research and more.
How do I start SEMrush Guru 14-day free trial?
You can sign up for the Guru plan 30-day free trial plan (this offer is not available for WP Blogging 101 users) where you get complete access to SEMrush keyword research, link building, website audit software, traffic statistics, and competitive research etc.
How to cancel my Semrush free trial plan?
You can cancel your account by sending an email to mail@semrush.com or by filling out the contact form if you decide not to use SEMrush anymore.
Can I start SEMrush free trial without credit card?
Unfortunately, there's no way to access SEMrush Guru free trial without adding your credit card information.
This method ended back in 2016. So, in order to get complete access to SEMrush features, make sure you add valid credit card details while creating a free trial account.
How does SEMrush accept payments?
You can pay for SEMrush subscription payments via Credit Cards only.
What's the refund policy for the Guru plan?
If you sign up for SEMrush Guru trial, you can use this plan for 14 days with complete access for free. This is how their sales team handles refunds.
Final Thoughts On SEMrush Guru Free Trial Review
There you have it: How to get SEMrush Guru plan trial free of cost.
So, if you REALLY want to access Guru plan free from SEMrush then go through my special link below and sign up using a valid credit card.
Once you click on the button above, the coupon will be automatically applied (no further action is required.
In the last, I want to know, if this tutorial was:
Good
Bad
Or something between
Whatever your experience is, please share your experience in the comment box below.
FTC Disclosure: WP Blogging 101 content is reader-supported. This means if you click on some of our links and make a purchase, we may earn a commission at no extra cost to you – Read Affiliate Disclosure
Comments have been closed!