This is my personally reviewed list of the best Yellow Pencil Alternatives (updated for December 2023).
If you are not happy with Yellow Pencil plugin, look no further. This article is the right place to find the top live CSS editing tools for your WordPress site.
In this article, I will:
List our 3 (free & premium) Yellow Pencil alternatives
Show you how each of them compares to Yellow Pencil
Lots more
So, if Yellow Pencil doesn't fit your needs, check out some other better plugins below.
3 Best Yellow Pencil Alternatives in
2023
Let's take a closer look at each of them, starting with the number one pick.
1. Elementor
Our first and top Yellow Pencil alternative is Elementor page builder.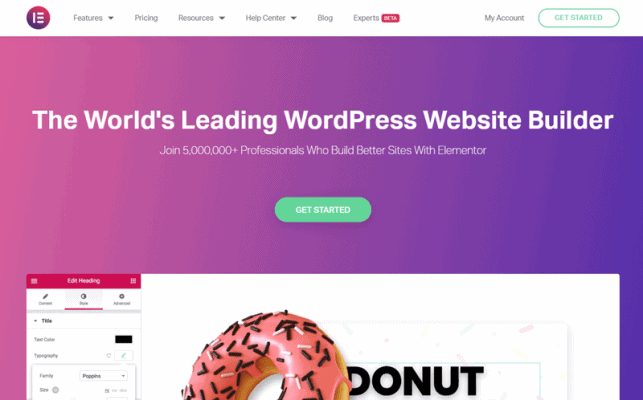 Elementor is a freemium WordPress plugin. It has two versions: free & paid.
It's a complete designing tool that can build powerful WordPress websites and blogs, even without installing another WordPress theme.
It's because Elementor has its own theme builder (Hello Theme).
You can download and use it on your WordPress site, either using a free or paid version of the plugin.
Elementor comes with a wide range of designing features and flexibility options, with:
Free and premium version
WooCommerce integration
Theme's override system
No coding knowledge requirements
And lots more
And each of these features is super solid.
In fact, I am also an Elementor user and paying them since August 2019 for the premium plan.
I have designed WP Blogging 101 page templates, post layouts using this page builder. And this post is written by Thrive Architect.
Elementor is 100% free. But if you really want to pick it as a reliable Yellow Pencil alternative, the paid plan is highly recommended.
You can get Elementor Pro just at:
Essential: $49/year for a single website
Advanced: $99/year for up to 3 websites
Expert: $199/year for up to 25 websites (my pick for personal use)
Studio: $499/year for up to 100 websites
Agency: $999/year for up to 1000 websites (best plan for developers)
? Click here to choose your plan right now, and start building beautiful website landing pages and sales funnels using Elementor.
? Bonus: Under the Agency Plan, you can use this plugin to make WordPress websites and sell to your clients under your own branding.
How Does Elementor Compare To Yellow Pencil?
To be honest with you: Yellow Pencil even doesn't have a big universe like Elementor until now.
And, I am not just talking. Below are the user search reports on different platforms.
First of all, let's take a look at Google Trends report: Clearly, Elementor is the actual winner.
Ahrefs keyword research report also shown me similar results.
Next up, when I put both tools in Google Keyword Planner, I see this:
This concludes Yellow Pencil doesn't begin to compare to Elementor. They're even not close.
There's another important factor to consider is COST.
Yellow Pencil starts at $26/life.
Elementor Pro starts at $49/year.
In my opinion, if you are serious about blogging and want to take your website design to the next level, Elementor is the right Yellow Pencil ALTERNATIVE WordPress plugin for you.
Get Elementor Pro
2. CSS Hero
Out 2nd Yellow Pencil alternative is CSS Hero.
The CSS Hero is a paid plugin built for making live CSS editing easier for noncoders.
In fact, I have already compared CSS Hero vs Yellow Pencil on GPressTheme blog. If you want to know more about these tools, kindly check out that article.
Thoughtfully, CSS Hero plugin is developed for those who want to edit their CSS files without writing a single line of code.
In the meantime, if you are a beginner with no coding knowledge, CSS is the cheapest Yellow Pencil alternative after Elementor.
How Does CSS Hero Compare To Yellow Pencil?
CSS Hero has many of the same features as Yellow Pencil.
But I don't think any of them are as good as CSS Hero. For example, complex CSS management.
With this tool, you can spice up your site elements like:
Building gradients
Box-shadows
Text-shadows
Ready-made snippets
And lots more
The price of CSS Hero starts from $19/year. And it goes up to $179 for lifetime plugin updates and support for up to 999 websites (which is almost half the price of Yellow Pencil.).
So, if you are the one looking for a Yellow Pencil alternative with lifetime license access, CSS Hero is the right plugin for you.
Get CSS Hero
3. Simple CSS
[Free]
Our last alternative to Yellow Pencil is Simple CSS plugin.
Simple CSS is a free WordPress plugin specially built for GeneratePress users like me.
I use GeneratePress on WP Blogging 101; I have installed this plugin to add adding CSS widget inside the customizer area.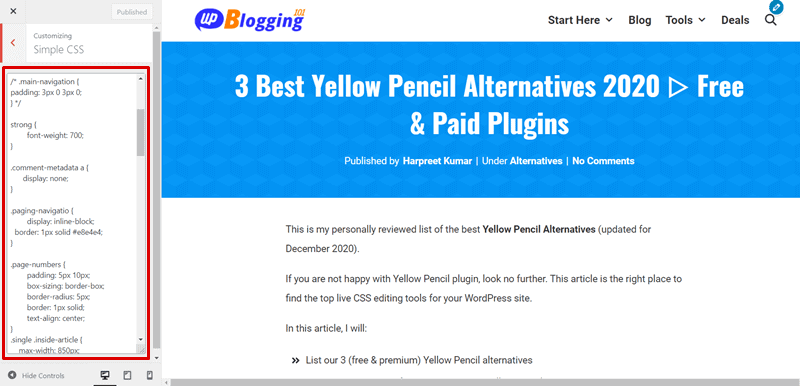 I will not talk too much. But you can expect the best results with Simple CSS tool if using GeneratePress and GenerateBlocks on a WordPress site.
For example, please take a look at my other affiliate blog: harpreetkumar.com.
How Does Simple CSS Compare To Yellow Pencil?
To be clear: Simple CSS & Yellow Pencil are both different plugins.
For example, Simple CSS is a REALLY simple plugin that gives you an excellent admin editor and a live preview editor in the Customizer.
You can easily add your CSS. And, this is specially built for GeneratePress theme users.
On the other side, Yellow Pencil is a live CSS editing plugin that can take your site to the next level.
To make your decision easier: If you need a free Yellow Pencil alternative, then Simple CSS is the right plugin for you in 2023.
Get Simple CSS
Final Thoughts On Yellow Pencil Alternatives
2023
I hope, by now, you have already found out which is your next live CSS editing plugin.
Right?
If you haven't yet, and want me to pick one for you: I would strongly recommend Elementor Pro page builder.
Get Elementor Pro Plugin
In the last, I'd like to know your thoughts: if this article was:
Good?
Bad?
Or something between?
Either way, if you know any other good Yellow Pencil alternative, leave your message in the comments box office below.
FTC Disclosure: WP Blogging 101 content is reader-supported. This means if you click on some of our links and make a purchase, we may earn a commission at no extra cost to you – Read Affiliate Disclosure